Updated on by Lyric Fergusson
If there is one way to hype up your home, office or work area it would be with ceiling speakers. Whether you are starting your speaker journey with something casual and affordable, or want to have a lavish, high quality sound system we have you covered with the 11 best ceiling speakers below. Sit Back, relax and enjoy the quality of an excellent ceiling speaker entertainment system in no time.

Best in Ceiling Speakers
---
(Best overall — $$)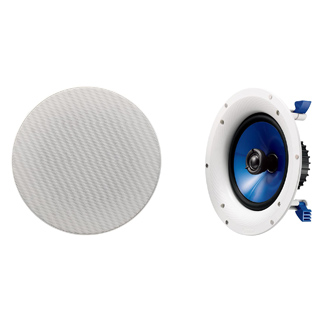 Why it's great: These speakers really pack a punch. They come in a set of two, have a high sound quality, and feature a unique design for natural sound dispersion. The slim and sleek design completely blends into the wall and the sealed back protects the speaker from moisture, residue, and dust. The sound is crisp, clear, and is full of precision, with the bass giving a good thump. These are really easy to install, will create the speaker system of your dreams, and bring outstanding surround sound into your home or office.
Keep in mind: Although these are 8" speakers, your hole will need to be a bit wider to accommodate the frame and grill. Follow the installation instructions, as they have a template for cutting the holes.
Good for: Anyone looking for a high quality speaker at an affordable price.
---
(Best single speaker — $$)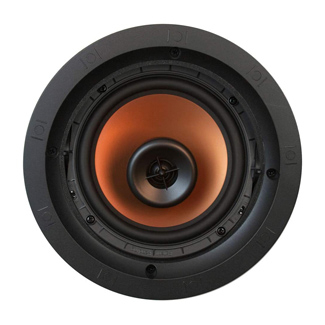 Why it's great: This high-performance, built-in ceiling loudspeaker boasts terrific, detailed, and rich sound. The controls for the treble and bass allow you to manipulate the sound to your preferred choosing and you can use the switches to dictate where the sound travels. It's easy to install and has paintable grills for an effortless look to add to your living space. Klipsch is a well known brand when it comes to in-ceiling speakers and this one delivers on quality and durability.
Keep in mind: This only comes with the one speaker, so it can get pricey if you need more than that.
Good for: People who want a high-end product and don't mind spending the money on a single speaker.
---
(Best multi-purpose speaker — $$)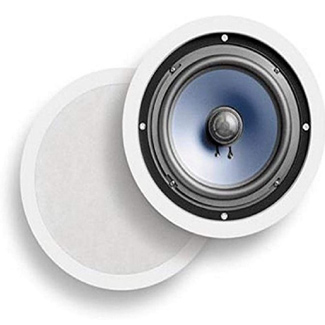 Why it's great: The Polk Audio 8" round speakers practically disappear into the wall or ceiling for a sleek appearance, while boasting seamless surround sound. Polk's speakers are reliable and the company is committed to bringing the best possible audio speaker to its customers with world class transparent sound. The speakers offer a more lifelike, realistic sound because of the wonderful balance of the woofer and tweeter.
Since these speakers were created with a rubber seal, they prevent moisture access, making them an excellent accessory for anyone who is looking for an outdoor speaker. This feature also allows them to be used in bathrooms, kitchens, and saunas for multipurpose use. Add these to your home for flawless sound quality or set them up outside in an enclosed area for worry-free listening.
Keep in mind: These speakers come with open backs, so when installing make sure to keep loose insulation off the back, as this can hinder the noise and compromise the quality over time.
Good for: People looking for moisture proof speakers that can be used for varying indoor and outdoor lifestyles.
---
(Best basic speaker — $)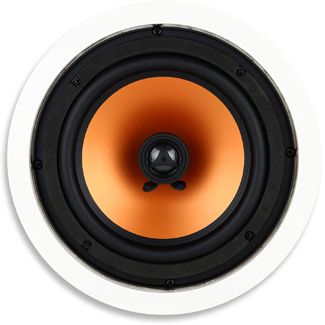 Why it's great: This single, easy to install ceiling speaker is everything you could possibly need for a fantastic price. This speaker can easily change the room's atmosphere into a fun and vibrant room. Use it for casual background music or for a classic at home theater experience, as these speakers have ample bass and smooth flow to produce a quality performance.
This speaker is extremely easy to install, from the basic template to the mounting tabs, to the follow-along instructions, this will be up and running in no time. The pivoting tweeter and poly-mica woofer integrate through a crossover design to create a natural and realistic bass.
Keep in mind: This just comes with one speaker, so if you want to have a higher impact sound, look at purchasing two. Since it is easy to install and a great price, you can easily purchase as many as needed without breaking the bank.
Good for: Small spaces and rooms for optimal sound effects.
---
(Best quality — $$$)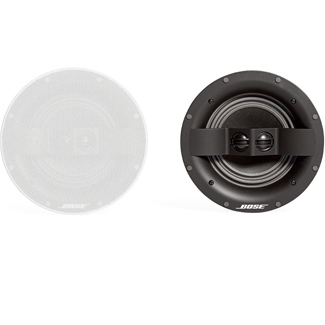 Why it's great: These speakers are super simple and easy to install, with magnetic clamps that allow them to snap on and off quickly. The frame and grill can be painted to match any room and they don't have a cloth scrim, which makes the painting process much easier since you won't have to worry about the paint clumping or soaking in. Once installed, these speakers blend into the ceiling and are practically invisible.
The sound quality on these speakers can't be matched. They have a woofer and two tweeters, which provide full-range performance. The sound fills the room evenly, without having to aim the speakers or tweeters in any certain direction. For ultimate sound quality and performance, these speakers are the clear choice.
Keep in mind: These are pretty pricey, but the quality can't be beat.
Good for: Those that want a high quality speaker and aren't on a budget.
---
(Best for small spaces — $$)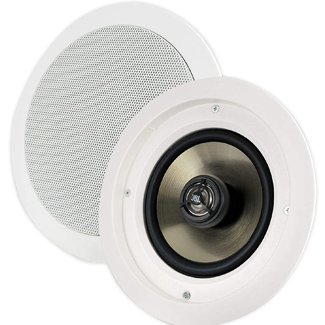 Why it's great: JBL makes quality sound systems and these 2 way, in-ceiling speakers are a perfect example. These are only 6.5", but provide powerful, clear sound. The tweeter can be aimed and the woofer is surrounded with rubber to deliver tight bass sounds and decrease distortion. They come with clear instructions and a template, making them quick and easy to install and set up. The faceplate and grill can also be painted to blend in with the ceiling for an invisible look.
Keep in mind: These are smaller than most of the others on this list, so they won't be as loud as some of the others..
Good for: Smaller rooms or areas, as they'll provide even, clear sound, but aren't as loud as the bigger speakers.
---
(Best value — $)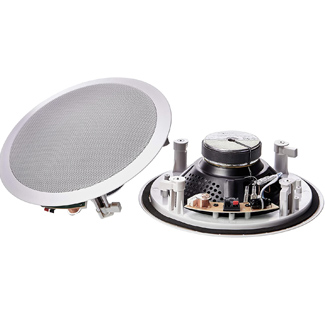 Why it's great: These round speakers come in a set of 2 at an affordable price. Given the low price, they offer balanced, quality sound. The woofer and the tweeter allow for a full frequency range, from accurate highs to robust bass. As with most of the others, these can be painted, come with detailed instructions, and are quick and easy to install. Whether you need something to listen to music or want surround sound for a home theater, these speakers will do the trick!
Keep in mind: You can't aim the tweeter on these, so make sure you position the speaker appropriately for the best sound quality.
Good for: Anyone looking for good quality at an affordable price.
---
(Best starter system — $$)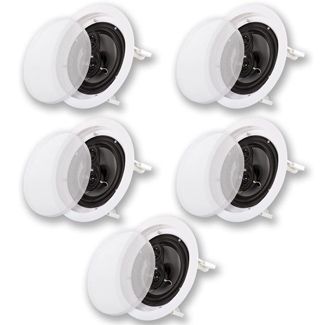 Why it's great: This speaker set has a great price tag and it includes five flush mount, full range, 8" sound speakers. Don't let the price fool you, it may be cheaper, but the quality is impeccable. With a crisp, full rounded sound, it's the perfect accessory to add to your at home lifestyle. These speakers are sleek and have a big enough effect to change the ambiance of the room from a hang out to a sophisticated space.
This easy-to-install system comes with five acoustic speakers, removable grills, templates, and an instructional guide for smooth and natural sound in a home or office setting. If you are looking for your first ceiling speaker system that is reliable and has great surround sound, look no further.
Keep in mind: Although these speakers sound great alone if you want to have a more intense bass and full rounded sound, look into pairing it with a subwoofer.
Good for: First time buyers who are looking for a good value on a home speaker starter set.
---
(Most well-rounded speaker — $$)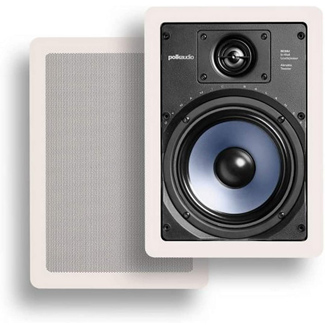 Why it's great: These speakers' overall performance, look, and setup is impeccable for the price point. They have exceptional sound quality, with timbre matching and seamless blending from speaker to speaker, ensuring smooth sound and depth-delivering quality. The dynamic balance woofer and swivel mount tweeter create even sound distribution and deliver pure balance.
From the moment you unpack these speakers, it is an effortless and mess-free install. In three quick steps, you will have them up and ready for use. From the profile performance and the virtual enclosure to the top-class components, these speakers will not disappoint and will even give you an edge over your current setup.
Keep in mind: Although the speakers are rubber sealed and can be placed in moist areas, they cannot be put in exposed outdoor areas. You could put them under an outdoor covered porch, but they cannot be directly outside.
Good for: Anyone who wants to enhance their lifestyle quality with terrific speakers.
---
(Most eco-friendly — $)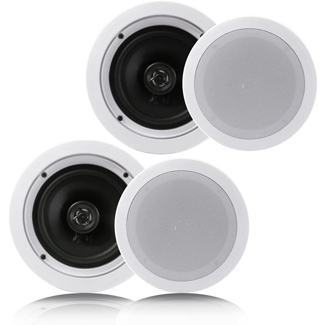 Why it's great: While it may not be your first thought when looking at speakers, it's nice to know that this set is made of nature-friendly, ABS material. At a budget-friendly price, these offer decent sound for their size. They are only 6.5", but they distribute the sound evenly through a small room. These work great as surround sound speakers, especially for back, ceiling sound. These mount flush into your ceiling or wall and are quick and easy to install by following the template and instructions. The grills on these speakers are stain-resistant, which will help to keep them looking nice.
Keep in mind: These do give off decent bass, but they are not meant to be heavy on the bass, so if you're looking for a deeper sound, you may want to choose a different set.
Good for: Smaller rooms and anyone who prefers more environmentally friendly products.
---
(Best budget option — $)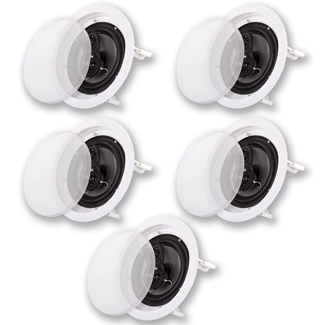 Why it's great: This speaker set hosts five speakers with full range 2-way sound. They are perfect by themselves, or can easily be combined with other audio systems, and are simply powered from an amp or audio receiver. Easily place these speakers around a room for well rounded, clear sound dispersal.
The best thing about these speakers is the low price for a set of 5. Plus, they are quality speakers, produce a great tone, and make an impact when listening. This easy-to-install set will be up in no time, allowing you to be blown away by the incredible acoustics.
Keep in mind: The tweeters on this set do not rotate or tilt, so be sure to place speakers accordingly in the room, allowing for balanced sound distribution.
Good for: People who already have an existing audio system and want to add more oomph to their entertainment area.
---
FAQs about Ceiling Speaker
---
1. How many ceiling speakers do I need in a room?
This completely depends on the size of the room and how consistent the sound is. Normally, pairs of speakers work best to elevate the sound quality and to create a well-rounded, crisp distribution of noise.
---
2. Can ceiling Speakers be installed in humid areas, such as bathrooms and kitchens?
Yes, absolutely. Be sure to look into which speakers are best in humid and moist areas, as they are sealed differently to combat this and keep them dry.
---
3. Can ceiling speakers be painted to match the room color?
Yes, normally the speaker grills are a flush or neutral color, but can easily be painted. The best option is to buy spray paint if you wish to change the color. Do not use regular paint to change the color as this will block the speaker grill and affect the overall sound.
---
4. How should I position my ceiling speakers?
It's best to position the speakers at equal distances apart from one another for the best sound dispersal. If possible, make sure the speakers have pivoting tweeters to push the sound into areas of the room that are harder to reach.
---
5. Can I use ceiling speakers outside?
Yes, but make sure the speakers are weathered appropriately. Certain speakers are used to harsh weather conditions, but make sure you research what speakers work best for the outdoors.
---
6. Do I need a subwoofer with my ceiling speaker?
A subwoofer isn't required or needed with ceiling speakers, but it can help with balancing the bass or low-end frequencies. If you choose to get a subwoofer, it will make the overall sound more transparent and seamless.
Conclusion
---
Ceiling Speakers instantly change the whole experience of listening to music at home or in an office to an elevated level. The crispness, depth, and clarity are outstanding, and you instantly notice when there is no ceiling speaker. All of these speakers are easy to install and will fit in perfectly to whichever environment you choose to place them. Depending on how much you feel comfortable spending you can get different things for each product. A well-rounded and robust speaker will deliver terrific results and completely alter the way you view at-home entertainment.
You may also like our other product reviews…
In-Wall Speakers | Laptops Under $700 | Luggage Sets Under $50 | Mechanical Keyboards Under $50 | Noise Cancelling Headphones Under $50 | Noise Cancelling Headphones Under $200 | Office Chairs Under $200 | Office Chairs Under $300 | Party Speakers | Point and Shoot Cameras Under $100 | Point and Shoot Cameras Under $300 | Portable Record Players | Projectors Under $200 | Projectors Under $500 | Record Players Under $100 | Routers Under $100 | Shower Speakers | Soundbars Under $300 | Speakers for Vinyl | Turntables Under $200 | Turntables Under $300 | Turntables Under $500 | Turntables Under $1000 | TVs Under $300 | Vlogging Cameras Under $300 | Wireless Headphones Under $200 |