Updated on by Lyric Fergusson
Whether you're a morning person or not, starting your day with a cup of home-brewed coffee is never a bad idea. Coffee machines that cater to convenience are the smoothest way to step up your morning routine and many of the best options available today are tailor-made with useful features, like grinders and automatic programming, to keep your coffee habit both low-maintenance and delicious.
Best coffee makers with a grinder
---
(Best value — $)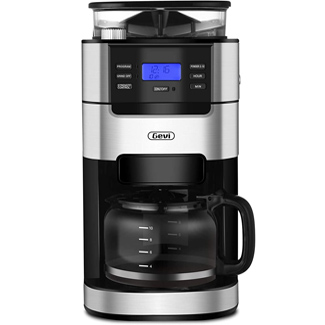 Why it's great: This coffee machine by Barsetto can brew up to ten cups of coffee at a time and includes three strength control settings as well as eight coffee grind control grades, allowing you to customize your pot of coffee just the way you like. Its conical burr grinder ensures that coffee will taste fresh and flavorful every time it's brewed. The automatic start function allows you to program your machine to make coffee ahead of time while a warming plate keeps coffee warm in its carafe for up to two hours. While it is a more cost-effective option, customers report that this coffeemaker's functionality is not sacrificed for its price.
Keep in mind: This coffee machine is taller than other models and some customers mentioned that it was hard to fit under their kitchen cupboards so be sure check the measurements of the machine if you think this might be a concern for you.
---
(Highest quality — $$$)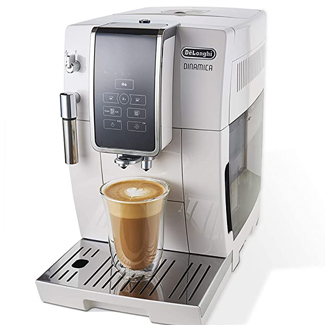 Why it's great: This coffee and espresso machine comes with all the bells and whistles, including an integrated adjustable manual frothier and an adjustable steel burr grinder with thirteen setting options. Its sleek and modern aesthetic includes a LED touch control feature that has five settings to better regulate the strength and size of your brew. This machine heats coffee in less than forty seconds as well as can produce full-bodied iced coffee. Not only fast and easy to set up, this coffeemaker is also easy to clean with removable parts that are dishwasher safe.
Keep in mind: This coffee machine doesn't brew as many cups as others and requires water and beans to be refilled more often.
---
(Best for the coffee snob — $$$)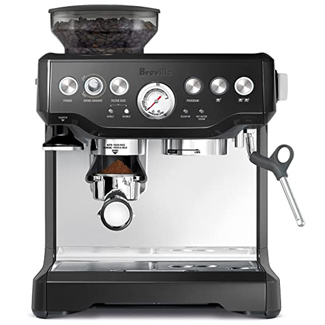 Why it's great: This Breville espresso machine is one of the more professional-grade coffee machines on the market and is guaranteed to produce café-quality espresso in your kitchen at home. With a choice of manual or automatic operation, this machine includes a stainless-steel conical burr grinder, a 1600-watt thermocoil heating system, and volumetric controls to customize shot volume. This espresso machine also boasts advanced temperature and pressure controls as well as an increased dose measurement so that the espresso you make will have a stronger and richer taste. Designed for beginners as well as expert coffee aficionados, this machine is the #1 best seller in Semi-Automatic Espresso Machines on Amazon as well as has high customer ratings.
Keep in mind: Some customers report quality issues but Breville customer service is available to troubleshoot and will replace faulty parts and products.
---
(Most versatile — $)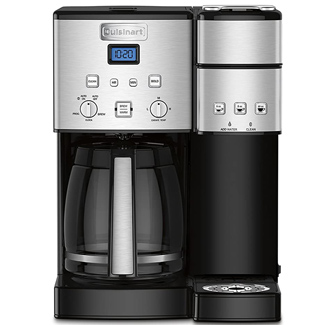 Why it's great: This Cuisinart coffeemaker is fully automatic for an effortless consumer experience. Its dual functions allow you to make a 12-cup pot of coffee or a single-serving cup. The 12-pot side brews in a glass carafe and offers several options to tailor the taste and temperature of your coffee as well as features automatic programming options. The single-serve side comes with a reusable filter cup that you can fill with your own coffee though it is also compatible with K-cup pods if that is your preference. The single-serve side also includes a removable drip tray and has been designed to accommodate travel mugs so that you can easily take your coffee on-the-go.
Keep in mind: You will have to soak the charcoal filter pieces prior to using, so there is some preparation required before you can use this product.
---
(Best for making espresso — $$)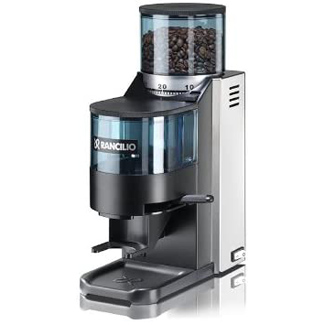 Why it's great: This espresso machine by Rancilio features a professional dosing chamber and a commercial-grade burr grinder that is powerful but quiet. Its variable grinder adjustment control allows for customization with the simple sweep of a lever and ensures that every batch of beans will be ground consistently. Discerning customers praise this espresso machine for its durability, precision, and efficiency as well as its ability to produce specialty espresso drinks with a fresh, flavorful taste. With its simple design and manual operation, this machine was made for the espresso enthusiast.
Keep in mind: Some customers report a lack of consistency with the grinder settings, so it may take some playing around to figure out which setting will work best for you.
---
(Best for the barista-in-training — $)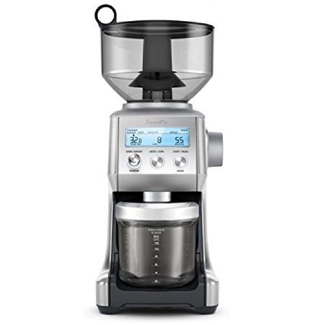 Why it's great: With 60 precise grind settings, this Breville coffee machine is for the coffee drinker who likes all types of coffee, from espresso to French press. This machine features a programmable conical burr grinder with an 18-ounce coffee bean capacity that grinds directly into a portafilter. An LCD display screen shows programmable options, including grind setting, grind time, and the number of shots or cups you wish to brew. This machine also includes an electronic timer that allows you to control the grind time down to 0.2 second increments for better consistency in your brews. Customers praise this machine for being a versatile coffee machine for coffee drinkers looking to learn more about the process of brewing their own coffee.
Keep in mind: This product is designed for people who love coffee and take pride in making the perfect cup. With so many settings and details, there is a learning curve to getting it right if you're not already well-versed in grinder settings.
---
(Easiest to use — $)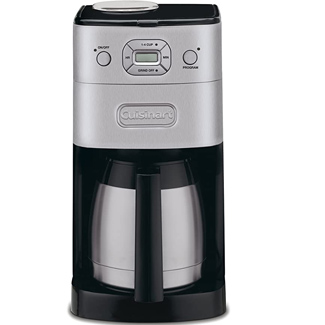 Why it's great: This Cuisinart coffee machine is simple and straight-forward by design and is intended for the unpretentious coffee drinker who's wants coffee that's as delicious as it is effortless to make. This automatic coffee machine includes a 10-cup carafe made from double-wall thermal stainless-steel to keep coffee hotter longer. The automatic grinder will save you valuable time while still retaining the quality of coffee made from freshly ground beans. Programmable features include variable time and volume settings as well as an adjustable automatic shut-off.
Keep in mind: This coffee maker can take time to clean and requires removing parts to do so effectively.
---
FAQ about coffeemakers with a grinder
---
1. What are things to consider when purchasing a coffeemaker with a grinder?
Price can be a determining factor when purchasing a coffeemaker, so the first thing you'll want to do is set a budget. Most other decisions you'll have to make come down to preference, including the volume of coffee that can be brewed at one time or how easy the machine is to use. You'll also want to make sure the coffee machine you purchase is durable or has a good warranty plan included in case it breaks unexpectedly.
---
2. Why buy a coffeemaker with a grinder?
Coffee machines that come with a grinder are often more expensive than those that don't. However, when a coffeemaker has its own grinder, there's no need to purchase a separate one, which justifies the extra cost. It also saves you the time and effort of grinding the beans yourself. Having a grinder attached to your coffee machine also ensures that your coffee beans will be freshly ground for every brew which will improve the flavor and quality of your coffee.
---
3. What is a burr grinder and why is it important?
A burr grinder is a grinder that is made up of two revolving burrs, in between which the coffee beans are crushed. Many coffee gurus will tell you that this is superior to a blade grinder as it gives you more control over the consistency and quality of the grind. This is important because when beans aren't ground correctly, the taste and texture of your coffee can be ruined.
---
4. What is a doser coffee grinder and why is it important?
Doser grinders have an extra compartment that catches the coffee after it is ground. A doser mechanism then measures equal amounts of grounds into individual repositories so that you can better control the amount of coffee grounds going into your brew as well as can ensure each batch of coffee you brew is consistent in terms of taste and strength.
---
5. What are things to consider when choosing coffee beans?
While having the right coffee machine makes a world of difference in how your coffee will taste, so does choosing the right coffee beans. Freshness is an important factor, so check the roasting date on the coffee bean package to make sure that they have been roasted within the last month, if not the last week. The roast level will also make a difference in the taste of coffee beans. Dark roasted beans will have a bolder taste while medium or lightly roasted beans will have a more refined flavor. Lastly, the country of origin will also influence the taste of coffee beans. For example, Kenyan coffees are considered to be more savory while Columbian coffees are considered sweeter and more chocolatey.
Conclusion
---
Making the perfect cup of coffee can be a personal pastime as no two people like their coffee exactly the same. When looking to purchase a coffee machine, it's important to reflect on your preferences. Do you prefer a shot of espresso or a cup of French press in the morning? Will you be brewing a single serving cup of coffee or a 12-cup pot? If you're a get-up-and-go morning person, you might favor a coffee maker with easily programmable features. If you're someone that wants more creative control over the taste of your coffee, choosing a machine with high-end parts and bonus settings will probably be a better option. No matter your preferences, a new coffee machine, with a grinder included, is sure to improve your rise-and-shine ritual.
You may also like our other product reviews…
Air Fryers Under $100 | Blenders for Green Smoothies | Blenders Under $100 | Chef Knives Under $100 | Commercial Shaved Ice Machines | Crepe Pans | Espresso Machines Under $100 | Espresso Machines Under $200 | Espresso Machines Under $500 | Juicers Under $100 | Knife Sets Under $200 | Omelette Pans | Onion Choppers | Pizza Peels | Silicone Baking Mats | Silicone Cooking Utensils | Teapots with Infuser | Toaster Ovens Under $100 |