Updated on by Lyric Fergusson
Buying a nice, refreshing shaved ice on a warm day is getting more and more popular these days. It's no wonder that sales of commercial shaved ice machines are rising. Whether you just want a hearty one for your home or for your small business, there's many options to choose from. When you're investigating which one to buy, you might feel as if you were fighting a small battle to figure out which ones are worth purchasing. That's why I've compiled this list of the top 11 commercial shaved ice machines, with all the features highlighted, so you can look for what you specifically need. Kids (and adults) will be lined up to try your creations in no time!
Best Commercial Ice Shavers
---
(Most durable — $$$)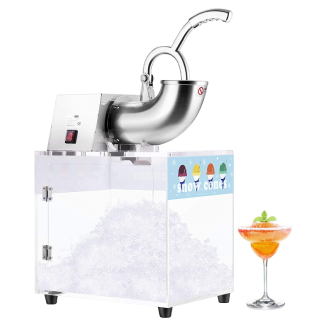 Why it's great: This VIVOHOME commercial ice shaver isn't messing around. It has dual blades, which double the shaving speed, giving you over 440 pounds of ice shavings per hour. There is a clear box for collection underneath, which is convenient and looks cool, and the acrylic case can house up to 1.16 gallons of shaved ice, keeping the ice frozen for up to two hours under normal circumstances. This keeps the shavings cool and ready for adding to your cone or cup. Another beneficial mechanism: there is a pipe for drainage of melted ice. No more wiping up small puddles as the ice melts! And, as a bonus, this shaver has an extra water-resistant cover on the on-off switch, so there's no problem when touching with wet hands. One of the most unique features of this VIVOHOME ice shaver? You can actually mince fruits/vegetables in it with the ice, creating a healthier, creative treat.
Keep in mind: Ice shavings can build up on the part that pushes the ice down. You can easily clear out the shavings when this occurs.
Good for: Large gatherings, carnivals, all day use.
This commercial shaved ice machines is also available on Amazon.com ➜

---
(Most energy saving — $$)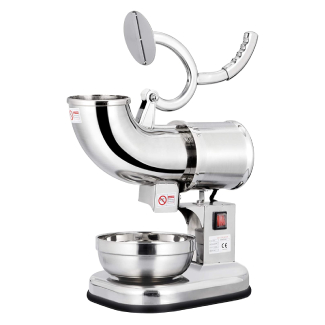 Why it's great: This ZENY ice shaver machine is great for shaved ice, snow cones, slushies, and other fun drinks! Even margaritas! The sturdy, stainless steel construction can shave up to 440 pounds of ice per hour. That's a lot of icy treats! I like the added safety feature it has: the waterproof cover over the on/off switch. It also doesn't use as much electricity as some of the other, larger machines, so it saves you energy. This is due in part to the double-ended stainless steel blades, which can crush ice more effortlessly than other competitors. At only 18 pounds, you can easily carry this with you to different events. This ice shaver won't let you down!
Keep in mind: You'll need to clean it off thoroughly before use to avoid getting dust/contaminants in your first batch of snow cones.
Good for: Food trucks, cafes, school functions, banquets.
---
(Easiest to clean — $)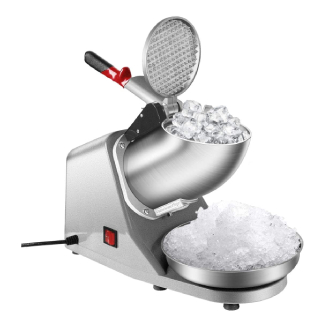 Why it's great: Treat yourself (or others!) to a wonderful snow cone with the VIVOHOME automatic ice shaver. All you have to do is plug it in, add ice cubes, and press the handle for quick and easy shaved ice. Designed for home use, this can be a nice addition to your kitchen or bar area, providing you with shaved ice that reminds you of tropical vacations and summer holidays. Kids will become pros at using this machine (watch over them until you are comfortable that they know the safety requirements!) and they will be the hit of the neighborhood. This machine is sturdy and built to last, so you will be able to enjoy treats for many months and years to come.
Keep in mind: Make sure to dry the ice machine after use and before storing to prevent any mold or bacteria from forming.
Good for: Home bars, school fairs, small celebrations.
---
(Most fun — $$$)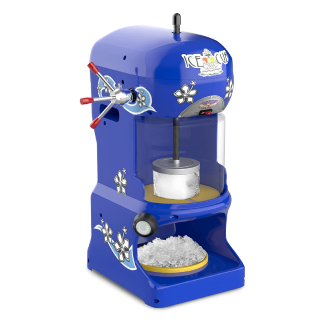 Why it's great: This machine has an impressive ability to shave up to 350 pounds of ice per hour, much more than the standard machine. It's commercial-grade, featuring stainless steel blades and a 1/3 horsepower motor. Great Northern is a well-known name in the concession industry, winning awards for best-in-class performance. Not only do I really like the blue color and overall whimsical look of it, but I really like the 1-year warranty that it comes with, for peace of mind. With this shaved ice machine, you'll want to use block ice, or create your own block ice by freezing water in a food-grade bucket. An additional foot pedal can be added to your order, which will save time and effort when using the ice shaver. This creates the soft, fluffy snow-like consistency that the young ones (and you!) will love.
Keep in mind: You'll want to make sure that you have enough electricity for this; you don't want to blow a fuse!
Good for: Local events, large parties.
This commercial shaved ice machines is also available on Amazon.com ➜

---
(Most versatile — $$)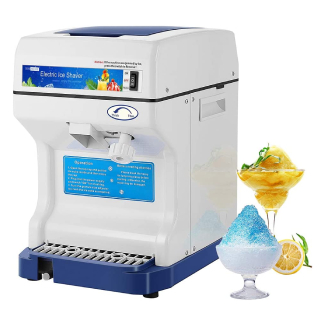 Why it's great: The white, square design of this VIVOHOME ice shaver will draw you in initially and you'll fall in love with it's performance too. This one can be used both at home and in small commercial businesses and can provide you with snow cones, slushies, milkshakes, yogurt freezes, and other frozen drinks. That is what makes it unique to others. It has a blade adjustment knob, so you can easily adjust the texture of the ice to create different frozen treats, making it the most versatile on the list. While the machine is operating, you can adjust the ice size from thicker to thinner. There's also a unique safety feature that you'll love: if you open the lid while running the device, it will automatically turn off. If you're looking for a frozen treat maker that is more than just your average ice shaver, this is the product for you!
Keep in mind: The manual and video instructions are online and won't come with the product.
Good for: People who want to make a variety of frozen treats, even milkshakes.
This commercial shaved ice machines is also available on Amazon.com ➜

---
(Best value — $$)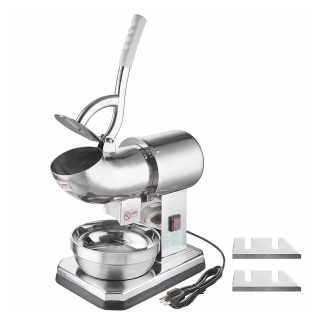 Why it's great: This is a dual blade ice shaver that can crush 440lbs of ice an hour! It has multiple safety features including a water-resistant cover over the power switch, a non-slip base, and an automatic sensor that will power the machine off if the temperature exceeds 275 degrees. The handle has an anti-slip, insulated grip, making it easier to use. The ice chute is a little bigger than most of the other options this size, which allows you to pile more ice up top. This makes thinly shaved ice, perfect for slushies, margaritas, or snow cones. It also comes with a good-sized bowl for catching the ice, allowing you to easily collect it all at once. One of the best things about this machine is that it comes with 2 extra blades, so you'll have a backup if anything happens to the ones installed in the machine.
Keep in mind: You can only make the fine, shaved ice perfect for slushies and snow cones, but it's not the thicker ice pellets in some snow cones.
Good for: Barbeques, pool parties, and small gatherings.
---
(Most lightweight — $$)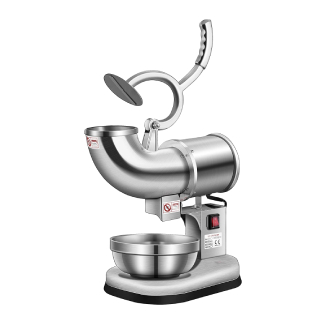 Why it's great: This VIVOHOME ice shaver is perfect for almost anywhere you want ice treats: at home, for use in restaurants, bars, snack stands, fairs, and more. Something that sets this one apart is the higher space it provides for the ice outlet. The enlarged outlet is designed 7-inches from the base so that you can catch the ice with any object you need, such as larger cups or oddly shaped containers. Another nice feature is that the ice bowl is made of double-layered stainless steel that has an insulating air pocket to keep the ice as cold as possible to stave off melting. Since it only weighs 22 pounds, you can take this with you to different events. Its lightweight makes it much easier to carry than some of the heavier, more commercial ice shavers. Bring this to your next event and be the life of the party!
Keep in mind: Keep a towel nearby if you are going to pause using it, so that melting ice won't get all over the counter.
Good for: Local events, large parties.
This commercial shaved ice machines is also available on Amazon.com ➜

---
(Largest option — $$$$)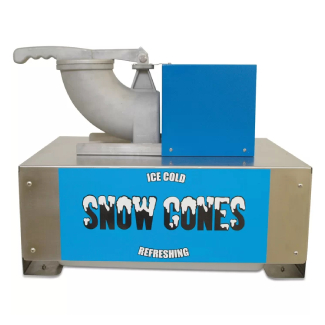 Why it's great: This commercial shaved ice machine can produce 500 lbs of shaved ice per hour! By far the biggest and best option for events and large gatherings. It also has a huge freezer-safe ice-tote, making it easy to store all the crushed ice for hours. The blades on this machine are adjustable, so you can shave ice finely or coarsely, depending on the treat you're trying to make. Use the fine setting for frozen margaritas and slushies and the coarser setting for the normal pellet-type ice seen in snow cones. This ice shaver also has a safety reset button, so you won't have to worry about any accidental startups. Plus, it comes with carrying handles, making it much easier to carry to all your events.
Keep in mind: Even though it has carrying straps, this machine does weigh 48 lbs, so make sure you'll be able to handle that if you need to move it.
Good for: Large events, school fairs, carnivals, parties, and more.
---
(Highest volume — $$$)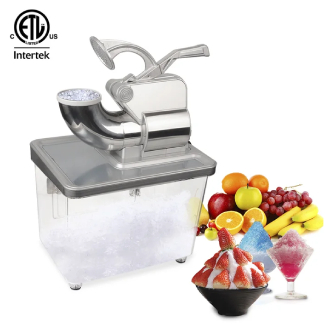 Why it's great: This commercial ice crusher means business! Its heavy-duty, dual blades crush 660 lbs of ice per hour! It has sturdy feet on the bottom to keep the machine from sliding around, a water-resistant cover over the power button and is made of stainless steel. The transparent bucket is a food-grade PC and will keep the shaved ice cold until you need it. This makes finely shaved ice, perfect for slushies, snow cones, and any other icy treat. It's simple and easy to use and comes with a manual, so you'll know exactly what you're doing. If you need a lot of shaved ice quickly, this is the machine for you!
Keep in mind: The door on the bucket is convenient for scooping ice while the machine is running, but isn't the easiest to actually use.
Good for: Carnivals, fairs, school events, and large parties.
---
(Best budget option — $)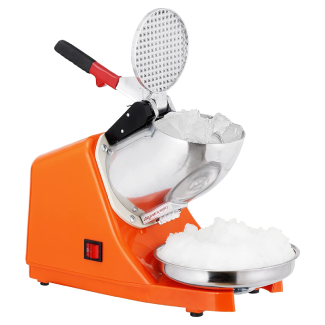 Why it's great: ZENY has created a snow cone maker that can be an attractive addition to your kitchen, food truck, or other small event space. The orange color and sleek design draw you in, and the slushes and frozen concoctions will please you, too! This model has an upgraded, durable frame and is super easy to clean after use. The shaving blade creates fluffy snow, and paired with your favorite syrup flavor, will be the exact combination you're looking for on a hot day. Like many ice shavers, there are safety mechanisms in place to prevent accidents or injuries, such as automatic shut-off when the hopper is open. For your home parties or small get-togethers, this machine will not only make snow cones, but it'll make your guests smile as well. It's also the best option for those on a budget.
Keep in mind: There may be a good amount of vibration when in use.
Good for: People who want something for a small event or for home use.
---
(Most compact — $)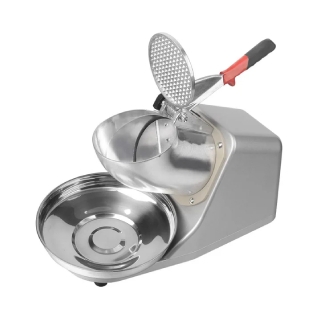 Why it's great: This little ice shaver is perfect for home use. It's small but powerful. It crushes ice thinly for slushies and snow cones. Your family will love being able to easily make their very own icy treats. The bowl is wide enough to catch enough shaved ice for one treat and the machine is very simple and easy to use. The insulated grip is non-slip and will make operating the machine comfortable and quick. It's made of stainless steel and highly durable for years of use.
Keep in mind: The machine and the bowl are pretty small, so you'll probably only be able to make one treat at a time.
Good for: Home use and small gatherings.
FAQs about Commercial Shaved Ice Machines
---
1. What is the difference between shaved ice and a snow cone?
Popular at ballparks and carnivals, snow cones are usually made from ordinary ice cubes. They are small, coarse, crunchy bits of ice that are typically served with a flavored syrup on top. A similar product is shaved ice, made from a block of ice. The flat shaving of the ice makes more of a snow-like texture and is also generally served with a flavored syrup on top. Shaved ice can also be made from regular ice, but it's still much finer and thinner than a traditional snow cone.
---
2. How do I flavor the ice?
Ready-to-use syrup is quite popular to flavor snow cones and shaved ice. However, you could also buy a concentrate that, when combined with water and sugar, produces nearly the same product. For a shaved ice business, it's common to buy the concentrates and create your own syrups, because it's more cost-effective. For home or party use, ready-to-use syrups can be a much faster option. Both are poured over the top of the shaved ice or snow cone, right before serving.
---
3. Does the temperature of the block of ice matter?
Yes, it can make a difference in the finished product. If you're using a block ice shaver, if the ice is too cold, when it's shaved it will not stick together. On the contrary, if it's too warm, the ice will create clumps. To ensure that your ice blocks are at the appropriate temperature, you could temper (or warm up) your ice blocks. Tempering the ice allows it to reach the ideal temperature, which is usually 18-20 degrees Fahrenheit.
---
4. What other items might I want to buy to make the best shaved ice/snow cone?
You may want to purchase a dome ice shaper, which can make perfectly round tops to your snow cones or shaved ice. It creates that neat appearance you're used to from carnivals and sports events. They come in either plastic or metal. You may also want to buy spoon straws. As the ice melts and mixes with the flavored syrup, it can be practical and fun to use a straw that doubles as a spoon to consume the ice. Spoon straws are disposable and can be inexpensive when purchased in bulk.
---
5. What are the most popular flavors of shaved ice?
The consistent winners are; cherry, grape, and blue raspberry. Kids and adults alike both choose these flavors over all others. More popular flavors include watermelon, strawberry, pina colada, banana, root beer, and lemon-lime. It's always nice to have several options for your guests to choose from.
---
6. Is shaved ice healthier than ice cream?
The syrup you add to the shaved ice will determine how much refined sugar and artificial flavors/colors you're consuming. By adding less syrup, or using sugar-free syrups, you can have a lighter product than ice cream. Ice cream and frozen yogurt have added fat from the dairy element that shaved ice doesn't have, too. Overall, it's a healthier option when the amount of syrup is kept in check.
---
7. What events can I use a shaved ice machine for?
Shaved ice machines are becoming increasingly popular at many events, such as
Sleepovers, pool parties, kids' sports games, birthdays, quinceaneras, luaus, holidays (such as the 4th of July), house warming parties, and game nights. Pretty much, any event is a good reason to bring out the shaved ice machine and have a frosty treat.
You may also like our other product reviews…
Air Fryers Under $100 | Blenders for Green Smoothies | Blenders Under $100 | Chef Knives Under $100 | Coffee Makers with a Grinder | Crepe Pans | Espresso Machines Under $100 | Espresso Machines Under $200 | Espresso Machines Under $500 | Juicers Under $100 | Knife Sets Under $200 | Omelette Pans | Onion Choppers | Pizza Peels | Silicone Baking Mats | Silicone Cooking Utensils | Teapots with Infuser | Toaster Ovens Under $100 |