Updated on by Lyric Fergusson
Pregnancy is a time of tremendous physical change, and unfortunately, not all those changes are pleasant or comfortable. For many women, the increased blood flow created during pregnancy can cause painful varicose veins and slow circulation in the legs. For some women, this is a mild condition, but for others, it can be hard to get out of bed due to the pain. As someone who has dealt with severe varicose veins and leg pain during pregnancy, I can say from experience that the right compression socks make all the difference.
Here are our top seven picks for the best pregnancy compression socks of 2020:

The Best Compression Socks for Pregnancy
---
(Best budget option — $)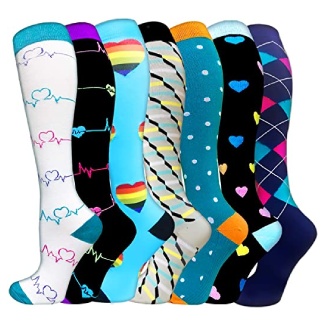 Why it's great: Hi Clasmiz compression socks are similar to ACTINPUT socks, but with more compression. You can choose between a single pair or up to seven pair pack, and the socks are rated 20-30 mmHg, making them a great option for moms who need more compression for everyday use. You can choose from 26 designs, ranging from solid colors, to polka dots, to Christmas designs.
Keep in mind: These socks also feature graduated compression, so keep in mind they will be tighter around the ankles and have more flexibility at the cuff.
Good for: A stylish everyday option with a high level of compression.
---
(Best for athletes — $$)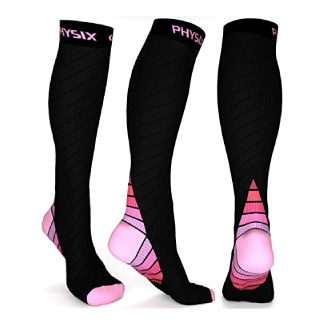 Why it's great: These socks feature graduated compression, with stronger pressure around the ankles and calves and less compression towards the knee. They are a nylon and spandex blend, with a simple athletic design. With 20-30 mmHg of pressure, they are a stronger option for women who struggle with moderate vein and swelling issues during pregnancy.
Keep in mind: These socks feature a moisture wicking property that is intended for use during athletic events like marathons or Ironman races, so if you're looking for a product that will keep you dry, these are a great option.
Good for: Active moms looking for higher compression ratings.
---
(Most stylish — $$$)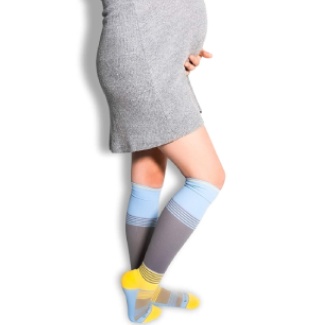 Why it's great: Belair Maternity Compression Socks were designed with pregnancy in mind. Not only are they lightweight and breathable, but they're also super cute and high quality. The socks are made from a nylon and Lycra and feature a soft arch and reinforced heel for added comfort. They also come in four stylish designs that feature vibrant colors and stripes.
Keep in mind: At $20 per pair, these are a more expensive option, but the design and comfort they offer make the price tag well worth it.
Good for: A stylish design for everyday use.
---
(Best for severe cases — $$$)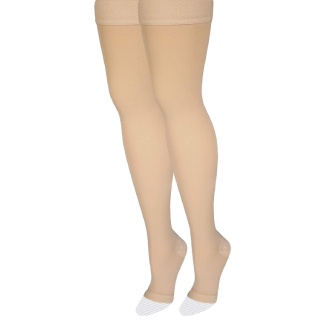 Why it's great: Swollen feet, ankles, and lower legs are common in pregnancy, but sometimes women also have pain and clotting in their thighs. If you've dealt with this condition before, these socks from NuVein will help prevent it in the future. The stockings are thigh high and provide 20-30 mmHg of compression for the most severe cases of swelling, varicose veins, and edema. They are made from durable, thick hospital grade material and feature a toe-less design for greater breathability.
Keep in mind: These compression stockings pack quite a punch, so consider consulting your doctor before using them regularly.
Good for: Severe cases that affect the thighs and require a high level of compression.
---
(Most sporty design — $)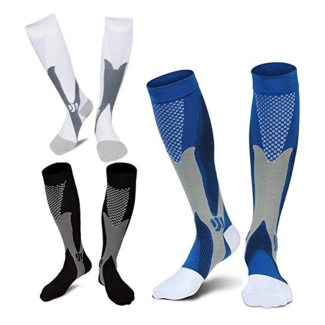 Why it's great: ZFiSt are another great option for athletic moms who are looking for socks to wear while running, cycling, or exercising. They feature added protection for the ankles, as well as moisture wicking properties and a slip-proof cuff. The socks provide 20-30 mmHg of pressure, with the highest levels at the ankle and the lowest towards the knee.
Keep in mind: These socks also feature graduated compression, and are quite tight around the ankles. If you have a lot of swelling in your ankles, they may be uncomfortable.
Good for: Sporty moms who are looking for sporty socks to match their athletic attire.
---
(Best for everyday use for mild symptoms — $)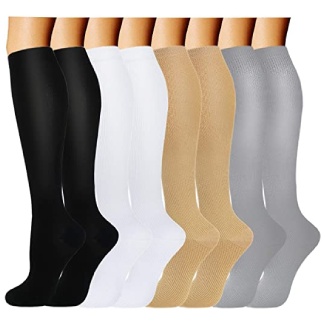 Why it's great: If you find yourself constantly looking for your socks in the morning, this 8-pack set from ACTINPUT is a great solution. Not only do you receive eight pairs of socks, but you can also choose from several cute designs, as well as solids. The socks are made of nylon, polyester, and elastane, with a comfortable compression of 15 – 20 mmHg.
Keep in mind: These are very basic compression socks, and best for women who have mild to moderate symptoms. The nylon material makes them a breathable, comfortable option.
Good for: Everyday wear under skirts, pants, and dresses, or for a cute accessory item that also provides compression benefits.
---
(Best for plantar fasciitis and other foot issues — $)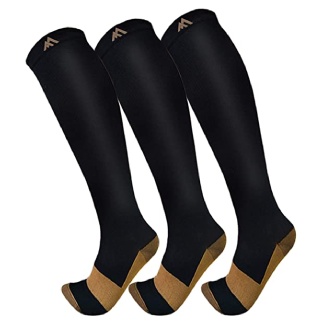 Why it's great: Copper Compression Socks come in packs of three, for a very reasonable price. They feature 15-20 mmHg of compression, making them ideal for mild/moderate symptoms. The socks come in 21 simple but cute designs, with solid color options as well as multicolored options.
Keep in mind: These socks also feature added arch support, a reinforced toe, and reinforced heel, making them a great option for women who suffer from plantar fasciitis or other foot problems during pregnancy.
Good for: Women looking for moderate pressure and classy, sleek designs.
---
FAQs about pregnancy compression socks
---
1. Do I need to wear compression socks during pregnancy?
Compression socks aren't necessary for all pregnancies, but they can be a godsend for women who suffer from swelling, varicose veins, and leg pain during pregnancy. Compression socks increase blood circulation in the legs, which decreases the severity of these unpleasant symptoms. Women who have underlying blood clotting conditions may also benefit from wearing compression socks during pregnancy, to reduce the chance of blood clots. If you are unsure whether or not you would benefit from wearing them, consult your doctor or midwife.
---
2. What does "graduated compression" mean?
Compression socks that have more compression at the feet and ankles are often said to have "graduated compression." The socks are tighter at the bottom and more flexible at the top, toward the cuff. Many women find these socks more comfortable than ones that have the same level of compression throughout the sock since they tend to be easier to put on and remove. However, some women find that graduated compression provides too much pressure on the ankles and feet, especially for women with a lot of swelling in these areas.
---
3. How much compression do I need?
The amount of compression in compression socks is measured in mmHg, a measurement that expresses pressure. For mild cases of varicose veins and swelling, compression from 10 to 20 mmHg should be adequate. A compression of 20-30 mmHg is considered strong. For higher compression, you'll need to get a prescription from your doctor. Remember, your socks should feel tight, but not painful. If you experience serious discomfort or pain, look for socks with a lower compression rating.
---
4. Should I wear compression socks throughout my whole pregnancy? What about postpartum?
Compression socks are beneficial for most people, so there's probably no harm in wearing them every day, especially if you spend a lot of time on your feet. Your doctor may also advise that you wear them during the postpartum period, especially if you have had blood clots previously or have an underlying condition that causes clotting.
---
5. What length of compression socks do I need?
For most pregnant women, knee-high compression socks should be sufficient. However, if you have varicose veins or clotting in your thighs, your doctor might recommend thigh-high compression stockings. If you're in doubt as to which length is best for you, ask your doctor or midwife.
---
6. How long should I wear compression socks during the day?
Compression socks function by helping blood circulation in your legs, so they are most effective when worn while standing or sitting for long periods of time – for example, at work, on long car rides, or airplane rides. They are also great for active moms who do a lot of running, cycling, or walking. If you have unpleasant swelling and pain in your legs all day, however, you can wear your compression socks all day to reduce symptoms and take them off before bed. That might sound unpleasant, but you'll be surprised at the immense relief they can provide!
---
Conclusion
---
Keep in mind that leg pain and swelling during pregnancy are normal, but you should always stay in dialogue with your health provider to make sure your symptoms are under control. Make sure you consult your doctor if you experience severe swelling, redness, or warmth to the touch since these can be a sign of more serious conditions, such as deep vein thrombosis.
That said, if you are prone to clotting or other unpleasant pregnancy issues in your legs, compression socks are a simple way to keep your blood flowing and prevent blood pooling. And with all the varieties and styles out there, stocking up can be fun! If you have any questions about which socks are best for your own pregnancy, check with your medical provider.
You may also like our other product reviews…
Body Washes for Pregnancy | Breast Pump for Twins | Maternity Bras | Maternity Jeans | Maternity Leggings | Maternity Pajamas | Maternity Pants | Maternity Support Belts | Maternity Tights | Maternity Work Pants | Maternity Workout Clothes | Nipple Shields and Balm | Postpartum Pads | Pregnancy Journals | Pregnancy Underwear | Probiotics for Pregnancy | Shampoo for Pregnancy | Shoes for Pregnancy |