Updated on by Asher Fergusson
More and more, we are all spending an increasing amount of time at our computers: for work, school, and entertainment. Being able to listen to music, watch movies, and enjoy video games while at your desk makes the experience much more enjoyable. Computer speakers have come a long way in recent years, and though there are speakers available for almost any price point, you don't have to spend a great deal to have great sound. You can now get very affordable computer speakers that provide high-quality sound and attractive aesthetics for under $50.
It can be easy to be overwhelmed with the different options and features when comparing computer speakers. There are different types of power, connectivity options, and designs, and dozens of models available for under $50. We've researched for you. Below is a list of our 11 favorite computer speakers under $50:
Best computer speakers under $50
---
(Sleekest design)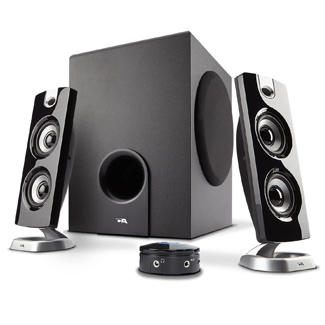 Why it's great: Featuring two speakers, a solid subwoofer, and an ultra-convenient control pod, the CA-3602 by Cyber Acoustics produces incredibly clear sound and sleek design for very little cost. With an AC supply providing 30W of power, these speakers can get loud and bass-driven. They are excellent for music, movies, and gaming. The little control pod includes a volume wheel on the top with a power switch and an auxiliary port, headphone jack, and separate bass volume on the sides.
Keep in mind: Because it provides a little more sound, this set takes up a little more desk space.
Good for: Anyone looking for quality speakers that also look nice.
---
(Most unique-looking)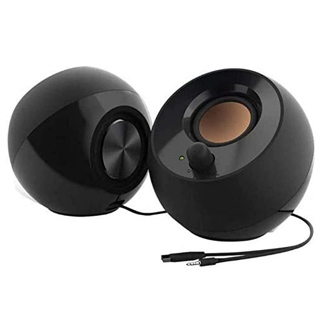 Why it's great: Made by one of the leading brands of computer speakers, the Creative Pebble is a unique-looking set of spherical speakers that produce excellent sound out of their modern design. The speakers have a sunken middle and are designed with a 45-degree angle, which provides better sound projection. They are only 4.4 inches wide, which means you can tuck them away in a corner or display them right on your desk without losing much workspace. They have a USB connection, 3.5mm jack, and a volume/power knob on the front.
Keep in mind: They do not offer Bluetooth connectivity.
Good for: Anyone looking for a more basic set of speakers with a unique, space saving look.
---
(Least expensive)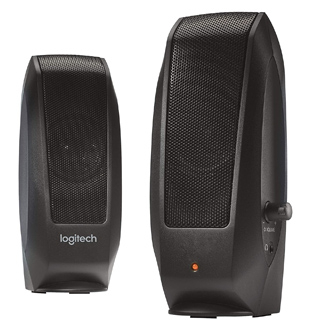 Why it's great: These rectangular speakers provide great sound with a small desk footprint and are the most affordable on the list. Using an AC jack (wall-outlet) means they get more power than USB speakers, and will be a bit louder. They feature a 3.5mm auxiliary jack which allows you to connect your phone or MP3 player directly to them. While they are basic-looking and inexpensive, they are also some of the most popular and highest-reviewed small PC speakers on the market.
Keep in mind: Some customers did not find sound quality up to their standards.
Good for: Anyone that needs decent, inexpensive speakers.
---
(Most fun)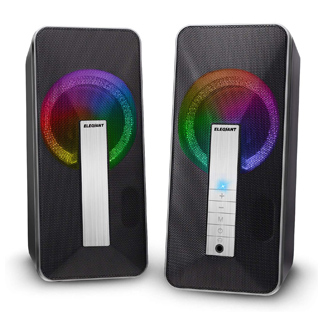 Why it's great: These speakers provide 10W of power, which gives crystal clear sound and great bass for two little speakers. These easily connect to any USB port on your computer or laptop and they're also Bluetooth compatible for wireless use. The fun LED lights on these speakers change with the sound or music, making them super entertaining and providing some ambience. It also has a 3.5mm jack, so you can connect to your phone or MP3 player directly if needed.
Keep in mind: These need to be plugged into your computer with the USB cord provided, which isn't terribly long so they'll need to be close to your computer.
Good for: Anyone that wants speakers that provide lights and ambience.
---
(Tiniest speakers)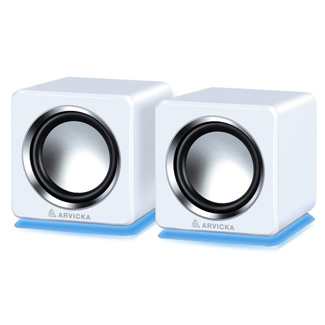 Why it's great: These little speakers are so small they'll fit in the palm of your hand, which makes them perfect for anyone that doesn't have much space for speakers on their desk. They're also small enough that you can tote them around with your laptop to use on the go. Regardless of their size, they offer a big, clear sound. They come in white or black with a blue LED light at the bottom. These mini speakers use a USB cord for power and can connect to any device that uses a 3.5mm jack.
Keep in mind: These don't have any Bluetooth or wireless capabilities.
Good for: Anyone that needs a good set of small speakers.
---
(Best for a party)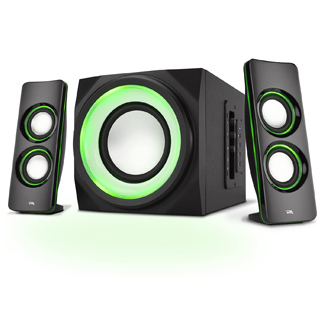 Why it's great: This compact 2.1 system is a perfect setup for your next small party! It features a solid subwoofer, two angled speakers, and color-changing LED light rings to add to the fun. We love that these speakers from Cyber Acoustics can be connected to your phone, tablet, or other devices via Bluetooth. Although they connect to each other with a cord, we appreciate having one more option for playing music without having to connect directly to the speaker. They also include a 3.5mm cable and RCA inputs to connect to other home theater equipment like a DVD player.
Keep in mind: Bluetooth connection to the PC may have an audio lag, which is no good for movies or gaming, but works fine for music.
Good for: Anyone that wants fun speakers to liven up a party or their workstation.
---
(Best bass sounds)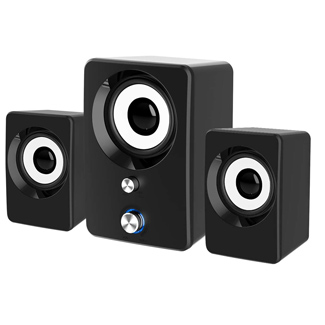 Why it's great: This 2.1 speaker system comes with 2 speakers and a subwoofer, providing you with powerful sound and rocking bass. These are extremely simple to use with one power button and a volume dial. They just plug into your computer or laptop with a USB cord, with no setup or hassle. They also come with a 3.5mm auxiliary jack to connect to any other audio device with a port. These speakers have a sleek design that looks great on any desk.
Keep in mind: There are different options available, but the set with the subwoofer doesn't have lights like the sets with just speakers.
Good for: Anyone looking for speakers with good bass at this price point.
---
(Best for small workspaces)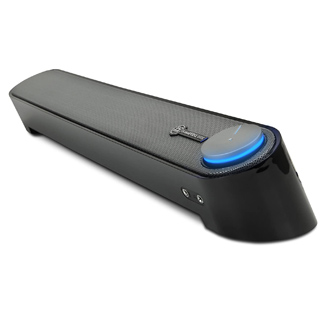 Why it's great: Looking for something different? This soundbar features a sleek, minimal design, which works great if you have a small desk. With built-in audio ports and a large easy-to-access volume knob, you can get it set up and working in just a minute. Best of all, it tucks right beneath your monitor for a low-profile look that provides great sound. Plus, the tilted face projects the sound upwards to the user. It comes in four colors to best coordinate with your aesthetics.
Keep in mind: Some customers noticed feedback-type sounds when connecting headphones.
Good for: Minimalists that want a decent speaker for their computer.
---
(Most versatile)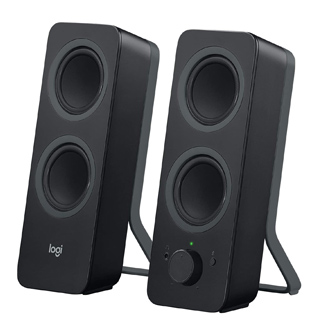 Why it's great: These speakers make it super easy to use them with multiple devices. They have a 3.5mm jack to plug into any device that needs a wired connection, but they also connect to any Bluetooth device wirelessly. You can connect to two Bluetooth devices and one wired all at the same time and toggle between the three, just by turning off the audio on the two you're not using. The speakers will automatically switch to the source that's playing sound. They also have a headphone jack on the front, next to the volume control.
Keep in mind: These do have a cord connecting each other, so they'll need to be placed fairly close together – the cord is about 20 inches long.
Good for: Anyone looking for speakers they can use with multiple devices easily.
---
(Most modern)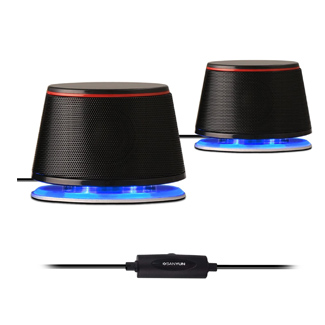 Why it's great: If you want to give your desk a modern look (maybe even futuristic), consider this pair of speakers from Sanyun, which take up very little desk space. They also have a built-in LED base that glows for extra fun. Their unique oval shape provides 360-degree sound, meaning they don't have to point in any certain direction to get the best sound, and features a closed-cavity design for higher quality bass-end sound. They utilize USB connectivity but come with a separate power supply if you prefer. The shape and metal base of the speakers also reduces vibration sound and buzz. The 3.5mm cord allows you to connect to phones and other devices as well.
Keep in mind: The glowing LED light is always on when the speakers are on, which not everyone appreciates.
Good for: Those that prefer a more modern look.
---
(Best overall)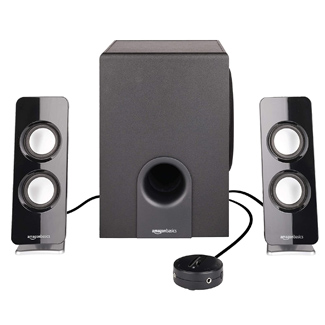 Why it's great: With 60W of power, a robust subwoofer, Bluetooth connectivity, and control pod, this 2.1 system from Amazon brings it all to the table. Bluetooth capability allows you to connect with your devices easily and without cords. The AC power provided gives the speakers louder volume and more rich bass than most speakers at this price point. The control pod features power, volume, and bass volume control, as well as an auxiliary jack for connecting additional or non-Bluetooth devices.
Keep in mind: Because the pod, power supply, and speakers are connected directly to the subwoofer, cable management can become an issue.
Good for: Anyone looking for quality speakers at an affordable price.
---
FAQs about Computer Speakers
---
1. What sound should I expect from speakers under $50?
While you won't get audiophile quality that you would expect from high-end speakers, you'll be surprised how much sound can come from small, inexpensive speakers. Look for speakers designed specifically for computers, as they will provide better sound than trying to connect stereo speakers to your computer. Many feature designs and shapes were developed to enhance low-end and bass sound for better sound quality given their compact size.
---
2. What features should I look for in computer speakers?
That is up to each individual person – consider how you want to use your speakers and what features are most important to you, including cords, sound quality and volume, size, and overall looks. Do you want solid power connections with cords or the convenience of Bluetooth? Will you use them for watching movies, gaming, or work meetings? Do you have much space on your desk to devote to speakers? Lastly – think about aesthetics. How do you want your space to look and how prominent (or not) do you want the speakers in that space?
---
3. What do 2.0 and 2.1 mean?
2.0 is a basic two-speaker setup, which is the most common type of computer setup. A 2.1 system uses the same two speakers for the higher frequencies and incorporates a separate subwoofer for bass, like the Cyber Acoustics and Amazon Basics systems above. 2.1 systems will generally take up more space but provide better quality sound.
---
4. Why do some computer speakers buzz?
There are a few different reasons computer speakers buzz and it can be frustrating to diagnose and fix the problem. Buzzing can be caused by radio frequencies from other devices interfering with the speakers, grounding issues with the electrical supply, cord damage, and other issues. If you hear a buzz, try moving your speakers around (or move other electrical devices placed near your speakers), or moving the cords around. You'll also want to try connecting headphones to the same computer or device to make sure it's not a problem with the computer's sound card.
---
5. Should I look for AC powered or USB?
Speakers get their power in a few different ways. AC power is pretty common and plugs into a wall outlet. USB can plug into your computer or a wall charger. While USB generally means fewer cords on your desk, it does not provide the same amount of power as AC, so speakers using USB tend to produce less bass and lower volume.
---
6. How loud are computer speakers?
Unless you are trying to host a house party, the answer is generally loud enough. The electricity supplied to your speaker and the speakers' amperage will determine the wattage of the speaker, which will determine its volume. Most speakers will indicate their maximum wattage: the higher the wattage, the higher the decibels of sound (loudness) it produces. While the speakers on this list will not provide sounds like a concert hall or 5.1 home theater system, you'll be surprised how loud they can go!
Conclusion
---
As you can see, there are many different qualities to look for in a computer speaker, and each person's preference will be different. Once you've determined what you are looking for in a speaker and how you'll use it, see which model above best matches your preferences. While there are many options for great quality speakers under $50, we feel confident that all the models included on this list would be a great choice.
You may also like our other product reviews…
In-Wall Speakers | Laptops Under $700 | Luggage Sets Under $50 | Mechanical Keyboards Under $50 | Noise Cancelling Headphones Under $50 | Noise Cancelling Headphones Under $200 | Office Chairs Under $200 | Office Chairs Under $300 | Party Speakers | Point and Shoot Cameras Under $100 | Point and Shoot Cameras Under $300 | Portable Record Players | Projectors Under $200 | Projectors Under $500 | Record Players Under $100 | Routers Under $100 | Shower Speakers | Soundbars Under $300 | Speakers for Vinyl | Turntables Under $200 | Turntables Under $300 | Turntables Under $500 | Turntables Under $1000 | TVs Under $300 | Vlogging Cameras Under $300 | Wireless Headphones Under $200 |