Updated on by Lyric Fergusson
No need to visit France when you can try your very own Crepe in the luxury of your own home. Learn to make sweet or savory traditional crepes and discover the endless toppings while catering for your family, friends and guests. Now the first step of your crepe journey is picking the pan that will help you make your delicious dish. Below are seven of the best pans to choose from, turning your crepe skills into an artform with one simple flip.

The Best Crepe Pans
---
(Best price — $)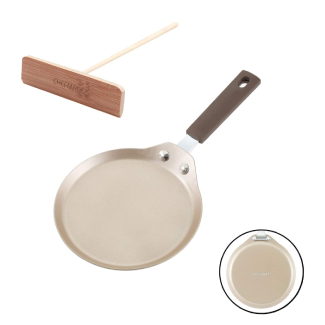 Why it's great: This 8-inch Chefmade nonstick pan is an essential item for anyone starting a journey on how to make the perfect crepe. This pan can easily be used on a variety of stoves to make crepes and is even designed with safety in mind. Its sleek finish is not only appealing to the eye but practical for cooking too, its stainless-steel bottom and aluminum body creates a well round pan showcasing heating consistency and warping resistance. It also comes with a bamboo spreader making it an absolute steal for the price.
Keep in mind: Since this pan has low sides it's great for cooking French omelets too. This multipurpose pan can be used for many French food options making it great for beginners and new chefs to the kitchen.
Good for: Beginners who want to use this pan to try out their crepe making capabilities.
---
(Most natural — $$$)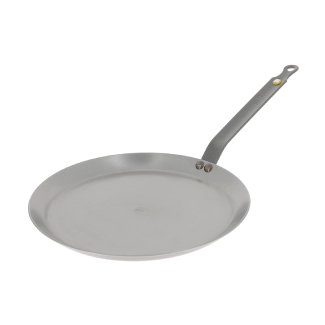 Why it's great: This carbon steel pan is made with 100% natural materials and has a beeswax finish, making it become more nonstick over time and made to last a lifetime. This pan is built to reach high temperatures and cook at an even and fast rate. The natural Beeswax coating will eventually come off revealing a pan perfect for cooking crepes.
This crepe pan may be a bit more on the pricey end, but it's worth it. This product will last a lifetime and will forever change how you cook. Its signature curved and easy-grip handle makes flipping crepes a breeze, easily making this a must-have kitchen item.
Keep in mind: The more you use this pan the better it will become. The pan will become darker and seasoned the more you use it and will eventually make the pan nonstick.
Good for: People who love cooking and are looking to invest in a pan that will last a lifetime. It can be tricky at first to season but once done, it's worth it.
---
(Easiest to clean — $$)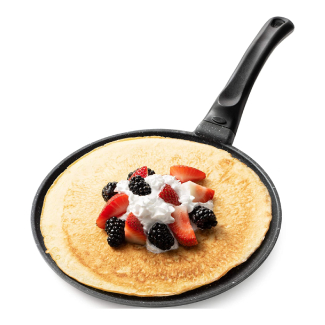 Why it's great: This big 10-inch pan is everything you need and more when crafting the classic French crepe. This pan is made with high quality aluminum material, has a nonstick coating and can be used on any heat source. Because the pan was constructed with a titanium base it generates equal heat distribution, allowing for a flawless crepe to be made.
This pan was created for every cook in mind, from the first-timers to the experienced chefs in a restaurant. It's easy to clean, use, and handle making it an excellent addition to your pan set and making it a breakfast staple.
Keep in mind: Since this is a nonstick pan it will not last forever. To ensure this pan lasts a long time, take proper care cleaning and handling it.
Good for: Any chefs skill level, who wants a reliable and go to crepe pan.
---
(Best machine — $$)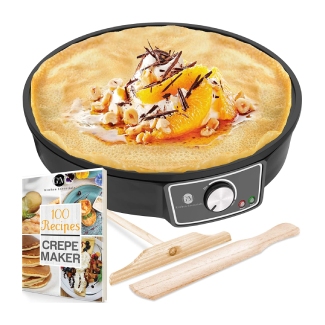 Why it's great: This has to be the best machine and well-rounded product of the list. It not only comes with the machine, the spatula and the spreader but also a 100 Crepe recipe cookbook. This easy to use maker is built with an indicator telling you when the pan is heating up and ready to use. The crepes will come out even and delicious every time.
This also doubles as a griddle making the best breakfast maker you could dream of. This machine is fantastic and the best part is, you don't have to worry about what surface to cook it on as it's all built-in. Enjoy eating crepes with the family as all you have to do is pour, spread, flip, and enjoy.
Keep in mind: Since this is a built-in one machine you have to be careful when cleaning. The best way to clean it is to let it cool down, then wipe up the residue with a sponge.
Good for: Anyone who's looking for a perfect crepe machine, can be used for other breakfast items but is primarily a crepe maker.
---
(Best cleanup — $$)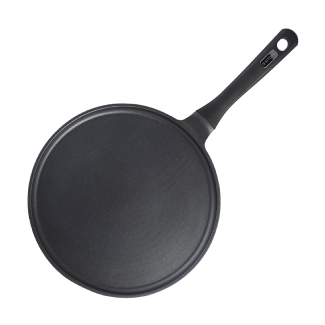 Why it's great: This lightweight pan allows you to easily move around the crepe mixture in the pan to create well distributed mixture. The nonstick calls for easy crepe release and the low sides allows you to have an effortless flip. Easily store this pan away or hang it from the handle for easy storage options. Did I mention the clean-up is simple with the pan being dishwasher safe.
This crepe pan is built for the cook in mind, with low sides, a grip handle, and a nonstick coating. This pan is everything you want and more with a great price tag.
Keep in mind: That this suitable for all stove tops but cannot be put into an oven.
Good for: This is good for occasional crepe use. I wouldn't suggest using this pan for everyday use, but more for a purpose.
---
(Most reviewed pan — $)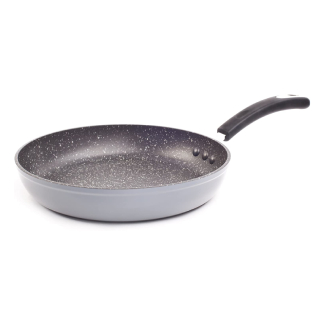 Why it's great: This eco-friendly 10-inch pan delivers exceptional nonstick performance without the risk of exposure to harmful chemicals. It is constructed with durable aluminum, natural stone and has a comfortable silicon handle for precision when making crepes.
This pan heats quickly heats evenly and fairs well with hotspots. The natural stone coating this pan has makes it scratch resistant and extremely easy to clean. Prep and cook crepes in this natural pan without the fear of harmful chemicals and enjoy the breakfast of your dreams.
Keep in mind: This pan is pretty heavy and quite big which makes it sturdy and practical for use, but if you have a small kitchen, with little storage space this might not be the best pan for you.
Good for: This is good for multiple uses and doesn't solely have to be crepe pan. This pan can be used in a variety of ways to make special dishes.
---
(Highest quality — $$$)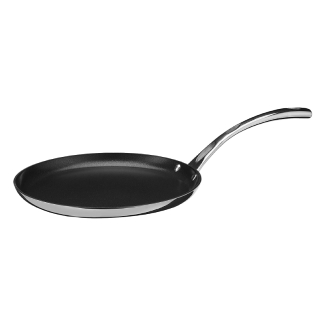 Why it's great: This tri-ply stainless pan will have you flipping crepes like a pro in no time. This might be expensive, but it will be a pan you will own for a lifetime. With its lifetime warranty and Cuisinart's performance these pans are built to last. With its elegant look and stay cool grip handle this pan has it all.
It heats evenly and has shallow sides making it easy to maneuver and flip with ease. The quality of the material is fantastic and with a reputable brand, you will be able to use this pan with confidence and precision.
Keep in mind: This is a pricey pan, but the quality is reflective of it. Since this is primarily used for crepes it is a good investment pan, but if you want a more well-versed pan this might not be what you're looking for.
Good for: People who want to take the crepe making skills to the next level with a professional, performance-based pan.
---
FAQs about crepe pan
---
1. What is a good size for a crepe pan?
A good crepe pan can range from 8 to 10 inches. The larger the pan is sometimes better as you can fold the crepe into quarters and fit more toppings in it.
---
2. Can crepe pans have multiple uses?
Yes, because of the size most of these crepe pans are great for making French-style omelets and can double as a griddle. Easily cooks meats and sear foods as they can evenly distribute heat and get very hot quickly.
---
3. Why are crepe pans better than a regular pan when making crepes?
Crepe pans are better to use because of the shallow sides, this makes them easy to flip and maneuver when cooking. They are also designed with different handles than a regular pan, a crepe pan has a grip that makes it easy to flip.
---
4. Are nonstick pans a good choice for crepe pans?
Yes, nonstick pans are an excellent idea to use for crepes, as they easily release the crepe and allow the spatula to easily flip the crepe without sticking. If you choose to get a traditional nonstick pan, stainless pan, or a natural finish pan they all work wonderfully, but it's ultimately up to your personal preference.
---
5. Should I use a wooden spatula or stainless-steel spatula when flipping crepes?
Wooden spatulas are better as they don't scratch or ruin the pan. They're also gentler when flipping the crepe and working with the batter.
---
6. Do you think a crepe machine is better than a pan?
This is totally up to personal preference; they both can have multipurpose use, but a machine already comes with the hot plate and can only be used on that surface. Depending on the machine or pan you choose it can either be easier or harder to clean. However, they both work great and will make crepes beautifully.
---
Conclusion
---
Crepes truly are so easy and delicious to eat, so why not enjoy making them at home with family and friends. The variations of styles and flavors are endless, as they can be much more than just a breakfast food but can be eaten at any meal. Having a pan that allows you to make this classic French delicacy will be a life-changing decision. Having a product I love has definitely changed the way I cook in the kitchen and bought food confidence back into my life. Whichever crepe pan you choose will be sure to bring joy, fun, and excitement back into the kitchen and household with new flavors and lots of yumminess.
You may also like our other product reviews…
Air Fryers Under $100 | Blenders for Green Smoothies | Blenders Under $100 | Chef Knives Under $100 | Coffee Makers with a Grinder | Commercial Shaved Ice Machines | Espresso Machines Under $100 | Espresso Machines Under $200 | Espresso Machines Under $500 | Juicers Under $100 | Knife Sets Under $200 | Omelette Pans | Onion Choppers | Pizza Peels | Silicone Baking Mats | Silicone Cooking Utensils | Teapots with Infuser | Toaster Ovens Under $100 |