Updated on by Lyric Fergusson
Finding the perfect crib for a single baby can be difficult. Finding one that fits great for two babies can be even harder. There are so many things to consider when looking for a crib, such as safety, sturdiness, size, style, and not to mention, which crib saves the most money in the long run.
It can be overwhelming to find the best crib for your twins but it doesn't have to be difficult. There are so many different types of cribs to choose from I'm confident you'll find one that you'll love. To get you started, here is a list of my favorite cribs for twins.

The Best Cribs For Twins
---
(Best accessory — $)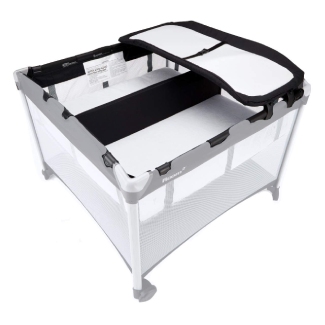 Why it's great: This is a great product to consider if you're having twins. It has a sleek and simple design that is perfect for those first few months when safe sleep is really important. The twin nursery also comes with many handy attachments that are great when you have your hands full with two babies. It also has a really great price compared to some of the other options. Especially if you already own and/or are considering purchasing a playard.
Keep in mind: This product is only an accessory and does not come with the playard. However, most parents said this product was "life-saving."
Good for: Parents who have already purchased a Joovy Room Playard or parents who are considering purchasing one and want to add the twin function to it.
---
(Most practical — $$)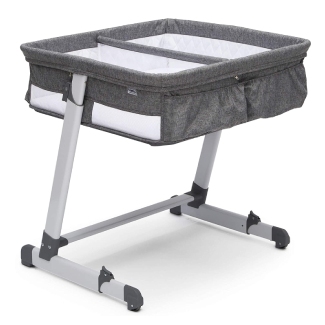 Why it's great: This duo bassinet is great for holding sleeping twins! It has mesh walls that keep babies separated, yet they can still see and touch each other and allows for easy breathing. The large storage pockets are really convenient for those late-night changes and feedings. It keeps everything right where you need it. It's high quality, easy to assemble, and has wheels to allow it to move all around the room. It's also compact so it won't take up a lot of room.
Keep in mind: This bassinet is only usable for the first several months after the babies are born, but keeping babies in a bassinet near the bed is best for that time.
Good for: Parents who will be co-sleeping with their twins or just plan on having their twins sleep in their room.
---
(Most versatile — $)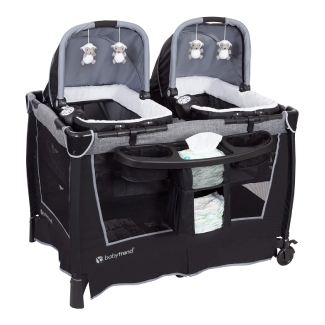 Why it's great: This playard and bassinet set is going to be so helpful when raising twin babies. It's reported to last for the first two years of life, the bassinets are removable, and it comes with an organizer console and a large changing table. This is a really great space saver and keeps everything you might need in one place. It's easy to assemble and the size of the playard itself is larger than most, which makes it perfect for twin babies. The soft lining of the bassinets is made of mesh, which is a relief for many parents who don't want to worry about their twins' breathing safely.
Keep in mind: While this nursery comes with many amazing attachments, you can not use both the bassinets and some of the attachments at the same time. Both bassinets are removable so you can just switch it out should you ever want to use a different attachment.
Good for: Twin parents that need something compact or need something with many purposes.
---
(Best value — $$)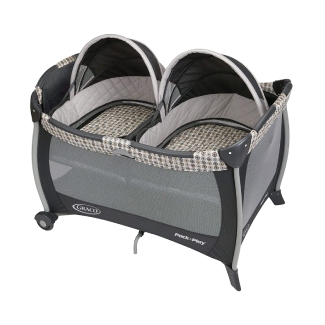 Why it's great: This playard comes with twin bassinets! It has a simple design that is collapsible and comes with a carry bag. These features make it super easy to assemble and portable. Both bassinets come with a canopy that will help keep light off of babies while they sleep. The playard itself is larger than most so that it can support two babies. This playard-bassinet-duo is perfect for those beginning months and really helps to conserve space.
Keep in mind: The bassinets are connected and not two separate attachments.
Good for: Those looking for something not too expensive, but still usable. This is a good "bang for your buck" product.
---
(Most convenient — $$$)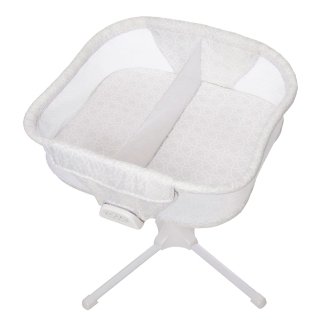 Why it's great: This twin bassinet is the perfect sleeper for newborn twins. It has room for two, with a mesh panel between them to keep them safe. The mesh walls are breathable and allow the twins to see each other. The whole thing swivels and rotates, making it easy for you to check on or access either child while you're in bed at night. The height is adjustable, so you have them at the same level as the bed. On top of that, the sides fold down, so you can easily get to your baby, without having to lift them out of the bassinet. It also comes with everything you'll need to keep your baby snug and comfy, with 2 waterproof mattress pads, 2 polyester sheets, and two cotton sheets. Plus, it vibrates, plays music, and even has a nightlight built-in.
Keep in mind: This is only for the first 5 months of life, but it's perfect for keeping your babies close when they need you the most.
Good for: Parents that want to cosleep safely with their twins and have easy access to both at all times of the night.
---
(Best convertible — $)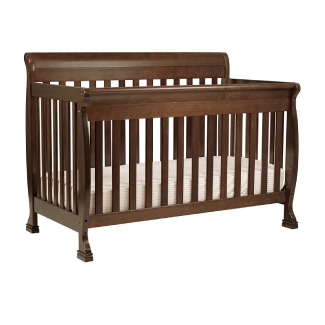 Why it's great: This crib is so good for families raising twins as it will grow with your child. While it's a crib, the height of the mattress has 4 different settings, which means you can lower it as your child gets older to keep them safe. It also goes from a crib to a toddler bed and then a toddler bed to a full-size bed. This means that it could potentially last your child all the way up to adulthood! It comes in 7 non-toxic colors, which is great for a variety of nurseries. The toddler rail comes in a separate box that can be stored until needed and the packages all come tightly secured.
Keep in mind: It's pretty difficult to assemble on your own, but much easier if you have a partner to help you.
Good for: Parents who are looking for a crib to last them through the years.
---
(Most modern — $$$)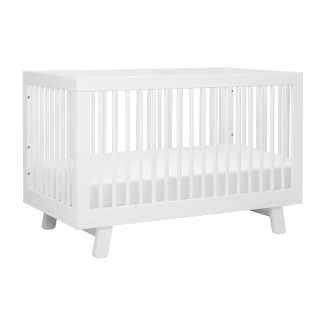 Why it's great: This is a stunning crib that is so aesthetically pleasing that it would match any nursery style, especially since it comes in 7 different color options. Its modern design is so very eye-catching, making it quite popular for many families. The size of the crib is very convenient for twin parents because it is rather compact. You could easily fit two into one nursery or have lots of space for other furniture if the twins have separate rooms. It also comes with a toddler rail and can be converted to a toddler bed or a daybed as your children get older.
Keep in mind: The packaging it comes in isn't the most secure, so double checked that nothing got damaged during delivery before putting it together.
Good for: Parents looking for a more modern crib that's aesthetically pleasing.
---
(Best storage — $)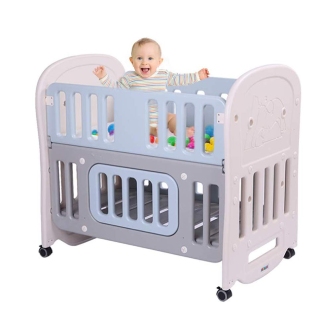 Why it's great: Not only is this a smaller crib that won't take up too much space in the nursery, it also doubles as a storage bin. There's a large compartment under the mattress to store extra blankets, sheets, toys, or whatever else you'd like. When you have twins, you've got a lot more stuff that you need to find room for, so this is the perfect solution. The mattress has three height settings and it converts to a toddler or daybed when your babies get older. It comes with wheels, so you can easily move the crib. When your babies are newborns, you can wheel it into your bedroom at night and then back to the nursery for daytime naps. You can also remove the wheels and the crib will act as a rocker.
Keep in mind: This crib comes with a mattress, but it's quite a bit firmer than most crib mattresses. You might be better off purchasing a separate mattress so your babies are comfortable.
Good for: Parents that want a smaller crib that also doubles as storage space.
---
(Most portable — $)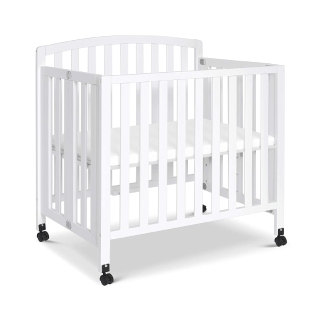 Why it's great: This crib is a perfect choice for twins because it's small and doesn't take up much space AND it can be folded up easily when not in use! It also has wheels on the bottom and can fit through doorways, so it's easy to move from one room to the other as needed. It has four different height settings, so it grows with your children. Plus, it can convert into a twin size bed as your babies get older. It comes in two different color options and both are neutral enough to match most nursery decorations.
Keep in mind: You'll need to buy a mini-crib mattress and the twin conversion kit separately.
Good for: Parents that don't have a lot of space and need a crib they can move from room to room.
View on Amazon.com ➜

---
(Best quality — $$)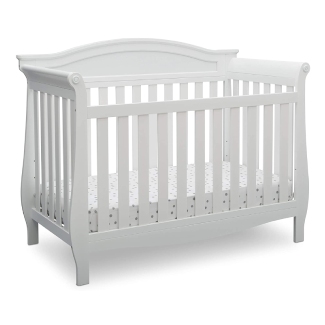 Why it's great: This crib comes in 3 beautiful colors, so you're sure to find one that will match the nursery. It has an adjustable height, which is great for the babies' first year, and has the ability to convert into a toddler bed, daybed, and full size bed later on down the road. Its beautiful design is incredibly sturdy and it's made of high quality wood. Having a crib that can last you through the years may be a good thing to invest in, as it will save you money later on.
Keep in mind: This one can be difficult to put together on your own, so make sure you have someone to help you.
Good for: Parents looking for a non-toxic and stylish crib for their twin nursery.
---
(Best budget option — $)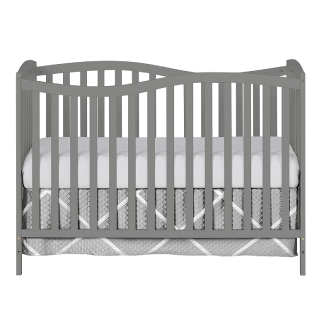 Why it's great: If you're on a budget, but prefer a real, full size crib to one of the cheaper options, such as a bassinet or playard, this is the crib for you. It's a great price and doesn't take up as much space as a normal crib. The swooping, flowing design gives it a unique look, while also allowing you to easily use whichever side of the crib you like to pick up your baby. This is nice because you could arrange two of these, one for each twin, in the center of the room longways. This would take up a lot less wall space than having them both head to head along the wall. These come in a variety of color options, so you can easily find one to match your nursery.
Keep in mind: This one isn't as high of quality as some of the others, but it's perfectly functional and pretty to boot!
Good for: Parents that want a full size crib at an affordable price.
---
FAQs about cribs for twins
---
1. Where should my baby sleep?
Babies should sleep in your room in a bassinet for at least the first several months to even a year. It is best that they sleep on a smooth tight surface with nothing around them.
---
2. When should my babies sleep in their nursery?
After the first year, it is safe for your twin babies to sleep in their own separate room. Do consider purchasing a monitor so that you can keep an eye on them while they sleep apart from you. This will help give you some peace of mind.
---
It is not recommended that twins share the same crib. They should stay swaddled in their own separate designated sleeping area. It is not considered safe sleeping for them to share the same sleeping crib, but they can share the same room which is the next best thing.
---
4. How long can I wait to buy a crib?
It is really up to you and when you want your babies to sleep in their own cribs. Although buying a crib ahead of time would be most ideal. If you purchase bassinets first for them to sleep in, you can hold off purchasing a crib until your baby starts to outgrow said bassinet.
---
5. Do cribs expire?
They may wear down over time, but they won't expire. However, your child may grow out of the size of certain cribs. Also, bassinets do have a weight limit so your baby can outgrow that as well. Just be sure to check all product and safety information.
---
Conclusion
---
There are so many types of cribs with different designs and functions and just as many variables to consider. It might be hard to find something that fits perfectly, but this list is here to help you narrow it down.
Having a good crib that fits you, your babies, and your home can be a lot. Considering the style and size of the nursery, whether or not the twins will sleep in the same room or separate rooms, how long you plan on co-sleeping, what's your safest option. It can all seem overwhelming, but it doesn't have to be.
The best thing that you can do is really listen to your gut and do your research. Once you find something that matches most of what you're looking for, then that's the crib for you!