Updated on by Lyric Fergusson
Croquet is an easy to learn and fun to play activity for all ages. The game has a long history and began seeing popularity as a backyard sport in England in the 1850s. There are national and international associations and competitive croquet is played in over twenty countries. To play, a course is set up with croquet wickets and the object is to hit the ball through the wickets and be the first person to complete the course. In general, you will need a lawn space about 100 feet by 50 feet to set up your course.
There are several variations of the game with different rules. The backyard version provides a fun, outdoor activity that promotes friendly competition. Children can learn gross motor skills, rules of the game, good sportsmanship, and patience. Many sets come with a carrying case making it an activity that can be easily brought to family gatherings and on camping trips. There are many low-priced sets for the casual player. Campgrounds, camps, schools, and other organizations that will have a lot of wear and tear on their equipment may want to look at the higher quality sets available.
The Best Croquet Sets
---
(Best budget starter set — $)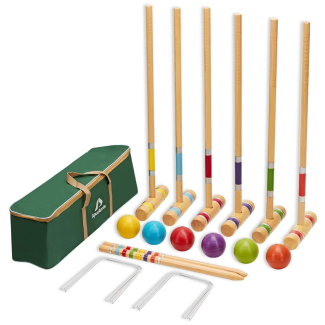 Why it's great: Made from pine wood, this six-player set comes 28 inch mallets. The colorful balls are made with an elastic polymer and are the larger 3-inch size. It comes with a large durable, zip-up carrying case and includes a manual with setup and gameplay instructions. The set weighs 10lbs and comes with a one-year warranty.
Keep in mind: The mallet heads need to be taken off to fit in the case. Some customers reported dents in balls after use.
Good for: Families looking for a good basic, croquet set.
---
(Best for younger children — $)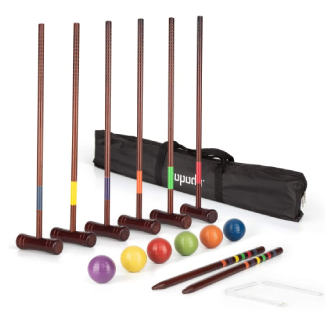 Why it's great: This set for six players is made of premium wood. It includes steel stakes, resin balls, and a carrying case. The balls are colorful, easy to distinguish from each other, and crack-resistant. They are also lighter balls and mallets are shorter at 30.7 inches, making the set a good choice for families with young children. At 7.8 lbs, the set is lightweight and easy to travel with. Instructions on how to play are included.
Keep in mind: There is no rubber padding on the mallets for extra protection. The 6 ounce balls are smaller than regulation size. The mallets only fit in the bag if you take them apart.
Good for: Families with young children looking for a set that is easy to travel with.
---
(Best grip — $$)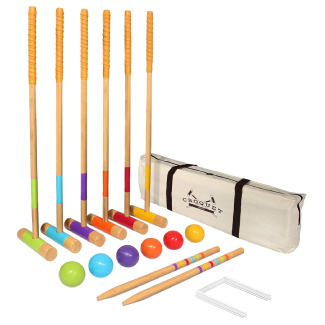 Why it's great: There are two sizes available for our croquet sets. The deluxe set includes 35-inch mallets and 3 inch balls weighing 10 ounces. The mallets in this set have a unique wrapped grip providing additional control. The standard set contains 28-inch mallets and 2.75 inch balls weighing 7.5 ounces. Both sets come with six mallets, six balls, a carrying case, and game instructions. GoSports provides great customer service if any issues with your product arise.
Keep in mind: Balls may become dented with use. Some customers reported that mallets easily unscrewed. Instructions are included but do not include detailed descriptions of croquet rules.
Good for: Sports fans who like an edge.
---
(Best use of recycled materials — $)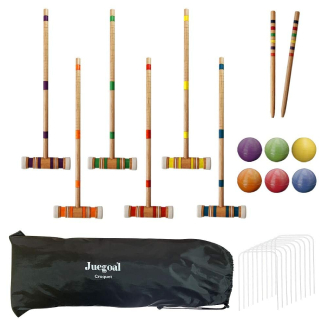 Why it's great: Juegoal creatively uses recycled crutches for its 28" mallets. The mallets also have a rubber cap providing extra protection from injury. The balls are a smaller 2.8-inch ball and the set weighs 9.5 lbs.
Keep in mind:Some customers reported negative experiences with customer service.
Good for: Customers wanting to feel good about purchasing a product made with recycled materials.
---
(Best for competitive players — $$)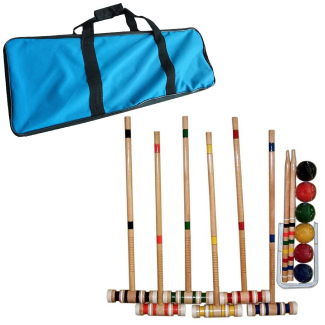 Why it's great: This set comes with six 33-inch mallets made with cottonwood and connected with brass inserts for extra durability. The soft-grip handles are comfortable and prevent slippage from sweaty hands. The set also includes six poly-resin balls and a weather-resistant carrying case for the 20-pound set.
Keep in mind: The longer mallets may be too big for younger children. The wicket stakes are narrower than most. Some customers reported that mallets broke.
Good for: More serious players that play regularly.
---
(Best professional set — $$$)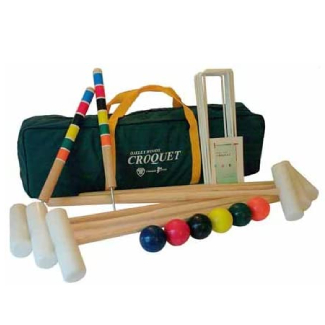 Why it's great: If you are looking for a durable, long-lasting croquet set that will have lots of use, this may be the set for you. The 36" mallets are made of ash wood. The grooved, polymer balls are standard, competition-sized. The hefty 36-pound set includes a carrying case and rule book. It also comes with a one-year manufacturer guarantee from the family-owned company that takes pride in the craftsmanship of their set.
Keep in mind: It is a heavier more expensive set better for serious players than families with young children.
Good for: Serious and competitive players as well as campgrounds and recreational centers that will have frequent use.
---
(Highest quality — $$$)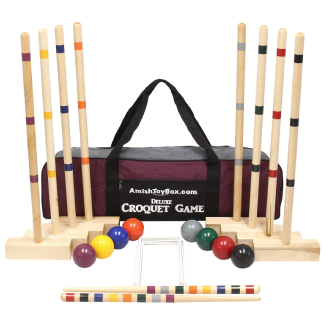 Why it's great: This set is handcrafted by the Amish who are well-known for their high-quality woodworking. The set has many features that make it one of the best available including equipment for eight players rather than the standard six. The 31-inch mallet is taller than most other sets. The plastic polymer balls are the croquet regulation size of 3 5/16th. The set is one of the few where the equipment fits in the carrying case without needing to disassemble the mallet. The Amish Toy Box believes so strongly in their product that they offer a 5-year warranty.
Keep in mind: This is a higher price set. At 30lbs it is also heavier than many sets.
Good for: Frequent recreational use by large numbers of people. A special gift for a croquet enthusiast.
---
FAQs about croquet sets
---
1. Why purchase a croquet set?
A croquet set has the potential of bringing hours of fun for your family. It can entertain bored kids, bring family members together for a shared activity, and provide outdoor entertainment when you have company over. Children gain skills of following rules, aim, waiting their turn, overcoming frustration, and good sportsmanship.
---
2. How do I know I will get good quality?
When purchasing a croquet set, there are serval aspects to consider in finding a quality, long-lasting set. You will want to see what materials the mallets are made of. Most often, hard or premium wood will be the best choice. The balls will be made of different materials and you'll want to look at reviews to see which ones are crack and dent resistant. You will also want stakes that are sturdy and can handle being put into hard ground and having balls hit into them.
---
3. What features should I consider?
Some of the features you will want to consider are the type and height of mallets and the weight and size of the balls. The longer the mallet, the more likely it will work for a range of people. Shorter players can grip lower on the handle while tall players will struggle with sticks that are too short. If you have young children, you might want to consider a set with child-size mallets. Another important feature is how many players the set accommodates. Many sets are for six players and games work best when played with 2-6 players. You'll also want to consider the weight, size, and type of carrying case especially if you plan to travel with your set.
---
4. How often will you use it?
The lower-priced croquet sets should last for several years if they are not overused. If you live where you can play year-round and plan to play often, you may want to consider a higher-quality set. This is also the case if you will be using the set with groups such as at a campground, camp, or school.
---
5. How do I find out the rules and how to set up?
Most croquet sets will come with rules and instructions on how to set up the course. Here is a link to the United States Croquet Association's rules for Nine-Wicket Croquet.
---
Conclusion
---
Looking for a fun, family activity that can be pulled out for special occasions? Croquet is an activity that brings back and creates new memories. People of all ages and skill levels can enjoy the game making it a perfect game when you have guests. There are many good-quality, basic sets available. Higher-end sets make great gifts or can be long-lasting equipment for group recreational use.
The rules of croquet are a bit complicated and we'd recommended introducing children to the basic skills of hitting the ball through the wickets first. Rules about what order the balls should be hit, when it is okay to move to the next wicket, and what happens when you hit another player's ball can be introduced as your child is ready for the next step. Rather than worrying about all the rules, focus on building a positive environment where your child can learn some new skills, and create new family memories.
You may also like our other product reviews…
Gas Grills Under $200 | Gas Grills Under $300 | Pogo Sticks | Trail Cameras Under $100 | Zero Gravity Chairs |