Updated on March 22, 2021 by Lyric Fergusson
Choosing a camera takes some research and decision making. I was recently looking to upgrade from an old Canon and was surprised to find out how many variables are involved in the newest digital cameras. Choose between a DSLR with an optical viewfinder and a mirrorless camera with a viewing screen. If you are a sports enthusiast or a nature photographer, you may want to look for a camera with effective stabilizers to eliminate blur. Getting a clear picture has less to do with pixels and more to do with the sensor's size. With some cameras, you can only use lenses from the same brand unless you add an adaptor. The four-thirds technology is helping to solve that problem. A camera that gives you the usual jpeg file is great but if you want to play around with the file and be creative, look for a camera with the newer RAW technology. Pay attention to what "extras" you get. Some prices only include the body of the camera. Lenses, cases, memory cards, filters, flash attachments…. Are expensive.
Best Digital Cameras Under $1000
---
(Most economical)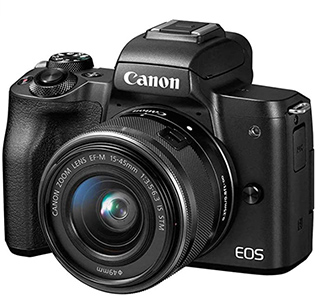 Why it's great: If you want a break from carrying a heavy camera but still want quality pictures, the M50 fits the bill. This easy-to-use mirrorless camera features a compact design with a more substantial grip than most. You will start taking great pictures right away due to a well-designed electronic viewfinder, user-friendly touch screen technology, and a quick use menu. The LCD screen allows you to autofocus, snap a picture, or move the point of autofocus with a touch of a finger. The dual pixel autofocus is the best out there. If you want sharper images, bright colors, and purer skin tones without a big camera, the Canon M50 is excellent. You can tilt the screen for high and low angle shooting and for viewing your photos. Even swivel the touchscreen to take a selfie. You can send a picture directly to your cell phone for posting on social media.
The intuitive touch screen and one control dial make this camera ideal for entry-level users, but the new RAW format called CR3 compresses files to save disc space and promotes creative file editing after the fact. The kit includes a wide-angle 15-45 mm lens. Additional Canon EOS lenses are interchangeable and reasonably priced. You can also add a lens mount adaptor to add other lenses.
The 4K video feature is handy for short films but not as good for longer work. You can do slow-motion and time-lapse videos, though.
Keep in mind: The autofocus doesn't work for 4K, and video pictures are cropped, so this might not be the best choice for an aspiring filmmaker.
Good for: Getting great pictures with a smaller, lighter camera.
---
(Most complete kit)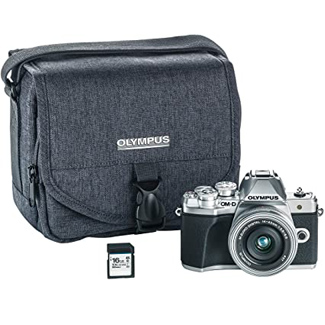 Why it's great: The kit has everything you need to start taking wonderful pictures. The E-M10, similar in features to E-M5, costs less and has some added advantages. Despite being so compact and lightweight, the Olympus OM-D E-M10 has a built-in viewfinder, 3-inch tilting LCD monitor with a touch screen, dual control wheels, and customizable controls. A micro four-thirds CMOS sensor and TruePic VIII image processor guarantees you ultra-clear photos, and the 3- axis image stabilizer gets you blur-free sports pictures and smooth 4K videos on the go. Unlike the M5, the M10 is Wi-Fi enabled. Send your photos straight to social media. Olympus app makes it fast and easy to transfer pictures to your phone so that you can share pictures with friends.
The kit includes a silver 14-42mm EZ lens, memory card, and camera bag (only available in the US). You can start with the original lens and add additional, longer lenses when you feel like it.
Keep in mind: This camera is not waterproof like the Olympus E-M5.
Good for: A photographer who wants to buy everything in one package and hit the ground running.
---
(Most value)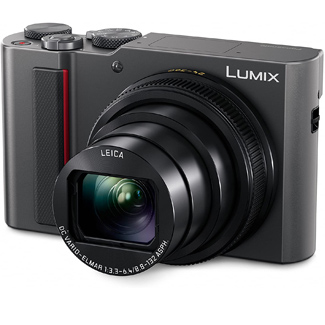 Why it's great: Take this solidly built, pocketable travel camera to concerts and sporting events to get some great shots. This great, pocket-sized camera features a 1″ sensor and a generous zoom range.
The larger 1″ sensor captures more photo detail with less visual noise, especially in low light. The Panasonic also gets you a longer zoom lens. Other cameras with the 1" sensor don't have the longer zoom you might want for sports or nature shots. The touch screen features a fast menu and fast focus, making taking great pictures easy for beginners. Full manual controls and customizable dials add flexibility as you get more advanced. This camera has Post Focus: The camera takes a series of shots using different focal points. You can then choose what the final picture should focus on after the image has been taken. You can also get still photos from 4K videos you take. Take a video of your kids playing sports or playing in the band and create great candid still shots from it.
You have a choice of RAW or JPG options and can upload to your smartphone and GPS tag your pictures and videos. Charge it through a standard micro-USB cable. This camera package packs a lot for the price.
Keep in mind: It doesn't have a hot shoe for attachments or an external microphone option for videos.
Good for: High-quality travel, sports, and action photography
---
(Most versatile)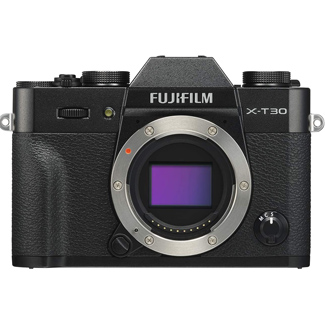 Why it's great: Fujifilm's X-T30 brings the same 26MP sensor, processor, and many of the features from Fujifilm's X-T3 at a more economical price. Despite the lower price, you get a solidly built, mostly metal camera with superior, stable handling due to a thicker grip and an eight-direction joystick control level rather than the usual four-way selection button. The dials for shutter speed and exposure compensation on the top plate make it easy to adjust these settings.
An improved two-way tilting touch screen allows you to take pictures at different angles, and you can turn off the information displayed on the screen to concentrate on the image. Unlike some other mirrorless cameras, this one has a high-performance electronic viewfinder which allows you to view the actual picture you will capture, even seeing different exposure effects to achieve your final vision. The Sports Finder mode puts a frame around what you will capture so you can get the shot you want as an athlete moves into and out of your view.
Amateur and professional filmmakers will appreciate the ACROS feature for black and white film with deep textures and contrasts and the classic chrome color fidelity. The Fuji X-T30 has high-resolution audio and an F-log professional film making tool.
The built-in blue tooth and Wi-Fi offer digital communication to and from smart devices. Post your photos and videos or take pictures remotely from your cell.
Keep in mind: The price only includes the camera itself, and this camera is not weather sealed.
Good for: Amateur and professional filmmakers.
---
(Most sophisticated)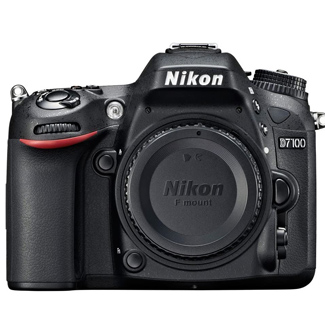 Why it's great: This is a sophisticated camera and might have more than a beginner needs. You have direct access to the camera settings and can produce sharp, beautiful photos by choosing the right ones. The camera has a wide variety of focus modes, and if you learn how to use them, you can shoot landscapes, fast action, and portraits all with excellent results. Learning to use things like bracketing shot functions, time-lapse, and multiple exposures take some study, but if you want to go beyond beginner photography, this camera can take you there. The D7100 takes excellent shots under low light up to ISO 3200. This is not a full-frame camera, but the crop sensor is less of a problem because of the extensive setting options.
It has a solid, weather-resistant body, and many lenses on the market will fit. You can also get good quality videos with stereo input. Although the mic is nicely sensitive, you get little excess noise. There are two memory card slots, so although the buffer can fill up fast if you are shooting action in RAW, having two fast memory cards allows you to double the number of shots you can take.
Keep in mind: The price includes the body only, and you will have to buy lenses.
Good for: A photographer looking to progress beyond the beginner level.
---
(Most user-friendly)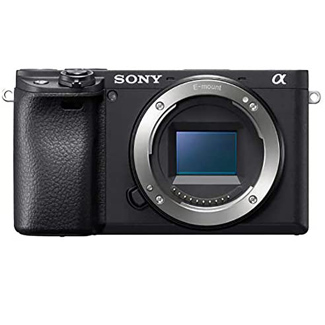 Why it's great: The SONY ALPHA a 6400 gets you excellent results from a fairly portable, weather-resistant camera. While it's not a pocket camera, you can fit everything you need, including a lens or two, into a small bag. Portability doesn't compromise results. One of the best features is the upgraded autofocus. The real-time, easy-to-use, Eye-AF lets you concentrate on your shot's composition and not worry about where the camera is focused. The touchscreen means you can easily use a finger to reposition the Eye AF point. Real-time object tracking lets you pick up a moving figure and hold onto it. The tiltable LCD screen can be customized for vlogging, still photography, or making a professional level film.
For professional quality film making, you can choose from multiple movie functions like time-lapse and slow/quick videos you create without post-processing.
Keep in mind: There is no IBIS in this camera, but if you use a lens with OS or IS image stabilization, that's not a problem.
Good for: Making professional films while traveling around the world or the city.
---
(Most portable)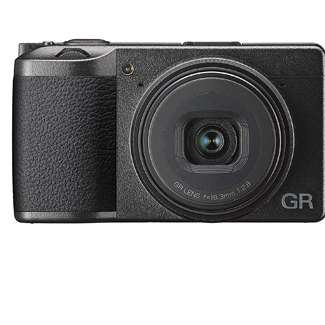 Why it's great: Step up from your smartphone camera with this great small camera with an excellent APS-C sensor and handy layout and button placement. You can easily carry this pocket camera by its wrist strap and leave the bulky camera bag behind. You will still take professional-quality photos. Use the new hybrid autofocus system or the responsive touch screen to focus fast. The IBIS (In Body Stabilization System) means shots as high as ISO6400 are phenomenal. Great for landscape photography, but the lens is super sharp, and in the macro mode, you can focus on shots as close as 6cm. Get an excellent flower closeup.
To the creative photographers, the GRiii offers film profiles like b&w, favorite color, and positive profile. You can even edit in-camera to see various looks for the same picture.
Keep in mind: Due to the camera's small size, the battery life is limited, but buying a second battery in case you need it, can solve the problem.
Good for: Stepping up from your smartphone to get superior photographs when you travel.
---
FAQs about digital cameras
---
1. When do you need a real camera rather than a cell phone?
Smartphone cameras can take perfectly beautiful pictures when the subject is sitting still under a bright light, a few feet away. If you want to take photos of your daughter playing soccer or capture a beautiful sunset, you need a real camera. A good digital camera also gives you all kinds of creative options you don't get with a smartphone.
---
2. Do all lenses fit all cameras?
Each camera can change to a different lens, but lenses are not interchangeable across brands and types of cameras. There are lens mount adapters that expand the possibilities, but sometimes your camera won't be able to use all features of a lens from a different manufacturer.
---
3. What is a mirrorless camera?
As you would expect, a mirrorless camera has no reflex mirror. In a DSLR (digital single-lens reflex camera), an actual mirror reflects your image up to the optical viewfinder. When you take the picture, the mirror flips out of the way to allow light to hit the image sensor.
With a mirrorless camera, a sensor captures a live view image without a mirror or optical viewfinder. The live view appears on the rear LCD screen or through an electronic viewfinder, depending on the camera.
---
4. Is DSLR or mirrorless better for a beginner?
Whether to get a DSLR or mirrorless depends more on what you want to do with the camera than on your experience. Mirrorless cameras are smaller and lighter so if you're going to use them while you travel, keep that in mind. They also tend to have more intuitive controls. Mirrorless cameras eat batteries, especially if you have to brighten the screen to see it clearly, so if you will be taking hundreds of pictures, maybe a DSLR is better. Mirrorless cameras offer 4K video capabilities. DSLRs tend to include a more comprehensive selection of lenses, so if you think you will go beyond point and shoot level, that's a consideration.
---
5. What is a four-thirds sensor?
Olympus and Kodak use a four-thirds camera sensor system in both DSLR and mirrorless camera designs. The sensor in a camera captures the image. The four-thirds system allows for the interchange of lenses and bodies from different manufacturers. The smaller sensor size makes smaller, lighter cameras and lenses possible. The smaller sensor's main disadvantage is the reduction in incoming light hitting the light-sensitive part of each pixel of the sensor. Sometimes sharpness can suffer.
---
6. What does an image stabilizer do?
If you don't hold a camera perfectly still, the picture you take can blur. You can use a tripod, but modern cameras have internal systems to compensate for movement. This becomes especially important when larger (and heavier) lenses come into play.
You may also like our other product reviews…
In-Wall Speakers | Laptops Under $700 | Luggage Sets Under $50 | Mechanical Keyboards Under $50 | Noise Cancelling Headphones Under $50 | Noise Cancelling Headphones Under $200 | Office Chairs Under $200 | Office Chairs Under $300 | Party Speakers | Point and Shoot Cameras Under $100 | Point and Shoot Cameras Under $300 | Portable Record Players | Projectors Under $200 | Projectors Under $500 | Record Players Under $100 | Routers Under $100 | Shower Speakers | Soundbars Under $300 | Speakers for Vinyl | Turntables Under $200 | Turntables Under $300 | Turntables Under $500 | Turntables Under $1000 | TVs Under $300 | Vlogging Cameras Under $300 | Wireless Headphones Under $200 |