Updated on by Lyric Fergusson
Having a space to gather is one of the most important elements of building a home. Whether you're coming together with family, friends, roommates or colleagues, a dining room set ensures you have a place to share a meal or work on a project all together. Finding the right furniture to fit your home aesthetic and budget can be difficult but fortunately, we've found seven great dining room sets for under $200.

Best Dining Room Sets Under $200
---
(Easiest to assemble)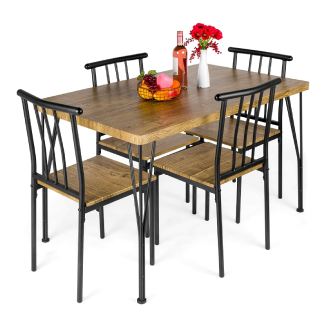 Why it's great: This five-piece rectangular dining room table by Best Choice Products can seat up to four and is made with composite wood and a sleek and sturdy metal frame. The thick tabletop is not only beautifully finished but stain-resistant and easy to clean. The chairs have supportive backing and can be rearranged to accommodate a modular seating design. Perfect for small or large spaces, customers praise this set for being lightweight and sturdy, and exceptionally easy to assemble. In fact, some customers report that it took less than thirty minutes to put together!
Keep in mind: This table is not made with real wood.
Good for: Families with kids as this table is big enough for the whole family and easy to clean.
---
(Sturdiest design)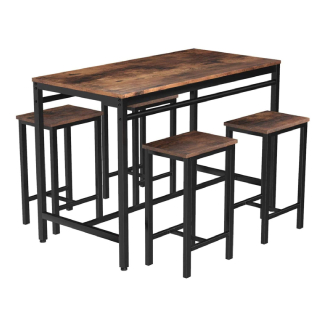 Why it's great: This MIERES dining set can serve multiple functions as its high-top counter works as a dining table, kitchen island, coffee bar or conference table. This table is counter height and has four stools that can easily slide underneath the table to maximize space. Made of high-quality MDF and a corrosion-resistant metal frame, this dining set is both sturdy and durable. Furthermore, the tabletop's varnish is waterproof and wear-resistant to ensure that this table will look great for years to come. With an industrial rustic aesthetic, this dining set is contemporary but still homey and incredibly practical due to its versatile styling.
Keep in mind: Some customers report that the chairs have sharp edges.
Good for: Using as a kitchen island as this is a high-top table and the stools are designed to tuck underneath the table, making it easier to stand at.
---
(Best value)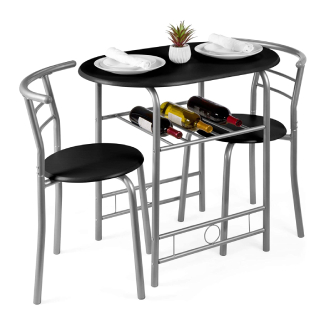 Why it's great: Also produced by Best Choice Products, this three-piece dining set is intended for small spaces, like a kitchenette or studio apartment. This set, built with a combination of robust engineered wood and solid iron, has been constructed with durability and comfort in mind. The chairs feature a curved backrest to promote better posture and can sustain a 330-pound weight capacity per chair. This cozy table also features a removable lower shelf under the table top for extra storage.
Keep in mind: Some customers report that this table is unstable if not put together properly, so be sure to follow instructions when assembling.
Good for: The customer looking for something small with a design that maximizes space and functionality.
---
(Most durable)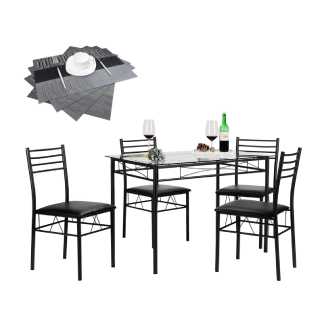 Why it's great: This dining room set is made from steel and premium tempered glass and would be a simple and elegant addition to any home or office setting. Customers praise this table for how easy it is to put together as well as its durability. This table is also easy to clean as the tabletop can be wiped down with any glass or kitchen cleaning products. With several different styles and colors to choose from, this table will fit with any home décor aesthetic. This product also comes with four placemats for a more formal dining experience.
Keep in mind: While some customers report receiving this product with missing pieces, they also applaud the friendly customer service that's available to troubleshoot issues.
Good for: The customer that wants something affordable but still durable as customers report that this table is built to last. This product also comes with a 5-year warranty to ensure customer satisfaction.
---
(Highest quality)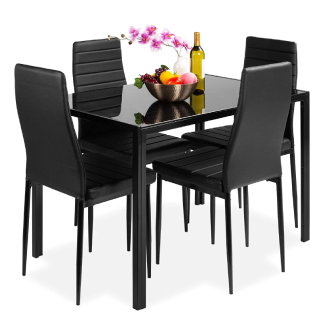 Why it's great: This 5-piece dining set by Best Choice Products is elegant, functional and one of the most high-quality options available at an affordable price point. Padded high-back chairs made from durable PU leather and a sparkling glass table top contribute to this dining set's sophisticated and modern aesthetic while its rust-resistant steel frame ensures that it has been built to last. The modular design allows for versatility in seating arrangements while the high-quality materials it's made from are easy to wipe down and keep clean.
Keep in mind: Some customers report quality issues, but returns are accepted within 30 days of purchase.
Good for: Customers who want comfortable chairs with their dining set as this table comes with high-back chairs made from soft, synthetic leather.
---
(Best for small spaces)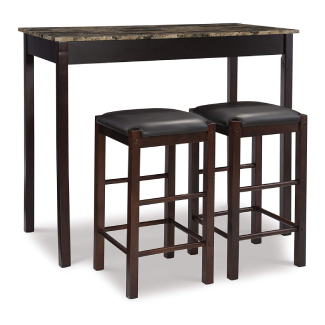 Why it's great: This three-piece faux marble tavern set by Linon is conveniently sized for small spaces and would work well in a variety of settings. Both functional and unobtrusive, this set's rectangular high-top table comes with two backless counter-height stools that can easily slide underneath the table when not in use to maximize space. Available in several color combinations, this dining room set is uniquely stylish with an imitation stone table top, vinyl seat padding and an elegant wood finish. Customers praise this dining set for its versatility, compact size and affordable price.
Keep in mind: his piece does not have a real granite countertop but a faux stone paper wrapped top.
Good for: Customers who are working with a small space like a kitchen nook or studio apartment as this table is compact with stools that tuck underneath the table for maximum convenience.
---
(Most versatile aesthetic)
Why it's great: This simple and sophisticated dining room set by Rhomtree comes with a spacious table and two benches to accommodate four to six people. No matter the style of your home, the clean lines and modern elegance of this table will provide an unassuming and cohesive touch to any room. Available in three neutral shades, this dining set is praised for its fast assembly and convenient and utilitarian design. Made from sturdy environmental particle board, this table is water-proof, anti-scratch and easy to clean while its metal frame ensures long-lasting stability.
Keep in mind: This table has sharp edges which can be hazardous to young children unless you put bumpers on the edges.
Good for: The minimalist looking for a dining room set that's sturdy, stylish and affordable.
---
FAQs about dining room sets
---
1. What are important things to consider when purchasing a dining room set?
Budget is always the most important factor when purchasing any new furniture. Fortunately, there are plenty of options for dining room sets under $200. You'll also want to consider how many people you want your dining room set to accommodate. The style and function of the dining room set should also match your lifestyle. For example, if you know the table will be used for messy crafts or cooking, opt for something easy to clean. Durability is another feature to look at as you'll want to buy something that has been made to last.
---
2. What are some common mistakes when purchasing a dining room table?
The biggest mistake that can be made when purchasing a dining room set is selecting a model that doesn't fit in your space or is made of unexpected materials (for example, faux leather instead of real leather). Be sure to look at the specifics of the fine print on the dining room set you're considering purchasing. Details such as measurements and materials can be a crucial factor in determining whether the set you're interested in will really work in your desired space and lifestyle.
---
3. What if my dining room set arrives damaged or is missing pieces?
Most companies have a customer service policy that guarantees the replacement of broken or missing pieces and parts. Select products even include warranties to cover any damage or breakage that occurs down the road. Furthermore, a 30-day return policy guarantees that you can get a refund for your purchase if you're not completely satisfied with it.
---
4. What are my options if I don't have a lot of space for a dining room set?
Fortunately, there are plenty of dining room sets that will work in small spaces. Be sure to look for something that's more compact and has a space-saving design. For example, some tables are designed so that chairs can slide underneath the table when not in use. Even larger dining room sets with a modular seating design can be pushed in a corner or against a wall to better manage space constraints.
---
5. What are other spaces I could use a dining room set in?
Dining room sets aren't just for dining rooms! Many sets can work effectively in an office setting, a coffee bar, meeting table, or workspace. At home, dining room sets can be used in any room of the house for a myriad of purposes, including for playing games, working from home, or as extra countertop space.
---
Conclusion
---
A dining room set isn't just furniture, it's also a way to cultivate a warm and inviting ambiance in your home or office setting. Looking for something for a small studio apartment or office setting? Go with a three-piece set that can be tucked against a wall or in a corner to maximize space. Want something that can accommodate a messy meal or craft project with your big family? A dining set that's easy to clean and allows for more seating will probably be a better choice. No matter your home aesthetic or lifestyle, there are plenty of great options for a dining room set that are stylish, high-quality, and yes, affordable, too!
You may also like our other product reviews…
Air Purifiers for Smoke Under $100 | American Standard Toilets | Aquarium Test Strips | Dryer Vent Hoses for Tight Spaces | Farmhouse Sinks | Portable Closets | Sectional Sofas Under $500 | Shower Chairs for the Elderly | Steam Mops for Laminate Floors | Undermount Kitchen Sinks | Vacuums Under $100 |