Updated on by Lyric Fergusson
Whether you are an avid diver, a newbie, or you're just looking for a durable and stylish timepiece, finding the perfect diving watch can be a challenging endeavor. Finding the ideal diving watch under $500 poses an even more significant challenge.
The optimal way to prepare for your next dive is with the best equipment —a durable dive watch is a great place to start at an affordable price. I have compiled my picks for the top 7 diving watches for under $500 to launch your next adventure.

Best Diving Watches Under $500
---
(Most lightweight)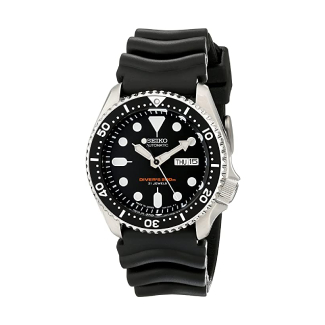 Why it's great: This simplistically fashionable design and the features for diving, such as 200-meter water resistance; unidirectional bezel with a luminescent marker at the 60-minute position; large and luminescent hands and hour markers; screw-down crown; and a screw-down case back make this watch a stylish and reasonably priced option.
The watch is more compact and lightweight than many diving watches, so if you're looking for something understated and elegant, this is the watch for you.
Keep in mind: Read the manual carefully if you need to adjust the time.
Good for: Anywhere from ocean to office.
---
(Most features)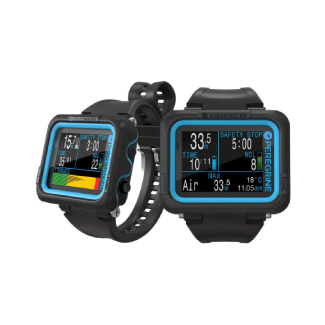 Why it's great: The Peregrine is a simple and easily accessible, full color, multi-gas diving computer. This is an excellent device for divers with all levels of experience.
There are four diving modes: Air (For recreational diving); Nitrox (Single gas up to 40%); 3 Gas Nitrox (Up to 100% O2); Gauge (Depth, time, resettable stopwatch function). Simple and powerful, the Peregrine has a full color 5.59 cm LED LCD screen with a vivid, enhanced color range and saturation display.
Keep in mind: The battery life per charge is roughly 30 hours.
Good for: Divers looking for analytics and top-notch computing.
---
(Best value)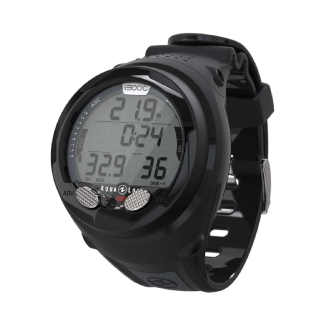 Why it's great: This watch is a great starting place for new divers because of the i300C's intuitive design. With an intuitive interface, flexible operating modes, built-in backlight, and water-activated switch, the i300C gets you in the water and descends to your next adventure in no time.
This durable, versatile, and affordable dive computer is great for new divers and diving academies. You will appreciate the data retention feature that saves past settings and calculations, even between battery changes.
Keep in mind: This watch is lightweight but bulkier than most non-diving watches.
Good for: Diving schools or for divers on a budget.
---
(Most durable)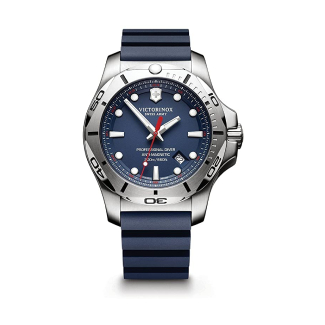 Why it's great: The Victorinox Men's I.N.O.X. can resist just about anything: water, high pressure, vibrations, extreme temperatures, and up to several tons of weight.
Having met the demanding NIHS 92-11 Swiss watchmaking standards for certified divers' watches, including criteria, such as luminosity, shock-resistance, anti-magnetism, and the strap's solidity and ability to withstand over 100 diving tests for resistance and functionality, this makes an extraordinary diver's watch.
Its dial has a simple, minimalist design for legibility available in various colors and designs. The watch has highly luminous hands and hour markers for maximum readability underwater, especially since you can go deep depths with this watch, and water-resistant to 200 meters.
Keep in mind: This is one of the heavier watches on the list.
Good for: Experienced divers who want a watch that will last.
---
(PADI approved)
Why it's great: The Seiko Men's PADI Edition results from Seiko's collaboration with the Professional Association of Diving Instructors (PADI). Its diving-specific features include its 200-meter water resistance, unidirectional rotating bezel with a luminescent pip at the 60-minute position, large and luminescent hands and hour markers, screw-down crown, and a screw-down case back.
It's a Japanese automatic watch with hand winding and hacking capabilities. Stainless steel for the case and bracelet and sturdy Hardlex crystal dial window that's scratch resistant for the dial window make up this watch. Lastly, it has a stunning combination of blue and red in its design, nicknamed a "Pepsi" design.
Keep in mind: The power reserve lasts roughly 41 hours.
Good for: Divers looking for hand-winding and hacking capabilities.
---
(No batteries required)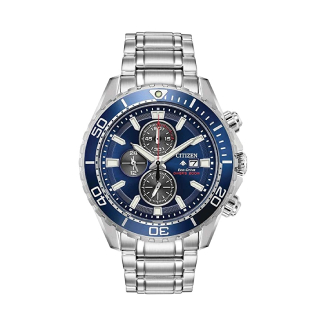 Why it's great: Citizen is one of the top American manufacturers of diving watches, and they did not miss the mark with the Promaster Diver.
This watch comes with everything a diving watch should include: a 46mm stainless steel case with a blue one-way rotating elapsed-time bezel; a date window at 3 o'clock, luminous hands and hour markers, a 1/5th second chronograph, and 12/24-hour time; and it is water-resistant up to 200 meters. Its Eco-Drive technology allows your timepiece to charge in any light, eliminating the need for a battery
Keep in mind: The buttons must be unscrewed to use the chronograph.
Good for: Style-conscious divers.
---
(Most color options)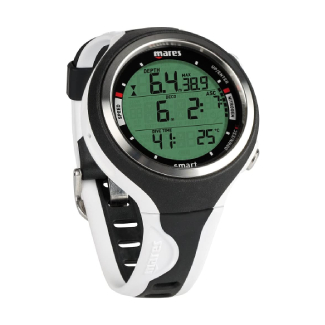 Why it's great: This intuitive design is perfect for logging deep-dives, and the watch is not bulky or heavy.
Mares Smart Scuba Diving Wrist Top Computer has ergonomic, strategically placed buttons. Its slim profile makes referencing and wearing this watch comfortable and stylish. The watch comes in six options, making it an excellent gift for the diver in your life.
Keep in mind: This watch comes with a United States-based support hotline that is prompt and knowledgeable.
Good for: Gifts and for women divers who want a more feminine-looking watch.
---
FAQs about diving watches
---
1. What should I look for in a diving watch?
Most divers wear them because they like them and because they like having a backup for their computer, even if this backup doesn't have all the computer features. Some dive watches feature depth gauges. These can work as a basic diving computer backup. But many divers and non-divers do wear them because they like them.
When looking for top-notch features, you may read about a feature called a helium valve. A helium valve is beneficial for commercial divers doing intense deep-diving, where they are submerged in underwater habitats with a trimix breathing gas containing helium. The tiny helium molecules can enter the watch case. When the diver arises, these molecules can expand due to dropping pressure and damage the watch. For recreational divers, even technical ones, this isn't likely to be an issue, as they typically do not spend much time in underwater habitats hundreds of meters below the surface.
---
2. Should I buy a dive watch?
That largely depends on your style and preferences, but a diving watch is a must-have accessory for most divers. It's hard to compete with the technological features and style that the modern divers' watch offers.
That said, you don't have to be a diver to appreciate a stylish, waterproof watch. As any parent knows, bath-time can be as challenging an adventure as a deep-sea dive, and you'll want to be prepared.
If you like how a divers' watch looks, you can likely find one with the features you need for under $500.
---
3. Why are most dive watches automatic?
Automatic movements are popular in the diving watch market because they don't require a battery. As you can imagine, a battery change on a dive watch is more complicated as batteries also need to be waterproof.
Automatic watches wind from the motion of your arm, so they'll keep ticking as long as you keep them on your wrist. This class of watches is increasingly featuring day/date features, adding to the timepiece's utility.
---
4. What makes a diving watch?
Unlike traditional watches, divers' watches are designed for the best readability underwater possible, enhancing the readability above water. The built quality of dive watches is usually very high and will give you a watch that lasts for years.
---
5. Why do dive watches have a rotating bezel?
The bezel is the top ring on the watch that surrounds the crystal. On a watch, some will snap or screw-on, some will be stationary, while others can rotate uni-or-bi-directionally. All watches have a bezel, whether it is a thin ring around the crystal or a ceramic piece holding a scale.
Typically, the bezel is marked with minutes up to 60 minutes to allow divers to discern how long they've been down quickly. You rotate the bezel to where the zero mark is at the minute hand upon descending. This allows you to read the duration of your dive without having to calculate it.
---
Conclusion
---
For under $500, you should be able to find the diving watch of your dreams. Whether you are new to diving, a seasoned professional, an avid swimmer, or a nearsighted land-dweller, diving watches offer many features that standard watches do not like increased readability, water resistance, and durability.
In addition, at this price range, you should have no difficulty finding a watch that combines functionality with style and comfort. For the best diving watches under $500, look no further. These are seven excellent options for any level of diving expertise.
You may also like our other product reviews…
Calf Compression Sleeves | Camping Towels | Compact Home Gyms | Cooling Towel | Electric Bikes Under $1000 | Elliptical Machines Under $500 | Football Towels | Heavy Bag Gloves | Hiking Towels | Hybrid Bikes Under $500 | Smartwatches Under $50 | Sports Towels | Tennis Towels | Treadmills Under $500 | Treadmills Under $1000 | Weighted Vests | Weightlifting Belts |