Updated on by Lyric Fergusson
In 2018, 400,000 eBikes were sold in the U.S, that is a 200% increase over 2013. It is obvious the need and desire for a more cost effective and environmentally safe mode of transportation is growing. Electric bikes are perfect for urban life and easy, low-cost transportation. They are also an incentive to take an adventure off road and enjoy what you may have been missing. You may be new to the idea of owning an electric bike, but you will find the information you need below as you explore the top seven options for electric bikes under $1000.
Best Electric Bikes Under $1000
---
(Best on budget)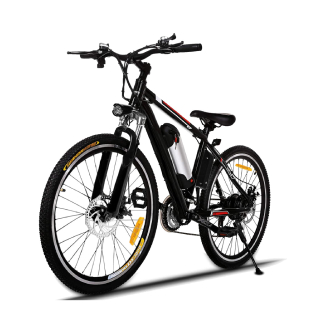 Why it's great: Hill-climbing is no issues with this bike equipped with a 36V removable battery and hi-speed brushless motor. The battery is super-secure but easy to remove and can be charged on any home outlet. One battery charge can take you up to 17.4 miles. A Lithium battery charger that only needs 4-6 hours to charge. It has the classic 21-speed gears and top of the line disc brakes for reliable shifting and powerful braking. There are three riding modes: Pure Electric Bike, Assisted Bicycle, and Normal Bike. You can easily switch between the different modes and enjoy longer travel. The 26" bead spoke wheels are made of aluminum alloy and are anti-slip wear resistant thick tires. They can take you anywhere whether it is wet pavement, muddy paths, sandy beaches, or snow-covered hills. It is also included with a LED front light and horn.
Keep in mind: The weight capacity is 300 pounds. Switching between modes is easy, which is great for a beginner electric bike rider.
Good for: Those just getting their feet wet in the electric bike world.
---
(Best tires)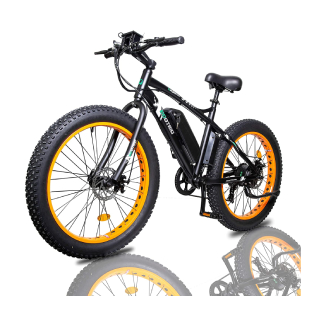 Why it's great: The Ecotric eBike has 26" x 4" "fat" very durable tires that enable you to ride on all road conditions, as well as all types of terrain. The strong 500W brushless rear motor provides the power needed to reach up to 23 mph, along with pedal assist and walk assist capabilities. The convenient removable Lithium battery can go with you to home or office to recharge in between rides. This ebike is exceptionally good for rugged terrain.
Keep in mind: When using pure electric power, mileage can reach up to 20 miles in a single ride. However, this mileage can be extended when you use intermittent pedal assist. The load capacity for this electric bike is 260 pounds.
Good for: For those looking for quality plus pedal and walking assist option, as well as those who plan to ride in a wide variety of terrain and roads.
---
(Best storage ability)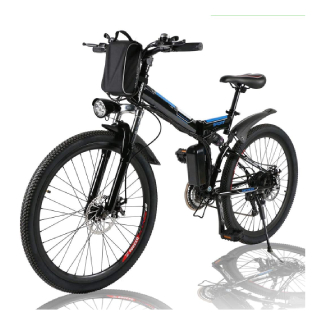 Why it's great: The Angotrade Electric Bike has a large capacity Lithium battery, mechanical front and rear disc brake design that gives you reliability in all types of weather and a 21 speed Shimano professional transmission system. The Shimano transmission system is great for hill-climbing power, making traveling off road easier. The motor technology can achieve up to 22 miles per hour. The bike is equipped with a headlight that lights the road well for night riding.
Keep in mind: The load capacity for this bike is 242 pounds and can be folded to fit in your vehicle or when you have limited storage capabilities.
Good for: Anyone needing an electric bike with the ability to compact into a smaller size for storage or transporting.
---
(Best option for snow)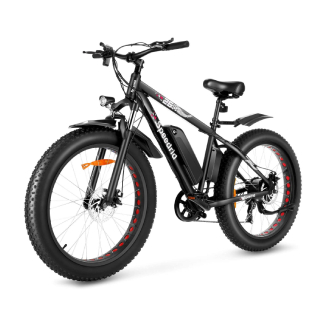 Why it's great: The powerful Spedrid Fat Tire Electric Bike has a powerful 500W motor. It is equipped with a 48V high-speed brushless motor that increases stronger hill-climbing power. It is more than strong enough for daily commutes with the ability to travel 22 miles on a single charge and has a speed capability of up to 23 mph. The high strength carbon steel front fork absorption gives you the security you need in knowing it can endure all road and terrain types without breaking down. The upgraded LCD display allows you to see the 5 Speed Display, Battery Level, Mileage easily.
Keep in mind: The load capacity is 300 pounds. The fat tires allow easy and safe riding on wet roads, mountain trails or snow.
Good for: Anyone who lives in an area that has seasonal snow and needs to be able to still ride.
---
(Best style)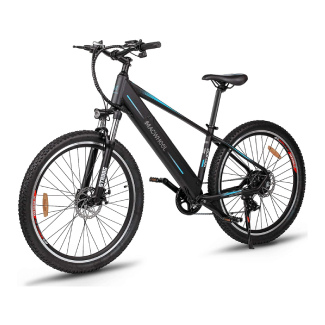 Why it's great: The Macwheel Electric Bike has both style and power. It has a Shimano 7-speed transmission, Tektro Dual Disc brakes, and a removable 48V/10Ah battery hidden in the bike frame and provides a range of 50-62 miles in pedal-assist mode and a distance of 25-31 miles in electric mode. The electrical cables are cleverly concealed in the frame creating a clean and sleek appearance. The LCD Display provides the rider essential information such as: remaining battery life, total distance traveled, current speed, level of assistance selected, and more. The 500 watt Hub motor is mounted on the rear wheel and kicks in to make pedaling easy.
Keep in mind: This bike has a sleek European style and American body design and is very comfortable to ride because of it's larger size.
Good for: Those looking for a sleek style with lots of battery life.
---
(Best option for taller/heavier riders)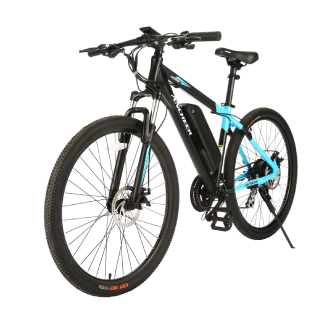 Why it's great: This electric bike is equipped with a 350W highspeed brushless motor that provides more than enough power for your daily commute or just out for an adventure. The larger capacity 10.4Ah battery has enough power to travel up to 30 miles per hour per charge. The battery takes 6 hours to charge and can go up to 30 miles per charge. You will love the upgraded LCD display with a 5-speed display with a Motor power radio display, Battery Level display, Mileage, Light Signal. It is big enough and bright enough to read quickly while riding. The Ancheer 350 has an upgraded transmission system – professional 24-speed gears that are ideal for stronger hill-climbing, farther range variation, and adaptability for various terrain. The front and rear mechanical disc brakes provide powerful braking even in rainy conditions. This eBike is 27.5" and has a load capacity of 330 pounds.
Keep in mind: The Ancheer is in the midrange price wise and will travel 30 miles on one charge, which is great for commuting or for exploring sports and outdoor life. The load capacity is 330 pounds.
Good for: Those that are taller and need that extra 1.5" in bike height.
---
(Best battery life)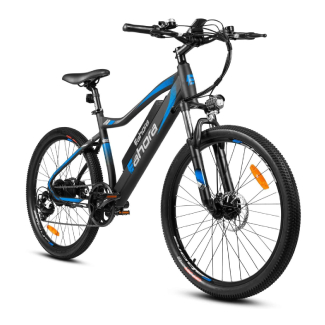 Why it's great: The eAhora Mountain Bike offers a longer battery life while riding through the E-Pas regenerative technology. You can ride faster for longer with E-Pas because it automatically charges the battery for 20% power as you ride. The intelligent sensor engages the E-Pas system to regenerate 60% energy when you are riding downhill without energy consumption allowing you to travel up to 80 miles. Shimano 7-speed transmission gives accurate and smooth shifting. The eAhora mountain bike is equipped with Tektro mechanical disc brakes. The battery is detachable and has a USB port for charging mobile devices. The smart color LCD screen is waterproof and the backlight is convenient for riding at night. Password protection also makes your bike safer.
Keep in mind: Best performance is a weight capacity of 220 pounds or less.
Good for: Someone looking for a quality bike with a long battery life for riding and an LCD screen that is easy to read whether it is day or night.
---
FAQs about electric bikes
---
1. Is a driver's license required to drive an electric bike?
Even though electric bikes are fitted with a battery and motor, the motorized assistance is restricted to 15.5 mph, therefore the bike is still classified as a bicycle and doesn't require a driver's license.
---
2. How long have electric bikes been around?
Electric bikes have been built and available since 1998. However, the first electric bike was patented around 1899.
---
3. How are electric bikes better for transportation?
The average cost of maintaining the operation of a car is around $10,000. The average cost of maintaining an electric car is $300.
---
4. Are electric bikes becoming more popular?
Yes…for so many reasons. Because of the simple design with a small and efficient electric motor and the easy control while riding, the sales of eBikes have been rising significantly since 1998. It is estimated there are 120 million electric bikes in China alone, and the use of the eBikes in Europe and North America is growing tremendously.
---
5. Are eBikes environmentally friendly?
Electric bikes run differently than other modes of transportation. Cars, trucks, and motorcycles typically run on gas or diesel that release carbon emissions. E-bikes do not run on gas and are considered zero-emission vehicles, which is much safer for our environment.
---
Conclusion
---
With the revitalization of many downtown cities and the draw of urban living, electric bikes have seen a surge in demand for those wishing to travel to jobs, shopping, or restaurants located within a few miles of their loft or apartment. Whether you are a 20-something or entering your 50's and want to explore nature, mountain trails, or just take long leisurely rides, an eBike is your opportunity to enjoy an active life, with the assist mode made possible with the electric motor. We hope the information provided here will answer questions and help you be more familiar with the available options.
You may also like our other product reviews…
Calf Compression Sleeves | Camping Towels | Compact Home Gyms | Cooling Towel | Diving Watches Under $500 | Elliptical Machines Under $500 | Football Towels | Heavy Bag Gloves | Hiking Towels | Hybrid Bikes Under $500 | Smartwatches Under $50 | Sports Towels | Tennis Towels | Treadmills Under $500 | Treadmills Under $1000 | Weighted Vests | Weightlifting Belts |