Updated on by Lyric Fergusson
To aspire to make a perfect cup of espresso is to pay homage to a timeless tradition that spans countless cultures across the globe. Espresso is thicker, creamier and has a more full-bodied taste than traditional coffee. Not for the faint of heart, espresso also packs more of a caffeinated punch than you average cup of coffee when you opt for a double shot. Looking to learn how to be your own barista? Here are the seven best espresso machines for under $200.

The Best Espresso Machines
---
(Best value)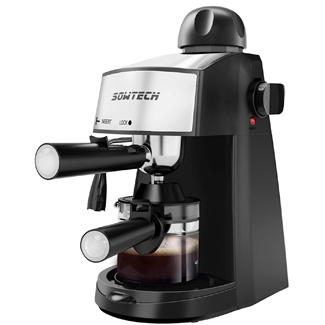 Why it's great: This espresso machine by SOWTECH allows you to be your own barista from the comfort of your own home. A single knob controls all machine functions, including making milk foam, programming brews, and adjusting the strength of your coffee. The compact design of this machine makes it the perfect choice for small spaces while the 3.5 bar pressure is ideal for espresso-making beginners. This machine also comes with a professional frothing wand to improve the quality of the foam on your cappuccinos and lattes.
Keep in mind: Some customers report that the milk frother has an uneven spinning speed and should be used with caution.
Good for: The novice espresso maker as this machine is intuitive to use and has all the important features to get you acquainted with making espresso.
---
(Easiest to use)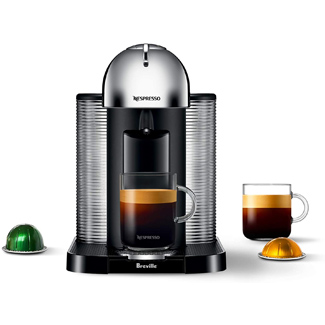 Why it's great: This Breville espresso machine allows you to brew your espresso with the single touch of a button. Valued for its versatility as well as its blending power, this machine will brew five different cup sizes and will heat beverages in less than fifteen seconds. Most impressive about this machine is that its intelligent design will read the barcode of whatever capsule is inserted and brew the selected beverage accordingly. 12 Nespresso Vertuo capsules are included with the purchase of this machine to get you started.
Keep in mind: This machine is only compatible with Nespresso Vertuo capsules.
Good for: The espresso drinker looking to make something quickly and efficiently as you only have to press one button to make espresso with this machine.
---
(Best single serving option)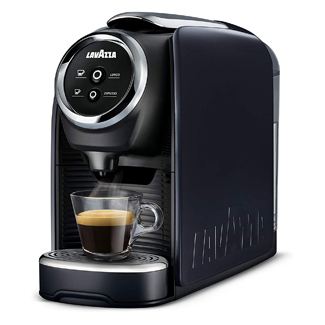 Why it's great: This single-serving espresso machine is intuitive and practical with simple touch controls and programmable features. With two brew options, you will be able to choose whether you want to make an espresso or lungo (double espresso). This model features a capsule drawer with a capacity of five discarded capsules and visual alerts to indicate when the capsule drawer is full as well as when the water tank is empty. A removable cup support makes this machine easy to use with any size cup, including espresso cups and mugs of varying sizes.
Keep in mind: This machine only brews espresso (not lattes or cappuccinos).
Good for: Espresso drinkers who are looking for a machine that is simple and straightforward.
---
(Easiest to clean)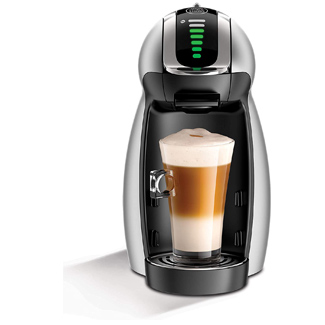 Why it's great: This automatic coffee machine is not only easy to use but also easy to clean, which is an important part of an espresso machine's maintenance. The NESCAFE Dolce Gusto capsules required for this machine come in 15 flavor varieties, including Espresso, Americano, Cappuccino, and Latte, among others. The LED display features an easy to use toggle switch that allows you to customize the size and intensity of your coffee as well as choose between hot and cold drink options. This machine boasts 15 bars of pressure for high-level extraction and high-quality flavor and texture.
Keep in mind: Some customers report quality issues, but warranty and customer service support are available.
Good for: Espresso drinkers with a discerning palette as this machine aims to produce espresso beverages with distinct flavors and tastes.
---
(Best flavor)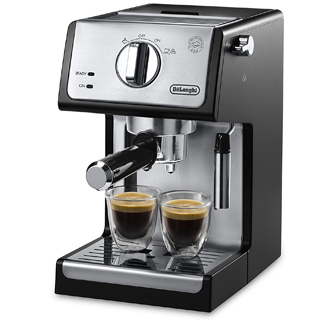 Why it's great: This De'Longhi machine is designed with all the bells and whistles but is still available at a reasonable price point. Featuring a 15 bar professional pressure system and a manual frother that doesn't require movement, this machine guarantees coffee-house quality espresso at every use. This machine also includes a three-in-one filter holder, an espresso pod and a removable cup tray to adjust for different cup sizes. The sleek design and compact size of this machine ensure that it will be the perfect appliance for any kitchen or office setting.
Keep in mind: Some customers report that the pressure settings can be inconsistent.
Good for: The aspiring barista as this machine is similar to those used in coffee shops.
---
(Best for portability)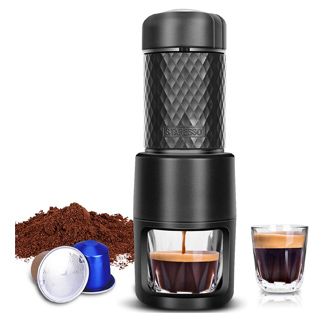 Why it's great: This portable espresso machine by STARESSO produces rich and thick espresso similar to what you'd find in an authentic Italian café. Weighing less than a pound and measuring 8 x 2.7 inches, this machine is easy to transport and use on-the-go. The machine is compatible with both Nespresso pods and regular ground coffee and comes with a special measuring spoon to help you determine the correct amount of grounds to use in your brew. This machine is also easy to clean and requires no electricity to use, ensuring that no matter where you go, you'll always be able to enjoy your favorite espresso beverage.
Keep in mind: Some customers report that the user manual is vague but there are instructional videos available online for trouble-shooting any issues.
Good for: The espresso drinker on-the-go as this machine can go anywhere with you, whether that's to the office or on vacation.
---
(Highest quality)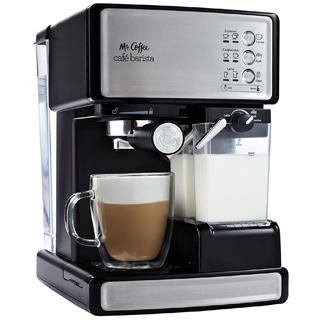 Why it's great: This espresso maker by Mr. Coffee is professional grade but still effortless to use. Featuring an electric 15 bar pump system and automatic milk frother, this semi-automatic machine produces high-quality espressos, cappuccinos, and lattes with an easy one-touch control panel. The simple three-step process for making an espresso beverage on this machine includes packing a single or double shot filter, filling the milk reservoir, and choosing your brew on the control panel. Within minutes, you'll be enjoying the aromatic and full-bodied coffee beverage of your choice!
Keep in mind: Some customers report that this machine can be a lot of work to clean.
Good for: The coffee snob as this machine has all the advanced features and high-quality controls to make a variety of coffee drinks.
---
FAQs about espresso machines
---
1. What are things to consider when buying an espresso machine?
The first thing to consider when purchasing an espresso machine is your budget. While there are plenty of great models for under $200, you will still have to decide if you're willing to splurge on something with more advanced features or if you prefer to go with something simpler and more affordable. You will also want to think about how much time you want to invest in using your machine. Some espresso machines have a one-touch control panel while others require more steps to prepare and brew your espresso beverage. Lastly, be sure to consider how much maintenance might be required for certain machines. It's important to regularly clean your espresso machine and all its parts and this task is easier with some models than others.
---
2. What's the difference between a coffee machine and an espresso machine?
The biggest difference between a coffee machine and an espresso machine is the way in which it produces its respective beverage. A coffee machine relies on a filtering process while an espresso machine uses pressure to push water through finely-ground coffee beans packed into cakes to produce a shot of espresso. For this reason, making espresso takes less time than making coffee and the taste of espresso is often stronger and more complex than the taste of coffee.
---
3. Why is pressure important in an espresso machine?
Pressure is perhaps the most important ingredient in the perfect espresso. Having at least nine bars of pressure ensures that the texture and flavor extracted from the coffee beans into your espresso beverage will be of higher quality.
---
4. Is espresso bad for you?
Espresso actually has a myriad of health benefits as it is full of antioxidants and low in calories. Some studies show that drinking espresso improves long-term memory and can reduce your risk of stroke or type 2 diabetes. Of course, everyone is different and caffeine doesn't agree with everyone. Be sure to check with your doctor if you have specific health concerns about drinking caffeinated beverages.
---
5. How much caffeine is in a shot of espresso?
While it's true that espresso tastes much stronger than coffee, it actually only has 60 mg of caffeine per shot (compared to 95 mg in an 8-ounce cup of coffee).
Conclusion
---
Whether you're an espresso aficionado or a beginner barista, choosing the right espresso machine for your personal coffee brews is an important undertaking. Do you want to be able to make more than just espresso? Be sure to choose a machine that can create lattes and cappuccinos as well. Do you want an espresso machine that can travel with you? Perhaps one of the more compact or portable machines on the market will be a better fit for your lifestyle. No matter which espresso machine you select, making your own espresso beverages has plenty of benefits. Not only will it save you money in the long run by cutting back on your trips to local coffee shops, but it will also save you precious time by allowing you to whip up your espresso in minutes, no extra steps required.
You may also like our other product reviews…
Air Fryers Under $100 | Blenders for Green Smoothies | Blenders Under $100 | Chef Knives Under $100 | Coffee Makers with a Grinder | Commercial Shaved Ice Machines | Crepe Pans | Espresso Machines Under $100 | Espresso Machines Under $500 | Juicers Under $100 | Knife Sets Under $200 | Omelette Pans | Onion Choppers | Pizza Peels | Silicone Baking Mats | Silicone Cooking Utensils | Teapots with Infuser | Toaster Ovens Under $100 |