Updated on by Lyric Fergusson
Skincare is an important daily ritual and has more benefits than just improving the look and feel of your skin. Using a facial machine daily can decrease wrinkles and acne as well as tighten and brighten your skin. Not to mention, taking time out of your day to focus on your body and yourself is a great self-care strategy. Here are the seven best facial machines to up your skincare regiment this year.

Best Facial Machines – Home and Professional
---
(Best value — $)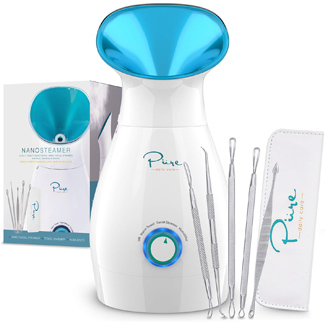 Why it's great: This 3 in 1 facial steamer and humidifier generates nano-ionic steam, which is ten times more effective in penetrating skin. Designed to be multi-purpose, this steamer is not only for skincare purposes but can also be used to humidify a room and has an extra chamber to heat towels. Its user-friendly interface includes a large 200 mL water tank and an auto shutoff sensor. This product also comes with a five-piece stainless steel blackhead and blemish extractor kit to use with the facial steamer.
Keep in mind: Some customers report that the water tank can be a bit troublesome during the first use, so make sure the trough is fully filled before using.
Good for: The customer looking for a facial steamer rather than a high-frequency facial machine.
---
(Easiest to use — $)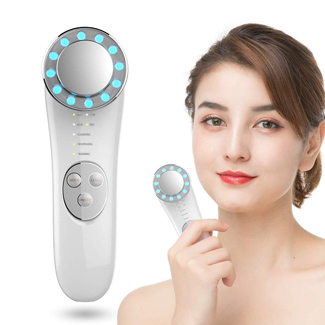 Why it's great: This 7 in 1 facial machine has multiple modes for cleaning and improving your skin's quality. An EMS massaging feature will enhance skin elasticity while high frequency vibration and heating help your skin absorb important nutrients. This facial machine can also be used to fully cleanse your skin, eliminating the potential for acne and blackheads. Red and blue light therapy provide anti-aging benefits as well as assist in necessary skin repair. This device is rechargeable and handheld, making it easy to use at home or on-the-go.
Keep in mind: This facial machine device requires a lithium ion battery to operate though it does come with one included with purchase of this product.
Good for: The customer looking for a simple, cordless handheld facial device.
---
(Most professional — $$$)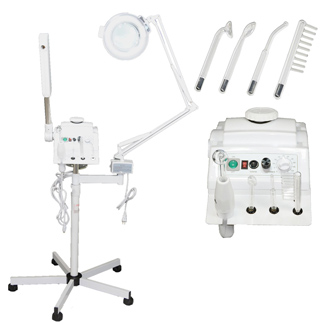 Why it's great: This herbal aromatherapy facial steamer is professional-grade and has several useful functions. Using high-pressure steam from heated, distilled water, this machine will help open pores and relax face muscles. This machine is equipped with ultraviolet ozone capabilities as well as has an herbal basket so you can easily add your favorite herbs and essential oils to the mix. This machine also includes 5x magnification for close-up inspection of pores and problem areas as well as an 8x high-magnification loupe for an extreme close-up inspection. A soft-cool fluorescent bulb ensures you won't overheat or dehydrate your skin.
Keep in mind: Some customers report that this machine can be tough to assemble.
Good for: The customer looking for a professional spa set-up as this machine is on par with those used in spas and salons.
---
(Best to treat acne — $$)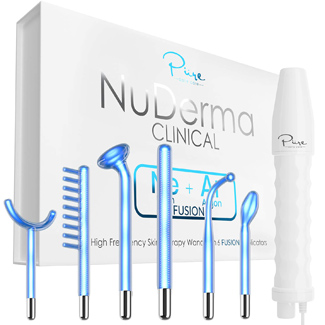 Why it's great: This clinical-grade skin therapy wand is a high-frequency skin treatment designed to boost the appearance of your skin and treat acne. This product includes six fusion applicators that work synergistically to provide the full range of skin therapies. The fusion applicators contain Argon, which reduces acne healing time by up 90% as well as has other complexion calming effects. Other applicators are designed to work on different parts of your body, including your arms and neck as well as your face. Customers praise this facial machine for its fast results.
Keep in mind: This wand and its parts are fragile and can break easily if not stored or handled properly.
Good for: The customer looking for something easy to use that offers fast results.
---
(Highest quality — $$$)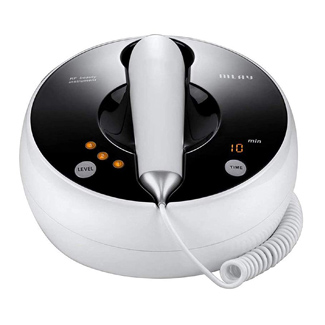 Why it's great: This MLAY RF facial machine has countless features for an endless array of benefits to your skin. Using the latest bipolar RF technology, this machine has a built-in safety system that will automatically adjust settings depending on the temperature of your skin. This machine provides radiofrequency treatment, which stimulates collagen production, accelerates blood circulation, improves skin elasticity, alleviates wrinkles and fine lines as well as brightens skin, and reduces sagging. This machine can be used on the face as well as other parts of the body and results have been shown to last for up to two years.
Keep in mind: Some customers report that the heat settings are inconsistent and take some adjustment to get right.
Good for: The customer looking for a facial machine with all the bells and whistles and a convenient at-home set-up.
---
(Best suction power — $$)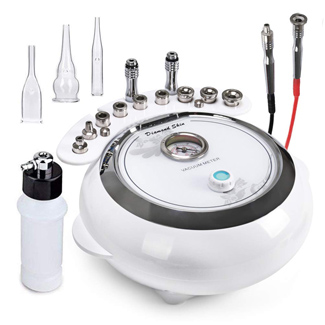 Why it's great: This facial machine uses suction to remove skin debris, scars, blemishes and wrinkles. While it's not designed for sensitive or damaged skin, it is easy to use at home and produces impressive results quickly. This facial machine has been praised by customers for its ability to rejuvenate sun damaged skin, reduce age spots, minimize blotchy skin tone, reduce acne and improve overall skin health. The Diamond Dermabrasion feature helps to replenish natural nutrients and restore cell activity to promote a healthy and glowing complexion.
Keep in mind: Some customers report that this product arrived with missing or broken pieces, but the brand guarantees 100% customer satisfaction and customer service is available to replace parts or products if necessary.
Good for: The customer looking to get rid of skin tone inconsistencies and dark spots.
---
(Best cleaning function — $$$)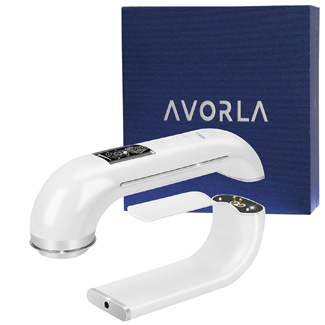 Why it's great: This Avorla skin machine is highly-rated by customers for its effective, simple and safe skin treatment capabilities. Chargeable and durable, this handheld device provides deep skin cleansing, high-frequency heating and massaging and LED light treatment. Benefits of using this device include collagen regeneration, enhanced blood circulation, acne prevention, sun damage correction and improvements to skin elasticity and brightness. Customers praise this machine for being easy to use and effective for many different skin types and issues.
Keep in mind: Customers must use a serum or gel before using this product, neither of which is included with the purchase of the machine.
Good for: The customer looking for a product that includes facial cleansing as well as high-frequency heating and massaging and light treatment.
---
FAQ's about facial machines
---
1. What are typical skin issues that facial machines treat?
Facial machines can aid in the cleansing and rejuvenating of skin as well as can treat more specific problems, such as cystic acne, sun damage, uneven skin tone, and wrinkles. Simpler machines will focus on hydrating your skin and unclogging pores while more advanced machines will offer treatment for a wider range of issues, including collagen production and lymphatic drainage. Choosing which facial machine is right for you will depend on your specific skin sensitives and problem areas.
---
2. What is a high-frequency facial machine?
treat skin problems and inconsistencies. High-frequency machines operate at a frequency of 100,000-2500,000+ cycles per second and are a safe and gentle method of rejuvenating and restoring your skin's health.
---
3. How does a high-frequency facial machine work?
A glass high-frequency electrode, conducting a gentle electrical current, is applied to the skin. Glass electrodes are available in a variety of shapes and sizes, each of which is designed to treat specific parts of the face and body. Electrical light energy and oxygen are proven to purify and heal damaged and aging skin by improving blood circulation and gently warming skin tissue.
---
4. What are the benefits of high-frequency facial machines?
Benefits of using a high-frequency facial machine include regenerating collagen, increasing blood circulation, and exfoliating dead skin cells. High-frequency facial machines can also heal acne, soften wrinkles, improve sagging skin, minimize pores and blackheads, reduce eye puffiness and dark circles and improve cellulite appearance.
---
5. How often should you use a facial machine?
How often you use your facial machine depends on the type of machine you buy and what functions it offers. For high-frequency facial machines, even just two minutes a day can decrease wrinkles and improve overall skin quality. Most experts recommend setting aside time in the morning and evening for skincare, which can be a relaxing way to start and end each day.
---
6. How long will it take to see results from using a facial machine?
The speed of results depends on what type of skin issue you're treating as well as what facial machine you're using to do so. However, most brands advertise that customers report seeing lasting results anywhere from 48 hours to 2-4 weeks after daily use of their products.
Conclusion
---
Caring for your skin can sometimes feel like a never-ending battle. Especially as you age, new imperfections arise and it can be hard to determine the best way to treat these new and unfamiliar issues. Fortunately, there are many different kinds of facial machines available to treat and improve your skin. Whether you want a high-frequency facial machine to help fight cystic acne and diminish sun spots or you're looking for a high-quality facial steamer to brighten and tighten your skin, there are plenty of options available on today's market that will help you achieve the complexion of your dreams.
You may also like our other product reviews…
Acupressure Mats | Back Stretchers | Grounding Stones | Infrared Heat Lamps | Infrared Heating Pads | Inversion Tables | Massage Chairs Under $1000 | Negative Ion Bracelets | Outdoor Saunas | Portable Saunas | Small Heating Pads | TENS Units | Vibration Plates |