Updated on by Lyric Fergusson
Gaming chairs have grown in popularity over the past few years. They bring maximum comfort and support to those who invest hours on end playing games. And now there are so many different options on the market that it's difficult to figure out which chair is the right choice. Especially with the huge range in pricing options.
That's why I've come up with a list of the top 7 gaming chairs that are under $100. For those that want the ergonomics that a gaming chair supplies at an affordable price, this list should help you find one that works for you.
Best Gaming Chairs Under $100
---
(Best quality)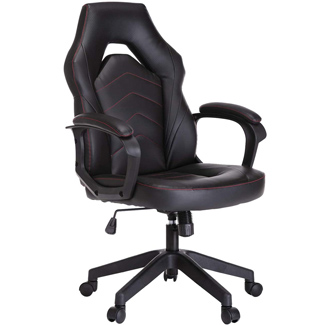 Why it's great: This chair is made with bonded leather material that has all the characteristics of PU leather, but is a little more comfortable and is water-resistant. It's also very durable and it's easy to clean and wipe off. This chair is very cushioned and comfortable and has padded armrests too. The height is adjustable and it can even recline. It also rolls very quietly. You should have no problem sitting in this chair for an extended period of time. It even has a massager for your lower back! Plus, it is really quick and easy to assemble and comes with all the tools you need.
Keep in mind: The recline is not variable. It's either upright or reclined
Good for: People that want a gaming chair that's comfortable and built to last.
---
(Most ergonomic/comfortable)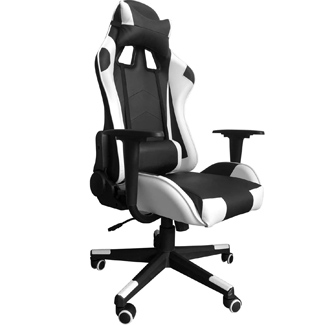 Why it's great: This chair has the most ergonomic design to completely support your spine while sitting all day. It also comes with a separate lumbar support and head support, that you can attach or remove as needed. Plus, it's nice and cushioned and it can fully recline in case you need to take a nap. The height is adjustable as well. This chair also has the highest weight capacity and a wide seat, so it will work for any occupant. It's very sturdy and installation is pretty simple.
Keep in mind: The armrests on this one aren't padded, but they're not super hard either.
Good for: People that want all the proper support for their body while seated.
---
(Best budget option)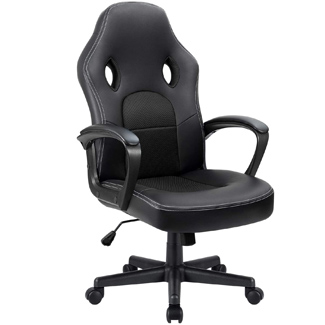 Why it's great: This chair is made from PU leather and mesh, which makes it highly breathable and airy. The bucket seat and padded backing help to keep your spine in the proper position during extended periods of sitting. It has a nice, sleek looking design too. This chair also reclines and rocks back and forth, so you get everything you need in a gaming chair. The height adjusts and installation is pretty easy. Overall, this is a pretty great quality chair for the price.
Keep in mind: This chair is great for the price, but it's not quite as nice as some of the more expensive options.
Good for: People who need a budget friendly gaming chair.
---
(Most unique)
Why it's great: This is a fun and unique chair that's perfect for using in front of a TV. It sits about 5 inches off the ground, but the seat itself comes up high enough to support your entire back. It's cushioned and soft and comes in multiple color options. It has different recline options and swivels 360 degrees, like a normal computer chair. Another cool thing about this chair is that it folds up for compact and easy storage when not in use. If you normally use the same TV for playing games and watching shows, you can quickly put this away and move back to the couch.
Keep in mind: This is not meant to be a computer chair and won't be tall enough to use at a desk.
Good for: People that want a chair for playing on a video game system
---
(Most style & color options)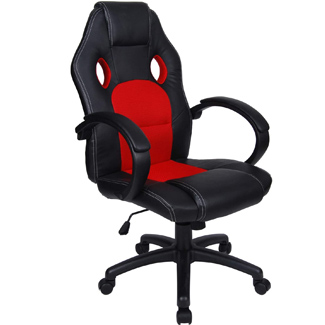 Why it's great: This chair comes in two different styles and multiple color options, so you're sure to find one that works for you. It has an ergonomic form and a headrest to keep you feeling comfortable when you're sitting for long periods of time. The material is PU leather and mesh, which makes it more breathable and keeps you from sticking to the chair when it gets hot. It's also padded just the right amount, so you've got firm support, but still feel comfortable. It's easy to put together and comes with all the tools necessary.
Keep in mind: The height is adjustable, but there's no recline settings on this one.
Good for: People that want to be able to color coordinate their chair with their rooms.
---
(Best for small spaces)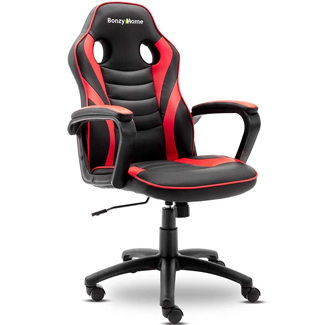 Why it's great: This gaming chair is a little on the smaller side, which is great when you don't have a lot of space for a chair at your desk. It has padded armrests and a bucket style seat for maximum comfort. The height is adjustable and it reclines in case you need a rest. Plus, it has multiple different recline positions, so you can find the adjustment that works best for your comfort. It's very sturdy and doesn't take long to put together, as long as you follow the directions in the manual.
Keep in mind: This chair isn't quite as cushioned as some of the other options, so if you like a lot of padding, it may not be the right choice.
Good for: People that need a gaming chair that doesn't take up too much space.
---
(Best value)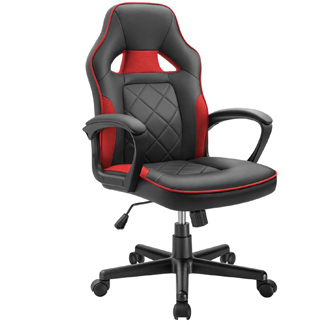 Why it's great: This chair has almost all the best features from the other options and is one of the most affordable too! It has thicker, sponge cushioning, which makes it both comfortable and supportive. Plus, it's PU leather and mesh make it very breathable. The height is adjustable and it rocks back and forth for maximum comfort. It only takes about 15 minutes to put it together and it is sturdy and durable.
Keep in mind: This one doesn't recline at all.
Good for: People that want a quality chair at the best price.
---
FAQs about gaming chairs
---
1. Why should I buy a gaming chair?
Gaming chairs are made for sitting at your desk for long periods of time. Because of this, they are usually very cushioned and have some sort of ergonomic or lumbar support. They are far more comfortable than a traditional office chair. Plus, a lot of them will either rock or recline, allowing you added comfort while playing a game.
---
2. Will gaming chairs work for short or tall people?
This will depend on the chair and the features that it provides. Pretty much all work fine for people that are shorter than average. However, if the lumbar support or headrest is not adjustable, that could cause a problem. For those that are taller than average, make sure to check the measurements and/or contact the manufacturer to see if the chair will work for you.
---
3. What features should I look for in a gaming chair?
This will depend on personal preference, but there are two main features that any gamer would like to have. One is the ability to adjust the height of the seat. Being able to position yourself perfectly in front of your screen can make all the difference in both comfort and visibility. The second is rocking or reclining. For gamers that are seated for hours at a time, being able to lean back or lay back can really come in handy.
---
4. What material is the best?
This one does depend a little on personal preference. But, it also depends on how much you want to spend. PU leather is the most common material on more affordable chairs and mostly what you will find in this list. Mesh is also fairly common and can make your chair more breathable. If you want to spend a little more, you'll find PVC leather or even genuine leather as options.
---
5. Can a gaming chair help me play better?
The answer is both yes and no. If you splurge on a more expensive gaming chair with immersive sound or headset, it can really improve your alertness. Also, because you can adjust the height, it'll help your visibility and decrease the strain on your neck. The overall support and comfort you'll experience in a gaming chair can help you to focus and prevent you from being fatigued. So in those regards, a gaming chair can help you improve your play. But the chair itself isn't increasing your skill at the game.
Conclusion
---
At the end of the day, a gaming chair can be a really nice perk to have. It can really save you a lot of neck and back strain as it supports your body throughout the day. Investing in a good gaming chair is a smart choice for anyone that spends a lot of time seated, whether playing games, working, or anything else.
When you're shopping for a gaming chair, make sure to think about which features are the most important to you. Do you need a headrest or is proper back support enough? Would you like the option to recline or is rocking enough? Take the time to figure out what you want and you should be able to easily pick a gaming chair that's right for you.
You may also like our other product reviews…
In-Wall Speakers | Laptops Under $700 | Luggage Sets Under $50 | Mechanical Keyboards Under $50 | Noise Cancelling Headphones Under $50 | Noise Cancelling Headphones Under $200 | Office Chairs Under $200 | Office Chairs Under $300 | Party Speakers | Point and Shoot Cameras Under $100 | Point and Shoot Cameras Under $300 | Portable Record Players | Projectors Under $200 | Projectors Under $500 | Record Players Under $100 | Routers Under $100 | Shower Speakers | Soundbars Under $300 | Speakers for Vinyl | Turntables Under $200 | Turntables Under $300 | Turntables Under $500 | Turntables Under $1000 | TVs Under $300 | Vlogging Cameras Under $300 | Wireless Headphones Under $200 |