Updated on March 22, 2021 by Lyric Fergusson
Gaming keyboards can do a lot to really enhance your gaming experience. All the extra features can make your life a lot easier. Plus, when you're spending hours on end playing a game, the faster actuation and softer keys can really do a lot to keep your fingers from feeling fatigued. There are so many options out there now and they use a lot of terms and names that can be hard to understand.
That's why I've compiled a list of the 7 best gaming keyboards for you. Read through the descriptions and it should give you a good idea of the features and types of keyboards that are available.
Best Gaming Keyboards Under $100
---
(Most comfortable)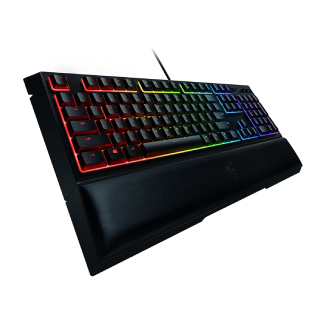 Why it's great: This keyboard features a mecha-membrane, which basically means you get the best of both worlds. A membrane keyboard gives you a softer, more comfortable feel. This is great for gamers and people that do a lot of fast typing. It helps to cushion your fingers and lessens fatigue. But, with a full membrane keyboard, you don't get the nice, solid clicks that a mechanical keyboard has. That's why the mecha-membrane is so cool. It combines the two, so you get the comfort of a membrane but still feel tactile clicks. On top of that, this keyboard comes with a cushioned wrist rest attached to support your wrists while you're using the keyboard. This is also adjustable or removable if you don't like it. Plus, it lights up and has tons of different color settings to choose from.
Keep in mind: This one is missing the volume controls that often come on gaming keyboards. The clicks can also be a little loud.
Good for: People that like to feel a solid click, but also want to be comfortable using a keyboard for long periods of time.
---
(Most quiet)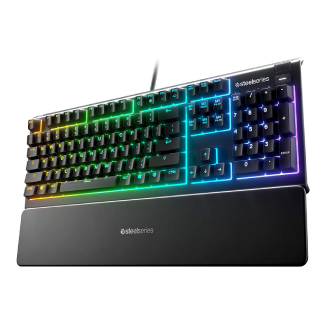 Why it's great: This is a great quality membrane keyboard and is definitely the most quiet of the bunch. You still get pretty tactile clicks, without the noise that usually accompanies them. The keys feel smooth and it has a nice overall feel. The Apex 3 also features RGB illumination that gamers love, which makes it look pretty cool. It's water-resistant and it's a great price for a gaming keyboard. It's highly programmable and also comes with a wrist rest. The wrist rest isn't super cushiony, but it provides just the right amount of support without raising your hands too high. It's a great entry-level gaming keyboard if you're on a budget.
Keep in mind: The illumination/colors are not as bright and vibrant in really bright rooms.
Good for: Anyone that needs a quieter keyboard.
---
(Best budget keyboard)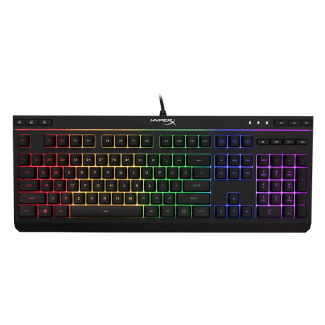 Why it's great: This is a great keyboard for anyone that doesn't have a lot to spend. It's a membrane keyboard for added comfort, it's programmable, and it has fun LED illumination. It's solidly built and durable, plus it's water-resistant. The keys are pretty quiet, although not quite as much as the previous option. It also features media controls and quick access buttons for lighting and game controls, which is something that I personally really like to have. Overall, it has everything you could need in a gaming keyboard at a low, budget-friendly price.
Keep in mind: When the LED lights are on, they do seem to make a slight noise. It's not terribly loud but could be a little annoying to more sensitive ears.
Good for: People that need a quality gaming keyboard at an affordable price.
---
(Most portable)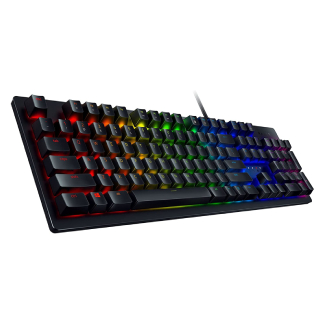 Why it's great: This one comes with a detachable Type-C cable that makes this keyboard easily portable, so you can take it with you to LAN parties, tournaments, or anywhere else you may need it. It's also smaller and lighter than most keyboards, which makes it easy to carry around or great on smaller desks where you need to save some space. Also, you don't have to press as hard for the keys to register, so you can type or press buttons much faster. Which also makes it a little more comfortable, since your fingers don't have to work as hard. It still comes with RGB lighting and is very programmable.
Keep in mind: This is a mechanical keyboard, so you'll get solid clicks, but that also means that it's pretty loud.
Good for: Anyone that needs a quality keyboard that's also portable.
---
(Best value)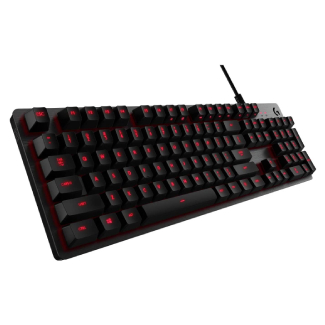 Why it's great: Logitech is a well-known brand that's been around for a long time. They always make quality products and this mechanical keyboard is no exception. Another nice feature that this keyboard has is a USB pass-through port, which none of the previous options had. And it even comes with a USB cable. This keyboard is also made from aluminum alloy, which looks really nice while also making it very sturdy and durable. Although it's a mechanical keyboard, it doesn't take much for the keys to actuate, so you don't have to press very firmly. This means you'll be able to type faster and softer, which will reduce the noise and keep your fingers from getting overtired.
Keep in mind: This one doesn't have RGB illumination, but it is backlit, making the keys easier to see.
Good for: People that want the best quality gaming keyboard at a great price.
---
(Most customizable)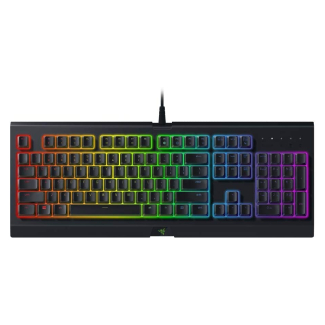 Why it's great: This is pretty similar to the Razer Ornata Chroma that's at the top of this list. It has all the same features as far as RGB lighting, programming, and customization. The difference is that this is a full membrane keyboard. It's great for gaming and prolonged use, but the clicks are a lot softer and it's a little less tactile. This also means they're quieter than a mechanical keyboard would be. It also doesn't have the wrist rest that the Ornata has. But, the cool thing about this one is that the RGB is assignable to individual keys, instead of the whole board. So it can be really fun to customize and find what you like.
Keep in mind: You need to have the software for it running to be able to customize the RGB, otherwise it defaults to the demo coloring.
Good for: People that really like to have a unique and individual keyboard.
---
(Best mechanical)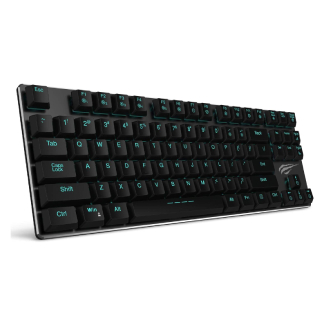 Why it's great: This is a great mechanical keyboard, that's also very light and compact. It's very thin, so even without a wrist rest, you should be pretty comfortable. It has backlit keys rather than RGB illumination, with a light blue/teal color that's really pleasing. It also comes with a detachable USB, which is a great added feature. Plus, it has a macro mode, which makes it perfect for gaming and especially RPGs. The keycaps feel good and you don't have to press too firmly to get them to actuate. It's not too loud, considering it's mechanical, but it has a clear, clicky sound.
Keep in mind: The keys are matte rubber, so they're prone to oil and grease. This isn't a big deal as long as you wipe them down every so often.
Good for: Anyone that really loves the feel of mechanical keyboards.
---
FAQs about gaming keyboards
---
1. Which is better: mechanical or membrane?
As you read in the descriptions of the choices in this article, a mechanical keyboard makes clear, crisp clicks when typing. This leads to more precise and faster typing. But, it can leave your fingers feeling a little fatigued and can make a lot of noise. A membrane keyboard is softer and quieter. You don't get as crisp of a click, but it cushions your fingers better and is a lot quieter. There is no right or wrong choice here. It's all based on personal preference.
---
2. What's the difference between a regular keyboard and a gaming keyboard?
The difference is that gaming keyboards have all kinds of extra features that a regular keyboard doesn't have, like LED lighting and macro keys. The LED lighting is a nice feature to have and makes it a lot easier to see your keys. Macro keys are great because they allow you to record different actions. This really helps out in gaming because you can set a pattern of keystrokes to help with repetitive tasks. Also, gaming keyboards usually have faster and lighter keystrokes, meaning they actuate faster than a regular keyboard.
---
3. Why is RGB illumination so popular?
There are a couple of reasons that gamers love RGB lighting. The first is just that it looks cool and adds to the ambiance when you're playing. The second is that most gamers play in dimmer lighting, to enhance their vision of the screen and, again, for ambiance. The RGB lighting increases the keys visibility, making it easier for the gamer to see what they're doing. Also, depending on how customizable the lighting is, gamers can set certain keys to different colors, making it easy to know which keys do which functions.
---
4. Will a gaming keyboard help you play better?
Not necessarily. Both basically function the same. However, some of the features mentioned above can definitely make gaming easier. It really depends on the keyboard and what features can help improve your playing. For instance, having things like RGB or LED lighting make the keys easier to spot, but if you're playing in a brightly lit room, that might not matter. Also, depending on the game, using macros could be considered cheating. Overall, gaming keyboards just add to the gaming experience and usually have faster key actuation.
---
5. What size keyboard should I get?
This is another question that varies based on personal preference. Smaller keyboards like the 60% ones are compact and don't take up too much space. They're also great for portability. But the smaller the keyboard, the more you lose the extra keys, like media keys, which can make your life easier. So it really depends on what you like or want out of a keyboard.
---
Conclusion
---
Gaming keyboards can be a great asset for any gamer. But, choosing the best gaming keyboard can be frustrating when you don't know what to look for. Different features and types of keyboards can help or hinder you, depending on what you like or need. Think about when and where you'll use the keyboard most. And if the feel, look, or sound is most important to you.
Hopefully after reading through this guide, you've been able to figure out which features you'd like to have in your new keyboard. With that knowledge, you should have no problem deciding on the gaming keyboard that's right for you.
You may also like our other product reviews…
In-Wall Speakers | Laptops Under $700 | Luggage Sets Under $50 | Mechanical Keyboards Under $50 | Noise Cancelling Headphones Under $50 | Noise Cancelling Headphones Under $200 | Office Chairs Under $200 | Office Chairs Under $300 | Party Speakers | Point and Shoot Cameras Under $100 | Point and Shoot Cameras Under $300 | Portable Record Players | Projectors Under $200 | Projectors Under $500 | Record Players Under $100 | Routers Under $100 | Shower Speakers | Soundbars Under $300 | Speakers for Vinyl | Turntables Under $200 | Turntables Under $300 | Turntables Under $500 | Turntables Under $1000 | TVs Under $300 | Vlogging Cameras Under $300 | Wireless Headphones Under $200 |