Updated on by Lyric Fergusson
Gaming keyboards include a lot of features that make playing games more enjoyable. They can also make it a lot easier and more comfortable to be playing for long periods of time. They're made to withstand near constant use and can make the whole experience a lot better.
However, gaming keyboards come in a variety of options with prices ranging all over the place. Finding a good quality gaming keyboard on a budget isn't easy. That's why I've compiled a list for you of the 7 best gaming keyboards under $50.
Best Gaming Keyboards Under $50
---
(Best value)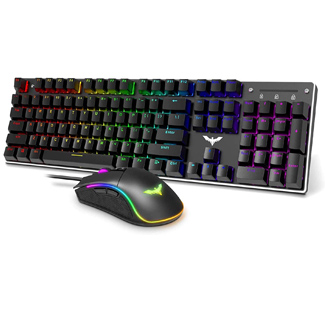 Why it's great: This is a great mechanical keyboard that also comes with a mouse. The keys are blue switches and have a very tactile, solid click that you can both hear and feel. They're also very responsive, so you don't have to press very hard, which prevents a lot of fatigue for long periods of typing. And, they don't ghost at all, which is necessary when you're playing a game. The keyboard and mouse are both backlit and the keyboard has 21 different lighting modes. All in all, it's a great set at an affordable price.
Keep in mind: This is a rainbow backlit keyboard, which means they are fixed LED, not a true RGB setup.
Good for: People that want a mechanical gaming keyboard and mouse set at a great price.
---
(Best set)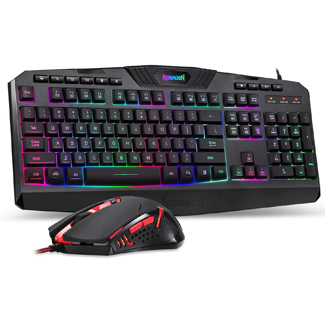 Why it's great: This is one of only a couple gaming keyboards that stays under $50 and still comes with a mouse! Both the keyboard and the mouse have RGB backlighting. The keyboard has 4 brightness settings and 7 different lighting modes, giving you the ultimate gaming experience. Plus, it's a membrane keyboard, so the keys are softer. It's very comfortable to use. And, the keys are very tactile and you still get a decent click feeling. It is a wired keyboard and mouse, but the cords are very long and don't really restrict your positioning. For the price, you get a nice quality keyboard and mouse set.
Keep in mind: This keyboard doesn't have the ability to program macros.
Good for: People that need a great mouse and keyboard set for an affordable price.
---
(Best quality)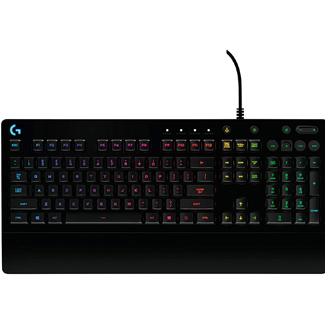 Why it's great: When you buy Logitech, you know you're getting a good quality product, even if it's their low end line. This one is durable with water and dust resistance. It's sleek design not only looks great, but it's also really easy to clean. These keys have RGB illumination and the light doesn't leak around the keys, which means the keys themselves are easy to see. It's a mechanical keyboard, so you get good, solid clicks, both in how they feel and how they sound. It also has media controls, making it much easier to adjust your volume quickly. I also like that this one has a wrist rest, making it even more comfortable to use.
Keep in mind: This one is a little noisier than the membrane keyboards, so be prepared for that.
Good for: People that want the best quality keyboard they can get at a budget price.
---
(Best budget)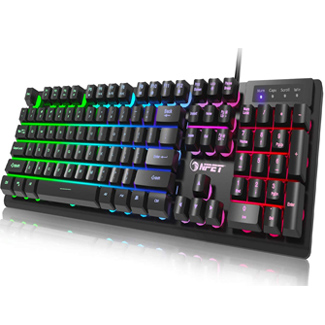 Why it's great: This is by far the most budget-friendly gaming keyboard you're going to find. Even so, it still has pretty much everything you need. It has LED backlighting with 4 different modes to choose from for fun illumination. It is a membrane keyboard, but still has a good tactile feel to it. The keys are smooth and very comfortable and the overall design is meant to prevent fatigue. The keys are very responsive and are anti-ghosting. Plus, the keyboard feels very sturdy and it is water resistant in case of spills.
Keep in mind: While it's not very customizable, it does have the key features of a gaming keyboard at the best price.
Good for: People looking for a gaming keyboard at a super affordable price.
---
(Best space saver)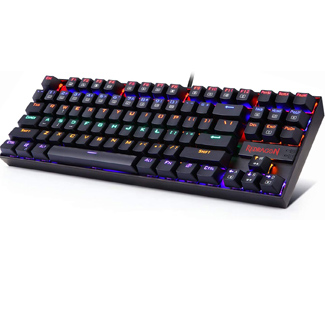 Why it's great: This keyboard is the smallest option on the list with only 87 keys. It's great for small areas and for those that don't need all the bells and whistles the extra keys provide. The compact size still gives you everything you need and the keyboard does have LED backlighting. It's also mechanical, which gives you a very tactile click. This helps you both see and hear a solid click, so you don't have to worry about whether you missed a keystroke or not. If you know about the different types of mechanical keys, these compare to Cherry MX Red switches.
Keep in mind: The clicks are pretty loud with this one, so be prepared for that.
Good for: People with smaller workspaces that need a compact gaming keyboard.
---
(Most comfortable)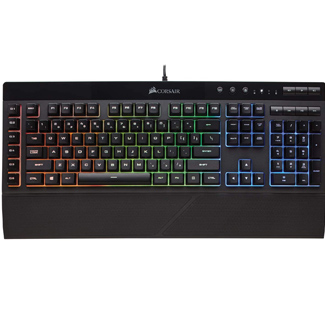 Why it's great: This is a membrane keyboard with soft, but responsive keys. It also has feet to adjust the height and a detachable, cushioned wrist pad, making it one of the most comfortable keyboards at this price point. It has customizable RGB backlighting and has 6 programmable macros. Plus, it has volume and media controls, which is one of my favorite features. It's also dust and water resistant and extremely sturdy. You won't have to worry about this one breaking on you.
Keep in mind: The responsiveness of the keys is a little lower and you need to press the keys a little more firmly than some of the others.
Good for: People that want the most comfortable gaming keyboard and wrist pad.
---
(Most programmable)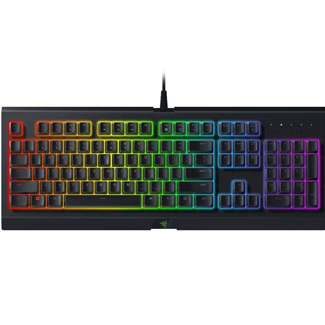 Why it's great: This keyboard is great because not only does it have RGB backlit keys, each key is individually programmable. For a gamer, this means that you can color-code certain types of keys, like offensive or defensive keys, which will help you hit the right one when needed. It also has programmable macros, which basically sets certain keystrokes to repeat an action. This can make those repetitive actions happen automatically, so you're not button mashing. Plus, it's a membrane keyboard, so the buttons are softer and cushion your fingers, to prevent fatigue.
Keep in mind: This is a membrane keyboard, so the clicks aren't quite as solid feeling as on a mechanical.
Good for: Serious gamers that like to be able to program their keyboard to their own specific needs.
---
FAQs about gaming keyboards
---
1. What is a gaming keyboard?
A gaming keyboard is basically a keyboard with extra features that provide a better experience for people who play games. One feature is that they usually have either RGB or LED backlighting. Another feature that gaming keyboards have is faster and lighter keystrokes, to prevent fatigue with extended use. And some gaming keyboards also have macros, which allows the gamer to program repetitive actions.
---
2. What is the purpose of RGB or LED lighting?
These lights create more illumination for gamers, who often play in dim environments either because it's night or for more ambiance. This allows gamers to still see their keyboard and the keys clearly, even when it's dark. Also, some gaming keyboards have customizable lights too, that can help the gamer organize certain key types. For instance, all offensive buttons could be red and all defensive buttons could be green.
---
3. What's the difference between mechanical and membrane keyboards?
A mechanical keyboard has individual switches for each key, which provides a more tactile, solid click. It's audible and provides the user with more immediate feedback. A membrane keyboard has a soft membrane between the keys and the circuit underneath, which provides a softer, less audible click. It's popular because it decreases the amount of noise and prevents finger fatigue.
---
4. Are macros or media keys necessary?
This is completely a personal preference. They're definitely not a necessity, but they can be nice to have. Media keys are more popular because you don't have to keep reaching for and adjusting your speakers. It's all right there on your keyboard. If you're watching a video, you can play and pause right at the keyboard, instead of having to click on the spot on the screen. As for macros, that really depends on what type of game you're playing and whether you feel you'd like some extra help with repetitive actions.
---
5. Will a gaming keyboard improve my gameplay?
The answer is yes and no. Having a gaming keyboard is not going to improve your skill at the game. What it can do though, is make it easier to see the keys with illumination. Or it can categorize your keys, so they're easy to spot when you need them. Macros can perform certain repetitive functions for you. Overall, they will help you to relax and enjoy the experience, which will help you focus better on the game.
---
Conclusion
---
Finding a gaming keyboard at a decent price can be pretty challenging. Take the time to research and think about the things you'll need or want out of your keyboard. What are you hoping to gain? Do you like the feel of solid clicks that can also be pretty noisy? Or would you prefer something that's softer on both your ears and your fingers?
Take a look at the options above and see which one has what you like or need. If you figure out ahead of time which features are the most important to you, it should be pretty easy to find the right keyboard for your setup.
You may also like our other product reviews…
In-Wall Speakers | Laptops Under $700 | Luggage Sets Under $50 | Mechanical Keyboards Under $50 | Noise Cancelling Headphones Under $50 | Noise Cancelling Headphones Under $200 | Office Chairs Under $200 | Office Chairs Under $300 | Party Speakers | Point and Shoot Cameras Under $100 | Point and Shoot Cameras Under $300 | Portable Record Players | Projectors Under $200 | Projectors Under $500 | Record Players Under $100 | Routers Under $100 | Shower Speakers | Soundbars Under $300 | Speakers for Vinyl | Turntables Under $200 | Turntables Under $300 | Turntables Under $500 | Turntables Under $1000 | TVs Under $300 | Vlogging Cameras Under $300 | Wireless Headphones Under $200 |