Updated on by Lyric Fergusson
The next time you sit down to your PC to unwind and play your favorite games, count your clicks! Your mouse is doing a lot more working during your time gaming than you may realize. Upgrading that piece of equipment might be overlooked, but it's an important upgrade for any gamer. If you are on a budget, there is a gaming mouse out there with your name on it! With the variations of budgets, sizes, types, and speeds, it's no wonder that this can become a tough decision. When it comes to choosing a gaming mouse, you'll find that there are hundreds to choose from and all of them sport a lot of different features.
Today we are sharing the 7 best gaming mouse devices under $50 to help you get back into the game!
The Best Gaming Mouse Devices Under $50
---
(Most advanced features)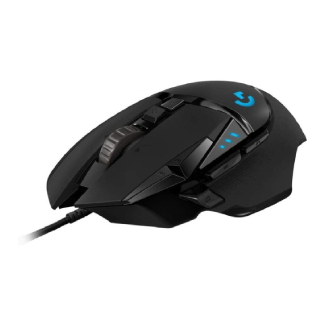 Why it's great: The Logitech G502 Hero High Performance Gaming Mouse has won the title of World's Best Selling Gaming Mouse! It features many high performance and advanced options like advanced optical sensor, customizable RGB lighting, custom game profiles and an adjustable weight system. No matter what your gaming style is, this mouse is easy to tweak to match the needs that you might have delivering advanced features to keep you in the game longer.
Keep in mind: This mouse has 1:1 tracking, 400+ ips, and 100-25,600 max dpi sensitivity plus zero smoothing, filtering and acceleration.
Good for: Gamers who desire the most advanced features all while on a budget.
---
(Best wireless option)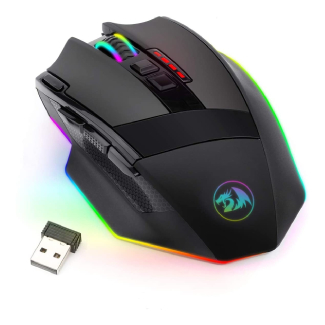 Why it's great: Whether you're looking for wires or wireless, this mouse can do it all! The Redragon M801 PC Gaming Mouse supports a wireless or wired option which gives you versatility to choose the way you want to game. You won't have to worry about slow signals or delays as this mouse
has an ultra-quick response rate, delivers pinpoint accuracy and extreme responsiveness for any professional gaming.
Keep in mind: On a full charge, this mouse can run wirelessly for up to 35 hours continuously.
Good for: Individuals who desire to have wired or wireless options in their gaming style without sacrificing on price or quality.
---
(Most comfortable)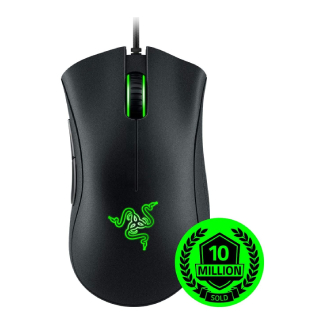 Why it's great: If you love gaming marathons, then you need a mouse that is going to fit your hand comfortably for hours. The Razer DeathAdder Essential Gaming Mouse provides an ergonomic and comfortable fit for your hands that will allow you to keep gaming however long you want to. This mouse features a true 6,400 DPI optical sensor with proven results to give you the fastest performance and precise swipes. When you're in the middle of chaotic battles, this mouse won't let you down!
Keep in mind: This mouse has 5 Hyperesponse buttons that have been laboratory tested for up to 10 million clicks to ensure that you can last in any intense gaming battle.
Good for: Gamers who are looking for a comfortable mouse to hold to help endure hours of gaming, competition, and winning.
---
(Most programmable)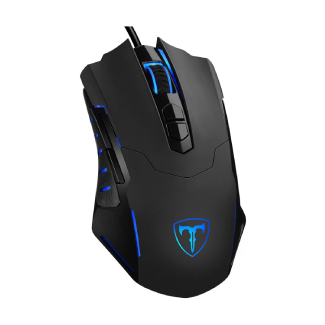 Why it's great: When you're gaming, having many options can be of high value. The PICTEK Gaming Mouse Wired features 7200 DPI to help give you a great advantage over your opponent. It features 7 buttons that are all programmable and can be set for different functions once you install the software. You can also customize your mouse to fit any special needs you have with the macro editing function, giving you a large variety of options for your gaming experience.
Keep in mind: In order to customize the buttons on this mouse, you have to download the software required. All the instructions you need are included as well as the relevant website to download the software from.
Good for: Customers who are looking for a way to customize their mouse and therefore customizing their gaming experience.
---
(Highest speed)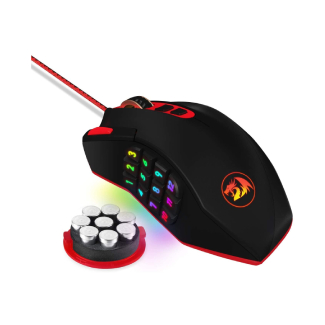 Why it's great: If you're looking for speed, this is it! The Redrawn M901 Wired Gaming Mouse features up to 12,400 DPI. It has an optical gaming sensor with advanced tracking and high speed motion detection for ultimate control. There is a quick fire button which will give you an edge on the competition and provide extra speed and precision. It's comfortable, it's efficient, and it will get you back in the game faster.
Keep in mind: This mouse comes compatible with Windows 10, Windows 8, Windows 7, Windows Vista, or Windows XP, with limited Mac OS keyboard support.
Good for: Gamers who are looking for the fastest option in a gaming mouse that will provide high speed and edge on their gaming opponents.
---
(Most portable)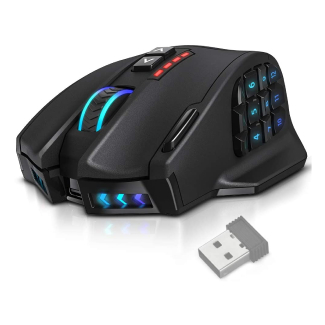 Why it's great: Get up and go with this UtechSmart Venus Pro RGB Wireless Gaming Mouse quickly and easily. It's portable and comes with a velvet bag, making it easy to take it safely anywhere you want to go. With up to 70 hours of battery life, this mouse will allow you to keep on gaming for as long as you're winning! Plus, it has the ability to charge easily with your cell phone charging cable which means this mouse is great for anyone who is on the go!
Keep in mind: This mouse has a special auto sleeping mode and a low power consumption mode that extends the battery life of wireless mode. The large battery (1000mA) capacity offerings to recharge over 300 times and single 2 hours fully charge.
Good for: Individuals who love to game in a variety of settings, who travel, or who move locations often.
---
(Best entry level)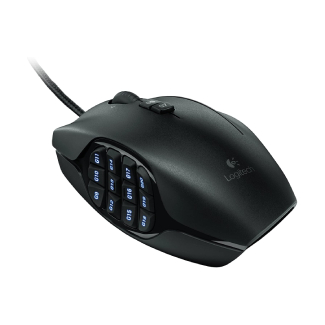 Why it's great: If you need an easy to use, entry level mouse then check this out. The Logitech G600 MMO Gaming Mouse is designed simply but with efficiency in mind. Every action can be right at your fingertips with three main buttons, 12 thumb buttons, a clickable scroll wheel that tilts, plus DPI and profile switching. They are all pre-configured for the best use straight out of the box with no drivers required. A fantastic option for beginners!
Keep in mind: This gaming mouse is made for PC gaming and is compatible with Windows Vista, Windows 7 and Windows 8.
Good for: Beginner gamers who need an entry-level option to help them start their gaming journey.
---
FAQs about gaming mouse devices
---
1. What is the difference between a gaming mouse and a regular mouse?
The biggest difference between a gaming mouse and a regular mouse is the DPI. DPI stands for 'Dots Per Inch' which helps to measure how sensitive the mouse is. Not only that, but a gaming mouse will have specially placed buttons that will allow gaming to be easier in many different aspects.
---
2. Can I use a gaming mouse as a regular mouse?
A gaming mouse is created with special qualities that are very specific to gaming. It is constructed much differently than a regular mouse. However, a gaming mouse can be used for normal use and will have more than enough qualities for what you need.
---
3. What should a gaming mouse have?
For a gaming mouse to be useful, it should have sensors that allow it to keep up with faster movements as compared to regular mice. A gaming mouse should also have improved software to customize tweaking and able to support both high DPI and CPI.
---
4. Is a normal mouse good for gaming?
Gamers are able to use a regular mouse while gaming however, it won't carry all the same valuable qualities that a gaming mouse provides. Therefore, it is recommended that gamers invest in a good quality mouse to ensure the proper gaming experience.
---
5. Why are gaming mice priced higher?
Typically, the quality of a gaming mouse is higher than a regular mouse. You are paying for the software that will allow for faster quality gaming and that will ensure the experience you desire. They are also priced higher due to design, style, preference and brand. There are many options to choose from as well as a wide variety of prices.
---
6. Is a lighter mouse better?
This really depends on what you are trying to achieve during your game time. A lighter mouse is typically easier to stop and easier to move around. If you are desiring smooth movement and less friction, then a lighter mouse might be better for you.
---
7. Can you aim better with a smaller mouse?
Most experienced gamers have concluded that it doesn't generally matter about the size of the mouse. It might matter depending on the hand size of the individual, making the purchase unique to each gamer. It would be beneficial to try different sizes that fit your hand and to decide if smaller or bigger works better for you.
---
Conclusion
---
In conclusion, simply buying an overly expensive mouse for games is not always the right choice. For under $50, you can find incredible gaming mouse devices to fit and suit the needs you have as a gamer. There are so many options out there to help you find the best mouse that fits your hand, your gaming style, and your technique. You don't have to sacrifice on cash to make this investment a worthwhile one!
You may also like our other product reviews…
In-Wall Speakers | Laptops Under $700 | Luggage Sets Under $50 | Mechanical Keyboards Under $50 | Noise Cancelling Headphones Under $50 | Noise Cancelling Headphones Under $200 | Office Chairs Under $200 | Office Chairs Under $300 | Party Speakers | Point and Shoot Cameras Under $100 | Point and Shoot Cameras Under $300 | Portable Record Players | Projectors Under $200 | Projectors Under $500 | Record Players Under $100 | Routers Under $100 | Shower Speakers | Soundbars Under $300 | Speakers for Vinyl | Turntables Under $200 | Turntables Under $300 | Turntables Under $500 | Turntables Under $1000 | TVs Under $300 | Vlogging Cameras Under $300 | Wireless Headphones Under $200 |