Updated on by Lyric Fergusson
Cooking over a fire has been part of American culture since Columbus discovered America! Over the years slow cooking over a fire was primarily designated for meat. In the 1950's it was taken a step further and became popular to gather a group of people to cook and eat outside, calling it a barbeque.
It has further morphed into a go-to for many people and now is referred to as "grilling". The grill has also evolved with improved technology and materials. You can spend as much or as little as you desire. Below we have made the task of finding the perfect grill for under $300.00 less stressful for you because we have done the research for you.
Best Gas Grills Under $300 – Full-Size & Portable
---
(Best for durability)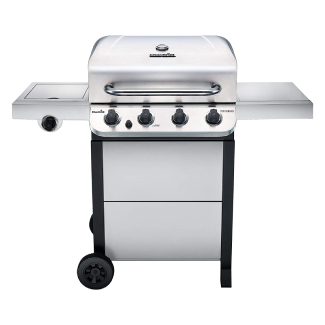 Why it's great: This grill is durable and well-made of stainless steel. It has a reliable electric ignition to fire-up the grill for the perfect steak! It is equipped with stainless steel burners that emit a flame from the top for even cooking. No frustrations with clean up with the durable grease pan, the porcelain-coated grates that are easy to remove for cleaning. The porcelain coated cast-iron grates are also rust resistant. The side burner is great for additional cooking while grilling.
Keep in mind: The propane tank is not included. You will need to purchase separately. This gas propane grill is strictly to be used for outdoor cooking.
Good for: Outdoor grilling on patio's, apartment balconies or any outside area.
---
(Best for having 5 burners)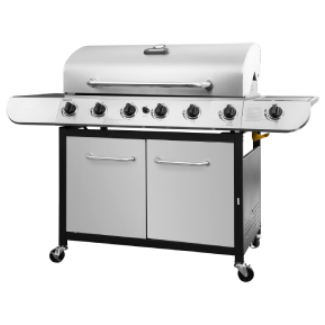 Why it's great: This propane gas grill has five stainless steel tube burners, plus a sear burner and lidded side burner. The porcelain enameled cooking grates and warming rack are easy to clean. You will love the warming rack to keep food ready while you finish your cooking. The heavy-duty stainless double-layer lid is designed for retaining heat. It has a built-in thermometer for your convenience ensuring accurate grilling. The electronic ignition system offers quick start-up with every easy push. The metal side shelf offers additional prep and workspace. There is a removable grease tray for easy cleaning. The stainless-steel cabinet has doors for storing barbeque tools and has four lockable casters.
Keep in mind: This grill requires more space than most apartment patios, but it is worth the extra space with the extra cooking space and burners.
Good for: Novice and veteran grillers.
---
(Best grill for the price)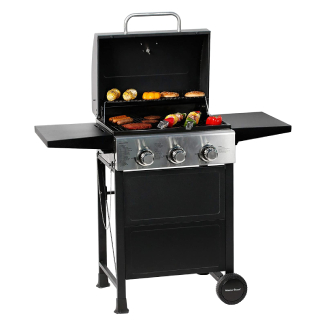 Why it's great: The stainless steel 3 burner grill can put out 30,000 BTU per hours with Integrated piezoelectric ignition system, quick start up with the push and turn of a knob. Stainless steel handle, control panel and built-in thermometer on the cover lid. Two foldable side tables and two heavy duty wheel casters allow for easy storage in smaller spaces. It is equipped with porcelain-enamel cooking grates that are easy to keep clean.
Keep in mind: Propane tanks are not included.
Good for: Limited storage space and works on patios, apartment balconies or any backyard space.
---
(Best grill for the storage)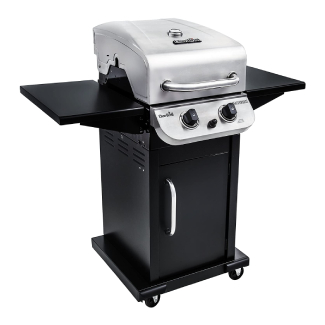 Why it's great: You will love the convenience of this 2-burner cabinet gas grill. It delivers 24,000 BTU's of heat with the 2 stainless steel burners. The porcelain-coated cast iron grates are rust resistant and prevent food from sticking, not to mention easy cleanup. No worries when it comes to igniting the flame with the electronic ignition system. This grill has 2 foldable side shelves for additional workspace. The storage cabinet below the cooking area with 2 doors allows for utensil storage and easy access to the propane tank.
Keep in mind: While this grill may seem small, it is compact and the perfect size. The grill area is about 18×16, but you can easily cook 8-10 hamburger patties at once. The lid has an extra layer of metal or heat shield, so if you accidentally place your hand on it, you won't get an instant burn.
Good for: Small areas without sacrificing grilling area.
---
(Best for small areas)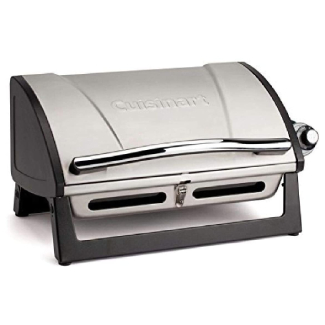 Why it's great: Well, it's great because it's portable for easy transport. It is ideal for decks, patios, balconies and camping. There is no assembly, so quick set-up and ready in under 5 minutes. This grill utilizes a drip tray to collect grease and drippings allowing for easy clean up.
Keep in mind: Works with a 1lb. propane tank. Also, the gas regulator monitors the flow of gas from your propane tank to your grill while cooking.
Good for: Small outside areas like decks, patios and balconies. It is also perfect for camping trips because it is portable.
---
(Best for size of cooking area)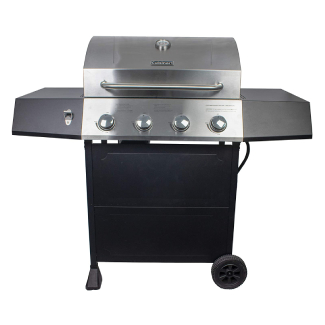 Why it's great: The Cuisinart Full Size 4 Burner Gas Grill has 443 square inch of cooking space in addition to 167 square inch warming rack. So, no worries when you are cooking multiple items on the grill and need for your food to stay toasty for your meal. The heavy-duty cast-iron cooking grates are easy to clean and are great at retaining heat. The 2 side tables give you plenty of space for food prep. The electronic ignition gives you a quick flame. You will love the porcelain-coated cast-iron grates because they are easy to clean, as well as the utensil hooks. All in all, this grill is a real gem.
Keep in mind: The propane tank is not included.
Good for: Anything you want to grill on any clear day! Fire up the grill and throw on the burgers!
---
(Best for heating ability)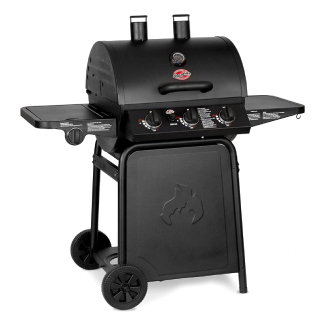 Why it's great: The Grillin' Pro is made of durable steel construction and powder coated for longevity outdoors. It pumps out 40,800 BTU for perfect grilling. It has 438 square inches of grilling area and 192 square inches warming rack. The side burner produces 12,000 BTU of heat for additional cooking. It has electronic ignition and porcelain-coated cast iron grates. Invite guests and start grilling, or make use of it on a daily basis for your own personal meals.
Keep in mind: As with the other grills listed above, the propane tank is not included.
Good for: Cooking for a large group or just yourself. You will love the quality of the evenly distributed heat and the easy cleanup.
---
FAQs about gas grills
---
1. Who invented the first grill?
The gas grill was created in 1954 by Don McGlaughlin.
---
2. What percentage of American homes own gas grills?
It is true American's love to grill, whether it's for a group of friends or tailgating. 64% of American homes own a gas grill.
---
3. What is the national average cost for a gas grill?
Gas grills can cost anywhere from $85.00 to $29,000, amazing right! But the average American spends about $2930.00 on a gas grill. However, it is possible to get a great deal on a grill for less than $300.
---
4. Is it healthier to cook on a grill?
Healthier is relative, it all depends on the cook and their choice of ingredients. But, it is found that grilling with natural spices and fresh vegetables is much healthier than frying!
---
5. What is the most popular day to barbeque?
It's no shocker that July 4th comes in at 71% in polls as the most popular day to barbeque. Memorial Day follows 2nd, then Labor Day. But let's be honest, any day is a great day to grill out!
---
Conclusion
---
The smell of meat grilling will undeniably tempt the senses of anyone within smelling distance! People have been grilling since man figured out how to make fire. While it's generally assumed that men are considered to be king of the grill, times have changed and grilling has become a skill for anyone. Because of the popularity of grilling, no matter if it's the middle of the summer or standing in the middle in the snow trying to get that steak grilled perfectly, the grilling options have become endless. I hope the information provided of the 7 best grills for under $300 will help you find that new grill you desire, or maybe purchase your first grill and get busy cooking scrumptious burgers, hotdogs, or steaks for friends and family.
You may also like our other product reviews…
Croquet Sets | Gas Grills Under $200 | Pogo Sticks | Trail Cameras Under $100 | Zero Gravity Chairs |