Updated on by Lyric Fergusson
Feeding your baby can be an idyllic part of parenthood as it gives you the opportunity to snuggle your baby close, lock eyes and connect on a deeper level. That kind of intimate bonding is crucial to a baby's development, but it can easily be disrupted if your baby's bottle isn't the right fit. Here are seven glass bottles to ensure your feedings are safe, comfortable and colic-free!
The Best Glass Baby Bottles
---
(Best value — $)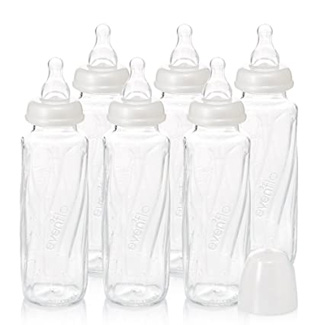 Why it's great: Sold as a set of six, these bottles are some of the most affordable glass bottles on the market. They have a high customer satisfaction rating for their ease of use and their venting technology, which greatly reduces colic and gassiness in babies. The innovative ergonomic shape makes these bottles easy and comfortable to hold during feedings and with only three parts, assembly and cleaning are a simple and straight-forward process. These bottles are constructed of FDA-approved food-grade materials that are recyclable and sustainable as well as free of BPA, polycarbonates, PVC, and phthalates.
Keep in mind: Some parents report that these bottles will crack if heated at too high a temperature, so use caution when warming.
Good for: Reducing colic and gassiness in babies as Evenflo's patented Proflo Venting Technology uses a one-piece venting system to prevent bubbles from passing into your baby's stomach.
---
(Most leak-resistant — $$)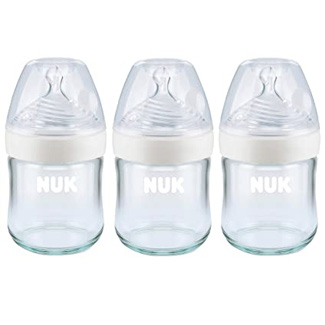 Why it's great: This bottle has been created with babies' comfort as its #1 priority. The nipple is both soft and flexible to ensure a continuous latch as well as features several holes to provide a more natural and leisurely feeding experience. The bottle also includes an anti-colic Air System to help reduce incidents of gas and spit-up. Many parents report that this is one of the few glass bottles that doesn't leak at all as the lid screws tightly into place. This bottle only includes a few parts, making it easy to put together and take apart and most importantly, easy to clean!
Keep in mind: The measurements on the side of this bottle are sometimes inconsistent or inaccurate and can fade with use.
Good for: Almost everyone! NUK advertises that based on the results of independent market research in 2019 of 203 mothers in Germany, this bottle was accepted by 96% of babies.
---
(Highest quality — $$$)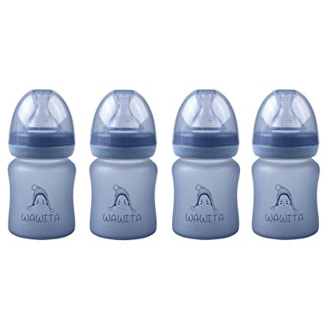 Why it's great: Made from borosilicate glass, this bottle can be frozen and heated without risk of cracking. A silicon cover adds an extra layer of resistance to the glass, making it even sturdier. The cover also changes colors based on the temperature of the bottle's contents to let you know if the liquid inside is too hot for your baby to drink. Sold as a set of four and available in four colors, this bottle is easy to clean and features measurement markings that are easy to read. Because this bottle is incredibly lightweight and has a slender shape, it's even easy for babies to hold themselves. This bottle also comes with a medical-grade silicone nipple and hygienic cover for easy transport.
Keep in mind: This product is sold with a 0-3 month nipple size, which can be too big for newborns. Fortunately, the company is willing to switch it out for a different size if you contact them. Some parents also report that these bottles lose color if you boil them.
Good for: Clumsy parents (which we all can be!) as these bottles do not break easily and are especially durable.
---
(Best for newborns — $$$)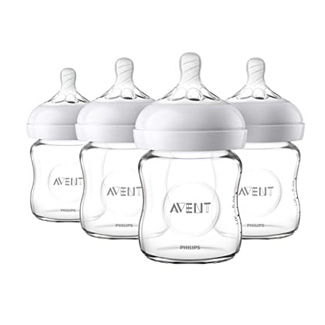 Why it's great: This bottle is designed for newborns who are combining breastfeeding and bottle-feeding. The nipple's soft and natural shape, as well as its flexible spiral design, are intended to support an easy transition from breast to bottle. This bottle is made from BPA-free materials and glass that is thermal shock resistant and easy to wash and sterilize. While this bottle is excellent for newborns to use, there is a range of nipple sizes with varying flow rates available to purchase separately so that your baby can continue to use this bottle as they grow.
Keep in mind: Some parents have noted that these bottles will leak if the lid ring is not screwed on all the way.
Good for: Newborn babies as these bottles are sold with a special newborn flow nipple that is breast-shaped to encourage an easy latch for beginning bottle users.
---
(Easiest to use while pumping — $$)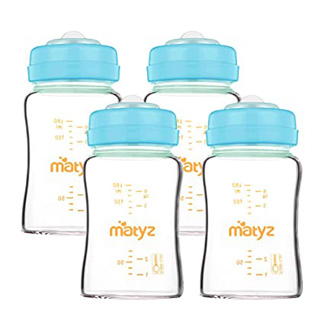 Why it's great: This bottle is made of CPC-certified food grade borosilicate glass that is thermal-shock resistant and does not contain any harmful chemicals. Designed to simplify your life by serving the 3-in-1 purposes of pumping, storing, and feeding, this bottle prevents you from having to transfer milk from bottles to bags back to bottles again. This bottle's wide neck design has been created to be compatible with most wide-neck pumps, including Spectra and Philips, and comes with a special converter piece to adapt to narrow neck pumps like Medela. These bottles are ideal for travel as you can easily switch out the nipple for a sealing disk for easy storage and transport.
Keep in mind: Some parents have reported that the measurements on the side of the bottle are inaccurate.
Good for: Parents looking for a bottle made from the highest-grade materials. These bottles are made of 100% food-grade high borosilicate glass and all parts are free of BPA, phthalates, lead, latex, and heavy metals and comply with CPC safety rules and US Food Grade requirements.
---
(Best at preventing colic — $$)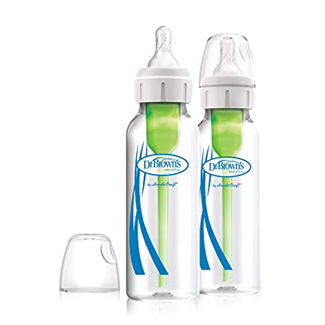 Why it's great: Made by the popular and reputable brand, Dr. Brown's, this bottle has an extremely high customer satisfaction rating on Amazon. Its flexible nipple is available in many sizes to encourage an effortless latch while its natural flow rate and soft silicon shape are intended to better support breastfeeding. Many parents praise the innovative venting system, which is designed to aid in overall digestion by decreasing spit-up, burping, and gas. Made from pharmaceutical-grade borosilicate glass that is durable and resistant to temperature changes, this bottle is also advertised to better preserve the nutrients in breast milk and formula.
Keep in mind: These bottles can be hard to clean because of their size and narrow mouth. Fortunately, Dr. Brown's sells a bottle brush with foam and bristles specifically designed to effectively clean their products.
Good for: Colicky or gassy babies. These bottles also feature an advanced anti-colic vent system that allows your baby to feed more comfortably.
---
(Best for breastfed babies — $)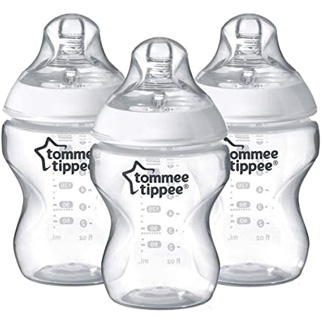 Why it's great: Sold as a set of three, these award-winning bottles have been designed to simulate a natural breastfeeding experience. The slow-flow nipple is guaranteed by the Tommee Tippee brand to produce an easy and effective latch while the compact size of the bottle allows you to hold your baby close while feeding. The natural shape of the nipple will be familiar to your baby while the smooth silicone is designed to stretch for a feel similar to real skin. The anti-colic valve and accurate measurement markings ensure that this bottle is not only functional but provides an enjoyable feeding experience for everyone.
Keep in mind: These bottles are sold with a medium flow nipple, which can be too big for younger infants. Be sure to check the nipple size and switch it out with the appropriate size if necessary.
Good for: Breastfed babies as this bottle is specifically designed to mimic a natural breastfeeding experience.
---
FAQs about glass baby bottles
---
1. Why should I use glass baby bottles instead of plastic?
Glass bottles don't contain harmful chemicals and often they're easier to clean because they don't scratch as easily or retain residue. Because plastic bottles can absorb odors, glass bottles also ensure a better taste for the milk or formula inside. It's also easier to sterilize glass bottles as they can be warmed to higher temperatures than plastic.
---
2. When should I introduce a bottle to my baby?
When breastfeeding, it's recommended that parents wait three to four weeks to introduce a bottle into the feeding routine. Doing so earlier can interfere with establishing a good latch. Furthermore, bottle-feeding can disrupt a mother's milk supply. Alternatively, waiting longer than three or four weeks to introduce a bottle might affect a baby's willingness to bottle-feed as they may be too used to exclusively breastfeeding.
---
3. What are best practices for bottle feeding?
Remember to tilt the bottle at a 45-degree angle so that liquid fills the nipple entirely. This prevents air from getting into your baby's tummy and causing painful gas.
Keep your baby's head straight so that it's easier for them to swallow and be sure to hold your baby upright to avoid choking hazard.
Don't forget to cuddle your baby close! Bottle-feeding can be a delicious and rewarding bonding experience for you both.
---
4. What should I avoid doing when bottle-feeding?
Never warm bottles in the microwave as microwaves heat unevenly and the milk or formula can become too hot for your baby to drink.
Don't let your baby sleep with a bottle as it could lead to choking.
Don't save unfinished bottles as bacteria and germs can cause contamination.
---
5. How can I tell if I'm using the right nipple size?
If your baby seems uncomfortable during a feeding, one of the possible reasons could be that you're using the wrong nipple size. If your baby is making loud gulping sounds and milk is dripping out of their mouth, the flow is most likely too fast and you may want to try a smaller nipple size. If your baby is gobbling at the nipple or sucking very hard and seems frustrated, the flow is most likely too slow and you may want to try a larger nipple size.
---
6. What's the best way to avoid colic or gassiness while bottle-feeding?
Many bottles include special venting pieces to prevent pesky air bubbles from making their way into your baby's tummy. Other ways to make sure your baby won't get gassy include holding the bottle at an angle so that liquid fills the nipple completely. Burping your baby halfway through and then again after feedings is also an effective way to eliminate gas.
Conclusion
---
There are many potential pitfalls when bottle-feeding (Leaky lids! Air bubbles! Nipple confusion!) but finding the right bottle can alleviate many of these issues. Many parents prefer glass bottles to plastic because glass bottles don't contain harmful chemicals and are often more high-quality. However, choosing glass over plastic hardly limits your options so it becomes important to consider other factors, too. Is your baby colicky? Perhaps you'll want to look into a brand that's developed innovative venting technology. Exclusively breastfeeding? Maybe a bottle with a nipple that has a more natural look and feel will be your best choice. Once you've found the bottle that fits your baby's needs best, it will be a pleasure and not a chore to sit back, relax, and enjoy feedings with your little one.
You may also like our other product reviews…
Baby Bath Mats | Baby Blocks | Baby Bottle Cooler Bags | Baby Bottle Dish Soap | Baby Bowls | Baby Car Mirrors | Baby Car Window Shades | Baby Carriers for Men | Baby Dolls for 1-Year-Olds | Baby First Aid Kits | Baby Food Storage Containers | Baby Grooming Kits | Baby Memory Books | Baby Nail Files | Baby Oils | Baby Onesies | Baby Probiotics | Baby Rattles | Baby Socks That Stay On | Baby Utensils | Baby Walkers | Baby Washcloths | Bath Towels | Bathtubs | Bibs | Blankets | Blenders to Make Baby Food | Booties | Bottle Brushes |