Updated on March 22, 2021 by Lyric Fergusson
In today's day and age, you want to pick a card but not just any graphics card. Top graphics cards are a necessity for gamers, video editors and also graphic designers. But it can be overwhelming to decide which one is the best fit for your specific needs. When you have a better graphics card, your design and experience can be better, smoother and at it's full potential. With the options so vast and wide, how can you determine which is the best for you?
Today, we are hoping to alleviate some of that stress by sharing our top 7 Best Graphics Cards Under $100.
Best Graphics Cards Under $100
---
(Best for casual gamers)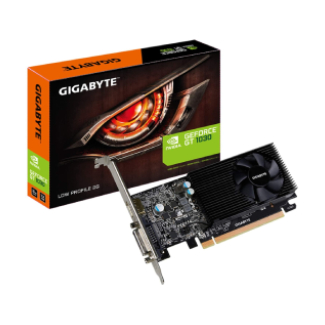 Why it's great: If you love to game and are ready for some incredibly great quality images, then this graphics card is the one for you. The Gigabyte GeForce 2G Computer Graphics Card produces graphics that will be enjoyed by gamers on every level. It comes with a custom-designed fan cooler, that is created to keep the speed and noise at a minimum. It allows you to custom design the card to your specific gaming needs as well. Whether you're looking for a higher clock speed or a lower one, you get to decide what is best for you.
Keep in mind: It is powered by GeForce GT 1030 and integrated with 2GB GDDR5 64-bit memory interface. It also features a low profile design with 150 mm card length.
Good for: Casual gamers who desire flexibility inside their gaming experience.
---
(Best silent cooling)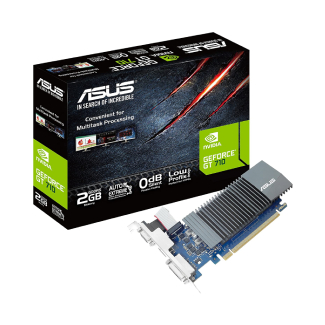 Why it's great: This graphic card is designed with a highly efficient thermal design. The Asus GeForce GT Graphics Card works to get rid of heat in complete silence which makes it perfect for quiet at home theater PCs and multimedia centers. It's intuitive, reliable, and a wonderful choice for any elite gamer.
Keep in mind: This graphics card is optimal for multi tasking with three outputs for a multi display support.
Good for: Individuals who are looking for high definition, silent home theater PCs and multimedia centers.
---
(Most efficient)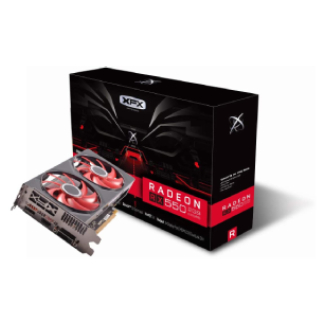 Why it's great: Leading with future technologies is what sets this graphics card apart from the rest. The PCI-Express 3.0 Graphics Card is optimized for game performance and ready with all the latest technologies to help support what your system needs. It features the latest Polaris architecture technology which also includes the 4th Gen GCN graphics cores, a brand new display engine, and new multimedia cores. All of this enables a remarkable performance and efficient technology for your PC with this graphics card.
Keep in mind: This graphics car is equipped With XFX Double Dissipation Cooling Technology and has 2GB DDR5 of memory.
Good for: Customers who are looking for a trusted an efficient graphics card that utilizes the latest technology.
---
(Greatest speed capacity)
Why it's great: Give your PC and multimedia centers a serious boost with this graphics card. The EVGA 64bit Single Slot is proven to have ten times better performance and speed. This graphics card is known to make your entire PC faster allowing you to enjoy up to 10x better performance and integrated graphics inside all applications. With improved processor cores, it will accelerate many tasks including video transcoding, physics simulation, and ray tracing. This helps to deliver incredible performance improvements over other cards!
Keep in mind: The total power draw for this card is 24 Watts. A minimum recommended power supply with +12 Volt with a current rating of 20 Amps.
Good for: Individuals who are interested in finding a graphics card that will enhance the speed primarily of the PC or multimedia centers that they desire to use.
---
(Most compact)
Why it's great: It might be small but it's mighty! If you're needing a graphics card that is compact but powerful, then look no further. It's low-profile ready which means that it is can fit even the smallest of systems with the lowest height clearance. It doesn't require any extra wires which means there is less mess for you as you utilize it with your PC. It's energy-efficient so it's quiet and only displays a whisper of sound while in use. Tap into your creativity with the stunning photos it provides as well as video graphics to keep you satisfied for a long time.
Keep in mind: Extended warranty is included with every graphics card purchase. User registration is required on Zotac website once you purchase it.
Good for: Digital users who desire a compact graphics card system to give space, less clutter but that will still provide awesome results.
---
(Lowest profile)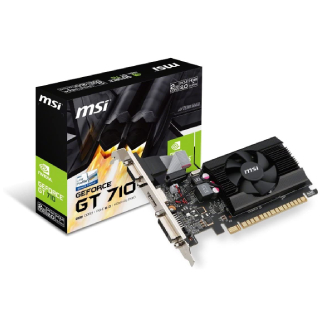 Why it's great: This graphics card is designed to last. The MSI Gaming GeForce GT Graphics Card has a low profile and solid capacitors. It's designed this way to maximize the lifespan of the graphics card, giving you the biggest bang for your buck. The low profile design saves on space and can allow users to build smaller gaming systems. It will improve the speed of your PC as well, which will only enhance the gaming experience.
Keep in mind: The HDMI connectors has a maximum resolution of 4096×2160 at 24 hertz. The DVI connectors have a maximum resolution of 2560×1600 at 60 hertz as well.
Good for: Users who are interested in a graphics card that is affordable, low profile, and consumes very little power.
---
(Most affordable)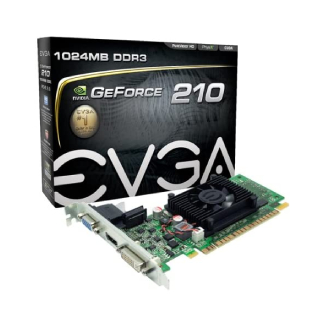 Why it's great: This is a great option if you need something quick and are on a tight budget. The EVGA Ge Force PCI Express Graphics Card provides smooth video, accurate colors, precise image scaling, video decode acceleration, and post processing. It will provide a very dynamic experience with the graphics and will give you a full immersion experience quickly and affordably.
Keep in mind: This operating system supports Windows 7, 32 or 64 bit, Windows Vista 32 or 64 and Windows XP 32 or 64 bit.
Good for: Gamers who are on a budget but who are looking for quality images for a full immersion experience.
---
FAQs about graphics cards
---
1. What is a graphic card used for?
A graphic card has a very important job inside the life of your computer. It is responsible for rendering images and producing them so you are able to see them on your monitor. It does this by converting data into a signal that your monitor can understand, therefore displaying the images correctly.
---
2. Is a graphic card necessary?
A graphic card is necessary for the displaying of images, videos, and playing games. A graphic card is not necessary for email, word processing, or any Office suite apps that you might need on your computer. Having a graphics card is helpful at times, but in today's modern times, you can get away with not having one depending on your personal needs within using your computer.
---
3. Does a graphic card use RAM?
If a graphics card is bound to the motherboard, then it usually shares RAM with the CPU which means that it will reduce the available amount of RAM.
---
4. What is the benefit of a graphic card in a laptop?
Having a better graphics card in a laptop can greatly increase the ability to play games on the laptop. It will also enhance the viewing experience for videos of all kinds whether it be movies, YouTube, or on social media platforms.
---
5. How does a graphic card work?
In the simplest terms, a graphic card works alongside software applications to send information about the images to the graphics card. The graphics card then decides how to display the pixels on the screen to create the image. From there, it sends that information to the monitor through a cable and the monitor displays the images that it is told to.
---
6. Does a graphic card increase computer speed?
It can! The greatest speed advantage can come from replacing the graphics card that comes with the computer that you purchased. Both graphics processing and multitasking could see a boost especially if your computer has more RAM.
---
Conclusion
---
Having a good graphics card is an optimal part of being a digital creative in today's day and age. You don't have to fork out hundreds of dollars to get powerful speed, beautiful images, and the results that you desire out of your PC. If you're currently sitting with a less powerful and outdated card, there are many affordable options out there to get you back in the game and up to date quickly and effectively.
You may also like our other product reviews…
In-Wall Speakers | Laptops Under $700 | Luggage Sets Under $50 | Mechanical Keyboards Under $50 | Noise Cancelling Headphones Under $50 | Noise Cancelling Headphones Under $200 | Office Chairs Under $200 | Office Chairs Under $300 | Party Speakers | Point and Shoot Cameras Under $100 | Point and Shoot Cameras Under $300 | Portable Record Players | Projectors Under $200 | Projectors Under $500 | Record Players Under $100 | Routers Under $100 | Shower Speakers | Soundbars Under $300 | Speakers for Vinyl | Turntables Under $200 | Turntables Under $300 | Turntables Under $500 | Turntables Under $1000 | TVs Under $300 | Vlogging Cameras Under $300 | Wireless Headphones Under $200 |