Updated on by Lyric Fergusson
Grounding Stones, or crystals, are an amazing gift from nature to us. It's as if she knew from the beginning that humans would eventually fall prey to various imbalances caused by our own ideas and hands. For those of you seeking natural remedies and maladies for just about every kind of ailment, crystals are an excellent source for such things. Grounding stones are in particular excellent for bringing us back into oneness with nature and thereby ourselves. As such, we've put together a list of the 9 best grounding stones for you to find balance in turbulent times.
Best Grounding Stones
---
(Best stone kit)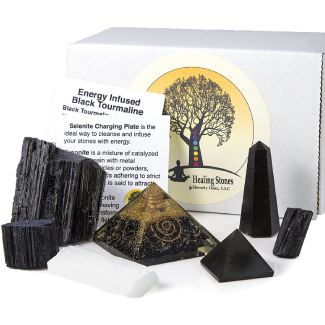 Why it's great: This is an all-in-one kit with the most exclusive collection of tourmaline crystals. It's equally perfect for both starters and veterans alike. You'll find the most well-renowned forms of this stone collected from different corners of the globe in this package.
Black Tourmaline is known to clear out negative emotions, thoughts, and patterns accumulated in one's auric field, freeing it up for positivity. One of its more unique features is its ability to boost self-confidence and it can make its wearer feel more connected to the earth. Each of the stones included in this kit is cleaned and charged before being shipped.
This kit contains a powerful Orgonite pyramid, which helps to counter against the harmful effects of electromagnetic fields and orgone energy (mental and physical fatigue, un-mindfulness, and lack of tolerance). This pyramid helps promote a more positive and balanced approach in the user's life.
The Selenite included in this kit is the most ideal for cleaning both yourself and the stones because it can bring out negative energy and fill it in with a positive counterforce. This makes it an important part of any collection of crystals!
Keep in mind: A number of owners prefer if these crystals were larger.
Good for: Home decoration, cleansing and energy clearing, meditation, crystal gridding, and more!
---
(Best Pendant)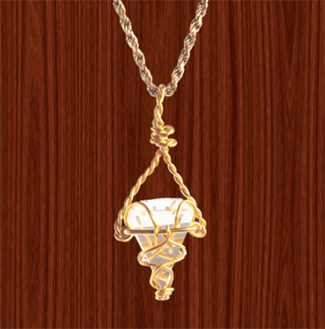 Why it's great: Crystal Earth Pendants claim to help align your body with the enlightened frequencies of Mother Earth. Created using an Archangelic crystalline technology, these beautiful pendants support greater stability and clarity, and experience of subtler aspects of body and mind.
Each pendant is hand-made. The unique design and metalwork supports its energetic purpose.
Crystal Earth Pendants are a unique tool for awakening and help support a grounded, clear experience of mind and emotions.
Keep in mind: All of the crystals used in the Crystal Earth Pendants are sourced and cut from the same fair-trade mine in Brazil.
Good for: Clearing the mind, improving mental health, and grounding.
View on Crystalearthproject.org ➜
---
(Best shungite pyramid)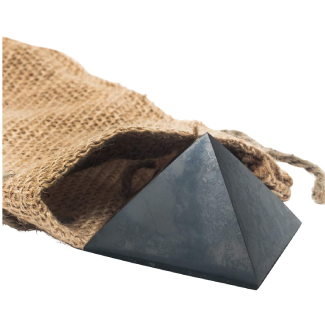 Why it's great: The Polished Shungite Pyramid provides active protection against the harmful effects of electromagnetic fields including fatigue, anxiety, headache, nausea, depression, and many more. It helps to create a much safer environment for you and your family while promoting positivity.
Just like a water filter filtering out impurities from contaminated water, shungite clears out unwanted emotions, thoughts, and patterns from within you and your surroundings. This makes it one of the best stones to have for your mental health! It also works as a powerful grounding stone, helping you to stay more connected to yourself and your body.
These stones are made by hand and have guaranteed authenticity. Each of these pyramids passes through a thorough quality check before being packed and shipped to buyers.
Keep in mind: The shungite pyramid cannot be used to make shungite water, but it can easily be done using shungite stones. It also contains 30-50% C-60 Fullerene, whereas some shungite stones have over 90%.
Good for: Protection from electrosmog, improving mental health, and grounding.
---
(Best grounding stone)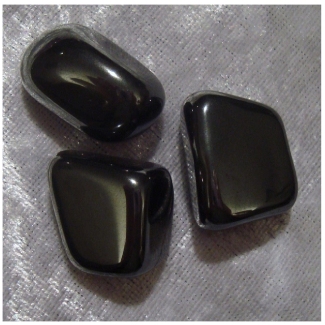 Why it's great: The most powerful gemstone to be used for grounding is Hematite. It's famous for its ability to free one's mind from confusion and bring greater practicality in life. It helps the wearer feel more connected to the earth and their surroundings, too. These stones are also said to be able to bring stability and balance in moods. It repels negativity and makes way for positive emotions. If used correctly, it can play a huge role in improving one's quality of life.
Hematite stones are glossy and generally black or greyish in color. They're widely used in jewelry all over the world, a practice that has been famous since the Victorian era. Several reviewers mentioned that the energy in these stones is very strong and they have largely benefitted from it.
Keep in mind: Reviewers mentioned that these stones are small. Do not be disappointed by their size because that's why it comes in a set of 3.
Good for: Grounding physically and emotionally and for use as jewelry.
---
(Most unique)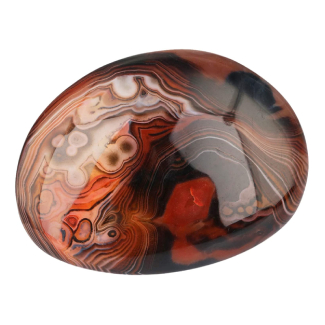 Why it's great: Each of these Banded Agate Palm Stones are hand-selected and polished. That means they all have irregular shapes and unique patterns and colors. Colors vary from a mixture of red, white, black, brown, and orange to target different chakras. Each stone typically weighs between 100-150 grams as well. These smooth stones are perfect for decoration and are very popular as housewarming and business gifts. They are also widely used for a range of purposes from healing, rock collection, to massage. Most users appreciate these stones for their attractive combination of color and pattern.
These stones enrich one's character with warmth, protective properties, self-esteem, and security, all of which are excellent personality traits. It is said to bring forth a decent balance in a person's intellectual, emotional, and physical energy as well. Compared to other stones, Banded Agates vibrate at a lesser frequency and have lower intensity. It is, however, highly appreciated for its strengthening and stabilizing influence on one's personality. It is also said to bring a balance in yin and yang energy.
Keep in mind: Several users reported receiving a different version of the stone than the one they ordered from the seller, but remember they're all uniquely handcrafted.
Good for: Gifting, healing, beautification, and balance.
---
(Best ground stone)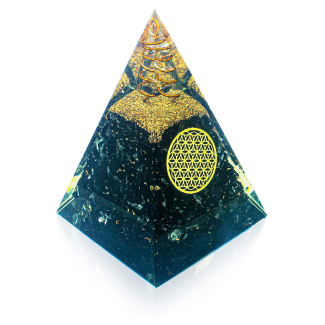 Why it's great: Connect yourself with mother nature with this black Tourmaline, a very powerful grounding stone said to help the human spirit connect to the earth. It generates a feeling of being at home, both in your own body and on the earth. It thereby reduces negative emotions, patterns, and feelings of sorrow in the process.
With its rich orgone energy, you'll find this stone helps you balance your root chakra and assists in getting rid of many lower obstructions. You'll boost your self-esteem, energy, and confidence, and cultivate mindfulness and calmness when you use this pyramid. Need to blocking EMF radiation, too? Whether it's cellphones, computers, microwaves, or other electronics, orgone will create a barrier of protection all while keeping your mind at ease.
Placing an orgonite pyramid in your home or just simply being in its proximity is said to generate positivity and promote positive thought patterns. It is also said to emit infrared rays having a wavelength of 4-14 micron, which helps to detoxify your body and boost your immune system.
Keep in mind: Some reviewers found this product to be underwhelming because it's not exactly as described or pictured. Also, make sure you receive all 4 crystal quartz energy points in your package.
Good for: Grounding, root chakra balancing, blocking EMF radiation, and for providing mental clarity.
---
(Most Powerful)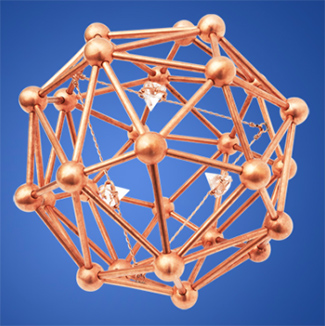 Why it's great: Crystal Earth Seeds are healing tools designed to engage and amplify the nourishing and grounding energies of Mother Earth. They support alignment with, and attunement to, the higher frequencies of the earth and cosmos. Placed in your environment, a Crystal Earth Seed can promote physical and spiritual transformation.
The gem-like copper structure of the Seed encircles and protects three small quartz crystals. These crystals create a vortex through which primordial earth energy flows.
Keep in mind: These seeds also seek to elevate humanity's collective awareness, in general, to align with the enlightened frequencies of Mother Earth.
Good for: Nourishing and amplifying the healing energies of Mother Earth, promoting physical and spiritual transformation.
View on Crystalearthproject.org ➜
---
(Most beautiful)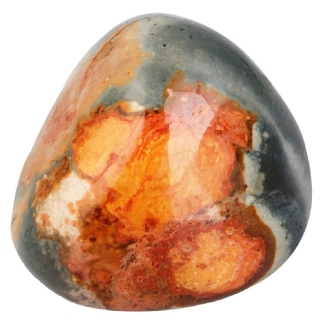 Why it's great: The Ocean Jasper palm stones are among the most beautiful gemstones in the world. They come in mixtures of color ranging from blue, yellow, orange, pink, and red to white, brown, green, and many more! Each of the stones has a unique color pattern and irregular shape, making them aesthetically appealing. These stones are ideal for decoration and display purposes and are well-accepted as housewarming gifts. Their uses however have a lot of variabilities, including being used for healing, massage, business gift, and many more.
Need grounding and protection? Ocean Jasper stones are known to ground energies and provide physical protection. It plays a significant role in aligning the Chakras and the Auras by clearing out negative energy and balancing yin and yang. These stones are said to clear out and reduce the effects of environmental pollution, as well as protect against electromagnetic radiation and other forms of radiation.
Keep in mind: Several owners reported receiving much small different stones than the ones in the pictures. Remember stones come in various shapes and sizes.
Good for: Aesthetics, gifting, healing, balancing, alignment, and protecting against environmental pollution.
---
(Best healing stone)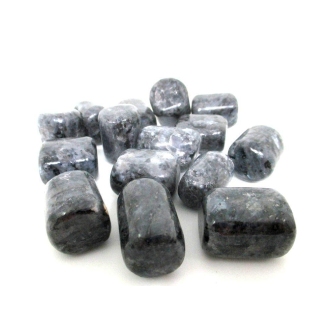 Why it's great: The Energized Larvikite Tumbled stones can be used to serve a wide range of purposes including balancing the chakra, meditation, healing, promoting sound sleep, and so forth. They are also widely used to absorb negative energy in the surroundings and make way for positive energy in the process. These stones are also a popular choice as gifts.
Need to heal and cleanse? One of the best aspects of this stone is its incredible healing abilities. They can be used to cleanse and heal the entire body from negativity and can also be used to treat particular parts of the body or a specific chakra.
If used correctly, Larvikite Stones are known to be able to steer away negative energies, evil forces and prevent its user from making bad choices. In the process, it helps to enhance progress, promote lasting relationships, family bonding, wealth, health, bring good luck and fortune.
Keep in mind: Although the stones are properly energized and cleansed by the seller, they highly recommend that the users do the same on a regular basis.
Good for: Clearing negative energy, balance, meditation, healing, sleep, and gifting.
---
FAQs about grounding stones
---
1. Are these stones made artificially or are they found in nature?
All gemstones are naturally found in nature in some form on another. In addition, most gemstones are cleaned, polished, and energized before being sold to customers. Gemstones are an incredible natural gift from mother nature to help us with various misalignments accumulated from life.
---
2. How are the stones charged and cleansed?
There multiple ways of cleansing and charging gemstones. It can be done by placing the stones under full moonlight or by covering them in salt. They can also be cleansed with sound waves by placing the stones in a singing bowl. Selenite, Amethyst, Clear Quartz, and Kyanite are popular crystals used for charging stones as well.
---
3. Is it necessary to recharge the stones upon receiving them?
Whether a stone requires energizing or charging varies highly from stone to stone. Hence, it is highly recommended to read and follow the instructions that come with the stones. It's best practice nonetheless to charge your stones with your own intention and process.
---
4. Which is the best place to put the gemstones?
The most ideal place to place a gemstone may vary from place to place and stone to stone. However, it is very important to trust your instincts and have the best intentions at heart so you may be guided accordingly.
---
5. How do I know which crystal to get?
Our reviews covered quite a bit of typical issues people face. So, research is definitely important. It's suggested, however, that you explore crystals yourself. Look at them, touch them, and test them out to figure out what's best for you and your needs.
---
Conclusion
---
Whatever you may need it for, and the issues are plenty, grounding stones can provide solace. Why? Nature knows us better than we know ourselves. She created within her core natural options for us to use to heal ourselves. Our list includes 7 of the best ground stones, but they can also be used to improve various problems we experience (see the "best for" section of each stone). You'll definitely find some benefits to trying at least one of the stones here!
You may also like our other product reviews…
Acupressure Mats | Back Stretchers | Facial Machines | Infrared Heat Lamps | Infrared Heating Pads | Inversion Tables | Massage Chairs Under $1000 | Negative Ion Bracelets | Outdoor Saunas | Portable Saunas | Small Heating Pads | TENS Units | Vibration Plates |