Updated on March 22, 2021 by Lyric Fergusson
Guitars are beautiful and versatile instruments. They are found in all kinds of music, from blues to flamenco. That's because guitars come in various styles, beyond simply acoustic and electric.
The good news is: buying a new guitar does not have to be a crazy investment. In fact, there are excellent and well-made guitars out there that are under $500. You can find an acoustic or electric guitar that will last you through many practice sessions and performances to come.
With your music dreams in mind, we found and reviewed the 7 best (and affordable!) guitars on the market today.

Best Guitars Under $500
---
(Best for beginners)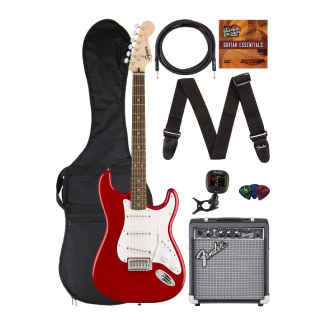 Why it's great: Eager to start learning the guitar? Then, this is the guitar set for you. It features a traditional Stratocaster electric guitar. This model is super versatile and great for playing all music genres. With an amp, cables, and even instrument tuner, you have everything you need to begin your guitar playing journey. It also comes with a handy instruction DVD so that you can start on the right foot.
Keep in mind: A Stratocaster is one of Fender's most famous guitar models. What's truly fabulous about this guitar, though, are all the color styles it comes in. This is why we find this guitar set to be an excellent gift, especially for young aspiring guitar players.
Good for: Those at the beginning of their guitar journey
---
(Best for travel)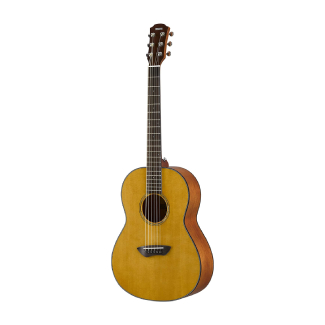 Why it's great: This stylish acoustic guitar is a pleasure to bring wherever you go. It's parlor-sized, meaning it is smaller than a typical acoustic guitar. A compact sized guitar is very comfortable to play and also a solid pick for beginners. We've shared many car rides, passing a parlor guitar around during long road trips! And, we assure you, quality is not sacrificed due to this guitar's size. Its strong mahogany body provides ample sound.
With 4 different color styles, you can pick a guitar that suits your style. We also love the sturdy gig bag that comes with this guitar. It really makes it a no-brainer to travel with!
Keep in mind: Don't worry – this guitar is not that small. It is just 34 mm shorter than a regular acoustic guitar. Parlor guitars play just as wonderfully as any acoustic.
Good for: Those who travel often or love performing for friends and family at home
---
(Best acoustic)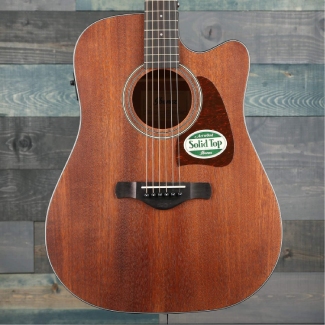 Why it's great: A solid acoustic guitar is a necessity, no matter how experienced you are as a guitar player. This Ibanez is a Dreadnought style acoustic, which is a fabulous pick for those who love to perform. It has immense volume and strumming potential, due to the guitar's larger body and wood structure. With its mahogany body and back, this guitar has a more distinct tonality than guitars made with softer woods. This produces outstanding sound, making this guitar a great performance pick.
Keep in mind: For the price, this guitar is pretty hard to beat, especially since it is an acoustic-electric guitar. It has a convenient preamp with an onboard tuner on its body. Now that's a bonus!
Good for: Those who love to perform and/or need an affordable acoustic guitar.
---
(Best for rock and roll)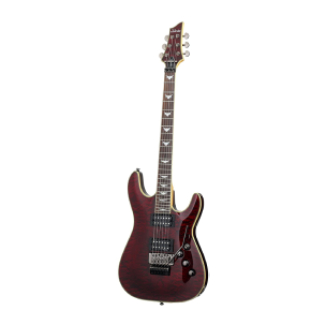 Why it's great: There's no denying how beautiful this electric guitar is. With its textured maple wood top and mother of pearl fret markers, this guitar stands out. It produces a top-quality sound that is deep and rich, with double coil pickups and mahogany back. We love that this guitar has a tremolo bar so that you can play around with pitch. It also has tone and volume knobs, adapting the guitar to various music styles. All in all, this guitar is definitely reliable for any performance. Did we mention it has a stunning and bold black cherry color?
Keep in mind: The style and quality materials of this guitar make it an unbeatable deal for an electric guitar.
Good for: Those who perform often.
---
(Best overall)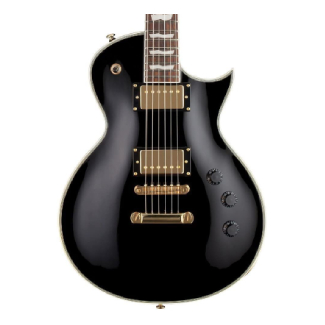 Why it's great: Elegant and loud, this guitar is ready to be shown off. It has that desirable single-cutaway design, featuring thick mahogany wood. This combination brings more sustain to your tonality. That means a bold sound ready to be brought on stage. It also has a well-situated toggle switch, letting seamlessly transfer between pickups.
We love this electric guitar's simple black top and gold hardware. It is modest enough for band practice and beautiful enough for an incredible on-stage performance. And, the price of this guitar is hard to beat.
Keep in mind: This guitar is made by ESP, an esteemed Japanese guitar company. The guitar has a beautiful single-cutaway design that many expensive guitars possess. No one will know that you scored this instrument for under 500 bucks.
Good for: Active guitar players who want a reliable electric guitar.
---
(Best classic electric guitar)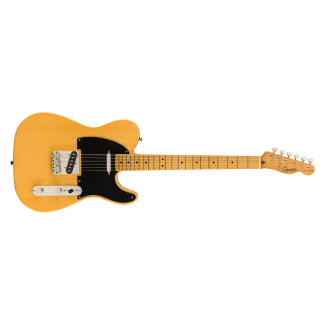 Why it's great: Any guitar lover knows that the Telecaster is a classic. With its pine body and nickel-plated hardware, it has all the timeless charm. It has single-coil pickups, which create a bright and clean tone great for rhythm guitar. While this guitar works for all sorts of genres, it's particularly fantastic for country, folk, and blues. It also has a cool retro look that we love – its white blonde pine body with a black accent unquestionably stands out.
Keep in mind: The Telecaster is undoubtedly a classic guitar. Fender's Squier line of guitars lets you have all the benefits of this Fender original, but at an amazing bargain price.
Good for: Those who play left-handed as well as anyone who loves to play country or the blues
---
(Best gift)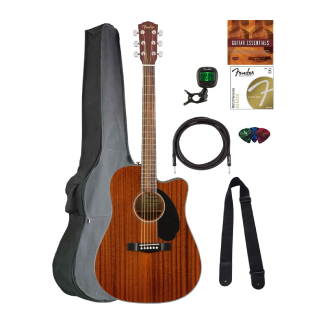 Why it's great: Know anyone itching for a guitar? Or maybe you are? Well, this is one of the best acoustic-electric guitar sets around. It has a solid Dreadnought style guitar that produces a full-bodied sound due to its mahogany wood structure. It is a great practice or performance guitar, as it comes conveniently with a 6-foot amp cable and guitar strap. No matter your skill level, this guitar is a reliable pick. It even comes with extra strings for backup after hours of practicing.
Keep in mind: This isn't just a guitar, but a complete guitar set. It comes with all the accessories you need, including a tuner, picks, and polishing cloth. It also has a complementary instructional video, making it excellent for beginner guitar players.
Good for: Beginner guitar players of all ages
---
FAQs about guitars
---
1. Should I buy an electric or acoustic guitar?
If you are just starting, you should opt for an acoustic first. First off, you can play an acoustic anywhere since you do not need an amp. Electric guitars require an amp for sound. Also, acoustic guitars challenge your fingers a little more as they have thicker strings too. Although an electric guitar may be easier to play, we suggest challenging yourself in the beginning so that playing an electric guitar is easy peasy.
---
2. Does the type of wood matter on a guitar?
Yes, it does. The kind of wood affects your guitar's tone. For example, mahogany wood is quite dense. This creates a more warm and pronounced tone. On the other hand, maple wood is lighter and contributes to a brighter guitar tone. What wood style you choose really depends on the kind of music you play.
---
3. What is a parlor guitar?
A parlor guitar refers to a smaller acoustic guitar. These guitars were played in parlors, or small intimate spaces, often by traveling bands. That is how the guitar gets its name! Parlor guitars are great to travel with because they are very lightweight and have an overall shorter scale length. Its size does not compromise tonality whatsoever.
---
4. What is a guitar pick up?
A guitar pick-up is what gives an electric guitar sound. It transfers the string vibrations into electrical signals. Electric guitars can have one, two, or three pickups. Oftentimes, a guitar will have a neck and a bridge pickup. Acoustic-electric guitars have pickups as well.
---
5. What is the difference between active and passive pickup?
Active pickups rely on batteries whereas passive pickups do not. The battery power gives the guitar more gain and a hotter sound.
---
6. Are there left and right-handed guitars?
Yes, there are! This depends highly on the guitar type, but many guitar makers thankfully produce both right and left-handed guitars.
---
Conclusion
---
An impressive and reliable guitar does not have to cost thousands of dollars. This goes for both acoustic and electric guitars. Whether it's for practice or performance, there is an affordable guitar out there to fit your needs. That is exactly why we reviewed the best 7 guitars under $500. We made sure to include various guitar types so that every musician can find exactly what they're looking for. We want the music to keep playing, for guitar players of all skill levels!
You may also like our other product reviews…
In-Wall Speakers | Laptops Under $700 | Luggage Sets Under $50 | Mechanical Keyboards Under $50 | Noise Cancelling Headphones Under $50 | Noise Cancelling Headphones Under $200 | Office Chairs Under $200 | Office Chairs Under $300 | Party Speakers | Point and Shoot Cameras Under $100 | Point and Shoot Cameras Under $300 | Portable Record Players | Projectors Under $200 | Projectors Under $500 | Record Players Under $100 | Routers Under $100 | Shower Speakers | Soundbars Under $300 | Speakers for Vinyl | Turntables Under $200 | Turntables Under $300 | Turntables Under $500 | Turntables Under $1000 | TVs Under $300 | Vlogging Cameras Under $300 | Wireless Headphones Under $200 |