Updated on by Lyric Fergusson
Whether you're looking to create the ultimate home theater, or want an exceptional everyday music experience, in-wall speakers are the way to go. By using multiple in-wall speakers, you can create professional-level, immersive surround sound environment, or provide music throughout your home. Because they mount directly in the wall cavity, all cords are hidden, making them blend into your own décor and style while taking up zero floor space.
From affordable sound setups to exceptional music and home theater experiences, in-wall speakers can bring it all, and below is a list of my 7 favorite in-wall speakers:

The Best In-Wall Speakers
---
(Best Value — $)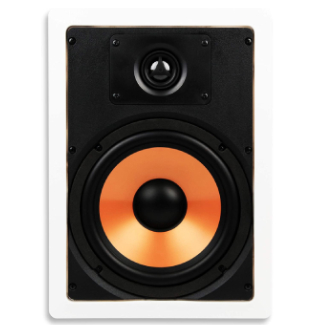 Why it's great: With an 8" woofer and 1" tweeter, the Micca M-8S is a versatile speaker, which can be configured to your liking. Because it's the most affordable speaker on our list, you can plan to pick up a few and place them strategically around the room, adding clean, crisp sound throughout. The MiccaM-8S provides a wide range of robust sound, from ambient and background to high-impact for movies and home theater. With a pivoting tweeter, you can customize the sound in your space.
Keep in mind: Although they are affordable, you'll still need to pick up an amp and wire, and either do the installation yourself or hire someone.
Good for: Adding great quality sound to your room without breaking the budget.
---
(Best for Outdoors — $$)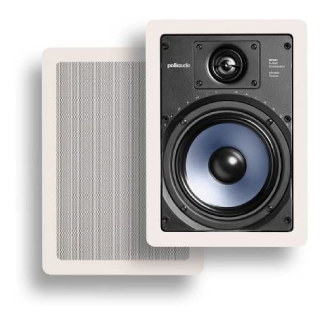 Why it's great: Like many of the speakers on this list, the Polk Audio RC65i offers a discreet look with high-quality sound. What makes this speaker stand out to us, however, is the rubber seals which prevent moisture access. This means it's the perfect speaker for outdoors, or for humid environments such as bathrooms, or even saunas and boats. With a wide dispersion design, they can be used to fill large areas with sound. Because these are sold as a pair, they are also very affordable for such high quality.
Keep in mind: While these offer the most versatility in where you place them, they are on the small side of the speakers on the list.
Good for: People who want rich sound in all environments, including outside.
---
(Best for multiple rooms — $)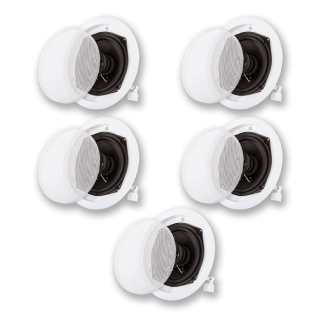 Why it's great: The Acoustic Audio R191 set offers the flexibility of mounting either in the wall or on the ceiling. With five speakers included in the set, it offers buyers the flexibility of adding sound throughout different rooms, or creating a more immersive surround sound setup for home theater. Their compact size and low-profile housing means you can easily mount them almost anywhere, without much visual disruption. This set is also weatherproofed, making it appropriate for outdoor applications and sauna, spa, or boat installations.
Keep in mind: With a smaller woofer and a ceiling mount, you may not get as full a bass sound as other speakers.
Good for: Those who want to add affordable sound throughout their home.
---
(Best Center Channel — $$)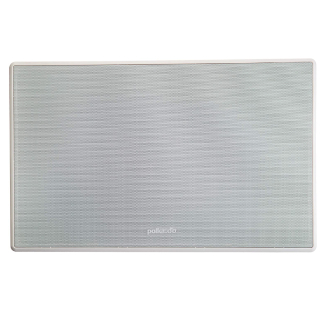 Why it's great: Depending how complex a setup you want, you may need to get right, left, and center speakers. The Polk Audio 255c-RT offers the best in center-channel sound, making it perfect to hook into home entertainment systems, and suitable for either an in-wall or ceiling mount. Additionally, the Polk 225c's slim design means it practically vanishes into the wall or ceiling. The Polk 255c-RT has been specifically engineered to reduce distortion, producing an incredibly crisp sound.
Keep in mind: Center channel speakers offer great mid-range sounds, but you may want to consider adding a right and left speaker for a wider range.
Good for: Buyers who want a great home entertainment sound setup.
---
(Highest Quality — $$$)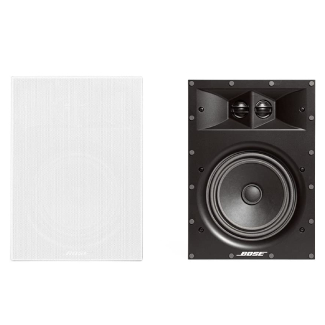 Why it's great: The Bose 891 In-Wall Speaker's quality cannot be matched. Because it includes both a 7" woofer and two 1" tweeters, the sound fills the room in all directions, meaning you don't need to aim it in the room. The grille cover of the speaker can be painted to match the wall in your room, so the speaker is almost invisible on the wall. This is the speaker to buy if you want an extraordinary sound experience, and don't mind paying a bit more for it.
Keep in mind: The cost is significantly more than other in-wall speakers, although these are considered the top-of-the-line speakers in this category. These speakers are wired, which means you will need an amplifier as well.
Good for: Those who want to create the ultimate sound experience, and can afford to.
---
(Best Pair of Speakers — $$)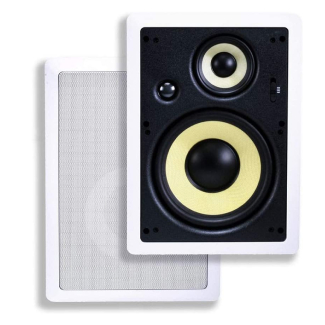 Why it's great: Sold as a pair, the Monoprice 3-way speakers offer both versatility and value. The 3-way setup allows them to be used as center, right, or left, They can be used in main home theater system, or as surrounds in a more immersive setup. With 8" Kevlar woofers, they offer a clean, deep sound with little distortion. The look of the Monoprice is low-profile, with no visible logos and a paintable grille for a seamless look.
Keep in mind: The hardware that comes with the speakers is rather lightweight, and may need beefing up for a proper install.
Good for: Those who want a solid home theater sound experience at a modest price point.
---
(Most Versatile — $$$)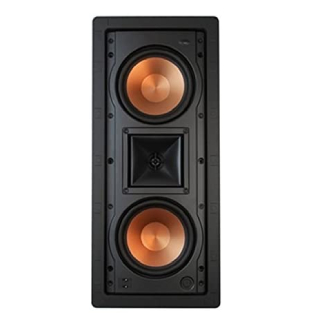 Why it's great: The Klipsch R-5502-W offers what few other speakers do: ultimate versatility. Because it features two woofers and a pivoting 90°x90° horn, this speaker can be mounted horizontally or vertically, and be used as a right, left, or center speaker. The horn design produces a larger output, meaning less distortion for the listener. The R-5502-W delivers ideal sound for movies, making it a favorite for home theater setups. With a slimline design that leaves almost no profile and hidden cords, it looks great in your home theaters, too.
Keep in mind: The price is for a single speaker, and buyers may want to purchase a set or an additional subwoofer for increased bass.
Good for: People who love movies, and want a versatile setup for the ultimate in-home theater.
---
FAQs about in-wall speakers
---
1. What are the benefits of in-wall speakers?
In short: surround sound and aesthetics. Because the speakers can be mounted at head-height in different walls, they allow you to create a "wraparound" sound experience. While floor-standing speakers can offer the same high-quality sound, in-wall speakers allow the same rich sound while blending in with your décor, and without taking up floor space. Many can be painted to almost "disappear" in the wall, and no unsightly cords are showing. Additionally, because the speaker itself is mounted in a wall cavity, the wall itself is used as the cabinet, making the bass sound richer and deeper.
---
2. How many speakers do I need in a room?
This is really a matter of opinion, as you can have just one speaker in a room, or set up a whole system. Generally, if you are looking for the best quality sound, you will want at least one center and one left and right speaker. However, some higher-quality speakers, such as the Klipsch R-5502-W described above, will serve the purpose of multiple speakers. For the ultimate home theater experience, it is recommended that you have at least five speakers, and an amplifier capable of handling that many.
---
3. Are there different speakers for home entertainment versus music?
Yes and no. All speakers can be used in all applications, but you may want to do some research about which speakers are best for different uses. Because home entertainment, especially movies, uses different sound ranges than regular music, it is a good idea to get speakers that deliver high-performance home theater audio, such as the Klipsch R-5502-W described above.
---
4. Do I need a special amplifier?
All of the speakers in the list above require an amplifier. Which type you get depends on your budget and preference. Each speaker will indicate the maximum power it can handle (such as 100 watts), and you will want to match speakers to your receiver's power output. The speaker's volume output will depend on the power sent by the amplifier.
---
5. Can I mount these speakers outdoors?
Some speakers are made to mount outdoors (such as the Polk Audio RC65i described above), but you will want to check each model before purchasing and installing. Because some speakers include a rubber gasket or seal, they are more ideal for outdoor or high-humidity environments, such as a bathroom. No matter the speaker, you will not want to mount directly above a very humid area, such as a shower.
---
6. Do I need special wires?
If you're going to install an impressive sound system, don't just use the old speaker wires you found stuck on a shelf in the basement. Using a high-quality speaker wire that is approved for in-wall installations is important. It doesn't have to be expensive, but should be UL-rated, and labeled CL2 or CL3.
---
Conclusion
---
As you can see, there is a wide range of in-wall speakers, in terms of quality and price. But all of these products deliver great sound, so you can be assured you will enjoy any of them. For a budget-conscious, minimal setup that still provides excellent sound, consider the lower-priced models. But for the highest quality sound and an impressive home theater or music experience, go with a higher-performing model and you will not be disappointed.
You may also like our other product reviews…
2 in 1 Laptops Under $300 | 3D Printers Under $300 | Acoustic-Electric Guitars Under $500 | AV Receivers Under $500 | Binoculars under $100 | Binoculars Under $200 | Binoculars Under $300 | Bookshelf Speakers Under $200 | Bookshelf Speakers Under $500 | Bookshelf Speakers Under $1000 | Bluetooth Speakers Under $200 | Beginner Record Players | Cameras Under $200 | Projectors Under $500 | Record Players Under $100 | Routers Under $100 | Shower Speakers | Soundbars Under $300 | Speakers for Vinyl | Turntables Under $200 | Turntables Under $300 | Turntables Under $500 | Turntables Under $1000 | TVs Under $300 | Vlogging Cameras Under $300 | Wireless Headphones Under $200 |