Updated on by Lyric Fergusson
Heat lamps provide either near-infrared light or far infrared light for therapeutic purposes. A few products combine both. Near-infrared lamps generate heat energy that can help with your body aches and pains. Besides providing comforting, relaxing warmth, infrared light amplifies blood flow, getting more oxygen and nutrients to the soft tissue in your body. Increasing the metabolism between blood and tissue often leads to pain relief and healing. Whether you have a backache, sore joints, or just want to relax, sitting under a near-infrared heat lamp soothes sore muscles and joints and reduces everyday stress. Some products only offer or also offer red light, also known as far-infrared light therapy. While you do get some warmth from far-infrared light, the concentrated natural light increases cell production without high, penetrating heat. Of the various types of infrared and red-light products available, here are our 7 favorite.
Best Infrared Heat Lamps
---
(Most flexible — $$)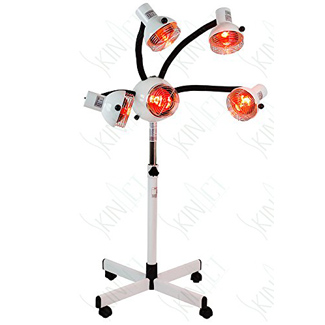 Why it's great: This heat lamp is actually five shaded heat lamps on five adjustable arms. Each shade contains a 150-watt near-infrared bulb, giving you a total of 750 watts of comforting, therapeutic heat. The bendable arms connect to a rolling stand you can easily move from room to room. Create a sauna experience in your bathroom! Each light has a vented shade to control the heat, and all the wires have protective guards for safety. You operate all five lamps from a single knob. The rolling stand and adjustable arms work great for hairdressers who use infrared lights to help with dying and curling hair. If you want to apply heat to several body parts at once, this is the best heat lamp for you. You can bend one lamp to target your shoulder and another to work on your neck or back.
Keep in mind: The pole is tall, and the lamps all extend from the top half, so the lamps can't easily be used to treat your lower legs or feet unless you recline on an elevated surface.
Good for: Anyone who wants a full sauna experience or wants to treat several body parts at once.
---
(Best value — $)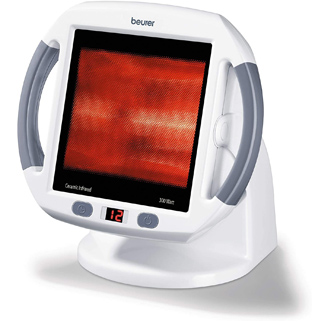 Why it's great: You can take the Beurer with you on trips or even to the office, and the adjustable tilt makes it easy to direct to your sore shoulder or aching elbow. Using the two large handholds on either side of the ceramic light panel, you can angle the light from 0 degrees to 50 degrees. This 300-watt lamp has an extra-large treatment surface, making it great to treat chest congestion or bronchial distress. The warmth from a heat lamp can loosen congestion, relax bronchial spasms, and feel great when you have a cold. The built-in timer automatically sets for 15 minutes for your safety, and the unit has active ventilation to prevent it from overheating. The AC adaptor means you can use an extension cord and a cord winder makes packing away faster.
Keep in mind: There is no on/off switch, so when you plug it in, it is on.
Good for: Treating chest congestion from a cold or using at the office.
---
(Most portable — $$$)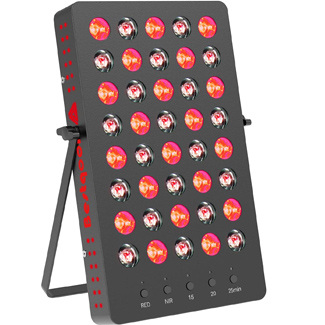 Why it's great: This little unit packs a lot of therapy into a small ( 9 ½" x 5 ½", ¾ lb) package. In addition to the near-infrared light, you get red light or far-infrared light. Red light, a concentration of natural light, can increase cell production, improving your skin and helping wounds heal faster. Using the red-light feature for 15 to 30 minutes four times a week, can reverse aging and give you healthier skin. The product comes with a timer and light therapy protective glasses so you can use it near your face. The heat and near-infrared light can zero in on muscles or a painful joint, repairing damage and soothing away pain. The unit rests on a picture frame type kickstand and comes with a three-year warranty.
Keep in mind: Because the unit is small and uses a kickstand, you may have to be creative with its placement to get to treat the desired body part.
Good for: Anyone who wants to improve skin health as well as enjoy the heat of near-infrared.
---
(Easiest to operate — $)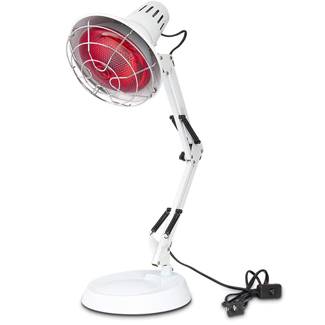 Why it's great: Set this lamp on a table and adjust the multi-jointed arm towards your aching body part. The height of over 13 inches, the flexible arm, and the swiveling head allow you to direct soothing heat to just about anywhere on your body. The infrared heat comfortably relieves pain and speeds up recovery from injuries by improving blood flow and stimulating cell growth. The 150-watt bulb has a protective cage to prevent damage. The directions are easy to follow, and assembly only takes a few minutes. The unit weighs under 6 lbs., and when you fold its arms up, it doesn't take up much room in the closet.
Keep in mind: This product does not come with a timer, and the lamp gets hot if you leave it on too long.
Good for: Someone looking for a smaller, simple-to-use heat lamp.
---
(Most sturdy — $$)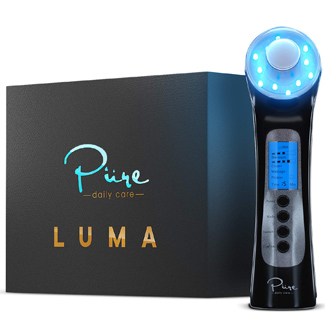 Why it's great: This lamp features far-infrared treatment using coil heat beneath a mineral plate. The 7.8" head gets warm but not hot. The warmth is comforting, and high heat isn't needed for the far-infrared to work. Far infrared works to stimulate blood flow and skin cell growth. There's no bulb to worry about, and the mineral faceplate has a protective guard. The plate will give you 1500 hours of treatment, and then the removable head can be replaced. The sturdy, rolling stand and multi-sectioned armed will last for years. The TDP is easy to use. Roll it to where you want it, bend and adjust the arm and swivel the head in any direction. You can sit at your desk or lie on a bed and direct the infrared to any body part. The on-off switch and timer on the pole stand are simple. The manufacturers recommend a 40-minute treatment session, and the timer goes up to 60 minutes. Fold-down the arm and collapse the pole to roll it into the closet for storage.
Keep in mind: Be sure to allow about 15 minutes for the coil to be warm and ready to use. This lamp isn't set to go as soon as you turn it on.
Good for: People looking for far-infrared and not sauna-like high heat.
---
(Most maneuverable — $)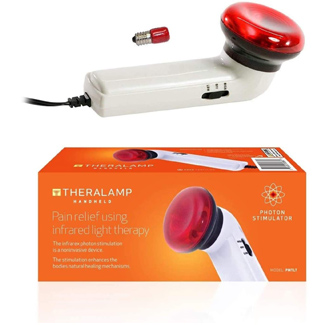 Why it's great: The Theralamp is a hand-held wand you can use to directly treat joints or individual muscles that are injured or painful. The wand weighs less than 11 ounces and comes with a 6-foot cord, giving the user the ability to easily reach their ankle, knee, elbow, or shoulder. You can easily move from one problem spot to another. While the wand warms your muscles and joints, it is not hot to the touch. Most lamps are either on or off but this one has a choice of low or high heat and comes with a spare bulb. The small size makes it easy for travel and simple to store.
Keep in mind: This wand doesn't get as hot as some other heat lamps.
Good for: Easily and quickly treating aching or injured joints.
---
(Most therapeutic — $$$)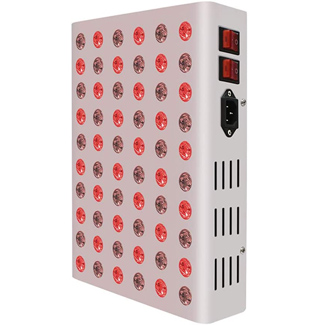 Why it's great: Rather SGROW offers the most powerful combination of red light and near-infrared light therapies cleared by the FDA. The sturdy device has a large, 3 ft x 2.5 ft panel of lights that provide both skin repair and deep penetration for pain relief over a large area of your body. There are two power switches, one for the deep red 660 nanometers and the other for the near red 850 nanometers. Use either or both at the same time. The unit comes with eye protection, a removable power cord, and a pulley system. The pully system includes a door hook, cord, buckle, and pulley you use to mount the unit on a door. You lower the light to use it and then pull it up again to store it. SGROW offers a 2-year warranty on this well-made therapy light.
Keep in mind: Make sure to find the owner's manual under the packing material before you throw the box away. Reviewers complain that they didn't get a manual because they didn't find it.
Good for: Anyone who wants maximum red light and near infrared therapy in the same device.
---
FAQs about infrared heat lamps
---
1. What's the difference between red light, near-infrared, and far-infrared?
Red light and far-infrared light are the same. It's a concentration of natural light that increases cell production and stimulates blood flow without the use of heat. Near-infrared lamps generate heat energy that can help with many aches and pains. Besides providing comforting, relaxing warmth, near-infrared light amplifies blood flow, getting more oxygen and nutrients to the soft tissue in your body.
---
2. How long does a heat lamp take to work?
While you will most likely get some pain relief and comfort with the first treatment, most manufacturers recommend a schedule of regular use over days and even weeks to maximize effectiveness and get the most relief.
---
3. Does infrared work through clothing?
You can certainly use infrared light through clothing, but some waves will be absorbed or reflected by fabric. Treating directly to bare skin works best.
---
4. Can you get burned by using infrared heat lamps?
Absolutely. Most heat lamps will burn your skin if you stay under them too long. Follow distance recommendations for each light to avoid burns. Also, some lamps get very hot to the touch. Avoid touching metal grates and bulbs.
---
5. Can you create an at-home sauna with heat lamps?
Some lamps use multiple lamp heads to create enough heat to warm up a small room, like a bathroom, to sauna conditions.
You may also like our other product reviews…
Acupressure Mats | Back Stretchers | Facial Machines | Grounding Stones | Handheld LED Light Therapy Devices | Infrared Heating Pads | Inversion Tables | Massage Chairs Under $1000 | Negative Ion Bracelets | Outdoor Saunas | Portable Saunas | Small Heating Pads | TENS Units | Vibration Plates |