Updated on by Lyric Fergusson
Many toddlers love to tote around a baby doll, but some may want to dive further into that world and try their hand at an interactive, lifelike baby doll that makes sounds and responds to its surrounding just like a real baby. Allowing children, no matter the sex, to play with dolls is an easy way for parents to aid a child's imagination while they develop social, emotional, and even language skills. With interactive dolls, children learn to react and respond to real-life situations and interact with others. Not to mention, playing with dolls early on fosters a love a care-giving and nurturing within children so that they may grow into adults who might one day be prepared and nurturing parents. Or, at least, decent babysitters for you one day!
Below we have compiled a list of the best-reviewed, interactive baby dolls available on Amazon, and broken down each listing so that you know what to expect when you're making a purchase.
Best Interactive Baby Dolls
---
(Most choices — $$)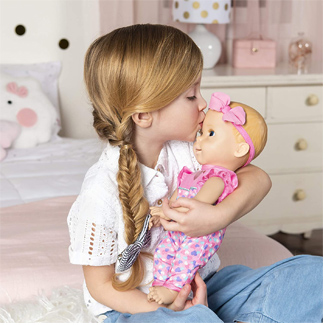 Why it's great: This baby comes in different skin tones and hair colors, so your child can find one that matches them, if they want, or just choose the one they like best. She also acts just like a real baby, fussing when she's unhappy and giggling when she is happy. She comes with a bottle and a pacifier and really looks and sounds like she's sucking on them when they're in her mouth. Your child will also be delighted to see her eyes close and feel her breathing when she falls asleep.
Keep in mind: She needs 4 AA batteries and they're not included, so you'll need to buy some yourself.
Good for: Children that want to pick what their baby doll looks like.
---
(Most realistic looking — $$$)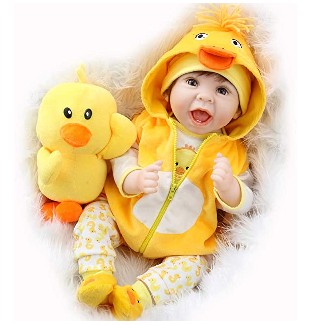 Why it's great: This doll is incredibly realistic. It has soft skin and a soft body. The hair feels silky and the adorable facial features are hand-painted. It's even weighted, to make it feel more like holding a real baby. It comes with a cute plush duck, as well as a matching duck-inspired outfit. It also comes with a bottle and pacifier, so your child can pretend to take care of their baby. Just like a real baby, it fits into 0-3-month-old clothes, so you can easily buy more outfits.
Keep in mind: It is a little heavier and is probably best for older toddlers who can handle the added weight.
Good for: Children who want a real baby of their own, or as close as they can get.
---
(Most interactive — $$)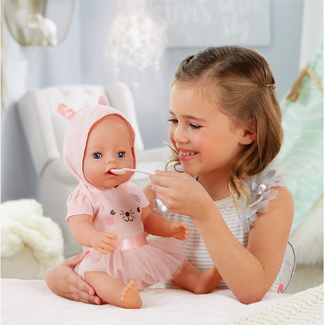 Why it's great: This Baby Born Interactive Doll is the one I think most parents will remember or, at least, be familiar with. This adorable doll has 9 lifelike features and comes with a birth certificate, bottle, pacifier, diaper, plate, spoon, potty seat, and baby food packet. Not only does she eat and drink, but she cries real tears and she goes potty! This is the closest your little one can get to practicing baby care without a real baby. This might be a great idea if you have another baby on the way and want to help prepare and excite your toddler for the new arrival.
Keep in mind: This one can be given a bath! Just make sure Mom or Dad is supervising.
Good for: Parents of toddlers who are ready for a real challenge and learning experience. You'll know if this doll is right for your child if they show a genuine interest in care-giving and want more bang for their buck.
---
(Best value — $)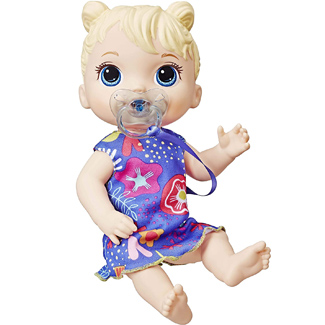 Why it's great: This interactive baby doll for kids ages 3 and up makes 10 sounds that are similar to real baby sounds. She whines, cries, giggles, yawns, and babbles. This doll is reactive to the actions of your little one. When the doll is laid down, she yawns and prepares for sleep. Then, she wakes when she is picked back up again! She recognizes when her pacifier is in her mouth, making sucking noises. When it is removed, she whines, giggles, or maybe even hiccups. Her dress is removable so the child can practice dressing and undressing a baby.
Keep in mind: This one doesn't come with a diaper for changing, but it is compatible with other Baby Alive accessories.
Good for: Toddlers who want an interactive baby doll, but parents don't want to break the bank, just in case, the little tyke is less enthused with the "reality" of this doll once it arrives.
---
(Highest rated — $$$)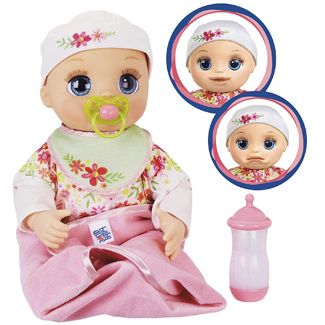 Why it's great: This Real As Can Be doll is not kidding with that name; With over 80 lifelike expressions, movements, and sounds, your toddler will have a blast navigating baby care. This interactive doll turns its head, naps when rocked to sleep, giggles when tickled, makes feeding and sucking sounds when fed, etc. She comes with lots of baby accessories: a removable outfit, hat, bib, blanket, pacifier, and bottle with disappearing milk. This listing is only for one particular doll, but there are other dolls with varying appearances available on Amazon.
Keep in mind: This listing is the priciest, so be sure your little one will love it endlessly before making the leap.
Good for: Parents of toddlers who already love to care for their dolls and toys as if they were real.
---
(Most fun — $$)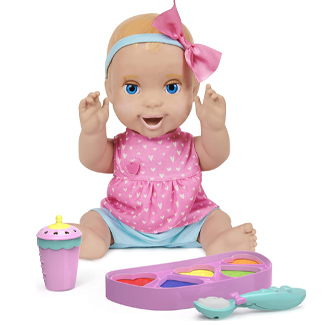 Why it's great: This listing offers two choices: Mia or Maya, depending on your child's choice. Mia makes many facial expressions with her moving tongue, mouth, and blinking eyes. She reacts to her food (included with the purchase) with over 70 sounds and phrases. Her food tray is double-sided, so there are a total of 10 foods available for your little one to feed her! She can even recognize and remember foods that she likes and doesn't like, saying things like "yum" and "yuck". She has an interactive bottle and pacifier, and can even be rocked to sleep.
Keep in mind: Mia needs 4 AA batteries that are included and the spoon needs 1 AAA battery that isn't, so you'll need to stock up!
Good for: Children who want all the realness of mealtime, but with less of the responsibility of potty and sleepy-time.
---
(Most realistic sounds — $)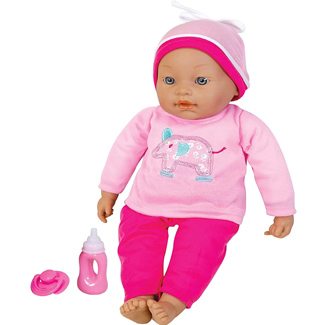 Why it's great: Baby Beatrice has seven functions, including saying "mama" and "papa" with the squeeze of a hand. She even says both "hello" and "bye bye" when each of her feet are squeezed. She makes burping sounds after drinking and even makes sucking sounds when given her pacifier. (Both of which are included.)
Keep in mind: Some little ones may have a hard time pressing the hands and feet for the different reactions. However, this toy might be ideal in helping to develop these muscles!
Good for: Parents of toddlers who are looking for a starter interactive doll. Perhaps you want to gauge your child's interest before investing in a more in-depth doll with more functionality.
---
(Bed time fun — $)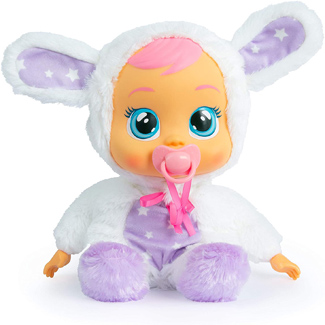 Why it's great: This interactive doll is a bit different from the others on this list. This little cutie is a bedtime asset; She has a soft body and super soft pajamas, perfect for snuggling up next to at night. Without her pacifier, she cries tears that light up on her face, but her face glows a soothing glow when you return her paci to her. She makes realistic baby sounds and plays 5 different lullabies for up to 10 minutes. She might be the perfect addition to a nighttime routine.
Keep in mind: This is not a doll whose outfit can be changed. She is sewn into her pajamas.
Good for: Parents of toddlers who struggle with their nighttime routine. Perhaps, adding the Cry Babies Goodnight Coney doll to the mix might put some of the responsibility in the hands of your toddler, but in a fun way that they won't mind or even notice.
---
(Most modern — $$)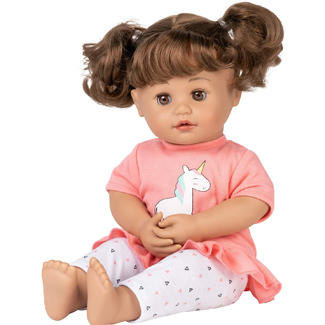 Why it's great: Truth be told, this one is the cutest! This interactive doll is not modeled after a baby but is a toddler, which your little one might love even more. She makes 5 sounds when she is played with: coos, giggles, kisses, cries, and says "mama". She has a soft body for cuddling, silky hair, eyes that open and close, and she even has a powdery scent. The sounds are touch activated to ensure your child's engagement with the doll. She is wearing a cute, tunic-style top and leggings with an adorable unicorn design.
Keep in mind: Make sure you move the switch from "Try Me" to "On" in order to experience all the features.
Good for: Toddlers who want to play with a doll closer to their age and specificities, not a "baby".
---
(Best first doll — $)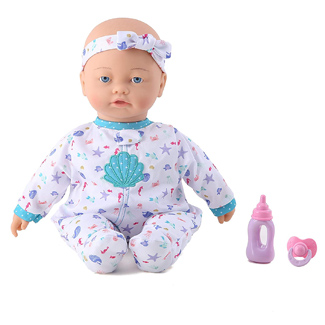 Why it's great: This is a great first baby doll. She comes with a bottle and a pacifier and she will actually make facial expressions and sucking noises when you put the bottle in her mouth. And she'll babble and talk when you take the bottle or pacifier out. She cries when you lay her down and you can actually see her belly moving like she's breathing. And her eyes will open and close as she sleeps, eats, or sits up. Plus, her body is soft and great for cuddling.
Keep in mind: You do need batteries for this doll and she doesn't come with any, so you'll need to purchase them separately.
Good for: Children that want their very first baby doll that they can take care of.
---
(Most accessories — $)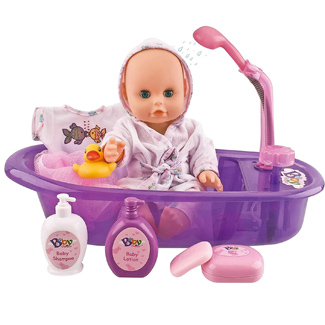 Why it's great: This doll comes with a bathtub and tons of bath accessories, including soap, shampoo, a loofa, lotion, and a rubber ducky. And the bathtub sprayer really works! Your child will love giving their new baby a bath and taking care of them. They can even take this doll and all its accessories, other than the clothes, in the bathtub with them. The eyes close when you lay the baby down and open again when you pick it up, for a more realistic experience.
Keep in mind: The doll can collect water, so you need to try to empty it out and let it dry after being in the water.
Good for: Children that want to take care of and bathe a baby of their own.
---
FAQs about interactive baby dolls
---
1. Can the dolls fit in newborn clothes?
This will likely depend on the specific doll, but many of the reviewers comment that they can fit preemie onesies on the dolls listed a bit better than newborn onesies.
---
2. Can the dolls be played within the bathtub?
Many of the above-listed dolls hold batteries to make realistic sound effects. So, it would be best to avoid submerging the dolls in the bathwater. However, your little one could still learn the techniques of a sponge bath and proper hygiene, so long as a parent helps ensure they are avoiding the electronic mechanisms.
---
3. Are there African American dolls or dolls of other colors and ethnicities?
Many of the above listings are for one specific doll each. (Though a couple do have alternative versions.) However, Amazon has links to follow to find dolls of varying looks to best please your little one.
---
4. How do I clean the doll?
Most of the exteriors of the interactive dolls can be cleaned with a damp cloth to remove spots or stains. If the insides of any of the dolls need to be cleaned, the companies' websites all share tidbits for safe cleaning. This is a job for Mom!
---
5. Are interactive dolls for both girls and boys?
Yes, of course! When a couple becomes parents, we don't expect Mom to do all the work, do we? Dad helps, too! It is important to nourish a child's capacity for caregiving and kindness, no matter the child's sex.
---
Conclusion
---
There are so many dolls on the market, but buying an interactive doll ensures that your child is fully engaged in play, developing different skills along the way. The above list has interactive baby and toddler dolls with varying degrees of interactivity, so you can perfectly match which doll might be the right fit for your little one. Narrow down the list and then let your child choose with you. It really depends on how in=depth they are prepared to play. Some kids might love the chance to feed and change a realistic diaper, while others might prefer to have control over the doll's reactions using their own touches.
You may also like our other product reviews…
Baby Bath Mats | Baby Blocks | Baby Bottle Cooler Bags | Baby Bottle Dish Soap | Baby Bowls | Baby Car Mirrors | Baby Car Window Shades | Baby Carriers for Men | Baby Dolls for 1-Year-Olds | Baby First Aid Kits | Baby Food Storage Containers | Baby Grooming Kits | Baby Memory Books | Baby Nail Files | Baby Oils | Baby Onesies | Baby Probiotics | Baby Rattles | Baby Socks That Stay On | Baby Utensils | Baby Walkers | Baby Washcloths | Bath Towels | Bathtubs | Bibs | Blankets | Blenders to Make Baby Food | Booties | Bottle Brushes |