Updated on by Lyric Fergusson
Whether you looking to relieve back strain, ease stress or relax tense muscles, you should look into purchasing an Inversion Table. The uses for this machine are endless, but it always allows you to release pressure form you back and feel more mobile and comfortable during the process. Secure your ankles, flip back and relax to stretch your body and decompress. The list below has a broad range of tables that allows you to find one that best matches your preferences and needs.
Best Inversion Tables
---
(Highest quality — $$$)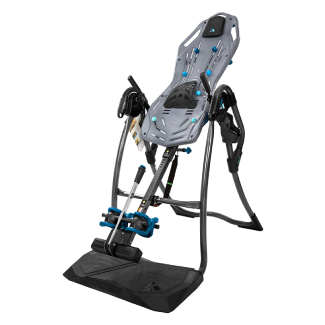 Why it's great: This high-quality machine was created for people to live healthier, stress free lives. Its patented flex technology offers the best decompression and delivers better pain relief than other tables on the market. Its comfortably ankle closure and support allow you to have a greater range of motion with confidence.
Use its trusted technology for precision balancing and get the best out of your machine for a full inversion and controlled optimal rotation. This even has added accessories like acupressure nodes and a lumbar bridge, to align hips and deliver precision relief. Treat yourself and feel better with this inversion table.
Keep in mind: This is a heavy machine, look into someone helping you set this up as it large and difficult to put together.
Good for: People who don't mind spending money on an impressive machine and who will use it regularly to gain the benefits.
---
(Best value — $)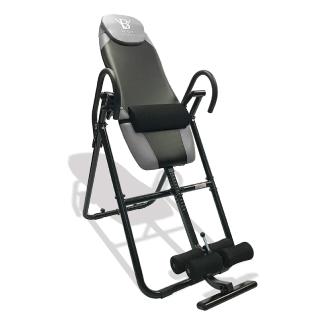 Why it's great: This inversion table is a great bang for your buck. In minutes get your back pain sorted out and feel the pressure gone. Easily adjust the table with its removable head pillow and lumbar bar for comfort and target different areas of the back, neck and shoulders.
This can easily be folded and stored away when not in use, and even has transport wheels to move around quickly and efficiently. It has a premium quality backrest, it has sur-lock in and out ankle support systems, and has an inversion pin that allows you to choose from four positions to get relief fast and safely.
Keep in mind: This is only suitable for people between 5'1" and 6'6", and people weighing under 250 lbs.
Good for: People who want to try and Inversion Table but not spend a fortune on their first one.
---
(Easiest to get into — $$)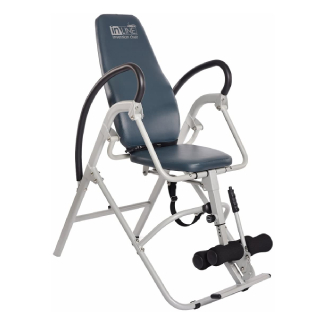 Why it's great: If you have limited mobility look no further. This inversion chair is a dream to
stretch your spine, relieve pain and build flexibility. It has an easy push button release for the leg lock system which allows you to simply maneuver your legs into the locked system. For added safety feel free to use the adjustable lap belt to secure your position in the chair while inverted.
Unlike other Inversion tables, this has a controlling strap that allows you to tighten or loosen the strap so you can control your inversion session. Its cushioned upholstery is not only comfortable to use but extremely easy to clean and keep in pristine condition. Feel safe and secure in this chair when your body is in a vulnerable position.
Keep in mind: This does not go fully vertical.
Good for: The older community or people with limited mobility as the chair offers extra safety additions and is easy to get into.
---
(Most relaxing — $)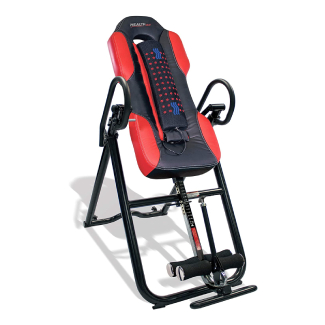 Why it's great: This advanced inversion table is designed to deliver back support, and eliminate pain with its smart technology from its removable heat and vibrating massage pad. Feel the comfort and contour fit to the machine or treat yourself, by removing the portable heat and vibrating massage pad for a relaxing spa like experience anywhere in your home.
This therapeutic machine has a convenient four-position side inversion pin which allows for quick and fastened selection. This is simple to assemble and can easily be transported to store away. In no time feel the benefits of this sophisticated technology to be leading a pain-free, more flexible life.
Keep in mind: This table is easy to assemble, but you do need to carefully read the instruction as you could put the wrong pieces together and damage the product.
Good for: People who want fast-acting relief, but also want it to be a more relaxing and enjoyable experience.
---
(Most advanced — $$)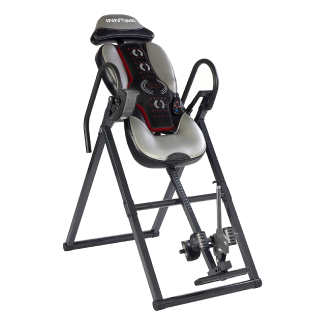 Why it's great: This heavy duty, advanced inversion table is perfect for relieving back pressure and includes a heated massage pad. The massage pad works the lower back and waist to provide therapy to areas in need. Its double adjustment structure allows for a smooth and balanced inversion experience for each personal user. This table has a six-pin system, which allows the user to choose from which angle best suits them and feel confident in the position.
Its improved ankle holding program doesn't pinch and eases the pressure on your ankles while still supporting the inversion process. From the moment you experience this machine feel the consistency and advanced practice, this table can bring you.
Keep in mind: To change the inversion angle you must return to an upright position. Luckily you don't have to get out of the machine, but for safety precautions please return to the original position.
Good for: Advanced users who want more additions to their inversion table, such as the heated massage pad.
---
(Simplest design — $)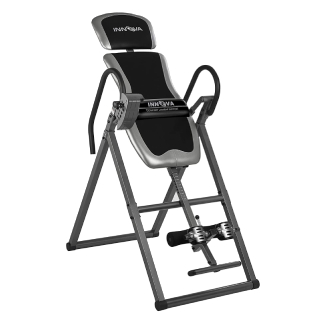 Why it's great: This inversion table is incredible. From its sleek design to its simplicity when using and operating you couldn't ask for anything more. Adjust the ankle holding system to make it reversible and find your most accurate secure form during inversion. Its padded backrest is comfort at its finest while its adjustable headrest allows you find top accuracy.
This boasts three adjustable features to help you find the true balance in your center of gravity and makes inverting a smoother transition. Its soft foam handlebars have a nice grip, and this is can be used by a large variety of heights and sizes. Overall, this product is of great quality and value.
Keep in mind: This does come with all the tools to assemble and a great video, but to do it faster think about using stronger at home tools.
Good for: People who want a quick and simple inversion table, and don't want anything fancy or flashy.
---
(Holds the most weight — $$$)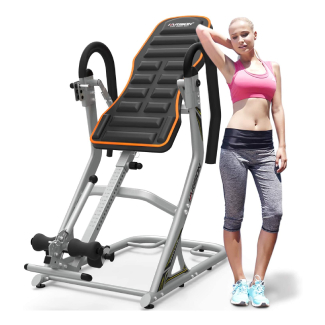 Why it's great: This is a heavy duty, sturdy and stable machine. This inversion table has the highest weight limit compared to any other table on the list. It also has additional securities like a safety belt, secure handles and much more so you can have a positive inversion experience. Get comfortable with its memory foam 3D backrest and start leading a stress free, painless life.
Make sure to start at a lower-level inversion before moving up to the full 180°angle this table can offer. Its unique design will feel incredible and fit the curve of your body in time. Work out the tension when you purchase this durable and strong inversion table.
Keep in mind: This inversion table cannot be folded away or be made smaller for storage options.
Good for: People who are more heavy set and people who need a bit more space.
---
FAQs about inversion tables
---
1. Should I instantly start off vertically if I have never used an Inversion Table?
No. You need to slowly work your way to being fully inverted. You will know when the time is right within your body. Start at your machine's lowest angle, then gradually lower to the furthest inversion point.
---
2. How long will it take for the inversion machine to work?
Inverting more frequently will help to alleviate the back pain you will be suffering from faster. However, this is different for each person. Your best bet is to use your inversion table consistently for the best results.
---
3. How long should I invert for?
If you have never done inversion before, you should start with a 1-2 minutes session, so you don't hurt yourself. Then slowly work your way up to 3-5 minutes session. Remember that inverting more often is more important than the duration you invert for. However, the most important thing to do is listen to your body to get the most out of this practice.
---
4. How often should in invert for?
To get the best results from your inversion table you should try to invert several times a day. Listen to your body at the start so you don't hurt yourself in the process. In the morning or right before bed is always a great time to invert.
---
5. Will I be sore after using my inversion table?
Going too far down, doing too much, and staying on for too long will make you sore. Start slowly so you don't injure yourself and create more problems before you fix the initial problem. Now although frequent use is the only way to get pain relief, there is such a thing as overdoing it, so be careful.
---
Conclusion
---
An Inversion table works with your own weight to decompress, lengthen and strengthen the spine. If you are in any way feeling discomfort in your back, shoulders, or neck this form of therapy will alleviate the pain and tension with frequent use. Would you like a table that is easily accessible, has additional features like a heated massaging pad or would you like to stick with the classic table, it's your choice. Start improving your body when you begin inversion therapy. Relax, stretch and jump-start your day with a new inversion table.
You may also like our other product reviews…
Acupressure Mats | Back Stretchers | Facial Machines | Grounding Stones | Handheld LED Light Therapy Devices | Infrared Heat Lamps | Infrared Heating Pads | Massage Chairs Under $1000 | Negative Ion Bracelets | Outdoor Saunas | Portable Saunas | Small Heating Pads | TENS Units | Vibration Plates |