Updated on by Lyric Fergusson
Whether you want to buy your first knife set or upgrade your current set, a sharp knife is an essential item to have in any kitchen. A versatile, quality set allows you to cut into varying food products with ease and create delicious meals. With one quick, easy purchase you will have all the knives you might possibly need to make artisanal creations. Take a look below at some of the best knife sets that need to be in your kitchen immediately to chop, slice and mince away into a delicious life.
Best Knife Sets Under $200
---
(Most modern set)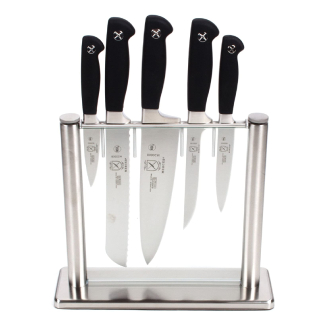 Why it's great: This knife set sits in a beautiful, modern, see-through glass case, making it easy to find and decide which knife is right for what you need. Use the knives comfortably with their non-slip grip handles and high carbon steel blades for pression cutting and use. The forged construction allows for durability, strength and balance when cutting and stays sharper for longer.
This set is a well-made, quality, steel product, and an excellent price. Chef it up with confidence when using one of the 5 knives and feel the accuracy with each slice. These are thick spined and acceptable for any level cook in the kitchen.
Keep in mind: When you wash these knives the logo on the blade might fade away. This is totally normal and nothing to be worried about.
Good for: Any level chef who wants a nice knife set that looks appealing on the counter and works fantastically.
---
(Best seller)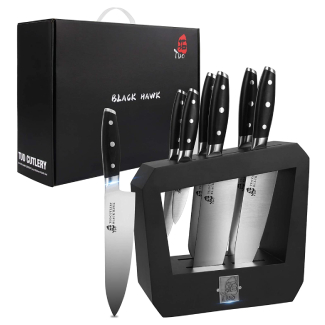 Why it's great: This professional style knife set includes 6 knives and a unique natural wood block that can satisfy all your chef needs. Feel confident when using the well-polished knife handles that offer flexibility and sharpness. These knives have a professional industry standard of quality that are suitable for all your chopping capabilities.
These knives are simple, yet beautiful and are practical for any activity you might need to use them for. Each knife is lightweight, smoothly polished, and balanced perfectly making it an ideal tool to add to your collection for an amazing price.
Keep in mind: Although you can wash these in the dishwasher, it is better to hand wash your knives.
Good for: People looking for top quality industry knives in the comfort of their own home.
---
(Built in knife sharpener)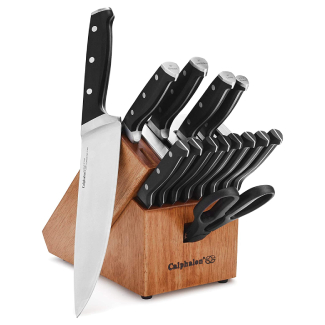 Why it's great: This enormous 15-piece knife set includes every knife you may ever need. The knife block includes a ceramic sharpener that automatically sharpens knives every time you use them. These knives have labeled handles so you can easily identify which knife you want to use when still in located in the block.
These are made from forged high carbon for strength, durability, and longevity. The high carbon content means the knives can resist stains and discolorations more than regular carbon cutlery. It fits firmly in your hand to create a strong grip and comfortable feel. Chop with certainty with your new knife set.
Keep in mind: That although this knife set comes with plenty of knives, it does not include a bread knife.
Good for: People who want to experience a range of great quality knives for an unbelievable price.
---
(Best value)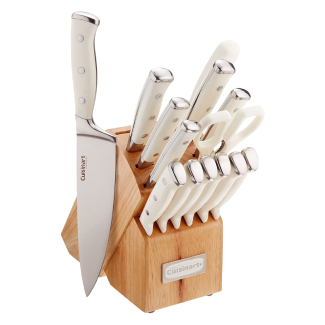 Why it's great: This might be the cheapest knife set on the list, but it includes 15 pieces. The sleek, white knives look modern and are made from forged, high carbon stainless steel. They are constructed with stability and control, and the knives have an extra wide bolster to secure the blade to create maximum comfort on the handle.
Get quality and quantity when you buy this knife set. They are sharp, have tapered ground blades, and work extremely well with any skilled level cook. A great option for people on a budget, but still want an excellent knife set.
Keep in mind: The white handles do begin to fade and chip away over time. The best way to stop this is to dry immediately after washing.
Good for: People who want a great collection of knives at an incredible price.
---
(Great quality)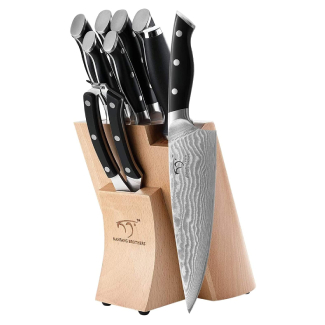 Why it's great: This high quality, complete knife set offers professional knives at a superb price. This comes with 6 knives, kitchen scissors, a knife sharpener and wooden block. They are made with Japanese steel which allows them to be sturdy, extremely sharp and practical, while the handle is triple riveted for accuracy and comfort.
These knives are durable, long-lasting, and easy to clean. For best results hand wash, dry, and put away immediately, this ensures no rust, stains, or pitting. Chop and slice like a professional chef and feel assertive with your kitchen tools.
Keep in mind: These are full tang, which makes the knives lightweight, flexible and durable. This is an incredible perk to the price.
Good for: People who don't mind spending a bit more money on an exceptional, high quality knife set.
---
(Best multifunctional set)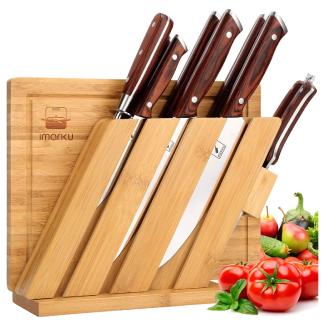 Why it's great: Not only do you receive fantastic knives when you purchase this set, but you also get a phenomenal cutting board. The full tang handle allows for minimal wrist tension and reliability in the kitchen. The set includes a beautiful bamboo knife block and an additional bamboo cutting board to use with your new knives.
This is perfect for the most experienced of cooks or novices. Its high-carbon German stainless steel provides great performance, reduces friction when slicing, and is well balanced. Use its personal sharpener to have razor-sharp blades that are ideal for any cooking situation in your kitchen.
Keep in mind: For the knife sets longevity only sharpen each knife once or twice a year for optimal performance.
Good for: Cooks looking for knife sets that match everyday needs, from simplicity to the most sophisticated of meals.
---
(Biggest knife set)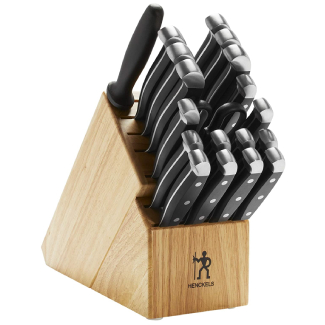 Why it's great: This massive 20-piece block set includes all the tools you might possibly need in your kitchen. Cut effortlessly with the Statement's single piece stamped blades that boasts maneuverability and a lightweight frame for long lasting chopping. The wooden block is timeless, and the classic knife design is appealing to the eye.
Because of the design and cutting edge handle you can avoid fatigue and wrist discomfort when in use. Henckels Statement set provides great sharpness at an affordable price with lots of tools to choose from. Avoid hand washing the knives as they are dishwasher safe allowing for a quick and easy clean-up process.
Keep in mind: Now although this knife set is dishwasher safe, it's still recommended to hand wash if and when possible.
Good for: Since this knife set is lightweight and handcrafted for a comfortable grip, this is ideal for people who have sensitive wrists.
---
FAQs about knife sets
---
1. Should I put my knives in the dishwasher?
It's not recommended to put knives in the dishwasher as they can rust, stain and weaken faster. The best way to clean your knives is to carefully hand wash with cold water, pat them dry, then put them back in their proper location until further use.
---
2. What are the best knife sharpeners?
Some of the knife sets above have a sharpener either included in the set or built into the knife block. However, if it doesn't look into purchasing a sharpening stone or sharpening steel. There are electric sharpeners as well, but the handheld tools sometimes offer more precision and a sharper blade.
---
3. How often should I sharpen my knives if I buy them brand new?
Your knife set will arrive already extremely sharp, but it's recommended to sharpener your knife no more than 1-2 times a year. You will know when the blade is dull and needs to be freshened up.
---
4. Is having a tang knife a good thing?
Yes, tang knives are great. A full tang knife just means that the blade of the knife is built into the handle, which makes it more sturdy and less likely to bend or fail. Many believe that having a full tang knife is the strongest knife to own and use.
---
5. What are the most important knives to have in your set?
This is completely up to you, but typically the top three knives are a chef's knife, a paring knife, and a serrated knife. A chef's knife is used for cutting meat and dicing vegetables, a paring knife is a small knife used for intricate cutting and slicing, and a serrated knife is great for cutting things like bread. All other knives are fun for prepping, enjoyable to experiment with, and handy when in the case of steak knives.
---
Conclusion
---
Whether you are finely chopping herbs, slicing bread, or mincing garlic, a good knife set is a much-needed tool in every kitchen. The way the handle fits into your hand, the razor-sharp blade, or the aesthetically pleasing setup, there is something for everyone on this list. From the top chefs of the world to the novice at-home cooks, a knife set allows you to find confidence in your cooking and bring fun back into meals. So, take the time and find a knife set that fits your lifestyle, because it will not only be a great investment but an important statement to your kitchen and cooking.
You may also like our other product reviews…
Air Fryers Under $100 | Blenders for Green Smoothies | Blenders Under $100 | Chef Knives Under $100 | Coffee Makers with a Grinder | Commercial Shaved Ice Machines | Crepe Pans | Espresso Machines Under $100 | Espresso Machines Under $200 | Espresso Machines Under $500 | Juicers Under $100 | Omelette Pans | Onion Choppers | Pizza Peels | Silicone Baking Mats | Silicone Cooking Utensils | Teapots with Infuser | Toaster Ovens Under $100 |