Updated on by Lyric Fergusson
Laptops have really evolved over the years, and now purchasing a high-performing laptop is affordable for more and more people. There are now numerous laptops available that can deliver quality performance for working remotely, gaming, and schoolwork. Customers have many factors to consider when purchasing a laptop, including the processor (which effects the speed of the computer), the display size and resolution, the size and weight of the computer, and connectivity options such as Bluetooth, USB-C, Ethernet, and various ports and jacks, all which vary according to models.
With so many features, it can be easy to be overwhelmed with options when shopping for a new laptop. Below is a list of our 11 favorite laptops under $700:
Best Laptops under $700
---
(Incredible processor speeds — $$$)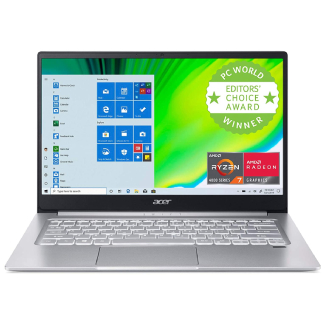 Why it's great: A thin, lightweight laptop with great display, the Acer Swift 3 is a good bet for your money. What sets this apart from others on the list is the AMD Ryzen Octa-Core processor, a strong competitor for Intel's hold on the market. The Ryzen is faster than some Intel models, and less expensive, meaning you get a fast computer for less money. Weighing in at only 2.7 pounds, you'll be able to carry this laptop around with no issues. The battery has a decent life and charges quickly, which is a plus for most users.
Keep in mind: The display is fine for indoor use, but may not be bright enough for frequent use outdoors.
Good for: Anyone looking for the fastest processor at a good price point.
---
(Best ergonomic comfort — $$$)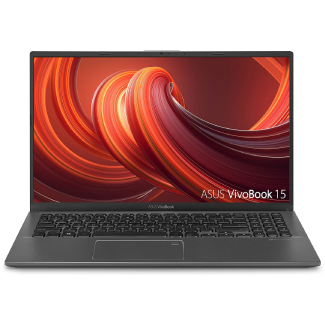 Why it's great: This VivoBook is thin and light, which makes it perfect for carrying around. It has a 4-sided NanoEdge display, so you'll get an 88% screen-to-body ratio. Plus, the keyboard has an innovative ergo-lift hinge that allows for maximum comfort when typing. The keys themselves were also designed ergonomically for quick and easy typing. Plus, the whole keyboard is backlit, so you can see what you're doing. This laptop has a fingerprint sensor on the touchpad, allowing you to quickly login without having to type in a password each time. The VivoBook has the latest Intel processor, long battery life, and charges quickly, making it a top choice.
Keep in mind: The screen quality isn't as nice as more expensive laptops, but it's adequate for the price.
Good for: Anyone that wants a more comfortable and ergonomic typing experience.
---
(Sleekest design — $$$)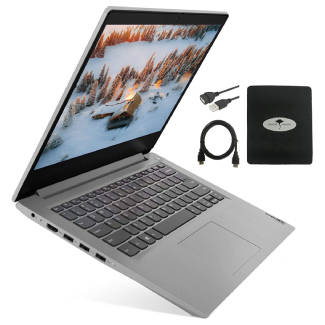 Why it's great: The IdeaPad comes with the latest Intel processor, high speed connectivity, and long battery life. The 14" screen has anti-glare, making it easy to see indoors and outdoors. It also comes with a SSD (solid state drive), which allows you to start up in seconds, get to files faster, and gives you plenty of space to save all your files. It has multiple ports for connecting to all your devices, is fairly lightweight at 3.3 lbs, and uses Windows 10. Plus, it comes in a steel gray, sleek design that's aesthetically pleasing, as well as sturdy and durable.
Keep in mind: The speakers work well, but they don't have the best sound quality compared to others on the list.
Good for: Anyone looking for a quality laptop that fits their style.
---
(Accessories included — $$)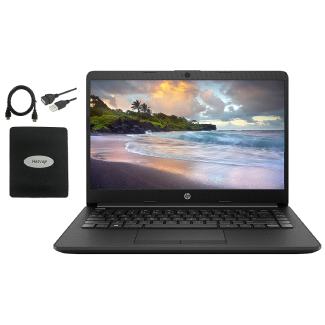 Why it's great: The nice thing about this laptop is that it comes with an extension cord, making it easier to charge while you're using it. It also comes with a mousepad and an HDMI cable. The AMD Athlon processor is more than adequate to keep up with all your daily tasks. This HP laptop also features up to 10 hours of battery life, meaning you'll be able to get through all your work and still use it for pleasure in the evening. The display is clear and has anti-glare, so you can easily see it wherever you are. It also has 16GB RAM, so you can run multiple applications at the same time without worrying about it crashing on you.
Keep in mind: This comes with Windows 10 S, which doesn't allow you to add any non-Microsoft approved apps, like Chrome, Firefox, Adobe Acrobat, etc. However, you can easily switch it over to regular Windows 10 if you prefer.
Good for: Anyone that needs longer battery life or wants to be able to use the laptop easier while it's charging.
---
(Best value — $$)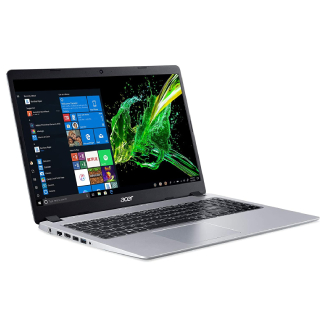 Why it's great: At one of the lower price points, this Acer Aspire 5 still sports a full HD, 15.6" screen, where colors are vivid and brilliant.The AMD Ryzen processor allows you to work quickly and keep multiple applications open as you go. It also has a blue light shield, which is a nice feature to protect your eyes from harsh lighting. It is thin and light, has multiple ports, a backlit keyboard, and it connects to your Amazon Alexa! With so many features and everything you could need in a basic laptop, this Aspire 5 is a great value.
Keep in mind: The graphics card isn't strong enough to handle high-resolution games.
Good for: Anyone looking for a basic laptop at a great price for school or work.
---
(Best budget option — $)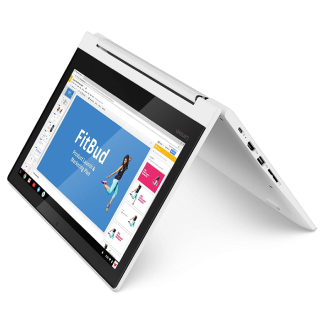 Why it's great: This laptop features a touch screen and can be rotated and used in almost any position. It converts to a tablet and will stand up in a tent shape for easy, on-the-go use. It has wi-fi and Bluetooth capabilities, as well as multiple ports. It's also super simple and easy to use because there's no setup involved. You just log in to your Google account as it runs through Chrome. This also means it'll sync to all your devices that use Google applications, such as Gmail, Google docs, and more. This Chromebook offers 10 hours of battery life and is super lightweight and easy to carry around, making it perfect for students or professionals that are on the go.
Keep in mind: This laptop doesn't have a ton of storage, but that shouldn't be necessary as you can save all your documents through your Google account.
Good for: Anyone that needs a laptop on a budget.
---
(Best touchscreen — $$)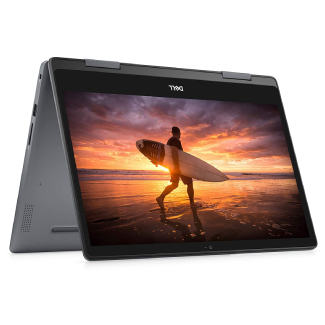 Why it's great: This is another convertible laptop to tablet option, which also means that it has a touchscreen. It has a 14" screen with a decent graphics card for the price that allows light gaming, as well as your everyday use. It has a decent amount of storage, given the size, but you can add more if you feel the need. It's small and lightweight, has adequate RAM, and a decent graphics card. The camera is high quality and the touchscreen allows you to draw, write, or highlight, which is great during meetings or school. Overall, it's a great little machine for daily needs.
Keep in mind: This one has a shorter battery life, so you may need to charge it more often.
Good for: Anyone that needs a laptop for school, work, or general use.
---
(Most options — $$$)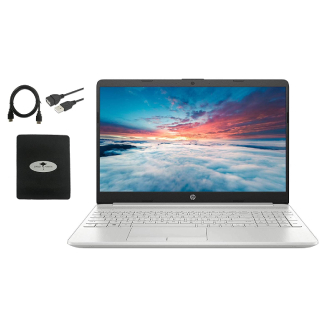 Why it's great: HD offers so many different laptops at varying prices, so you're sure to find one that meets your needs. This particular laptop comes with 6 different options to choose the amount of RAM, HDD, and SSD that you need, making it more customizable for your needs. It has a 15.6" HD screen, giving you a bigger and better display than some of the other laptops on this list. The AMD Ryzen processor allows you to easily multitask and quickly switch between files. This laptop also has high-bandwidth RAM, so you can use this one for gaming and photo or video editing as well.
Keep in mind: This laptop doesn't have a backlit keyboard.
Good for: Anyone that needs a quality laptop and wants to be able to choose some of the specifications.
---
(Best display — $$$)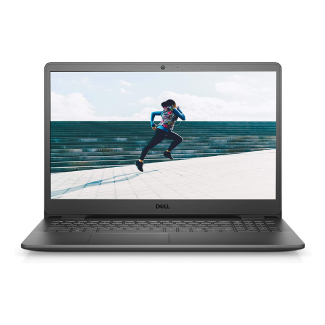 Why it's great: The Dell Inspiron 15 is the newest in their line. It comes with an AMD Ryzen processor and an AMD Radeon graphics card for top-of-the-line performance and speed. The 15.6" screen has anti-glare, providing a crisp, clear image wherever you are. This Inspiron 15 is lighter than the previous version, making it easier to carry around. It also has Dell Mobile Connect, which gives you wireless integration between your smartphone and your laptop. It has 9 ports and slots, so you'll be able to connect to pretty much any device that you need. Plus, the keyboard features the numeric keypad on the right, as you'd usually only find in full-size keyboards.
Keep in mind: While this is smaller and lighter than the previous version, it's still one of the heaviest on the list at 4.04 lbs.
Good for: Anyone that doesn't mind a little extra weight to get the best display and performance.
---
(Easiest to use — $$$)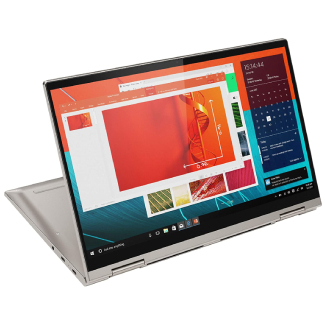 Why it's great: The Lenovo Yoga features a touchscreen and is another convertible laptop. It has an Intel Core i5 processor, which is more than sufficient for everyday use. It also features the fingerprint sensor on the touchpad, which allows for easy login and startup. The operating system is simple to navigate, making it easy to use for anyone, no matter how tech-savvy. The Yoga has a backlit keyboard, plenty of ports, and a thin and sleek design. The display is 14" and is bright with accurate colors. It has multiple brightness settings and the battery can last between 8-15 hours depending on the setting.
Keep in mind: Make sure to change the settings so that it goes to sleep sometimes, otherwise you may run into occasional overheating.
Good for: Anyone that needs a laptop that is simple and easy to set up and use.
---
(Most lightweight — $$$)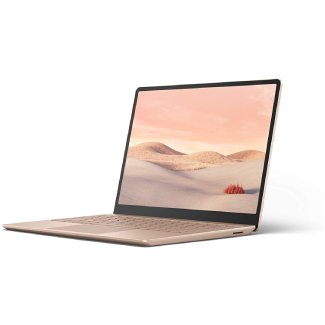 Why it's great: The Microsoft Surface laptop is available in 3 different stylish colors, so you're sure to find one that you like. It is extremely lightweight and portable, weighing only 2.44 lbs. It has an Intel Core i5 processor, which is capable of running all your normal apps and allows you to multitask. It also has an extremely long battery life, lasting up to 13 hours based on the type of usage. The display has great resolution levels, brightness, and colors. The keyboard has just the right balance of noise to feel and is comfortable and easy to use.
Keep in mind: The screen is only 12.4", so it's definitely the smallest option.
Good for: Anyone that needs a good laptop for work or school and doesn't mind a smaller screen for the sake of portability.
FAQs about Laptops
---
1. What should I look for most in a new laptop?
First, consider how you will use it. Are you looking to check your email, surf the web, and access social media? A laptop with the basics should be fine. Are you a high-performance gamer or video editor? Look for top graphics cards and displays. Do you travel a lot and value portability and reduced weight? Consider the ultra-portables for their size and weight. Your answers to each of these questions will help you decide what to look for.
---
2. What are the different processors?
Processors (CPUs) have come a long way in the past few years and the whole line of Intel Core processors will give you great speeds. Core i5 is sufficient for most everyday use, and the Core i7 gives you even more power and speed. AMD is another big name in processors and pride themselves on the speed of their Ryzen processors (as seen in the Acer Swift 3 above).
---
3. What's the best screen size?
In general, bigger screens are better, particularly for watching movies and gaming. However, a larger screen means increased weight, so if you value portability and lightness, you'll want to consider a smaller screen. Check the screen's resolution – the higher the number, the sharper and more impressive the display will look. Higher-resolution, larger, and brighter screens also use more power, and so will impact battery life. In general, a 12.5 to 14-inch screen will give you a nice balance between portability and use, but if you are planning to watch a lot of movies on your laptop, you may want to consider a larger display.
---
4. Are there other display options I should consider?
Some of the laptops listed offer a touchscreen, which many users are comfortable with because they are used to mobile touchscreens. Touchscreens do use more battery life, so if you don't think you'll use it, you can skip it. Some laptops also offer a 2-in-1 hybrid option, such as the Lenovo Chromepad, which can be either a tablet or PC, depending on your preference.
---
5. What's the best overall size?
Again, this will depend on each user's preference. The ultra-portable options, such as the Microsoft Surface above, will be perfect for people who travel a lot or carry their laptop in a bag each day commuting. However, a small laptop means a smaller display and smaller keyboards and trackpads, which may feel cramped to some users. Larger laptops, such as the Dell Inspiron 15, give you the largest and most impressive display and a spacious keypad/trackpad but can be bulky or heavy to carry with you each day.
---
6. What types of connectivity should I look for?
Pretty much every laptop available today should connect to WiFi. However, some offer Ethernet ports for Internet connectivity, and some (in the effort to keep them small and compact) do not. If your WiFi is spotty and you'd prefer a more stable Ethernet connection, you'll need to check for that. Some also offer a 4G LTE connection, which can be used anywhere data is available, but will likely include the extra expense of a data plan.
---
7. What about the different ports?
Regarding the options for various ports, you'll want to consider the different devices and drives you'll want to connect – do they use Bluetooth, SD cards, USB (type A or type C "Thunderbolt"), or HDMI? Do you prefer headphones with a 3.5mm jack (missing on some laptops above), or Bluetooth? While you can almost always carry an extra dongle or two to connect, it's a good idea to look for the ports you want right off the bat.
Conclusion
---
As you can see, there are now many laptops with different options available on the market at a very affordable price point. Getting fast, solid performance and impressive displays no longer means having to pay over $1000 for a quality laptop. When trying to decide which would be best for you, consider your needs: do you need high-performance graphics for gaming? Do you need a basic, reliable connection to do school work and remote work? Do you want to travel light? Once you know exactly what you want and need in a laptop, you'll be able to narrow your options down. Know that each of the laptops on this list will give you reliable, impressive performance for under $700.
You may also like our other product reviews…
2 in 1 Laptops Under $300 | 3D Printers Under $300 | Acoustic-Electric Guitars Under $500 | AV Receivers Under $500 | Binoculars under $100 | Binoculars Under $200 | Binoculars Under $300 | Bookshelf Speakers Under $200 | Bookshelf Speakers Under $500 | Bookshelf Speakers Under $1000 | Bluetooth Speakers Under $200 | Beginner Record Players | Cameras Under $200 | Projectors Under $500 | Record Players Under $100 | Routers Under $100 | Shower Speakers | Soundbars Under $300 | Speakers for Vinyl | Turntables Under $200 | Turntables Under $300 | Turntables Under $500 | Turntables Under $1000 | TVs Under $300 | Vlogging Cameras Under $300 | Wireless Headphones Under $200 |