Updated on by Lyric Fergusson
Have you ever needed a good massage, but didn't want to spend the money or take the trip to the spa? Sometimes, getting at-home relief is pretty integral, especially when you're working long hours away from home. The last thing you'd probably want is to get back in your car again and encounter more people. The good news? Massage chairs aren't just found at the nail salon. You can have your very own in-home spa, accessible 24/7! Check out our seven favorite massage chairs, and see which may just be the perfect one for you!
Best Massage Chairs Under $1000
---
(Deepest pressure)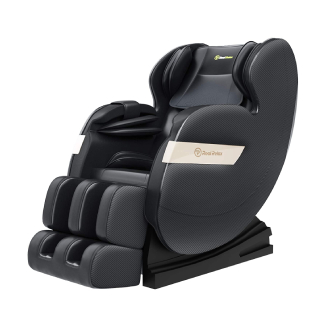 Why it's great: The Real Relax Shiatsu Recliner comes with all of the features you'd want in a high-end massage chair, and then some. With 8 rollers and 50 airbags, this massage chair helps address the sorest parts of your body to put you in a relaxing trance. It has heating capabilities, 3 different levels of intensity, and nice and heavy pressure. It also comes with a zero-gravity feature, which is meant to elevate the feet above the heart and release common tensions from the body. Along with its feel-good features, it also has Bluetooth compatibility along with color-changing LED lights for an additional relaxing vibe. Assembly is easy and takes most about 30 minutes to set up. It also comes in black, blue, or brown, and a remote so you can take control of your massage.
Keep in mind: There isn't an independent power adjustment for leg elevation. For most, this shouldn't be a problem, but for those who are taller, they might feel like they want this feature. Also, the pieces are shipped in two separate boxes, so make sure you have both before trying to assemble!
Good for: For those who exercise a lot or for those who don't mind a deep pressure.
---
(Best foot massage features)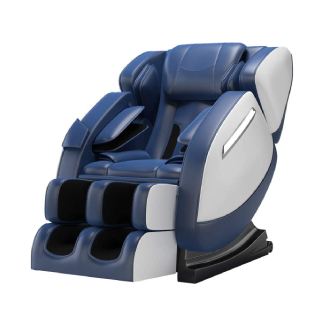 Why it's great: This massage chair is compact with outstanding features that not only focus on your neck and shoulders but the entire body. SMAGREHO's Full Body Massage Chair comes in black, blue, or brown so you can match it to your surrounding furniture and color schemes. Made of faux leather, this chair comes with 8 fixed rollers and airbags all over your shoulders, legs, glutes, and feet and for a super-secure, fitted, and relaxed feel. Fit with a Bluetooth hook-up, you can listen to your favorite tunes while enjoying the 6 different full-body presets, 3 levels of back rollers, and an intricately relaxing calve and foot massager (which can't be found on all massage chairs!). From the bottom of your feet to the top of your head, it addresses what feels like every muscle in your body, allowing you to completely submit to the warm, tension-releasing sitting. Assembly is easy and takes around 30 minutes, so you can enjoy your chair quickly after it comes. Did we mention it also comes with heating pads? Perfect for a chilly day!
Keep in mind: Some say they wish there was a pocket or section to hold entertainment sources like iPads and magazines. Maybe you'll have to make your own!
Good for: Those who find a lot of tension in their legs and calves.
---
(Best for travelers and small space dwellers)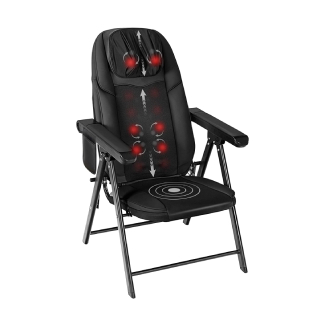 Why it's great: For those of you living in a tiny home, skoolie, or just a smaller space The COMFIER Portable Folding Massage Chair is for you! If you need that end-of-day release but just don't have space for it, this may be a perfect solution. This is also one of the most affordable, so if you're tight on money, this may be worth the small investment. Fit with heat, vibration, and made with premium leather, this chair is small but mighty. It's built with a neck massager with four different Shiatsu mode positions, and a back massager with eight different rotation nodes including kneading, low-back, and upper-back to name a few. If you don't like assembling things, you're in luck, because this is no assembly required! When you get it, it's ready for use, and when you're finished, it's ready to be put away!
Keep in mind: Because of the limited capabilities of such a minimal massager, some settings, of course, aren't included like some others, such as foot and calve massages. Additionally, you might have to find an adjustment that works for you, such as sitting on a pillow if you need to get higher for the neck massager. Sometimes though, the compromises are worth it to have the accessibility of space!
Good for: Traveling, small spaces, and those who want to keep their home's space wide open and still have access to massages!
---
(Most features)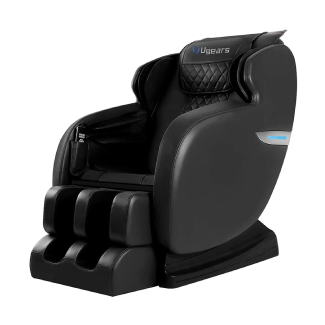 Why it's great: This full-body Shiatsu massage chair is chock-full of features without the multi-thousand dollar price tag. It's best used for its zero-gravity feature, putting the center of gravity on the glutes as opposed to the typical spine and joint pressure that's overused when sitting in office chairs. The chair comes with eight stationary massage points in the backrest, breathable airbags that allow for Tui Na massage, which uses slight pinching methods to access relief points in the body, and heating pads in the lumbar area to create immediate and relaxing relief with one of the most abused and overused parts of the body. Massage settings are vast, coming with a forward massage, reserve kneading, and combination massages. The foot massage is a whole 'nother slew of awesome features such as kneading and rolling on the soles. The adjustable calve section helps accommodate different heights and addresses a part of the body that many other massage chairs don't. Time settings can be set from 5 minutes to 30 minutes, and 5-Color LED lights just make the experience all the better.
Keep in mind: Materials come in two separate boxes, so make sure you've received both of them before trying to put your chair together. Also, it doesn't come with Bluetooth.
Good for: Anybody who wants all of the best features for a massage chair that you'd miss if you didn't have.
---
(Most classic)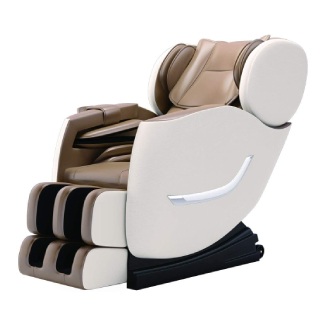 Why it's great: This chair is probably what you think of when you think of a great massage chair: reliable, sturdy, and feature-filled. It comes in brown, black, and khaki, and has Bluetooth connectivity for your favorite music. It has a zero-gravity option and offers relief for the full-body, including the shoulders, arms, hips, calves, and feet. It has extensive features with its fixed point massage rollers and provides a deep, intense, and super-relaxing massage for anyone who seeks relief.
Keep in mind: This comes shipped in three boxes, so make sure you've received all of them before assembly. The heating pads take a hot second to heat up, no pun intended. The Bluetooth sound is just okay. The bass is a bit low, but connecting it is simple, and it's a feature that not every model has.
Good for: Those who have never bought a massage chair and want reliability at the forefront.
---
(Most compact for features)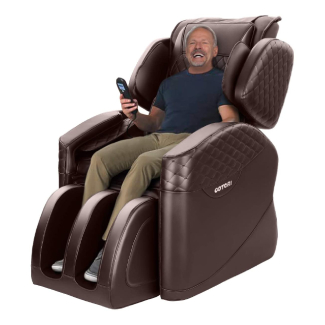 Why it's great: Who says you have to sacrifice features for size? Not the KASPURO N500, that's for sure! Packed with features like zero gravity, heating, airbags, and vibration, find this model in either black or brown. The chair is made with 8 massage rollers inside the backrest, 16 airbags spanning from shoulders to arms to legs, and a timer with up to 30 minutes of continuous massage relaxation. Reliability-wise, this comes with a One-Year Warranty which covers free maintenance and repairs for any defective or broken materials that you may encounter. Did we mention it has a foot roller to provide that much-needed foot rub after a long day of standing? The adjustable speeds allow you to cater to your own needs, but if you're not quite sure what you'd like, you can always revert back to their 3 preset programs to let the chair do its magic on its own.
Keep in mind: These come shipped in three separate boxes, so make sure you've received all of them before trying to set up your massage chair. Also, if you're on the shorter side, be prepared for the fact that you might have to adjust your sitting position with a pillow so you can reach the shoulder and neck rollers.
Good for: A reliable, feature-filled, but pretty compact chair.
---
(Most comfortable)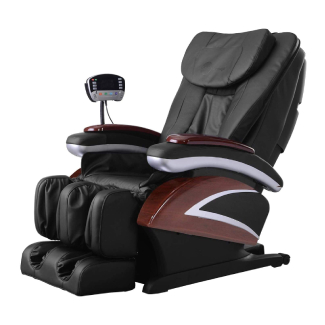 Why it's great: Yes, this one is the most pricy, but it's not without a warrant. BestMassage's feature-filled massage chair might make you want to stay in it forever. Airbags are set around the arms, glutes, legs, and feet, and heated pads are strategically placed around the waist and foot soles to provide relief to overworked body parts. Though this chair is large, assembly is actually pretty minimal. The chair comes with almost everything pre-assembled, aside from the arms and control panel, which only takes a little bit to assemble. It's also made with a really cool body scanning feature, which analyses your body to detect size so you can have your massage custom fit to your measurements. I'm sure some people wish they had that when they were little girls in the nail salon, as the rollers were massaging their head instead of their neck! It also comes with seven pre-set massage modes including kneading, tapping, stretching, shiatsu, heating, air pressure, and a combination mode. The best part is, it's not super big, so if you're worried about space but still have a bit of room, this may work for you.
Keep in mind: Like with other massage chairs, the free delivery means that the delivery driver may very well drop it at your doorstep and keep the rest of the unpacking for you. This specific model is pretty heavy, so be sure to ask a friend or spouse to help you with the unpack and assembly.
Good for: Those who want a full massage chair with all of the features, but without being too bulky.
---
FAQs about massage chairs
---
1. How do I know which massage chair is best for me?
It's good to figure out where you usually have pain throughout the day. If it's hard to remember, think of how you feel right now, reading this. If you had $100 to spend on a massage, what type of massage would you get? A full-body massage? Neck and Shoulders? Reflexology? Asking yourself these questions can help you determine which massage chair is best for you.
---
2. How do I make sure I will fit in my massage chair?
Read the descriptions on each chair to see if they can accommodate different heights. A couple of the ones you've read above come with a body scanner which allows for it to self-correct and ensure they're more accurate when providing the massage.
---
3. Can I return a massage chair?
Many sellers proudly show their return policy for massage chairs. Of course, it will probably be difficult as they're heavy, but reputable sources should be providing a fair return policy if you find that your chair isn't to your liking.
---
4. How often can I use a massage chair?
Many people use massage chairs as regularly as they want. Many claim to use them right after work, especially if they have a job that's physically taxing. Others like to use it while watching television or to help them go to sleep.
---
5. Who can use a massage chair?
It's good to consult a medical professional if you have any apprehensions about using a massage chair. Exercise fanatics, senior citizens, and 9-5 workers all can be found relaxing in a massage chair.
---
Conclusion
---
Having something to look forward to after a long day of work is just one of the great benefits of having your own massage chair. And before you ask, yes, you deserve a massage, even if you're not feeling desperate for one! Regular self-care is integral for a well-balanced life, so why not choose to invest in yourself?
You may also like our other product reviews…
Acupressure Mats | Back Stretchers | Facial Machines | Grounding Stones | Handheld LED Light Therapy Devices | Infrared Heat Lamps | Infrared Heating Pads | Inversion Tables | Negative Ion Bracelets | Outdoor Saunas | Portable Saunas | Small Heating Pads | TENS Units | Vibration Plates |