Updated on by Lyric Fergusson
There are many things to consider when choosing a maternity bra but perhaps most important are comfort and convenience. While there are plenty of options to choose from in today's market, it can be hard to see the immediate differences between so many similar styles. Here are seven top maternity bras, selected for their popularity, functionality and coziness. And lucky for you, they all come in multiple colors!

The Best Maternity Bras
---
(Best value – $)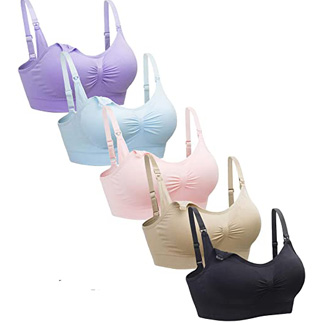 Why it's great: Sold as a set of five, these bras are easily one of the most affordable options on the market. Fortunately, quality is not lost even at such a low price point. Like other comparable alternatives, these bras feature the one-step feeding clasp, adjustable straps, extenders, and breathable fabric. This material's elasticity is intended to keep the bra's shape and adapt to changing breast sizes. The huge variety of colors is refreshing, especially because they're all subdued enough to be worn under clothing without showing through. These bras are machine washable and are guaranteed to hold up after multiple wears and washes.
Keep in mind: The removable padding bunches up inside this bra and is not the most comfortable, though it is removable. Some moms have also mentioned sizing and fit issues, so be sure to double-check the size chart before ordering.
Good for: Moms who want something simple and affordable with a lot versatility and color options.
---
(Best basic – $$)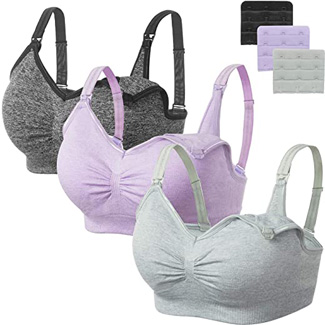 Why it's great: This maternity bra covers all the bases and while it's not the fanciest or frilliest out there, it's the perfect option for everyday utility. Providing full coverage and adequate support, these bras also include extenders and adjustable straps as well as drop cups and a one-step feeding clasp. Gathered seams in the cups and removable padding help keep its shape while an inner wide nursing sling provides extra support. The elastic fabric allows for a customizable fit and the smoothness of the material makes it easy to wear under clothing. These bras also come in a set of three and feature several different color options.
Keep in mind: Some moms say the fabric feels itchy against sensitive skin and that the bras don't hold up after a few machine washes. However, this company is known for its great customer service and advertises a customer satisfaction guarantee.
Good for: Moms who want all the bells and whistles at a cost-effective price point.
---
(Best for breastfeeding – $)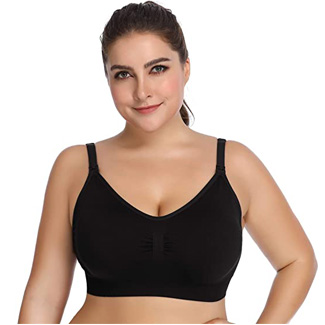 Why it's great: For moms looking for something effortless at a great price point, these bras offer easy one-hand access for breastfeeding with a simple and well-designed snap latch. The fabric is a nylon and spandex combination that is soft and comfortable to sleep in, perfect for rolling out of bed to nurse in the middle of the night. Sold as a set of three and available in a handful of colors, this full-coverage option has been made to support fluctuating breast sizes through both pregnancy and nursing. These bras also feature adjustable straps and extenders for maximum comfort and adjustability.
Keep in mind: Some moms have reported that the sizing is not consistent with the size chart and that even between items marked with the same size, the fit can be different. These bras are also not recommended for larger bust sizes.
Good for: Moms who want something they can rely on to make breastfeeding easier.
---
(Best customer reviews – $$)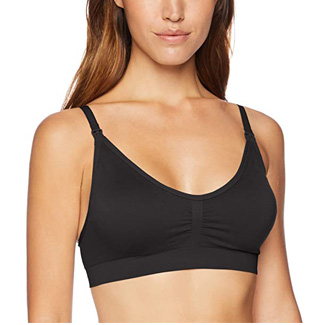 Why it's great: Made by the popular and best-selling maternity brand, Motherhood Maternity, this bra is a customer favorite and essential staple that transitions well from pregnancy to motherhood. Known for its excellent fit and high-quality fabric, this bra is lightweight yet supportive and soft yet sturdy. Adjustable straps, a clip-down nursing feature, removable padding and ribbed stitching lend to its comfort and functionality. Aiming to accommodate a wider range of sizes, this bra is available in two silhouettes, regular and full coverage for bigger busts.
Keep in mind: Some quality issues have been reported, including the snaps breaking after a few uses.
Good for: Moms who are looking for a name brand they can trust for comfort and quality.
---
(Highest quality – $$$)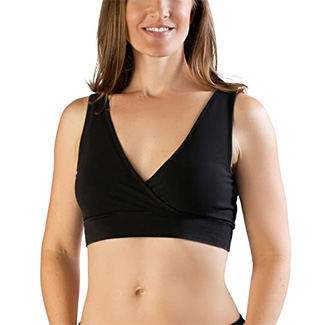 Why it's great: Best known for its premium fabrics and stylish designs, Kindred Bravely is a popular brand with a great track record among customers. With its high-quality organic cotton fabric, this bra is considered one of the softest and most comfortable available. The bra features an easy pull-on style, snug cups for good support, a crossover front for easy nursing access and is available in four colors. A detailed sizing guide ensures customers will find their perfect fit.
This bra is also recommended for other purposes aside from maternity, including traveling, yoga, or post-surgery wear.
Keep in mind: While comfortable, there is not a lot of elasticity in the fabric of this bra, so some moms say it doesn't hold its shape, which can be frustrating when using breast pads or wearing to bed.
Good for: Moms who are looking for high-quality fabric and an elegant design.
---
(Best for bigger busts – $$$)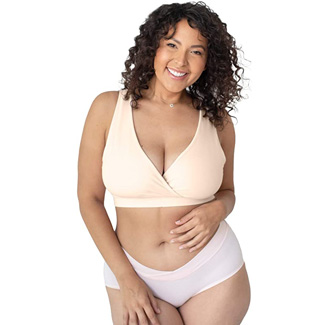 Why it's great: This bra is very similar to the previous Kindred Bravely selection but is designed specifically for bigger busts. The tight band and large cups provide extra support while the pullover scoop back is not only flattering to wear under clothes but holds everything in place. Like its counterpart, this bra is supremely comfortable with no extra tags or itchy fabric. The busty sizing scale, exclusive to Kindred Bravely products, is designed specifically for women with E cups and above but stays true to all the details that customers love about the regular sized products, including the organic cotton material, crossover front for easy nursing access, and stylish design.
Keep in mind: Because this is a very similar style to the other Kindred Bravely nursing bra referenced above, there is a similar issue with the lack of elasticity in the fabric, which prevents it from holding its shape or keeping things in place when worn for sleeping.
Good for: Moms with larger bustlines looking for extra support and comfort.
---
(Most comfortable – $$)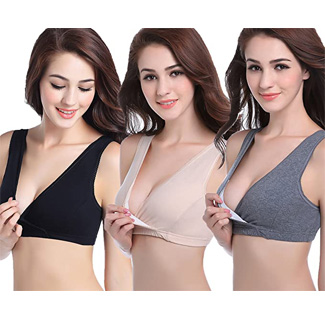 Why it's great: This maternity bra features a crossover front design for easy pull-down breastfeeding access. The U-back design is intended to reduce pressure on the shoulders and back for a relaxed and comfortable fit. With thick shoulder straps and soft fabric that gives to prevent irritating sensitive nipples, this bra is considered one of the most comfortable options for pregnant or breastfeeding moms. Another interesting feature that differentiates this maternity bra from others on the market are the built-in bags intended for inserting breast pads. This unique design element keeps breast pads in place throughout the day and night. These bras are sold as a set of three and come in a wide assortment of colors.
Keep in mind: Some moms report that the elastic band stretches out after extensive wear and does not provide a lot of support. These bras are also not recommended for bigger busts.
Good for: Moms with sensitive nipples and those looking for a comfortable and affordable maternity bra that features the crossover-front design.
---
FAQs about maternity bras
---
1. How will I know my size if I'm bound to fluctuate during pregnancy and in postpartum?
While it's true that most women's breast sizes change over the course of pregnancy and while breastfeeding, most maternity bras take this into account in their designs. By using stretchy fabric intended to accommodate growing bustlines and including extender hook enclosures to increase band length, one bra can be adjusted to fit a vast range of sizes. It's also never a bad idea to get fitted by a professional, even more than once, during pregnancy and into motherhood.
---
2. How can I tell if a bra is too small or too big?
While comfort is the most important indicator of fit, it's never a bad idea to measure your bustline to make sure you're wearing the correct size. Other signs that your bra is too small are that your breasts spill out, the shoulder straps feel too tight and the center of the bra does not lay flat between your breasts. If your bra is too big, your breasts might slip down, cups will have wrinkles or cave in, straps might slide off your shoulders and the band may ride up your back.
---
3. What makes for a comfortable fit besides size?
Fabric can make a difference in comfort level, so consider the materials used and how high-quality it is when looking for a bra. Choosing a bra that has wire or underwire, is lined or unlined or has shaped cups or is seamless are also important factors for comfort. However, everyone's body is different and while one bra might work for one body, it might not be right for someone else. Trying multiple styles may be the best way to determine what's the most comfortable option for you.
---
4. How many maternity bras will I need?
When breastfeeding, maternity bras will need to be washed fairly regularly so having extras on-hand will help lessen the amount of laundry you'll end up doing. Kindred Bravely recommends having at least three – "One to wash, one to wear, and one to spare.
---
5. When should I buy a maternity bra?
As soon as you feel you're outgrowing your normal bras during pregnancy, it's probably a good time to purchase a maternity bra. This can be as early as the first trimester though some moms might wait until they're getting ready to breastfeed to make the transition. As your bustline expands during pregnancy and into motherhood, it will be a relief to have more comfortable and supportive choices in your lingerie drawer.
Conclusion
---
Finding the right maternity bra may seem like a small feat, but it can make all the difference in the daily life of a pregnant or breastfeeding mother. Useful features like one-handed nursing access prevent those late-night feeding sessions from becoming more complicated than they need to be. Other factors, like soft fabric and a supportive fit, are important considerations for everyday comfort and contentment. Figuring out your style and design preferences is the first step in determining your best options and whether you're a mom that prefers a crossover style or adjustable straps, nylon or organic cotton, hot pink, or classic nude, there's definitely a perfect maternity bra out there for you.
---
You may also like our other product reviews…
Body Washes for Pregnancy | Breast Pump for Twins | Compression Socks for Pregnancy | Maternity Jeans | Maternity Leggings | Maternity Pajamas | Maternity Pants | Maternity Support Belts | Maternity Tights | Maternity Work Pants | Maternity Workout Clothes | Nipple Shields and Balm | Postpartum Pads | Pregnancy Journals | Pregnancy Underwear | Probiotics for Pregnancy | Shampoo for Pregnancy | Shoes for Pregnancy |