Updated on by Lyric Fergusson
Jeans are an essential part of a woman's wardrobes these days. They are the epitome of versatility: you can dress them up or down, you can find them in an endless array of styles, fits, and colors, and they never go out of fashion. So when you're contemplating your maternity wardrobe, whether you need a casual pair for around the house, a cute pair to wear to the office, or the perfect black skinny jeans, a good pair of go-to maternity jeans are a must!
From skinny to boot-cut, cute to comfortable, here are my 11 favorite maternity jeans:

The Best Maternity Jeans
---
(Most stylish — $$)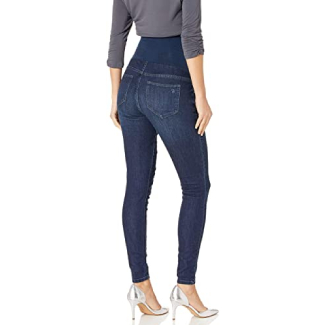 Why it's great: These maternity jeans are definitely my favorite on this list, due to their high quality and stylish appearance. As with many Motherhood Maternity jeans, these jeans feature their patented, wonderful secret belly fit design. This belly panel will stretch to fit you as your belly grows and accommodate you throughout your pregnancy. These skinny leg jeggings are full length with a 30-inch inseam and have fully functioning front and back pockets – something many maternity jeans lack. They come in a dark wash and medium wash denim and have a nice, polished look. Even the belly band is stylish looking!
Keep in mind: These run a bit small. Some women say there isn't much stretch in the material or that they can be tight at the ankles. Pay close attention to the size charts when ordering.
Good for: Women looking for the most stylish maternity jeans.
---
(Best black jeans — $)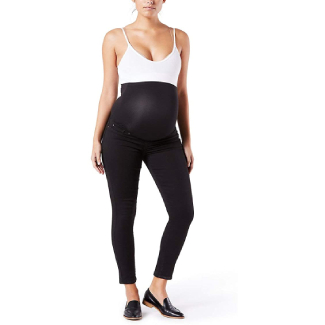 Why it's great: These skinny, black, ankle jeans are my favorite black maternity jeans. They are super cute, with the leg cut just above the ankle for a casual look. These jeans feature a knit belly panel that offers lower-back support during your first trimester, but can also be folded down to accommodate your body as your belly grows. These jeans fit great, are true to size, and are cute and comfy. They are also great to wear post-pregnancy.
Keep in mind: The description states that these are for the first trimester, but the reviews state that they are best for second and third trimesters.
Good for: Women looking for black maternity jeans that are comfy.
---
(Best overalls — $$)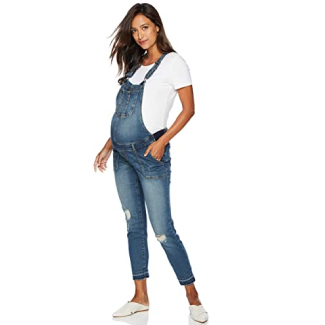 Why it's great: These overalls are adorable! They have a destructed look throughout and are frayed at the ankle where the hem is let down. Being 98% cotton, they have a stretchy, relaxed fit, and are so comfortable. These overalls feature an elastic side panel that will expand as your belly grows, which means these babies can be worn throughout your pregnancy, and beyond!
Keep in mind: These fall to right above the ankle, but can appear much shorter on ladies with longer legs.
Good for: Women looking for overalls they can wear during and after pregnancy.
---
(Best for first trimester — $)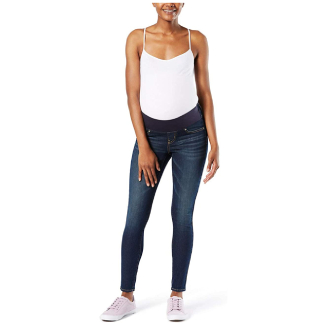 Why it's great: These Levis look great with their 80% cotton dark wash denim! The best part about them is they have a cooling technology feature in the baby bump panel, which is especially nice considering a lot of women run hot during pregnancy. These jeans are super stretchy, fit snuggly, and they run true to size. They don't lose shape throughout the day, so they look great all day long. They also have functional back pockets, which is a plus, as many maternity jeans do not. I have never had a pair of Levis I didn't love.
Keep in mind: These are best worn during your first trimester, as they can feel a little tight in the low belly as it begins to grow.
Good for: Women looking for a comfortable pair of maternity jeans for early pregnancy.
---
(Best value — $)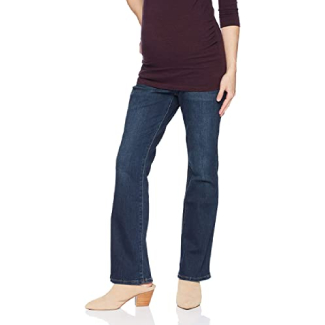 Why it's great: These Motherhood Maternity jeans are fantastic! They feature Motherhood's exclusive, patented belly panel feature that enables the material to grow along with your belly. These jeans are great to wear whether you are in your first trimester or your third! Their cotton and polyester blend accounts for their stretchy fit, which is true to size and oh-so-comfy. Plus, they have a 29-inch inseam and a bootleg cut, which is both comfy and trendy. They also have functioning back pockets. When you consider the price, these are the best value for your money, as these jeans will last you the duration of your pregnancy!
Keep in mind: These are on the longer side, which makes them great for taller women! Also, some women feel they lean a little more toward "bell-bottoms" than bootcut.
Good for: Women looking for maternity jeans that will last through the whole pregnancy and are affordable.
---
(Most unique — $)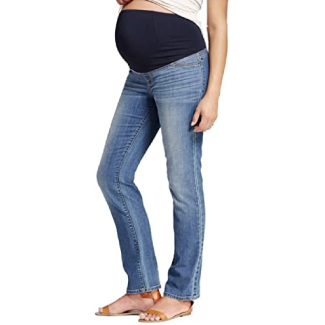 Why it's great: These maternity jeans have a back crossover panel that works to help support your lower back as your belly gets bigger. Plus, since the panel cuts lower in the back, it helps to keep you cool. The panel is made to stretch and will fit through all three trimesters. They can even be worn after pregnancy if you wish! These come in a medium wash with a slight, bootcut fit that hits at the ankle. They're made from cotton, polyester, and spandex, which means that the jeans themselves have quite a bit of stretch, making them extra comfortable.
Keep in mind: These only come in one size, so make sure to check the size charts and see if they'll fit before you purchase them.
Good for: Women who want maternity jeans that will help to support their back and keep them feeling cooler.
---
(Most comfortable — $)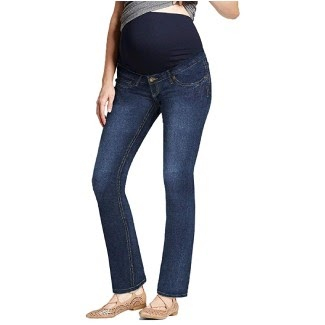 Why it's great: Can you tell I love Motherhood?! These straight-legged jeans are another on the list that feature their patented, secret fit belly design that grows along with your baby bump. You can snag this pair early on and make it your go-to until the baby comes! They have a 28.5-inch inseam and come in dark wash denim. These are really stretchy and have a comfortable and relaxed fit, with a straight leg, that can be worn with pretty much anything.
Keep in mind: The front pockets are faux.
Good for: Women looking for good quality, very comfortable maternity jeans.
---
(Most options — $)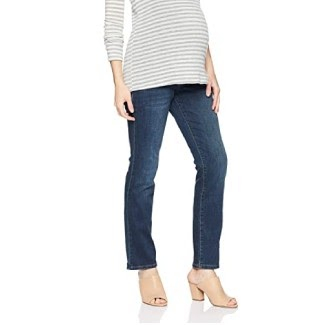 Why it's great: These ultra stretch, spandex fabric, bootcut jeans have the greatest variety of colors and styles to choose from, and bonus, all pockets are real! Hard to find in maternity jeans! These jeans can be worn all throughout your pregnancy. They are so cute and comfortable that they are even wearable when you're not pregnant, as many women choose to do! Don't believe me? Just read the reviews! At this price range, you could get a pair in every color.
Keep in mind: You may need to size up, as these tend to run a bit small. The legs are on the shorter side too, so long legs beware and check length measurements.
Good for: Women who want to buy a few pairs of the same maternity jeans, but in different colors and styles.
---
(Best quality — $$)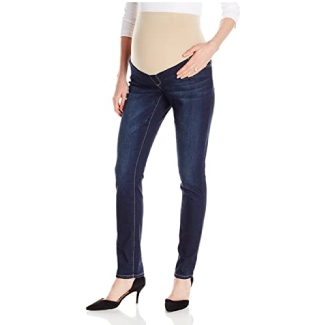 Why it's great: What I love about these is that they're made from polyester, rayon, and cotton. Rayon is a super soft fabric with a lot of stretch, which makes these jeans lightweight and comfortable. They are skinny jeans, with contrast stitching, which gives them an extra something special in the style department. Plus, the belly band is a nude, so you don't have to worry about wearing light-colored shirts over a dark band, like a lot of maternity jeans have. They even have real back pockets, which makes them an instant favorite!
Keep in mind: These have long legs, which is great for most women, but could be too long for more petite women.
Good for: Women looking for high quality, comfortable maternity jeans that still look good.
---
(Best basic jean — $$)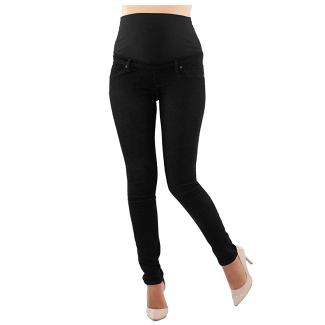 Why it's great: These come in multiple sizes and color options, which makes them a great choice if you like to have some variety. They're made in Italy with stretchy fabric and cotton jersey. They're soft and comfortable and will stretch along with your belly. It also has working pockets in both the front and back, which is practically unheard of! The basic style and look of these jeans will match pretty much any top you could possibly have in your closet, making them an essential piece.
Keep in mind: The belly band helps to hold up the jeans, but isn't as supportive for your belly or back as some of the other options.
Good for: Women that want a basic pair of jeans that they can wear during pregnancy.
---
(Most supportive — $$$)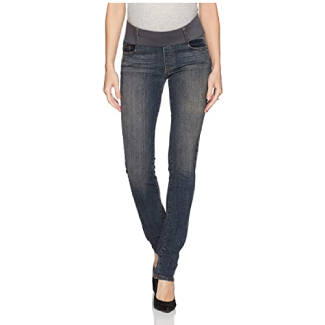 Why it's great: These maternity jeans have so many amazing qualities. For one, they have a wide support band that goes all around, under your belly, making sure that you have the support you need. Plus, since the band goes under your belly, they'll fit throughout your entire pregnancy. They also have 5 usable pockets!! These come in a dark wash and are made of mostly cotton, with a little spandex, which makes them comfortable and stretchy.
Keep in mind: These don't have a full belly band that covers your stomach.
Good for: Women looking for more under the belly support.
---
FAQs about maternity jeans
---
1. How do I know my maternity jeans size? Do I size up?
The best thing to do is to start with your pre-pregnancy size. Most brands will recommend this. However, it is important to note that sizing variations occur across different brands, so it is always advised that you consult sizing charts specific to the jeans you are considering and go from there. You might also want to check the return policy just in case the jeans you choose don't fit as expected.
---
2. When should I start wearing maternity jeans?
There is no "magic week" where you cross the threshold into maternity-wear land. You should start wearing maternity jeans whenever your regular jeans begin to feel uncomfortable for you in any way.
---
3. How do I choose the best maternity jeans?
You should look for maternity jeans with a waistband that feels comfortable, and perhaps gives the option to wear up or down. You want to make sure the pants stay up through various movements and don't restrict movement or circulation anywhere.
---
4. What is the best material for maternity jeans?
Most maternity jeans seem to have a blend of materials including cotton, polyester, and spandex. You want to find maternity pants that are flexible and stretchy, as your body will change shape throughout your pregnancy, and it's very likely that not just your belly will grow.
---
5. Do I need maternity jeans?
Maybe not. It all depends on the individual. It is important to note, however, that wearing restrictive clothing can be extremely uncomfortable during pregnancy, and wearing too tight garments can also restrict blood flow and circulation, causing discomfort on the bladder and belly. The main thing is that you want to feel comfortable so that you can focus on the joys of pregnancy, and not the discomforts of it.
---
Conclusion
---
Pregnancy is an exciting time of change and growth. You are going through a series of dynamic transformations as your body changes inside and out. Early on in your pregnancy, it may be easy enough to fit into your regular jeans. But usually, around the end of the first trimester, they tend to grow a bit snug, and then you know it's time to size up to maternity jeans.
Shopping for maternity jeans need not be a struggle. You may just need one solid pair that can serve as your go-to during your pregnancy, or maybe you need that one perfect pair for just the right occasion. Maybe you'd rather spend a little and get several pairs you can cycle through, and maybe you'd rather throw down a few more bucks on one higher-quality pair that will hold up throughout the third trimester and beyond.
Some maternity jeans have features that others don't. It is important to consider which features are important to you, and not to overlook things that may not seem like a big deal at first, but will later drive you crazy (why are those front pockets fake?!).
Whatever your needs are, there is certainly the right pair of maternity jeans out there for you. Hopefully, this list has helped you narrow down your search a bit.
You may also like our other product reviews…
Body Washes for Pregnancy | Breast Pump for Twins | Compression Socks for Pregnancy | Maternity Bras | Maternity Leggings | Maternity Pajamas | Maternity Pants | Maternity Support Belts | Maternity Tights | Maternity Work Pants | Maternity Workout Clothes | Nipple Shields and Balm | Postpartum Pads | Pregnancy Journals | Pregnancy Underwear | Probiotics for Pregnancy | Shampoo for Pregnancy | Shoes for Pregnancy |