Updated on by Lyric Fergusson
Whether you are Team Leggings-As-Pants or Team No-Way, it's hard to deny that leggings are incredibly comfortable. Add in an ever-changing body and growing belly and leggings really start to make A LOT of sense. Many moms-to-be start a collection; Why not have a comfy pair for around the house, a pair to be dressed up for going out, and maybe even a pair of jeggings or maternity skinny jeans?
From comfy, dress-down leggings for around the house to dress-up jeggings with functional pockets, here are the 7 best rated maternity leggings on Amazon.

Best Maternity Leggings
---
(Best value — $)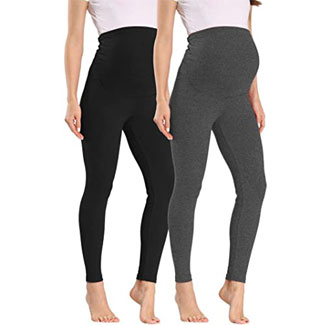 Why it's great: This listing shows availability for either one pair or two and comes in a multitude of colors: black, grey, green, and red. These leggings are seamless on the outer leg to avoid any irritation and come with a seamless over-the-bump panel. According to many reviewers, these are not see-through if you work hard to buy the right fit!
Keep in mind: These are lighter than fleece and athletic leggings, so enjoy the breathability!
---
(More size options — $$)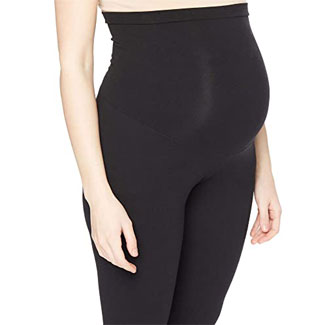 Why it's great: What's more comfortable than leggings pre, during, or post pregnancy? These maternity leggings offer a wide variety of size options for inclusivity and customers love the comfortable, smoothing effect. There is also no waist band bump that we are often accustomed to in regular leggings, so no digging in on the midsection. Motherhood Maternity suggests to buy your pre-maternity size for the best fit.
Keep in mind: These are not leggings designed for keeping you warm in the winter months, though many pregnant women would find that breathability to be a relief in the later months!
---
(Versatile wear — $$)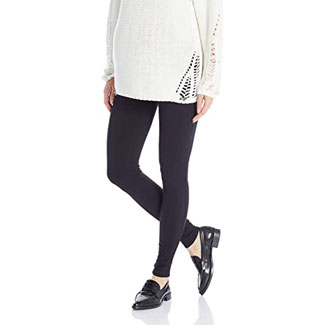 Why it's great: These full-length leggings have seams down the side and functional back pockets to give the illusion of pants, while maintaining the comfort of leggings with a seamless, stretchy panel for an over-the-bump fit. (This panel grows with you!) This pair (available in black and grey) are perfect for around the house wear, while also being easily dressed up with a tunic top. The best part? Machine washable with no special instructions AND they come in both standard sizes and plus sizes.
Keep in mind: Grab a lint roller! These babies like to grab hold of fuzz. And they are made of a thicker material, so they'd be good for winter months.
---
(Best colors — $$)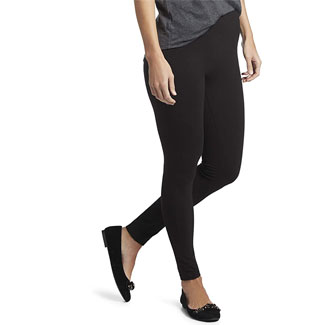 Why it's great: If the over-the-bump fit is not for you, these may be an answer to your comfort prayers. These cotton leggings come in a range of sizes (from XS-3X) and an exciting range of colors (black, heather grey, espresso, white, black cherry, bungee cord, and navy). For a feeling of support without the extra fabric all the way up to your bra, these have a wide waistband that hits at the natural waistline. HUE advertises with the hashtag #wornwithjoy; What more can we ask for?
Keep in mind: According to happy customers, size down if you find yourself between sizes. This helps with added shaping.
---
(Best investment — $$$)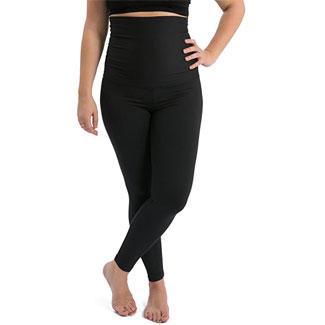 Why it's great: Customer reviews are outright raves with this one. The Louisa leggings are made with soft, premium fabric and are comfortable enough to dress down and fashionable enough to dress up and wear out on the town. Kindred Bravely is designed and made for moms by moms, which is always a comfort to hear. This listing comes with a helpful size chart and claim to be perfect for transitioning during pregnancy, postpartum, and even back to "regular" leggings with full, high-waisted belly coverage. Reviewers love that these stay up without constant pulling AND they are designed to be folded over if the over-the-bump coverage is not your cup of tea.
Keep in mind: Check that size chart and do some measuring! Reviews say that if you make sure to find the right fit, you'll have no issue with see-through stretching.
---
(A different option — $$)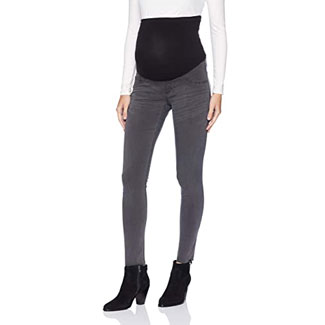 Why it's great: We can't have a post dedicated to leggings without including a jegging, can we? This denim jegging comes in multiple washes: black wash, dark, medium, grey, and tahoe. Reviewers love that these jeggings are cute enough to help moms-to-be feel "normal" in their new skin, but also have the comfort aspect that is so important. Also, customers report that their curves are big fans of how they look in these, so, curvy women, rejoice!
Keep in mind: Two of these washes have a "ripped" knee effect. Also, remember that denim fabric is going to be heavier than legging fabric, so you may experience some sliding down.
---
(Highest quality — $$)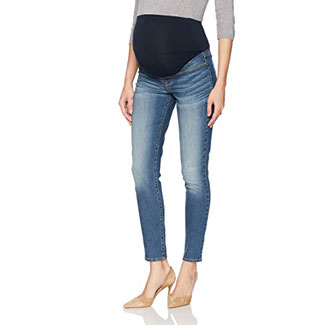 Why it's great: Levi Strauss, ladies! These skinny jeans come in a variety of denim washes, including several blue, a white, and a black wash. These are made of a stretchy denim that holds the shape, even with wear. Functional back pockets are another reason to rejoice! These are formfitting and flattering to many body types.
Keep in mind: These are stretchy denim, but not necessarily leggings. Size down for a tighter fit and remember that denim is bound to be heavier than traditional legging fabric.
---
FAQs about maternity leggings
---
1. When should I start wearing maternity leggings?
Many women start wearing larger clothes around months 4 or 5. However, the most common month for making the switch to maternity is Month 6. Comfort is key. Whenever you start to feel tight in more than just your stretching skin, it might be time to ease into some maternity leggings.
---
2. Are maternity leggings safe for after birth?
Yes! Just keep in mind, if you have a C-section incision, make sure to look for over-the-bump style maternity leggings so that there is no seam near enough to cause any irritation. The over-the-bump style will perfectly cover any bandages in that area.
---
3. Will tight leggings hurt my baby?
There is no evidence of tight clothing hurting baby or baby's development, but there is scientific evidence of tight clothing being harmful to the woman wearing it. This is true even if you aren't pregnant!
---
4. How do I know what size to buy?
Most of the products out there tell you to buy your pre-pregnancy size. However, we all know that the true-to-size description isn't always accurate. Your best bet is to check that size chart and measure yourself accordingly. Also, many reviewers noted that they found digging through the reviews to be helpful for size comparisons. Amazon often has customers who have uploaded photos and many reviewers leave their sizes, weights, and heights for comparison shopping.
---
5. Do they shrink?
Some customers of the above products did leave news of shrinkage in their reviews, but many of them also admitted to not following the wash/dry instructions. When it comes to intimates, following instructions is key. And, when all else fails, remember to air dry!
---
6. Which style/fit is best for me?
The answer to this question has everything to do with comfort. Some women are looking for traditional leggings, while some are searching for something that can be more easily dressed up. Remember to also decide where you want the belly panel to hit: under the bra or on your natural waist?
Conclusion
---
Around 6 months into the pregnancy, many moms-to-be are already beginning to feel tight and uncomfortable in their skin. You shouldn't have to also feel that way in your clothes. Now is the time to begin investing in maternity clothes for the sake of your aching back and growing needs. Whether or not we all want to admit it, leggings are a staple in the mom-wardrobe. Pregnancy and Postpartum are no different.
Feeling both cute and comfortable are high on the priority list; Moms-to-be still want to feel human, after all. Maternity leggings and jeggings might be just the thing to mix into your wardrobe to support you through the many changes you're experiencing.
You may also like our other product reviews…
Body Washes for Pregnancy | Breast Pump for Twins | Compression Socks for Pregnancy | Maternity Bras | Maternity Jeans | Maternity Pajamas | Maternity Pants | Maternity Support Belts | Maternity Tights | Maternity Work Pants | Maternity Workout Clothes | Nipple Shields and Balm | Postpartum Pads | Pregnancy Journals | Pregnancy Underwear | Probiotics for Pregnancy | Shampoo for Pregnancy | Shoes for Pregnancy |