Updated on by Lyric Fergusson
In your 9 months of preparing for baby's arrival, making sure you have all you need when he or she arrives, it's easy to forget about you! Quality maternity pajamas are a must when you are pregnant. Here's why: Sleep can be a whole different game when you're pregnant, from restless leg syndrome and night sweats to heartburn and a kicking baby, and all this before baby is even born! Add to that the recovery during your postpartum period with a newborn who feeds every 2 hours, and you may wonder if you'll ever sleep again. (You will, eventually).
But you definitely don't want anything else getting in the way of your precious sleep, as fractionated as it may be, especially something like an itchy or too-tight waistband or complicated top you struggle to nurse in during the middle of the night feedings. So we've compiled a list of some of the best options out there, that will take you from pregnancy to postpartum and breastfeeding, and beyond!
Here are our 7 favorite maternity pajama sets:

Best Maternity Pajamas
---
(Best loungewear — $)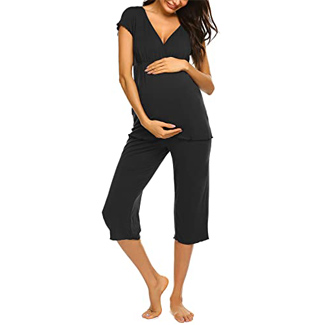 Why it's great: This maternity and nursing set includes a short-sleeved nursing top and loose-legged capris. It is made from modal, a plant-based textile, which is more breathable and 50% more absorbent than cotton. This makes it oh-so-soft against the skin. The fabric has high elasticity, and an adjustable waistband, which is great when you're pregnant since your shape and size are ever-changing and growing. The design is attractive, with scalloped edging and a V-neck cross-over top that doubles as a nursing top. It also comes in 9 different colors.
This set is great because it works with all stages of pregnancy as well as postpartum and breastfeeding. It even looks good as loungewear, a definite plus these days since we are all spending a little more time at home than we did in a pre-COVID world. The waistband of the bottoms is accommodating of a C-section incision too, another plus.
Keep in mind: Due to the low-cut V-neck and crossover style of the bust, this top may not be the best for bustier women. Several women with larger cup sizes said the top didn't contain them very well.
Good for: Smaller busted women that want something they can spend the day or night in.
---
(Most comfy — $)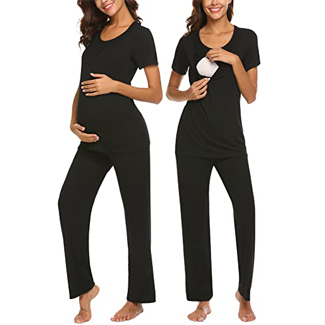 Why it's great: This set has two options: a short-sleeved top and pants combo or a long-sleeved top and pants set. It also comes in multiple solid color choices for each. It is made from a 65% cotton/35% spandex blend, making it soft and stretchy. The bottoms have an adjustable waistband, while the top has a double layer for added coverage when nursing. Plus, it has pull-down access for added ease.
These sets are practical and comfortable and are a great staple set to have during pregnancy and beyond. The ease of access for breastfeeding will make nighttime feedings go more smoothly.
Keep in mind: The pants tend to run a bit long, but wearing higher on the waist may counter that issue.
Good for: Taller women looking for something extra comfy.
---
(Best value — $)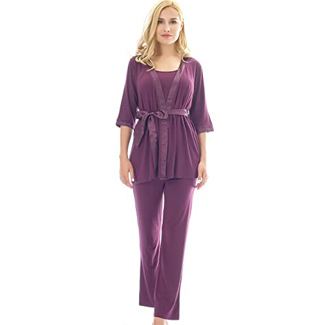 Why it's great: This 3-piece set comes at an affordable price and looks and feels beautiful. It consists of a nursing cami tank top, a half-sleeve kimono-style robe with sash, and pants. It is made from 93% polyester and is stretchy and soft. The cami offers lift-up nursing access, so you don't have to stretch the top out to breastfeed, and the pants offer an adjustable waistband.
This set is amazing because it offers comfort and ease, especially if you are breastfeeding. In the event of last-minute visitors, you can easily throw the robe on for added coverage and look more presentable.
Keep in mind: The care instructions say this should not be put in the dryer, which can be a bit inconvenient for postpartum mums busy with a newborn, so take that into consideration.
Good for: Women that want an all-in-one set, complete with a robe!
---
(Best quality — $$$)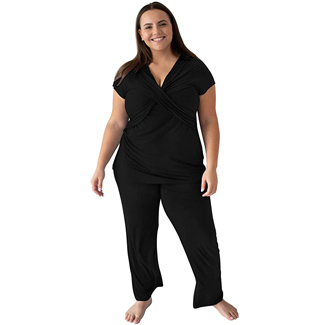 Why it's great: This is my favorite sleep set on the list. I absolutely rave about Kindred Bravely, a women-owned company with amazing customer service. Their products are made by women, for women, so they know what women want! And women want comfy and stylish pajamas and loungewear during their pregnancy and postpartum. This set has it all. Made from viscose fabric, it is super soft, lightweight, and breathable, not to mention cozy. The top and bottoms have scalloped edging for an attractive detail and more stylish look. The bottoms are elastic-free, perfect for those who hate the stuff, and instead has a wide waistband. The top fabric has an attractive twist design which provides discreet and easy breastfeeding access.
This set comes in 4 rich colors and the widest range of sizes of all the options, ranging from Small to XXX-Large, so there's a pair for everyone.
Keep in mind: As mentioned, the waistband is not adjustable, so some women may wish to order a size up for the third trimester and early postpartum. They may be more suited for early pregnancy, postpartum, and nursing for some women who feel that the pants don't accommodate the late-pregnancy belly.
Good for: Postpartum, breastfeeding, and those looking for larger sizes.
---
(Most luxurious — $$$)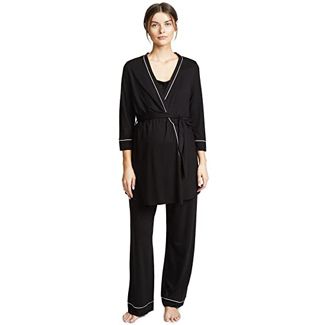 Why it's great: This is another 3 piece set that comes with a nursing camisole, pants, and robe. Each piece is made with modal and pima cotton, giving it a super soft and cozy feel. It also has contrasting satin trimming, giving this both the look and feel of luxury. The cami has a shelf bra for support and easily unclips for nursing access. The pants have a stretchy waistband with a drawstring so you can get the perfect fit. The robe gives this whole set a more presentable look, making it perfect for having visitors postpartum.
This set comes in two color options and is stylish and feminine, just what you need when you're not feeling your best at the end of pregnancy!
Keep in mind: It's recommended that you hand wash this set; however, many reviewers said they put theirs in the wash with no issues. Just make sure the drawstring is tied, so it doesn't come out.
Good for: Moms to be and postpartum moms that want a luxurious, stylish set.
---
(Most stylish — $)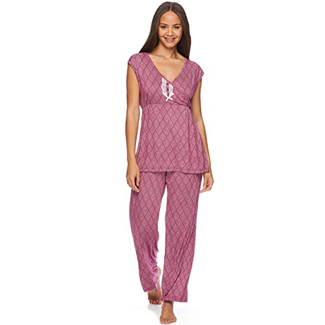 Why it's great: This pajama set comes in multiple colors and patterns and has lace details that give it a stylish look. It's made of 95% rayon and 5% spandex, so it's super soft and stretchy. It's also light and airy, so you won't feel overheated, even at the height of pregnancy. The V-neck top is easy to pull down for nursing access, making these a great choice for postpartum as well. They are stretchy and the top is loose around the middle to accommodate a growing belly. The pants have an elastic waistband that's extra stretchy too.
This set gives you a feminine and stylish look, which is great since you rarely have time to take care of yourself at the end of pregnancy and postpartum. The soft and comfy fabric makes it perfect for wearing all night – and day! – long.
Keep in mind: The pants do run a little long, but many reviewers said they just rolled up the legs and they were fine.
Good for: Women that want to feel stylish and feminine, even during pregnancy and postpartum.
---
(Most options — $)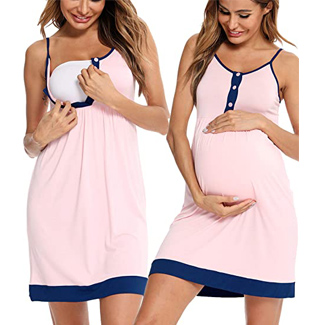 Why it's great: This cute nightgown has 3 buttons down the top that open easily for nursing access. The straps are also adjustable for the perfect fit and support. It's made of rayon and spandex, which is super soft, breathable, and stretchy, making it perfect for all stages of pregnancy and beyond! It has an elastic band under the bust, which gives a more feminine look while still allowing plenty of room for a growing belly below. It's also easy to take care of, as it can be hand or machine washed for convenience.
This nightgown is a great choice because it comes in multiple different sizes and colors, making sure there's something for everyone!
Keep in mind: These do tend to run a little small, so consider going up a size for the correct fit.
Good for: Moms that want a lightweight and comfortable nightgown with plenty of color options.
---
(Best budget option — $)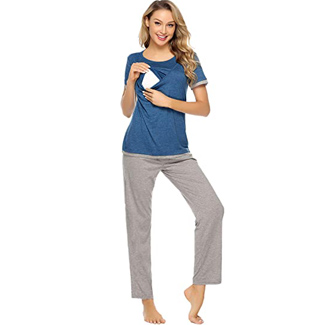 Why it's great: This set comes with a short sleeve top and pants. It is made from 95% cotton, making it soft, stretchy, and breathable. It is dyed with natural fabric dye, a win if you have sensitive skin or like to avoid synthetic dyes and fabrics. The bottoms have an adjustable waistband to accommodate a growing belly. The top has pull-down access for easy breastfeeding, and offers discretion with an extra layer at the top should you want it.
I love this simple set not only because it is made with natural materials, but because of its affordability. It also goes up to XXL in size. This set is simple and casual and can take you from pregnancy through postpartum and breastfeeding.
Keep in mind: This set doesn't have very many reviews, but you can't beat the price!
Good for: Women on a budget that need cute maternity pajamas.
---
(Best winter set — $)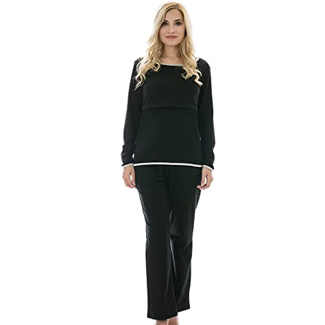 Why it's great: This is a long-sleeved top and pants set that comes in several really pretty colors and 2 print options. It is made from 95% cotton, a big plus for those with sensitive skin or those who just prefer natural materials. This set is breathable and definitely comfortable. The pants have two side pockets and an adjustable waistband. The top doubles as a nursing top, with lift-up access for easy and discreet breastfeeding.
This cozy set is perfect for fall and winter, sure to keep you warm, but not hot, and will make nighttime nursing a breeze.
Keep in mind: This set tends to run a bit snug, so it may be best to order a size up.
Good for: Women looking for a maternity or nursing pajama set for fall and winter.
---
(Most fun — $$)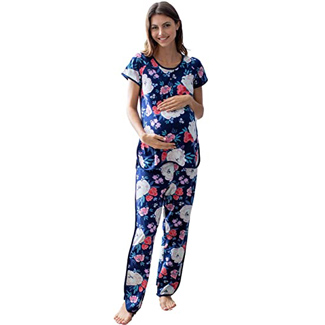 Why it's great: While the vast majority of maternity and nursing pajamas sport solid colors or very conservative patterns, this set comes in a variety of fun prints. The contrast piping around the top and pants give it an extra oomph of style too! It's made of cotton and spandex for a soft, breathable feel, which is great during pregnancy and summer months. The top has snaps down the front, instead of buttons, making it even easier for breastfeeding postpartum. There's plenty of room for a growing belly and the soft, elastic waistband won't cut into your stomach or c-section incision.
The most adorable thing about this set is that it has matching robes, pajamas for little girls/older sisters to baby, and swaddle sets! Plus, they're not obvious maternity/nursing pjs, so they can be worn forever.
Keep in mind: These run a little big, which isn't a bad thing when you're belly is still growing!
Good for: Women that want fun prints and patterns.
---
(Best nightgown — $$)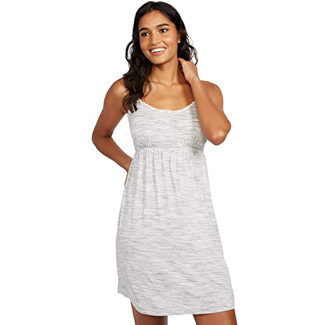 Why it's great: This nightgown is a hands-down fave. Available in 7 color patterns and prints, it is pretty and functional. Made from rayon, it is super soft and so comfortable. It has a shelf bra with sewn-in cups for added support. The top has clasps, to allow easy access for breastfeeding, and the straps are adjustable as well.
What I love most about this gown is its feminine look and its versatility. It is super comfy during pregnancy and postpartum, breastfeeding days. You can wear this to sleep, you can wear it as loungewear with leggings and a robe, and you can dress it up with a cute cardigan, leggings, and boots for that quick trip to the store if need be! Nightgowns are my favorite, especially during the postpartum period, and you just can't go wrong with this one.
Keep in mind: The fabric of this gown is thin, which is great if it's summertime, you tend to sleep hot, and/or you live in warmer climes. It may not be best for cold winter nights.
Good for: Women that love nightgowns and need something for spring or summertime.
---
FAQs about maternity pajamas
---
1. How do I choose maternity pajamas?
When shopping for maternity pajamas, it is a good idea to consider whether you will be wearing these just during your pregnancy, or if you'd like a set that will last beyond pregnancy. Many maternity pajamas function also as nursing wear, making them much more functional if you plan to breastfeed.
---
2. Why do I need maternity pajamas?
You may not. However, many women find that regular-sized pajamas become uncomfortable during pregnancy as their bellies begin to grow, particularly around the waistband and the bust. Maternity pajamas are made to grow with your belly and accommodate a growing belly and bust, allowing room to breathe, grow, move, and sleep more peacefully.
---
3. How do I choose a size for maternity pajamas?
Generally, it is advised that you go with your pre-pregnancy size when choosing maternity clothing. However, it is important to read descriptions as some companies size their clothing differently, some may run small or large, and not all products run true to size. Therefore, it is best to view the sizing chart and read customer reviews about any product before making your selection.
---
4. What material is best for maternity pajamas?
This is a very personal choice, but you definitely want to choose a fabric that is breathable as it can get hot having a baby against your body all the time! Make sure you don't have any sensitivities to the fabric you choose and be sure you are aware of any care requirements before choosing something, only to realize it must be hung to dry and you are not prepared to do that.
---
5. Do all maternity pajamas function as nursing pajamas?
No. Some maternity pajamas are specifically designed to allow ease of breastfeeding, offering clever and easy access to the breasts so that breastfeeding is less of a hassle. Be sure you are comfortable with the style of nursing accommodations the pajamas offer if you are looking for a dual-functioning set that will last you longer than pregnancy.
Conclusion
---
While sleep may not come as easy as it used to, finding quality pajamas during pregnancy and postpartum doesn't have to be as hard. Look no further than this list and we've got you covered, whether it's a cool, lightweight nightgown or cozy pants and sleeves you're looking for. Pajamas that can double as nursing and loungewear for these days when you're spending more time at home can really help simplify life as a new mom. After all, you've already got your hands full!
You may also like our other product reviews…
Body Washes for Pregnancy | Breast Pump for Twins | Compression Socks for Pregnancy | Maternity Bras | Maternity Jeans | Maternity Leggings | Maternity Pants | Maternity Support Belts | Maternity Tights | Maternity Work Pants | Maternity Workout Clothes | Nipple Shields and Balm | Postpartum Pads | Pregnancy Journals | Pregnancy Underwear | Probiotics for Pregnancy | Shampoo for Pregnancy | Shoes for Pregnancy |