Updated on by Lyric Fergusson
All moms and moms-to-be are familiar with the many pains and discomforts that accompany the many joys of pregnancy. The lower back, hip, and round ligament pain sneak up you faster than expected, though, and that sends you searching the internet for help!
Along with yoga, stretching, and core-strengthening, you might want to think about adding a support belt or belly band to your daily routine. Your body is now supporting the growth and development of a new tiny human; Why not grab a little support for yourself?

The Best Maternity Support Belts
---
(Most comfortable — $$$)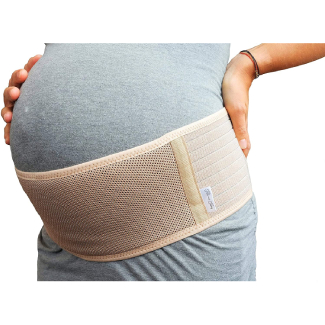 Why it's great: This doctor-recommended band comes from a brand that cares for its customers as a mother cares for her baby. Female kangaroos are called Jill and, of course, baby kangaroos are called Joey, so Jill & Joey want you to feel just as satisfied with their product. Reviewers rave that this band is perfect for the active mom-to-be: it's comfortable and stays in place, even during a run! This maternity belt relieves pain around your hips, pelvis, and back, by supporting you during your pregnancy. This one also seems to be the band most easily hidden beneath clothing.
Keep in mind: This one is up to 45 inches, so keep that measuring tape handy!
Good for: Women looking for a comfortable belt that won't slip down.
---
(Most adjustable — $$$)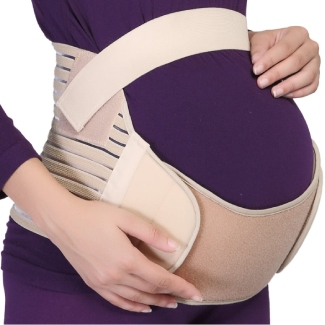 Why it's great: Not only does this maternity belt from NeoTech come in the biggest variety of sizes, but it is also fully adjustable. This brand has also updated its design with new and reinforced hooks, loops, and fasteners. It is breathable and comes complete with an elastic lining to keep from digging into your tummy at the top or bottom of the band. This pregnancy support band helps to alleviate lower back pain by supporting both your abdominal region and your lumbar region. Also, this listing has a very helpful size chart!
Keep in mind: This listing specifies for moms-to-be not to buy according to their pants size. Instead, grab your measuring tape and measure from your lower back to under your belly bump (slightly above your pelvic bone). This will help you find a better fit!
Good for: Women that want to make sure they get a belt that fits properly.
---
(Best value — $)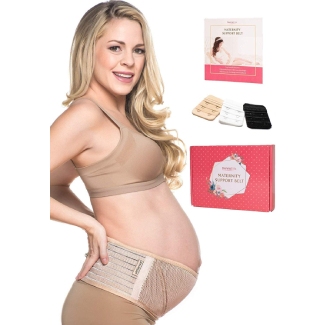 Why it's great: This maternity belt comes in a beautiful gift box, which makes it wonderful for gift-giving, even if you're just gifting this to yourself! In the box, DonnaElite also includes 3 bra extenders, to assist you on your comfort journey throughout pregnancy. By taking pressure off of your spine and supporting and lifting your bump, the included band helps to relieve lower back and pelvic pain, stretch marks, and even pressure on your bladder! This band is cotton lined with a secure fastener and brags about a design that doesn't roll down while you wear it.
Keep in mind: For belly bands, measuring is important for your ever-growing and changing belly. This support band measures up to 52 inches unless you buy the X-Large size.
Good for: Women looking for a quality, affordable support belt.
---
(Most versatile — $$$)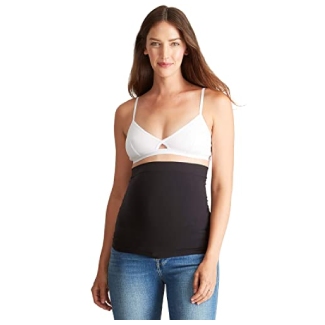 Why it's great: This maternity belt doubles as both a support belt and it also helps you to wear your pre-pregnancy clothes longer. It was designed to wear over unbuttoned pants and help to hold them up, so you can wear your favorite pair of jeans longer. This belly band also grows with you, as it's made of nylon and spandex, so it can stretch and then recover to its normal shape. It also is extra long, providing you with all the coverage you could need. Plus, it's very soft and comfortable, has silicone strips to help keep it in place, and is completely seamless making it easy to hide under your clothes.
Keep in mind: This one doesn't provide as much support as some of the others, but it does help to relieve some of the pressure on your stomach and lower back.
Good for: Women looking for a comfortable band that also has other uses.
---
(Best set — $$$)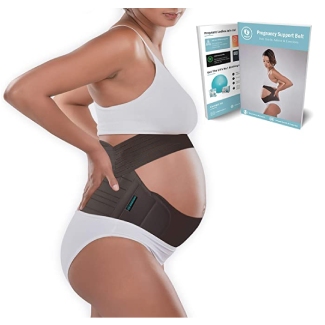 Why it's great: This pregnancy belt will help to support your belly, back, and hips during any trimester. It's fully adjustable, with velcro straps, and comes in different sizes. It's made of quality materials and even has mesh inserts for added breathability. The material is made to stretch, while still supporting and relieving back, stomach, hips, and pelvic pain. It can even be used postpartum to help your body recover and speed up the healing process. Plus, it comes with an exercise booklet, with proper exercises and stretches for each trimester and postpartum.
Keep in mind: They have a detailed size guide and step by step instructions on how to measure yourself for a belt. For best results, you'll need to make sure that you do this before you order.
Good for: Women that need the support of belt, but also are interested in ways they can keep their body in shape.
---
(Most options — $)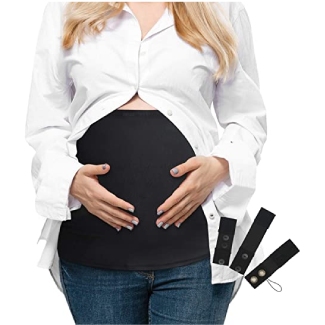 Why it's great: This brand offers multiple different options for the type, size, and style of belly band that you prefer. It also comes with waistband extenders, so you can wear your regular jeans or pants longer. The band itself is made of bamboo, cotton, and spandex, making it very light and breathable. It also has antimicrobial properties. These bands are extra soft and comfortable and won't slip or slide down as you wear it. Depending on the option you choose, the belt helps to support your lower back and stomach, reducing stress and pain in those areas.
Keep in mind: There are many options, so make sure to read the descriptions and choose the one that suits most of your needs.
Good for: Women that aren't sure exactly what they want and need multiple options.
---
(Grows with you — $$)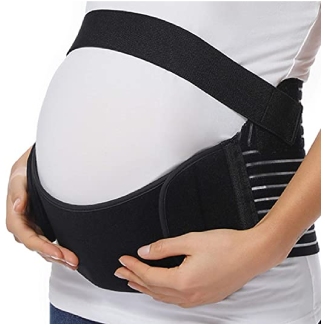 Why it's great: This maternity support brace is perfect because it's adjustable for any stage of pregnancy: 3-5 months, 5-7 months, 7-10 months, and even post-pregnancy. It helps aid in proper posture in both standing and sitting as well as prevent over-extension of the lower back. This band gives you great compression throughout every stage of pregnancy, complete with an addition of a band across the top of your bump, and even helps to aid in reshaping your body post-baby.
Keep in mind: When you take a break from your daily activities and sit down for a breather, remember to detach the hooks and fabric loops for comfort in a seated position.
Good for: Women that feel they need a band throughout their entire pregnancy, since this one will grow with your belly.
---
(Great for twins — $)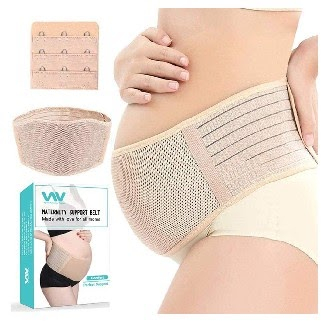 Why it's great: This band, from Skywee, is made of breathable and soft fabrics, helping you to feel relaxed with the added ease to your lifted abdomen and supported waist. This support helps to relieve pain in your lower back, hips, sciatic nerves, waist, etc. so that you may stay active during your pregnancy. Serving as your baby's prenatal cradle, it will also relax and soothe mom, reducing bladder pressure and improving circulation and posture.
Keep in mind: This one measures for pregnant moms up to 54 inches, and some petite moms reported that it was a bit too big for them. Measure and check those reviews for size comparisons!
Good for: Women with bigger bellies and/or pregnant with twins.
---
(Best lower belly support — $)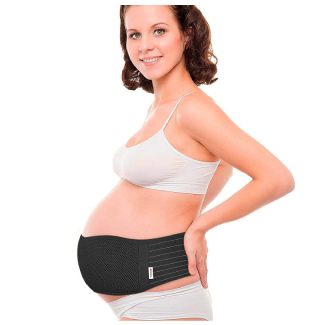 Why it's great: The goal of AZMED as a brand is to help you love your changing body. Reviewers rave that this band stays in place, shapes and even lifts your bump. One reviewer even tested this band with a full day at Walt Disney World, and raved about her pain-free day. Designed by mothers for mothers, this band helps to improve mobility, support your baby bump, correct your posture, ease pain, stabilize your joints, and relieve many discomforts.
Keep in mind: This one is not great for postpartum support, since it's lower down and specifically made for better belly support. It's also only available in One Size Fits All up to 46 inches, so make sure you measure!
Good for: Women that primarily need belly support and lower back support.
---
(Most ergonomic — $$)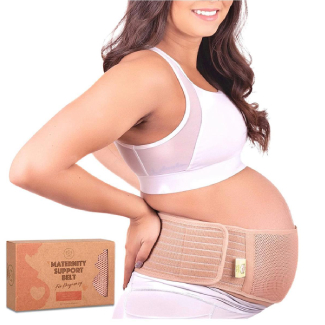 Why it's great: This perfect gift for new moms is wonderful because it comes in a beautiful box ready for gifting and in a One Size Fits All option, as well as an X-Large. This band is designed to distribute weight evenly around your hips and pelvis, relieving pain in your spine and lower regions. This soft and breathable band helps to support you throughout the day without too much added bulk or heavy fabric. Feel supported with this 360 degree, ergonomic, full support design, made with moms in mind.
Keep in mind: Reviewers and customers suggest removing this band when sitting, as it is a bit tight and can dig in while in a seated position.
Good for: Women looking for a support belt that gives full support.
---
(Best for everyday — $$)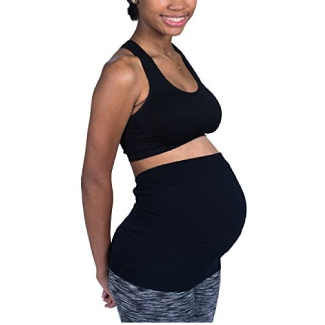 Why it's great: This band is breathable and comfortable, making it easy to wear day in and day out during pregnancy. It's completely seamless, making it very easy to hide, and has silicone strips that help to keep it in place. This is a full belly band, which provides support for your belly and lower back, relieving extra stress in those areas. While most support belts need to be hand washed, this one can go in your washing machine on a gentle cycle, which is great for convenience and ease of use.
Keep in mind: This one comes in multiple sizes, so make sure to measure and get the right one for your belly.
Good for: Women looking for a comfortable, mildly supportive, easy to hide belly band.
---
FAQs about maternity support belts
---
1. How many hours at a time should you wear a maternity support belt?
You should only wear a belly band (or any garment made for support) for no more than two to three hours at a time. Let your body do some of the work! After all, your body was designed for child-bearing. Wearing the support band for much more than suggested is likely to cause overdependence. It is also suggested that you work on strengthening your core in combination with wearing a support band.
---
2. Can I sleep in my belly band?
Belly bands help control your pain throughout the day, so that should help you sleep better and more painlessly at night. Some pregnant women do wear the belt at night, while others feel it is a bit too much to deal with when they are trying to relax.
---
3. How tight should the maternity belt be?
In pregnancy, comfort is always the most important thing to consider. A belly band or support belt should be snug enough to hold up your belly and help you feel supported, but you should be able to breathe easily and move around comfortably.
---
4. Do you wear a maternity belt on top of or underneath your clothes?
You can truly decide for yourself. It may depend on the articles of clothing you're wearing whether or not it is visible from under your clothing. However, if you're experiencing pain, you may not care either way. (Embrace your inner Home Depot worker and wear that thing on the outside!) Also, many reviewers suggested wearing a thin cami between their skin and the band, if only to prevent them from having to wash the band more frequently.
---
5. How do I wash the belly bands?
Each item comes with its own instructions, but almost all recommend air drying, not in the sun.
---
6. Are all maternity bands safe for postpartum wear?
Each product above specifies within the listing whether or not it is recommended for wear after pregnancy. Some are just for pregnancy, while others are ready to support your body on the road to recovery.
---
7. Are all maternity bands designed for exercise?
Yes, all of the above bands can be used to support an active mom-to-be. Just remember to sometimes give your body a break and strengthen your core without the added support.
---
Conclusion
---
There is a lot to consider when looking to buy a maternity band or belt to help support your growing body during pregnancy, but the main thing to remember is that all of the above are designed with you in mind. Find your perfect fit by measuring your body and considering where you might grow. You deserve to stand and wash dishes without pain in your lower back, or go for a jog and not feel stressed and unsupported. Maternity bands are ready to ease your round ligament pain, your joint discomfort, your lower back, and pelvic strain. Wear these bands over or under your clothes and ease your way into happier joints and, possibly, even better sleep!
You may also like our other product reviews…
Body Washes for Pregnancy | Breast Pump for Twins | Compression Socks for Pregnancy | Maternity Bras | Maternity Jeans | Maternity Leggings | Maternity Pajamas | Maternity Pants | Maternity Tights | Maternity Work Pants | Maternity Workout Clothes | Nipple Shields and Balm | Postpartum Pads | Pregnancy Journals | Pregnancy Underwear | Probiotics for Pregnancy | Shampoo for Pregnancy | Shoes for Pregnancy |