Updated on by Lyric Fergusson
Pregnancy is not a time when women have patience for uncomfortable, itchy clothes. When we think of tights that's often where our mind goes. Tights have made a name for themselves. I've even been known to avoid an outfit if it required tights. BUT… it doesn't have to be this way. There are cozy, comfortable tights on the market, specifically for pregnant women.
Maternity tights have a waistband that comes over the top of your growing belly. This provides you a layer of support and ensures your tights stay put throughout the day. Tights can dress up almost any outfit and provide warmth at the same time. Pair your tights with a skirt suit and heels for the office or a casual dress and boots for date night. Check out the 7 Best Maternity Tights below!
The Best Maternity Tights
---
(Best value — $)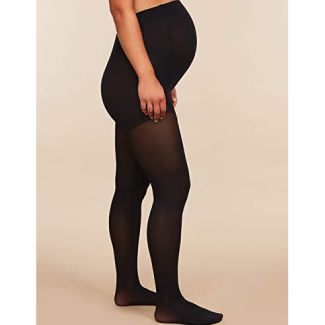 Why it's great: These opaque maternity tights will quickly become a staple in your maternity wardrobe. They come in black, navy, and wine. The nylon/spandex blend gives you just the right amount of stretch without compromising quality. The waistband sits comfortable above your growing bump.
These tights can easily transition from office attire to a date night essential. Dress them up, or dress them down. These tights run true to size, and they will fit and remain comfortable throughout your pregnancy.
Keep in mind: Like many nylon stockings, these will need to be hand washed.
Good for: Mommas on a budget who need a great pair of tights.
---
(Best office essential — $)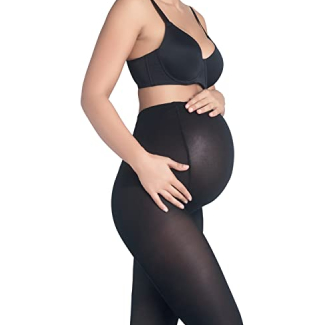 Why it's great: These tights are opaque without being super thick. They are soft and comfortable. The belly panel fits snugly over your baby bump, providing you with support and ensuring you won't be tugging to keep your tights up all day.
These tights are a good option if you're needing office-friendly attire or if you need tights for a more formal occasion. Rest assured that these tights will stretch to fit you all the way through your pregnancy. Be sure to look at their size chart to make sure you are getting a good fit.
Keep in mind: This style only comes in black, so if you're needing a different color look further down the list.
Good for: Mommas who need a pair tights to wear to the office.
---
(Best color selection — $$)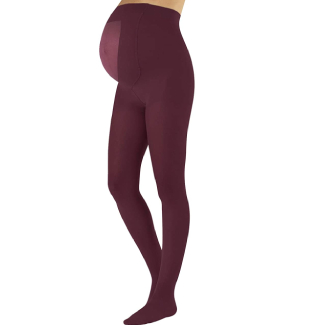 Why it's great: These super soft pantyhose are made of a microfiber blend that gets softer with every wash. Calzitaly offers comfortable, and on-trend maternity pantyhose which supports your body's contours and moves with you. These hose are equipped with reinforced toes, flat seams, and a cotton gusset to ensure comfort while supporting your ever-changing body during pregnancy. These tights come in a rainbow of colors, so they are sure to match all of your wardrobe needs. Comfort and quality at it's cutest.
A lot of hosiery seems almost disposable, as you only get a couple of wears out of them before they are either stretched out or ripped to shreds. That is not the case with these. They hold up to multiple wears and washes without stretching out or getting snags.
Keep in mind: You should choose the size you wore before pregnancy in this brand.
Good for: Mommas who want to rock colorful pantyhose.
---
(Most soft — $$$)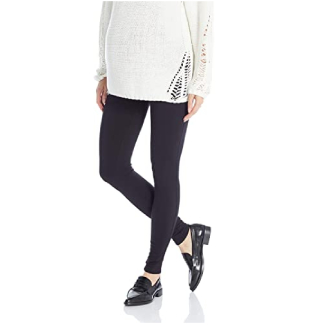 Why it's great: These french terry leggings have the signature Motherhood belly panel that supports your baby bump when you need it most. They are amazingly soft and not see-through at all. The footless design works well with all types of footwear.
Another plus for these leggings is they are really warm, making them a great choice for colder weather. You will be wearing these to the office, on date night, and while chilling at home. These really are an excellent all-around pick.
Keep in mind: Everything is attracted to this fabric, so keep a lint roller handy.
Good for: Mommas who are looking for an all-around legging option.
---
(Best patterned tight — $$)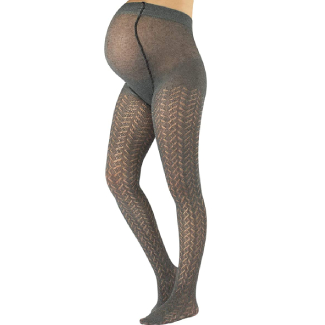 Why it's great: These knitted cotton tights make the most of a super chic crocheted chevron pattern. They keep you warm and cozy without being itchy and uncomfortable. The waistband fits above the belly, providing you with much needed support.
You will reach for these tights time after time throughout your pregnancy. The pattern pairs so well with dresses and booties. With Calzitaly you get Italian-made quality and an affordable price.
Keep in mind: The sizing on these is a bit wonky, order a size up from your usual size and you'll be good to go.
Good for: Mommas looking to spice up their maternity wardrobe with a patterned tight.
---
(Best for working out — $$)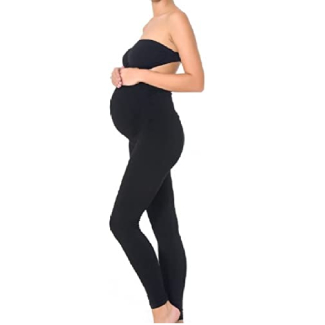 Why it's great: Finding maternity tights that will hold up to an intense pilates sesh and won't break the bank can be difficult, but these fit the bill. The poly/satin blend wicks away moisture better than any of the other options on our list. The support panel provides added comfort for your belly and back while working out.
These tights can easily transition between the gym and lounging at home. They are thin without being see-through. They provide compression without being too tight. Be sure to order your pre-pregnancy size in these leggings.
Keep in mind: This material may have some pilling if they aren't hand washed.
Good for: Mommas who will be working out throughout their pregnancy.
---
(Best loungewear — $$)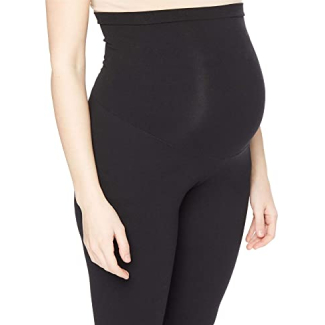 Why it's great: These Motherhood maternity leggings practically have a cult following. They can be paired with a tunic for going out with friends or your favorite comfy sweater for lounging around the house. You'll find the belly panel to be insanely comfortable, providing support even postpartum.
Another cool feature about these leggings is you can wear the panel folded over or pulled up over your bump. This is a great feature that makes them a staple all the way through your pregnancy and even beyond. I saved the best for last; these leggings are machine-washable!
Keep in mind: These are a bit more sheer than you might expect for leggings, but they work beautifully as tights.
Good for: Mommas who are looking for thicker tights that can be paired with tunic or oversized sweaters.
---
FAQs about maternity tights
---
1. What is the best fabric for maternity tights?
That completely depends on the look and feel you are going for. The more sheer tights are made from a nylon-spandex blend, while the thicker more opaque tights are usually a cotton spandex blend. Decide on the look you want and go from there.
---
2. How do I know what size to get?
Maternity sizing can be tricky. Not all companies use the same size charts, so it's important to check the charts for each brand. Most will tell you to choose your pre-pregnancy size; however, some will provide you with a height and weight range.
---
3. What outfits should I wear tights with?
Tights are great for many occasions. They can be worn to formal occasions, as office attire, or even just for lounging around the house. There is a pair of tights on the list to meet all of your needs.
---
4. How should I care for my tights?
To get the most wear out of tights most companies recommend that you hand wash them. There are a few of the cotton spandex tights that can be machine washed, but it's still recommended to line dry them.
---
5. Can I still wear maternity tights after the baby gets here?
Many mommas never go back to regular tights because they like the fit of maternity tights so well. Postpartum can be a blur, but one thing is for sure, you need to be comfy. These tights will keep you warm during middle-of-the-night feedings, and you still look cute when you have visitors. Let's face it, the last thing a new mom wants to do is put on pants.
---
Conclusion
---
Maternity tights might just be the missing link in your wardrobe. The styling possibilities are endless, and they provide the comforting support your growing bump needs. Maternity tights are great for layering during your pregnancy. You can wear them while lounging around the house or dress them up with a cute dress or tunic. They are one of the few articles of clothing that can transition from a formal event to being used as pajamas.
There are certain things you want to look for in quality maternity tights. You want a seamless stretchy maternity panel that grows with you throughout your pregnancy. You want a cotton gusset for optimal vaginal health. You want 4-way stretch to prevent rips or snags. You will be able to check off all of those boxes with the tights that made our list.
You may also like our other product reviews…
Body Washes for Pregnancy | Breast Pump for Twins | Compression Socks for Pregnancy | Maternity Bras | Maternity Jeans | Maternity Leggings | Maternity Pajamas | Maternity Pants | Maternity Support Belts | Maternity Work Pants | Maternity Workout Clothes | Nipple Shields and Balm | Postpartum Pads | Pregnancy Journals | Pregnancy Underwear | Probiotics for Pregnancy | Shampoo for Pregnancy | Shoes for Pregnancy |