Updated on by Lyric Fergusson
When the weather begins to cool down, and your pants start to tighten, it's time to start shopping for one of the perks of being pregnant: maternity pants! First-time moms-to-be may be hesitant to spend money on an article of clothing they will only wear for a few months, but the right pair of maternity pants will change your entire pregnancy experience. Many moms continue wearing maternity pants well after baby is born.
When it comes to maternity pants, working moms-to-be need to find the perfect balance of comfort, professionalism, and value, so I'm sharing my 11 favorite maternity work pants.

Best Maternity Work Pants
---
(Most professional — $$)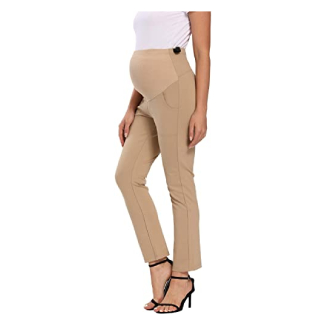 Why it's great: These pants come in six professional colors so that you can wear them every day of the week! They are soft, comfortable, and you will feel confident walking into any meeting with them on. In addition to the excellent color options, these trousers are adjustable, so they can grow along with your belly. They're also very stretchy, giving you plenty of flexibility. The material is very high quality and they have two, big, functioning pockets on the front.
Keep in mind: Not all colors are available in every size, but they often restock, so check back!
Good for: Expecting moms who work in a more formal office setting.
---
(MostpPlus size options — $$$)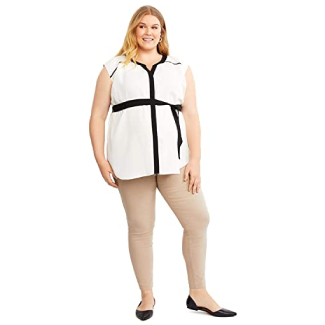 Why it's great: This style is perfect for any office setting. You can dress them up with a button-down and blazer or dress them down with an oversized sweater. This style comes in five colors with lots of support for the bump. Motherhood is one of the top maternity brands and also has more plus-sized options than most brands. These are made with rayon, nylon, and spandex, giving you plenty of stretch and flexibility. They're super comfortable and perfect for all-day wear.
Keep in mind: You should not tumble dry these pants. Either let them air dry or have them dry cleaned.
Good for: Plus-size moms-to-be and an excellent gift for an expecting mom in your life.
---
(Most comfortable — $$)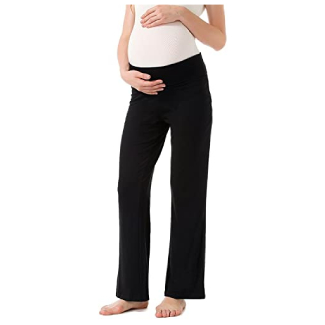 Why it's great: Whether you are trying to stay active or are just looking to lounge in your last trimester, these pants are the softest and stretchiest you will find! The band is snug enough to support the bump and the fabric around the legs is loose-fitting and breathable. While these could even make great pajamas if you fall asleep on the couch, they are also nice enough that you could get away with wearing them to work with the right top. Many moms also recommend them while recovering from a C-section.
Keep in mind: In the earlier stages of pregnancy, consider a smaller size, as these don't adjust at all.
Good for: Expecting moms with sensitive skin or for postpartum wear.
---
(Most stylish — $$)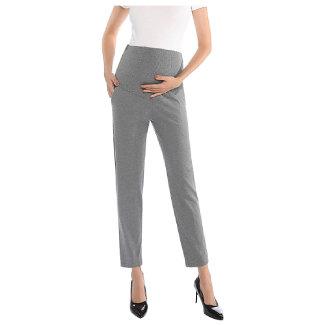 Why it's great: These capris are perfect for the working mama. They look stylish and classy, but could also be dressed down with a casual shirt. They are made of rayon, nylon, and elastane, which means they're super stretchy and comfortable. They also have an adjustable band on the inside that allows you to expand them as your bump grows. They're high quality and have neat hand stitching for added durability. Plus, they have two, large, usable pockets on the front, so you can easily carry your phone or keys.
Keep in mind: Make sure you have the adjustable band hooked before you wash, otherwise it can turn and is hard to get straightened out.
Good for: Pregnant professionals that need stylish pants for work.
---
(Best quality — $$)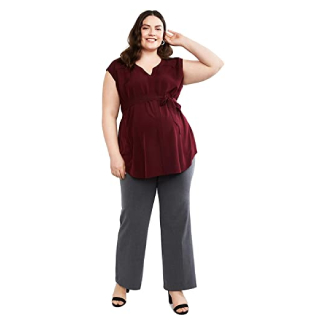 Why it's great: These are another great choice from Motherhood maternity, which means you'll have plenty of sizes, including plus-size, to choose from. These have the brands patented Secret-Fit belly panel that's super soft, stretchy, and comfortable. These are a looser, boot-cut design, perfect for those that don't want tight pants. They come in gray or black and look professional. You can also dress them down with a casual top for everyday wear.
Keep in mind: These have faux pockets on the front and back, but they are not usable.
Good for: Plus-size women and those that like bootcut pants.
---
(Best value — $)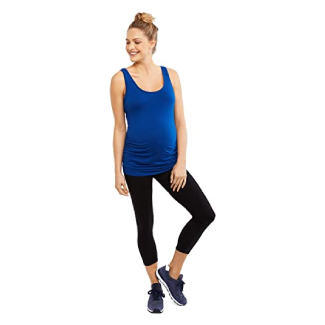 Why it's great: If you thought you loved leggings, wait until you try these maternity leggings! They are adorable and great for any occasion. Best of all, they are soft as can be. These budget-friendly maternity leggings fall in the category of maternity wear you will want to wear long after your baby is born. They come in three colors and are great for everything from weekend activities and prenatal yoga. While these are more casual, they would look great under a dress for work.
Keep in mind: These are a less formal option and may not be appropriate for every work setting.
Good for: Expecting moms looking to stay active.
---
(Best jeans — $$)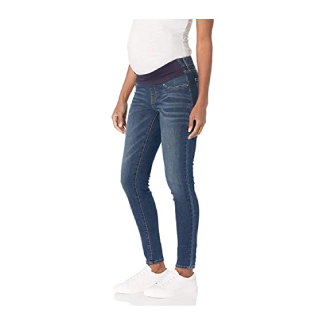 Why it's great: When it comes to maternity jeans, who better than Levi Strauss & Co to design a pair that is both comfortable and incredibly stylish? This pair is so soft you may find it hard to go back to regular jeans. These pants come in two color options, the 'noir' jeans (pictured) are perfect for the workweek and the Blue Laguna waterless wash is ideal for casual Fridays and weekends.
Keep in mind: These have a skinny-leg fit, so you may want to buy a size up for later in your pregnancy if you tend to gain weight in the lower half of your body.
Good for: Expecting moms who want maternity jeans that don't look like maternity jeans.
---
(Most options — $$)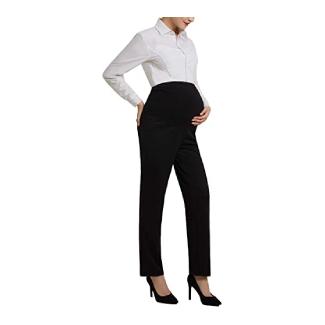 Why it's great: These maternity pants are soft and comfortable, with plenty of stretch and an adjustable band that lets them expand as your bump grows. The best part: they come in multiple colors, different styles, and different looks. You can choose slim, straight, or flared legs and you can choose between jeans material or professional style. They're also lightweight and breathable, so you'll stay cool all day long. They have faux front pockets, but they have usable back pockets, which is a nice feature.
Keep in mind: These may be a little short for taller women over 5'8".
Good for: Women who like to have lots of style options.
---
(Best leggings — $)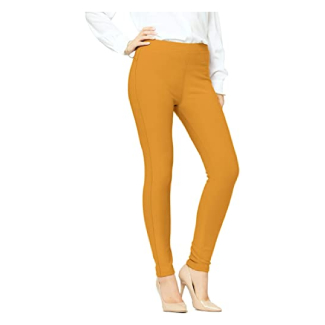 Why it's great: These pants have a belly panel that's stretchy and comfy. The legs are a skinny fit, but they also have butt lifting and shaping control. With a polyester/spandex blend, these are soft and stretchy throughout. You'll feel comfortable and confident in these pants. These are premium quality, so you won't have to worry about them being see-through at all. These are leggings, so you'll want to wear a longer top or maybe even a dress over them to dress them up for work.
Keep in mind: These are in the same listing as normal leggings, so make sure you click on the maternity option (it's in the color section). You can also choose some of the regular ones and just push the waistband below your belly, for more color options, early in your pregnancy.
Good for: Women that want a super comfortable pair of leggings that can be dressed up for work.
---
(Most pockets — $$)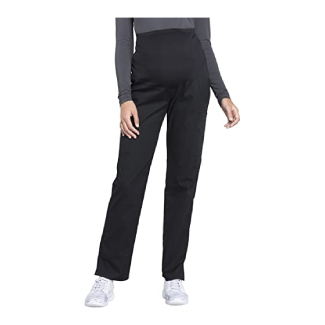 Why it's great: For moms-to-be struggling with pregnancy brain, these pockets are a game-changer. There are three pockets total and the two cargo pockets are large enough to hold a wallet, keys, or anything else you are likely to misplace. The material is soft and stretchy, so even though these are technically scrubs, they would also be great for exercising or weekend wear. The belly band is a ribbed-knit, which is also very stretchy but doesn't slip down at all. Plus, these come in so many different color options! You're sure to find a pair or two that will work for you.
Keep in mind: The belly band is a little bit scratchy for sensitive skin, but you could easily tuck a tank or undershirt in to solve that problem.
Good for: Expecting moms who are feeling more forgetful than usual.
---
(Best scrubs — $$$)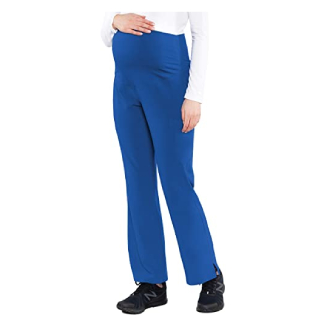 Why it's great: These scrubs are a strong choice for expecting moms who work in the healthcare sector. They come in six colors and have cooling technology to help with some of the temperature fluctuations expecting moms may experience. These pants are boot-cut style with a cargo pocket for storage. They also have two more, smaller pockets. They are breathable and great for expecting moms on the move.
Keep in mind: You may want to find the matching maternity top for these scrubs.
Good for: Expecting moms in the healthcare sector.
FAQs about Maternity Work Pants
---
1. When should I start wearing maternity pants?
Most expecting moms notice their pants getting uncomfortably tight after about 4-5 months of pregnancy, but every experience is different. If you are among the select few who can fit into their clothes the entire pregnancy, you may decide you do not need maternity pants at all.
That said, most expecting moms switch to maternity pants, not only for flexible sizing but for comfort. Pregnancy is challenging enough without adding uncomfortable fabric into the mix, so treat yourself to the softest clothes around whenever you see fit.
If you're shopping for an expecting mom, consider buying her the perfect pair of pregnancy pants around month 4 or 5, that's when she'll appreciate it the most.
---
2. What should I consider when shopping for maternity pants?
There are many important factors to consider when shopping for maternity pants, but comfort should be at the top of your list. You may not even notice how uncomfortable your 'regular' clothes are until you try on a pair of maternity pants. Treat yourself to expandable waistbands, comfy fabric, and styles that show just as much of your bump as you want.
Secondly, think about the things you will be doing while pregnant. Are you working full-time in an office setting? Find dressier maternity pants for a pulled-together office look. Are you working remotely? Enjoy lounge maternity pants for preparing your home for baby in between Zoom calls.
Lastly, think about your style. If you have a strong fashion point of view, that does not have to change when it comes to maternity wear. Seek out maternity pants that make you feel your best, even as your body is rapidly changing.
---
3. Are maternity pants a waste of money?
This is a particularly relevant question for expecting moms who can still fit into most pre-pregnancy clothes. While you may only have a few months left in your pregnancy, many moms (this one included!) say they continued wearing maternity pants postpartum. If you plan on having other children, you can also save your maternity wear for future use.
If you would prefer not to spend much money on maternity wear, I recommend skipping on maternity tops, as many tops will still fit a pregnant belly, and oversized tops and sweaters are a trend likely to stick around. You could also consider buying maternity wear at a thrift shop to save money and the environment.
---
4. What is the difference between maternity pants and leggings?
While many maternity leggings and pants will have a similar look and feel, the difference tends to be in the waistband. Maternity pants tend to have buttons and zippers, even if they are only cosmetic, whereas leggings do not. Both styles are a great option for expecting moms.
---
5. How do I know what size maternity pants to buy?
The best way to determine your pregnancy size is to read the product description. Maternity clothes are designed to fit a rapidly expanding belly, so most manufacturers are diligent about the sizing details. If all else fails, reading the product reviews is a great way to find clues about which size you should purchase.
In general, you will want to seek maternity pants that will fit snug, but not tight, so that your bump feels supported. If you find maternity pants you love, you may consider purchasing different sizes for different parts of your pregnancy.
---
Conclusion
---
Pregnancy is an exciting time for expecting moms, and while it may feel like your body is changing at warp speed, this change could be the perfect opportunity to freshen up your wardrobe. Shopping for maternity dress pants is a delightful way to begin to meld the old with the new. As you start to incorporate your little one into your wardrobe, you may find that maternity pants can go a long way in reducing discomfort and encouraging physical activity.
As an expecting mom, you are sacrificing so much to keep your little one happy and healthy, so treat yourself to maternity pants that are stylish, comfortable, and fit your pregnant lifestyle.
You may also like our other product reviews…
Body Washes for Pregnancy | Breast Pump for Twins | Compression Socks for Pregnancy | Maternity Bras | Maternity Jeans | Maternity Leggings | Maternity Pajamas | Maternity Pants | Maternity Support Belts | Maternity Tights | Maternity Workout Clothes | Nipple Shields and Balm | Postpartum Pads | Pregnancy Journals | Pregnancy Underwear | Probiotics for Pregnancy | Shampoo for Pregnancy | Shoes for Pregnancy |