Updated on by Lyric Fergusson
Staying active during your pregnancy is very important for a healthy mama, happy baby, and a body prepared for labor. However, something that feels even more important to mamas-to-be? Comfort! Comfort is key, even when pushing our bodies to fitness and health. Below, we have crafted a list of the 7 Best Items of Maternity Workout Clothes available to you on Amazon. Many of these items are staples to your gym wardrobe and- even better- most of them translate well to casual wear for around the house or out and about.

Best Maternity Workout Clothes
---
(Best value — $)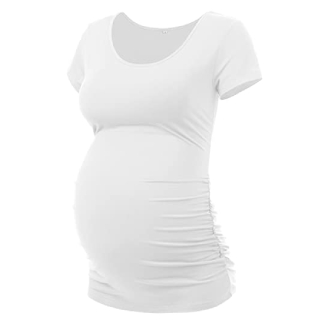 Why it's great: The Peauty maternity shirt is more than just a shirt perfect for a comfortable workout; This shirt is a staple to any maternity wardrobe. Even better, this listing comes with 16 color options available! Complete with a pleated waist (down the sides) to make room for a growing belly and to ensure increased mobility in the abdominal region, this shirt is also made long enough to completely cover the bump and even come down over the hips a bit. It is made of stretchy and breathable fabric, perfect for the internal heat a mom-to-be carries around with her, and wonderful for keeping you cool during the workout of your choice.
Keep in mind: Instructions say to line dry. Also, it is advertised as 92% cotton and 8% spandex and many reviewers commented that it doesn't feel like the cotton clothing they are used to wearing pre-pregnancy.
---
(Most variety — $)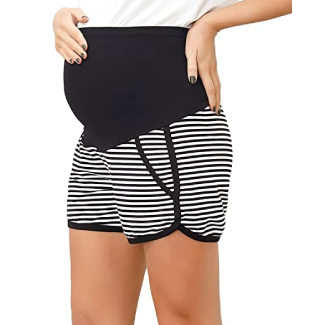 Why it's great: These cotton, stretchy, maternity shorts come in 12 different color and pattern variations. They're also available in sizes S to XXL. The Maacie shorts have both a drawstring waist and a button inside for a secure fit that is non-binding and comfortable throughout a workout. These are designed with double layers: an elastic inner layer and an outer layer with open hems to help you continue to move freely throughout your workout. Customers loved that these feel and look like "normal", pre-pregnancy shirts, so they can be worn well after your postpartum period.
Keep in mind: Every brand's size information varies, so remember to check size charts. Maacie reminds you to check their size chart and also allow for hand-made size error of around 1-2 cm.
---
(Versatile — $$)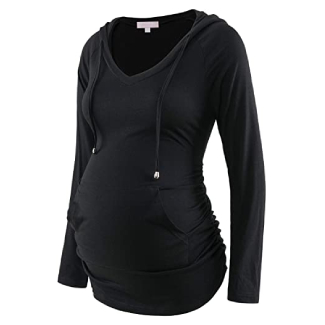 Why it's great: This V-neck, hooded shirt is perfectly designed for mom-to-be, with comfortable and stretchy material, complete with pleats on the sides to provide room for a growing belly. This shirt is breathable and soft, tee shirt material. It comes in 11 different color and pattern variations. This shirt is perfect for wearing to the gym, but also cute enough for casual wear when paired with some maternity jeans or leggings. The sleeves are loose fitting to remind customers of their favorite tee, even upon first wear!
Keep in mind: While this is a shirt with a hood, it is not a hoodie. Some reviewers were disappointed to realize it was more like a loose-fitting shirt, while others were glad of it.
---
(Trusted brand — $$)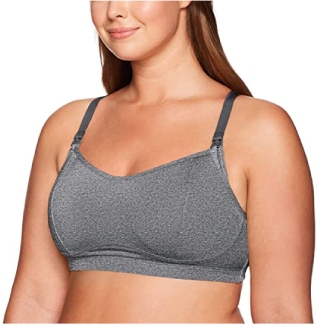 Why it's great: We all know Playtex is a trusted brand for many women and this nursing bra is no different. The listing on Amazon has 4 color options, perfect for wearing under various colored tops. The design is a pullover with a racerback and is made with adjustable straps. Many reviewers noted that they were worried about how narrow the straps were, but we're happy to report that they found the straps perfectly supportive and pain-free. This bra is designed with thin foam and a cotton lining for comfort, support zones that are knit in, and they're made with an extra side sling within the cup to provide added security and the support your changing breasts need.
Keep in mind: Bras are finicky in any body. Remember that your pregnancy body is ever-evolving, so make sure to measure and use the size chart available to you.
---
(More size options — $$)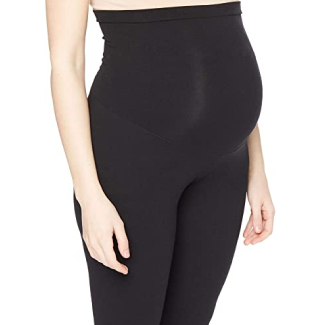 Why it's great: Leggings are an exercise wardrobe staple. More so, what's more comfortable than leggings pre, during, or post pregnancy? These maternity leggings offer a wide variety of size options for inclusivity and customers love the comfortable, smoothing effect. There is also no waist band bump that we are often accustomed to in regular leggings, so no digging in on the midsection throughout our various movements and stretches. Motherhood Maternity suggests to buy your pre-maternity size for the best fit.
Keep in mind: These are not leggings designed for keeping you warm in the winter months, though many pregnant women would find that breathability to be a relief in the later months!
---
(High quality — $$)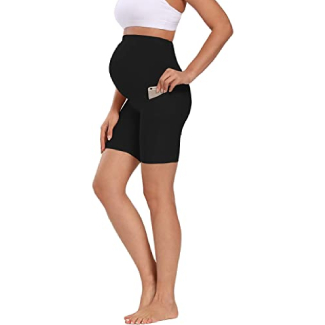 Why it's great: These Foucome shorts are perfect for yoga, running, and even hanging around the house. (Some customers even reported dressing them up to casual wear with the addition of a different top!) The listing comes in sizes S-XL and has 9 different colors, all very trendy and enticing. There is even a 2-pack available. Customers enjoyed that there is no need to pull up and adjust throughout your workout. They are designed using a 4-way stretch and non-see-through fabric. The seams are chafe-resistant and the fabric is moisture-wicking. What more could we want?
Keep in mind: Proper fit is important to ensure that you aren't working out in see-through bottoms. Make sure to measure and check that size chart.
---
(Most variety — $$)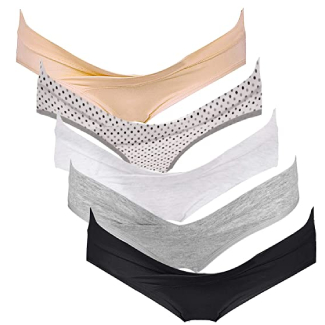 Why it's great: While they aren't designed specifically for working out, Intimate Portal undies are perfect for wearing under your workout gear. These undies are all free of harsh chemicals and are made to a higher standard, just like your baby's clothes! (Why shouldn't Mom be treated the same way?) These are a low-cut maternity panty that are perfect for under the bump comfort, with no pressure added, even if you're carrying low. And it's full coverage in the back! This listing comes with a size chart and helpful tips and images for how to navigate measuring your changing body. The reviews on Amazon are from women of all shapes and sizes, which is all the more comforting when you're feeling worried about the fit.
These are great for postpartum and, because of the low-front, won't irritate a C-section incision. These come in a variety of colors and neutrals and are complete with a light-colored cotton lining for your wellbeing and easy detection of any unusual spotting or discharge.
Keep in mind: Some reviewers report that they love the panties, but the fabric isn't as breathable as they were hoping. Also, a few reported fraying of the elastic lace after washing, but Intimate Portal says that this bit has been upgraded!
---
FAQs about maternity workout clothes
---
1. What should I wear to the gym when pregnant?
One word is key: support. Even when you aren't pregnant, support is key to a healthy workout. When pregnant, decide in what areas you need support. You may feel the need for supportive bottoms with a belly panel that keeps you held tight and comfortable, but you will most definitely require a well-fitting pregnancy sports bra. As early as six weeks into your pregnancy, your breasts can start to grow and change. Make sure you have a well-fitting sports bra that holds you tight, but comfortable, doesn't dig into your shoulders, side, or back, and allows you to move freely.
---
2. At what month should I start wearing maternity clothes?
Aside from the much-needed pregnancy bra, maternity clothes may start to become a need around 4 or 5 months of pregnancy. Many women can get away with wearing their larger clothing items for a bit, but most switch to maternity at around 6 months.
---
3. What happens when a pregnant woman wears tight clothing?
Wearing tight bottoms can be dangerous for women who aren't pregnant, and pregnant women are no different. Your physical comfort is a sign that everything is okay. If clothing articles are too tight, you can cause issues with your circulation or cause yeast infections. Physical pain in certain areas might alert you to the fact that your pregnant body is not loving a clothing item.
---
4. What size should I buy in maternity clothes?
Many maternity brands instruct customers to purchase maternity clothing in their pre-pregnancy size. However, your safest bet is always to do a little measuring of your ever-changing, pregnant body, and check out the company's size chart. If you're still worried about finding the right size, check out the review sections for some size comparisons with other shoppers.
---
5. Of what materials are maternity clothes usually made?
Most of the above items are a majority percentage cotton and a small percentage spandex. This is essential, of course, as moms-to-be and nursing, postpartum moms need comfort as well as stretch.
---
Conclusion
---
Even pre-pregnancy, finding workout clothes that make you feel comfortable and confident is half the battle in your fitness journey. When we feel confident, we are more likely to succeed in our endeavors, and that includes adventures in the gym, yoga studio, or on neighborhood runs. The above list includes a couple of top varieties, multiple choices in bottom types, and even undergarments to support your growing baby body. When you feel supported, you'll be more motivated to move forward on your fitness journey, keeping you on track, even during your 9-month detour to Baby Town!
Measure and find the perfect fit to keep mama-to-be smiling through her workout.
You may also like our other product reviews…
Body Washes for Pregnancy | Breast Pump for Twins | Compression Socks for Pregnancy | Maternity Bras | Maternity Jeans | Maternity Leggings | Maternity Pajamas | Maternity Pants | Maternity Support Belts | Maternity Tights | Maternity Work Pants | Nipple Shields and Balm | Postpartum Pads | Pregnancy Journals | Pregnancy Underwear | Probiotics for Pregnancy | Shampoo for Pregnancy | Shoes for Pregnancy |