Updated on by Lyric Fergusson
From the day they are born, music is one of the most meaningful ways we bond with our babies. We sing to them to comfort them, we bounce with them to calm them down, and when they get older, we dance with them to make them giggle. It only makes sense that their little eyes light up when they hear a song they love. Musical instruments are a great way to stimulate your baby's developing brain and give them a fun, creative outlet, with no screentime involved.
Here are my family's top choices for musical toys that your little one will love and grow with.

The Best Musical Baby Toys
---
(Best value — $)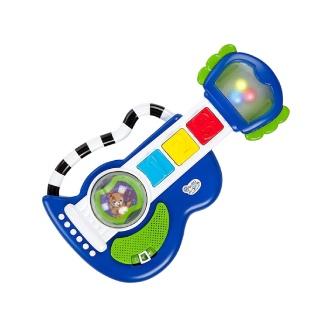 Why it's great: Your baby can start rocking at three-months-old with this perfectly sized guitar! The handle is perfect for little hands, and the flashing lights will quickly capture your baby's attention.
This guitar comes with 10 classical tunes, including Beethoven, Mozart, Stauss, and Vivaldi. The guitar is lightweight, and the large buttons are perfect for first-time musicians.
Keep in mind: The volume button slides on the side, so the music may suddenly stop or become too loud if baby figures that out.
Good for: Babies less than a year old.
---
(Best for classical music — $$)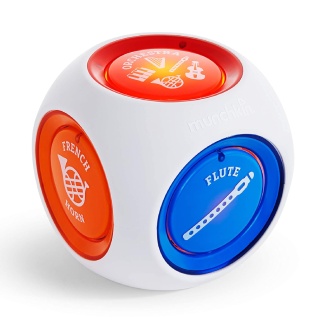 Why it's great: For parents who prefer Mozart to nursery rhymes, this toy is perfect! With eight Mozart classics and five buttons representing each instrument, who wouldn't love this compact option?
Even better, each button lights up a different color and will catch baby's attention quickly. The rounded edges are easy for baby to roll across the floor, and this is a very durable toy.
Keep in mind: This cube comes with three AAA batteries, but you'll quickly need more if your baby loves this as much as my kids do.
Good for: Parents who love classical music.
---
(Most educational — $)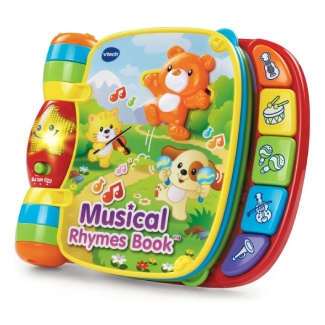 Why it's great: Reading is the best thing you can do for your little one, and this musical book makes reading fun for baby. The easy to flip pages are also a great way to get baby excited about reading during tummy-time.
The Musical Rhymes Book has five buttons representing different instruments and includes the lyrics to classic nursery rhymes.
Keep in mind: The loudest volume setting is pretty loud, so for kids sensitive to sound, try taping over the volume control.
Good for: Learning nursery rhymes and babies who love books.
---
(Most variety — $$)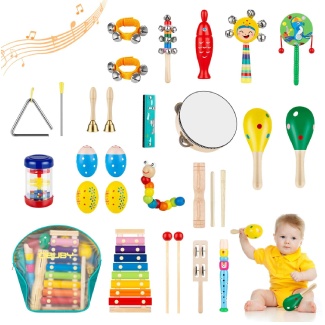 Why it's great: You won't need batteries for this comprehensive set! There may not be flashing lights or speakers for this toy, but it is excellent for babies who like to "freestyle," and toddlers love it too. For families with both, this set will help practice sharing skills.
Your little one can learn about 17 different instruments with this set, and they are all perfectly sized for little hands. The storage backpack is perfect for packing up at the end of a jam session or before an important Zoom call.
Keep in mind: Most of the toys are from wood, great for baby, but they may get your family dog's attention too, so be careful where you store this.
Good for: Babies, toddlers, and families with multiple young children.
---
(Best for bilingual babies — $$$)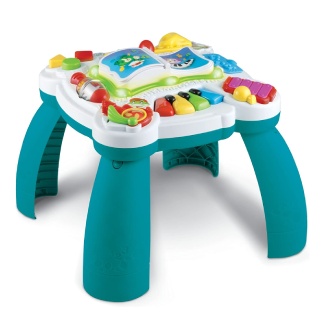 Why it's great: This table not only has excellent song and instrument variety, but songs come in English and Spanish as well! Your baby will be drawn in by the flashing lights and stay for the 70+ tunes and songs.
This is a musical toy that can grow with your little one. For younger babies, the legs are removable, or you can keep them on to help new walkers find their balance.
Keep in mind: This is a lightweight table, so if you don't want baby to push this across the room, you may wish to add skid tape to the bottom of the legs.
Good for: Bilingual families and families with new walkers.
---
(Best piano — $$)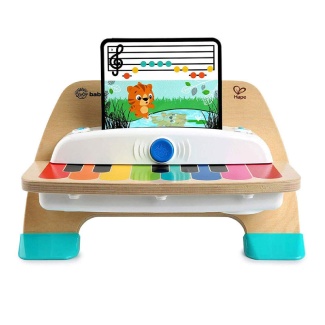 Why it's great: This piano is excellent for babies looking to hear their favorite tunes or for those looking to freestyle their own! This sturdy option is perfect for babies just learning to sit up without help.
This adorable instrument can teach your baby pianist through toddler-hood. It comes with three sheets of music, six different sounds, and two AA batteries.
Keep in mind: If baby loses or damages the music sheets, you can go online to print them.
Good for: A gift for a budding pianist.
---
(Cutest instrument — $)
Why it's great: The Rock-A-Mole is an adorable first guitar for baby! With the pit as the strings and light-up buttons, this musical toy is entertaining for babies and toddlers alike.
There are six buttons for six guitar riffs, and baby can spin the pit for 4 additional riffs. This is both lightweight and sturdy enough for baby to drag around the house.
Keep in mind: This toy does not have a volume button, but the pre-set volume is manageable.
Good for: Gifts for expecting moms and for younger babies.
---
FAQs about musical baby toys
---
1. When can my baby start playing with musical toys?
Be sure to read the packaging or product description for this question, but most baby instruments are safe for three months and older. That said, it is never too early to introduce your baby to music in other ways. Dancing and singing are great ways to bond with your newborn! As they get older, you can teach them to play with baby instruments with supervision.
---
2. What should I consider when shopping for musical baby toys?
As with any baby product, safety first! If you're using a plastic toy, make sure it is non-toxic, BPA, phthalate, and PVC-free. With wooden toys, be sure the wood is high quality and won't splinter, and that any glue is non-toxic.
Second, consider your baby's preferences. Do they love flashing lights? Find a toy with bright colors that light up. If your baby is sensitive to sounds, finding a toy with volume control is critical.
Finally, consider your family's needs and preferences. If you need a quiet home to work, make sure the toys you pick have an off button or can be put away. If you have a musician in your family, buy your little one an instrument to match. They'll love being able to jam with the adults in their life!
---
3. What are the advantages of musical baby toys?
Music is an essential part of human society and culture, and it transcends language and cultural barriers. Unsurprisingly, music has many developmental benefits for babies.
To begin with, they help stimulate young brains and encourage creativity. Musical instruments can boost cognitive skills and sensory development by stimulating neural pathways and promoting critical thinking and problem-solving skills. One theory suggests that the patterns and rhythms of music help the brain to become faster and more efficient at transmitting information. Research has shown that babies and toddlers who are exposed to music perform better in areas such as language development, speech, listening, and reading skills.
Music can also help develop gross and fine motor skills. It may take little fingers some time to adjust. Still, various instrument toys of different sizes and shapes will encourage other muscle areas to strengthen and develop.
Music can also play a critical role in teaching patience and encouraging self-expression. Taking the time to master a new skill is a critical developmental milestone for babies. Babies rarely have the full vocabulary they need to express themselves, and music can alleviate the frustration they feel when they are unable to verbalize their feelings. Musical baby toys provide babies with an opportunity to express their feelings and release energy.
With all the known benefits of musical instruments, why not take advantage of a fun way to promote brain development, creativity, patience, and self-expression!
---
4. Does music help my baby's brain development?
Yes! As stated above, improved brain development is one of the many benefits of music for babies.
In a University of Washington study of 9-month-old babies, researchers studied the effect of exposure to music on babies' brains. Researchers exposed one group of babies to the waltz during social play. The other group played without listening to any music. The study found that, after twelve play sessions, the babies exposed to the waltz experienced improved pattern recognition and could better predict rhythm patterns.
Remarkably, while listening to music can help, musical training can be even more powerful. Introducing your baby to musical concepts, whether singing or playing with a musical instrument, will develop the same areas of the brain that are needed to master a language.
---
5. Are light-up toys bad for babies?
There is conflicting evidence on this point, while screentime certainly has negative implications for young children, the jury is still out on light-up toys. One study found that they tend to make young children less aware of the world around them. In contrast, another found them useful in promoting focus and developing a longer attention span. As long as they are paired with an attentive caretaker or sibling, the benefits of light-up musical toys appear to outweigh the potential for adverse effects.
---
Conclusion
---
Music is one of the most exciting and emotional parts of the world we live in, and babies react to music in many of the same ways adults do. In babies, music has the added benefit of promoting brain development, creativity, patience, and self-expression. All of which lead to critical cognitive skills they will develop in their early years.
Find a way to integrate instruments and toys into your babies play routine, and enjoy watching your little one develop an early passion for music. Each of the toys on this list has been selected for safety, functionality, and fun!
You may also like our other product reviews…
Baby Onesies | Baby Probiotics | Baby Rattles | Baby Socks That Stay On | Baby Utensils | Baby Walkers | Baby Washcloths | Bath Towels | Bathtubs | Bibs | Blankets | Blenders to Make Baby Food | Booties | Bottle Brushes | Bottle Drying Racks | Bubble Bath Soap | Carriers for Petite Moms | Coconut Oils for Babies | Cribs for Twins | Floor Seats | Foam Play Mats | Glass Baby Bottles | Hair Brushes | Hampers | Hats | Headbands | Hooded Towels | Interactive Baby Dolls | Long-range Baby Monitors | Loungers |