Updated on March 22, 2021 by Lyric Fergusson
For those looking for a little extra wellness in their day to day life, negative ion bracelets might be the place to start. Negative ion bracelets help to promote balance between the mind, body, and spirit. Tourmaline specifically, works with the root chakra and helps to ground your energy, keeping many of the stresses and effects of stresses at bay throughout your day, channeling the negativity through, out, and away. Any excess energy that might arise, like stress or anxiety, can be eased and grounded when a person keeps these stones close by.
The legend behind the stone says that it protects the wearer from ill will or negativity from others, even returning the negative energy back to the person who sent it. There are even those who swear by its physical healing properties, boosting the wearer's immune system.
Best Negative Ion Bracelets
---
(Highest rating — $$)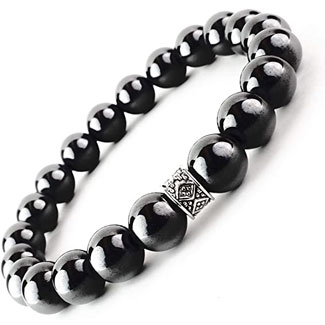 Why it's great: Black tourmaline, which originated in Brazil, is the best and most unique stone in its foundation of physical and spiritual energy for the body. This stone works to purify and cleanse the emotional spirit of negative thoughts, anxieties, anger, and even feelings of unworthiness. This bracelet is crafted in the United States. Customers love the slight weight of the stone and many agreed on the quality and the fact that these are genuine stones and not lab-created.
Keep in mind: A few consumers reported gapping between the stones, but those that reported this to the seller were immediately sent a replacement.
Good for: Those looking for a way to dismiss negativity throughout the day.
---
(Great value — $)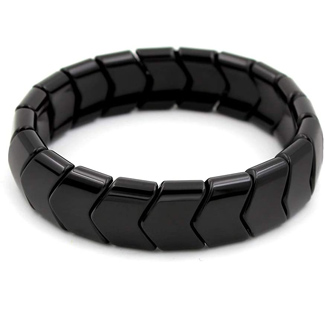 Why it's great: This bracelet comes in its own little bag, making it a perfect gift. The color of the ion tourmaline beads are dark grey to black. The beads on this bracelet are not round, but a sort of chevron cut and design, giving this a more unisex look. This listing has two colors available, both for the same price.
Keep in mind: There are no reviews on this bracelet just yet, so if you buy, consider leaving one for future purchasers.
Good for: Anyone looking for general well being in a slim, flat, beaded bracelet that can easily slide under any shirt sleeve.
---
(Most unique — $$$)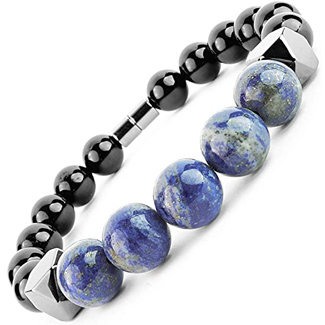 Why it's great: This listing has multiple sizes available, great options for varying wrist sizes. This waterproof bracelet was made in the USA and is a combination of medical grade silicon and allergy-proof stainless steel. This is an elastic band with a strong magnet clasp. Also, One Ion is proud to offer excellent customer service if you happen to order or receive the wrong size or if you have any issues.
Keep in mind: So far, there is only one review for this listing, but it is 5 out of 5 stars!
Good for: Because of the gift box and stylish design, this bracelet makes a perfect gift for anyone looking for a spiritual boost.
---
(Best value — $)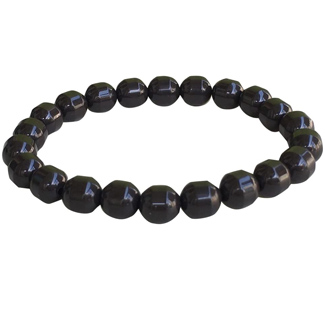 Why it's great: The simple design of this Power Ionics bracelet is perfect for anyone looking for balance in their life, but an understated piece of jewelry. The bracelet is a stretch elastic band with black tourmaline beads varying in color from dark grey to black. This listing also offers a multi-colored version. Power Ionics says that this bracelet helps to increase circulation, enhance the facilitation of oxygen in the body, improve recovery from fitness fatigue, alleviate discomfort, aid in sleep, and relax tense muscles.
Keep in mind: Black tourmaline is a natural gemstone which means the colors can vary. Within this listing, a few customers report receiving dark brown beads rather than black, but with the same effect.
Good for: Those struggling with sleeplessness, wrist stiffness, and aches from day to day fatigue.
---
(Highest rating — $)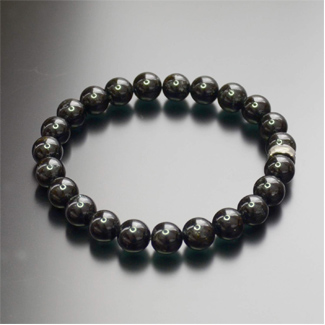 Why it's great: Unlike the others on our list, this bracelet is customizable: You measure your wrist and they make the bracelet to fit you! Tourmaline helps to relieve stress and anxiety, removing negative energies from the space around you, enhancing your immune response and vitality, even offering ease of insight. Black tourmaline is found naturally in Brazil and Africa most often and these stones are no exception. In photographs, the beads look shiny and of a high quality. Many reviews note the impressive nature of the bracelet in person.
Keep in mind: To properly measure your wrist, wrap a string around your wrist and then measure the string, making sure not to wrap the string too loose or too tight.
Good for: Those looking for a quality bracelet customized and made to fit their wrist exactly!
---
(Trusted brand — $$)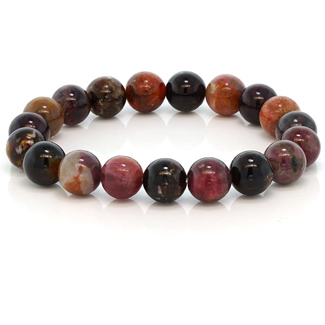 Why it's great: Unlike the others, the beads on this particular bracelet vary in color from brown, red, grey, and black. Some of the beads are even multi-colored. Gem Stone King is a trusted brand that has been in the jewelry making business since 1903. The beads are on a stretchy, elastic band with no clasp. And, because it comes in a gift bag, this bracelet makes a wonderful gift for friends, family, or someone special.
Keep in mind: The gemstones in this bracelet may have been treated to improve appearance or to increase their durability.
Good for: Those looking for stones from a trusted brand with excellent customer service.
---
(Most variet — $$)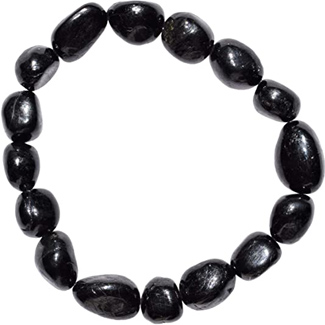 Why it's great: : Not only does this listing include a black tourmaline nugget bead bracelet, but Zenergy Gems also throws in a hand carved, Moroccan Selenite Charging stone in the shape of a heart. They both are delivered in a box, ready to gift as you see fit. The selenite charging crystal is there to help keep your tourmaline bracelet ready to serve you. The crystal stones that are beaded on the bracelet are certified real gemstones, polished and smoothed for looks and quality.
Keep in mind: Make sure to check the measurements and measure your wrist! The listing has a few discrepancies and it might be beneficial to check the reviews.
Good for: Those looking for good vibrations with a variety of options.
---
FAQs about Negative Ion Bracelets
---
1. How do negative ion bracelets work?
Manufacturers claim that negative ion bracelets release negative ions into the atmosphere around the wearer.
---
2. How do I know if my bracelet is working?
Every individual experience will be different. The best way to monitor would be to make sure to remove the bracelet from time to time and check in with your general wellbeing when it is off as well as when it is being worn.
---
3. How do I clean a gemstone bracelet?
It is best to use a mild soap and water, nothing else. Crystals are sensitive to chemicals, so keep it gentle.
---
4. Will my bracelet work indefinitely?
Most would say yes. However, crystal enthusiasts would suggest that you charge the stones by either using another charging stone or other methods (like leaving it out under a full moon).
---
5. Are these stone bracelets waterproof?
Yes, but like anything, they can be worn down over time. The stones are often coated in silicon or resin to make them sturdy enough to be worn daily with minimal wear and tear. Try to avoid prolonged exposure to water, if you can.
Conclusion
---
Whether or not you buy into the healing properties of crystals, a lot has been said about doing things with intention. And, perhaps, the simple act of intentionally wearing an item every day can help ease the negative in your life and keep your intentions at the forefront of your mind. If you believe and put the positive energy out into the world, it often finds its way back to you.
Negative ion bracelets might help you do just that: stay grounded in positive vibes, release negativity, boat your mental, emotional, and physical health, and support your daily lifestyle.
You may also like our other product reviews…
Acupressure Mats | Back Stretchers | Facial Machines | Grounding Stones | Handheld LED Light Therapy Devices | Infrared Heat Lamps | Infrared Heating Pads | Inversion Tables | Massage Chairs Under $1000 | Outdoor Saunas | Portable Saunas | Small Heating Pads | TENS Units | Vibration Plates |