Updated on by Lyric Fergusson
In the world we live in, there is a lot of noise! We all need a little peace and quiet sometimes, and the ability to shut out the noise around us to focus on movies, music, phone calls, as well as work or school. Quiet environments are in high demand because of at home school, working from home, not to mention online meetings. The choices of noise canceling headphones is broad with over nineteen key players in this industry claiming they are the best. We've done the work for you and narrowed it down to 7 of the Best Noise Cancelling Headphones that are under $200. So, sit back and peruse through the information we have gathered to make your decision much easier.
Best Noise Cancelling Headphones Under $200
---
(Best option of colors)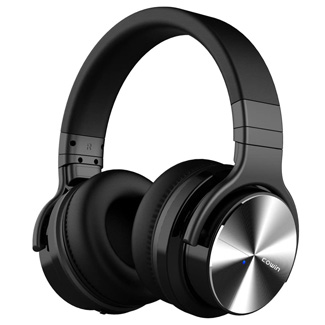 Why it's great: The Cowin E7 Pro is in the lower price range, but doesn't lack in quality. This headphone set is equipped with Bluetooth, a microphone, and a 30-hour playtime battery that is great for travel, work, tv viewing, computer, and cellphone usage. The advanced Active Noise Canceling (ANC) technology helps you focus on what you want to be hearing. What you hear is a crisp, powerful sound with no background noise enhancing your listening experience. The upgraded, soft ear cushions are comfortable and made of durable materials. They are high-quality skin textured, lightweight, and comfortably fit around your ear, enabling you to wear them all day, if necessary.
Keep in mind: The Cowin E7 has an eighteen-month warranty. Because these are ANC headphones, stay aware of your surroundings.
Good for: Those who desire color options along with quality product.
---
(Best multi-device connection ability)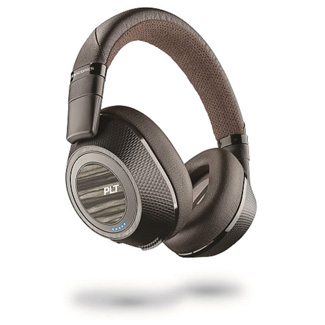 Why it's great: The Plantronics Pro 2 provide a high-resolution sound and powerful speakers are perfect for the discerning ear! Rich bass, crisp highs and warm mid tones are enhanced with the high-quality sound. Active Noise Cancelling (ANC) can be switched on or off, as desired. The battery provides 24 hours of listening, with the ability to connect 2 devices at the same time, and provides the capability to switch between them with ease.
Keep in mind: Plantronics Pro 2 comes in one color selection of black/tan. As with all ANC headphones, stay aware of your surroundings.
Good for: Those who want the ability to connect to more than one device.
---
(Best quality)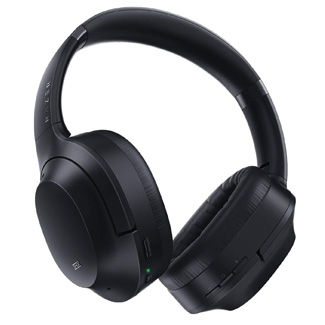 Why it's great: These THX Certified Headphones provide High Fidelity Sound. The Razer Opus works well with all types of media and provides a rich, balanced sound. It is engineered for long hours of wear, which is great for gaming. The plush leatherette, memory foam ear cushions and have a comfortable snug clamping force. The Razer Opus has an Auto Pause/Auto Play. When you remove or rest the earphones around your neck, the audio pauses. Put them back on and they resume playing. It has a 25-hour battery.
Keep in mind: The Razer Opus comes in two colors, blue and black. When wearing ANC headphones, you should stay aware of your surroundings. Comes with an airline adapter and USB to USB cable. While it is on the high-end of our range, the quality is great.
Good for: Those looking for a comfortable option when listening or gaming for long hours.
---
(Best multi-device compatibility)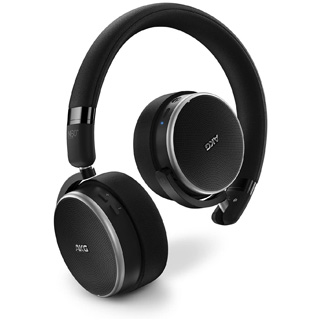 Why it's great: These headphones are compact and foldable, making for easy storage on the go. They are AKG Signature sound, which provides a smooth, multidimensional tone rather than being overpowered by bass. You get 15 hours of playback when both Bluetooth and Active Noise Cancellation is turned, but you get up to 30 hours of playback with just the ANC turned on. These headphones are ideal for travel. Whether you are listening to a book on a commute, sleeping on a plane, or taking a call in a noisy environment, you'll hear only what you want to hear.
Keep in mind: This headphone works with well Android, iPhone, Mac and iPad. Stay aware of your surroundings when wearing ANC headphones.
Good for: Those who need headphones that can be stored in compact places while not sacrificing sound quality.
---
(Best battery time)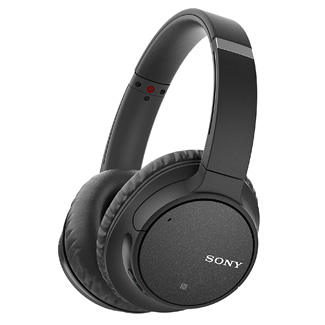 Why it's great: The Sony headphones come with a battery with 35 hours of wireless playback and the capability of a 10-minute quick charge. They have voice assistant, which is Alexa enabled for voice access to music, information and more, activated with a simple touch. The digital noise cancelling blocks out distracting background noise for a better listening experience. The hands-free calling has a built-in microphone that lets you take, make and call with your voice assistant.
Keep in mind: The noise-canceling function is effective in low frequency ranges such as airplanes, trains, offices, near air-conditioning, and is not as effective for higher frequencies, such as human voices. When wearing headphones, be sure to stay aware of your surroundings.
Good for: Those who need a battery with longer battery life in one sitting and a quick charge option.
---
(Best price and most comfortable)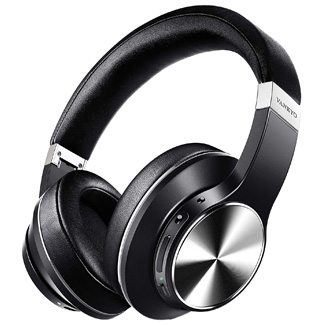 Why it's great: If the word "hybrid" intrigues you, you will love this Vankyo C75 Hybrid ANC headphone. It is perfect for working from home as well as entertainment. You will find taking online classes, commuting, or traveling a much more pleasurable experience. With industry-leading noise cancellation, these headphones analyze personal characteristics like head size glasses and hair, then optimizes sound for you. It has a 30-hour playtime and USB-C turbocharging capacity. A single charge keeps you powered all day. The 10-minute quick charge provides you with up to 2 hours of listening. Super soft, pressure-relieving memory protein ear pads evenly distribute pressure and ear contact for a stable fit.
Keep in mind: These headphones have the ability to fold up for easy storage. When wearing noise cancelling headphones, be sure to stay aware of your surroundings.
Good for: Those on a budget but desire a comfortable wearing headset and long life battery with a quick charge.
---
(Best comfort)
Why it's great: This JBL Live 650BTNC offers a long battery life and a great two-hour quick charge. Whether you use it a couple of times a week or daily, you'll be pleased with the amount of listening you can do on one charge. It has a comfort fit headband and soft ear cushions. It is super comfy. The voice assistant capability is activated by tapping the ear cup and speak your command to hear your favorite playlist, to text or check the weather.
Keep in mind: This headphone comes in blue, white and black and is very affordable for the quality. Be aware of your surroundings when wearing noise-canceling headphones.
Good for: Those needing extra comfort in the ear cushions and voice assistant capability.
---
FAQs about best noise cancelling headphones
---
1. What does ANC headphones mean?
ANC refers to Active Noise Cancelling. ANC creates a barrier that blocks high-frequency sounds and actively erases lower-frequency sound waves. Basically, the process cancels out all background noise so you can clearly hear and focus on the music, movie, or voice that you choose.
---
2. How does A1NC work?
It analyzes background sound and adjusts for optimal performance on airplanes and other noisy environments.
---
3. Are ANC headphones unsafe?
As with any device, whether it is a cell phone, computer or headphone, caution should be used when in public. ANC headphones are to help eliminate distractions from what we may be listening to, therefore, when walking, traveling, or in any public venue, it is wise to be aware of your surroundings. Being alert can alleviate accidents and avoid surprise contact from others.
---
4. Can using ANC Headphones damage your hearing?
Generally speaking, using ANC headphones doesn't affect your hearing in a negative way. When you turn the ANC headphones off, you may hear a slight hissing sound for a short period. There are, however, benefits from using them. External noises are canceled when wearing the headphones making it easier to hear what you want to hear, therefore making it possible to listen at lower decibels.
---
5. Are ANC Headphones beneficial for children, college students, or employees?
We are all on a learning curve with at-home learning and working. Working and studying at home can be challenging, especially when you have both going on at the same time. Whether children, college students, or adults, using ANC headphones to help with focus and concentration can be extremely beneficial. The headphones are consistent in canceling out the sound of plane engines, as well as random noises like people talking. They are a great asset to create peace inside our homes as we navigate through this time of being at home to learn and work.
Conclusion
Never have we experienced a time that we needed help in creating a multi-generational learning and working environment inside the walls of our homes. Active Noise Cancelling headphones have not only been the key to having peace while everyone is under one roof trying to do what they need to do, but they are also an amazing tool to block out the noisy world when we are trying to enjoy good music, a good movie or a good conversation. With this need for assistance, the options can be overwhelming. No matter what your budget or needs may be, we hope this list has helped you find an ANC Headphone that will meet your needs.
You may also like our other product reviews…
2 in 1 Laptops Under $300 | 3D Printers Under $300 | Acoustic-Electric Guitars Under $500 | AV Receivers Under $500 | Binoculars under $100 | Binoculars Under $200 | Binoculars Under $300 | Bookshelf Speakers Under $200 | Bookshelf Speakers Under $500 | Bookshelf Speakers Under $1000 | Bluetooth Speakers Under $200 | Beginner Record Players | Cameras Under $200 | Projectors Under $500 | Record Players Under $100 | Routers Under $100 | Shower Speakers | Soundbars Under $300 | Speakers for Vinyl | Turntables Under $200 | Turntables Under $300 | Turntables Under $500 | Turntables Under $1000 | TVs Under $300 | Vlogging Cameras Under $300 | Wireless Headphones Under $200 |