Updated on by Lyric Fergusson
Investing in the perfect office/desk chair can seem intimidating, especially when budget comes into the mix. When looking for a chair that will be the perfect support to your long work day, it's best to consider what is of the utmost importance to you: Are you looking for a more breathable fabric to decrease the likelihood of sweating through your work clothes? Do you need better lumbar support? How about the option to adjust the height and seat depth for those with longer limbs?
Below is a list of the 11 best office chairs on Amazon, available for under $300. Decide what will make your workday more smooth and comfortable and start your search. We hope this list helps ease your way.
---
Best Office Chairs Under $300
---
(Highest rated)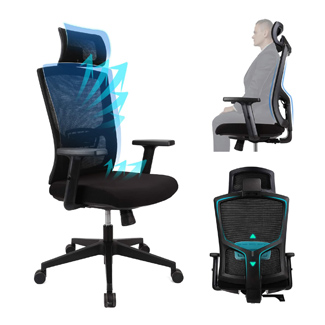 Why it's great: This mesh desk chair from Ergousit has an adjustable backrest with lumbar support and an ergonomic back curve. It is designed to provide support to 4 main areas of your body: head, back, hips, and arms. The seat is made with memory foam for added comfort and it has comfortable armrests and head support. This chair is fully adjustable with tilt tension to rock back and forth, raising and lowering for seat height adjustment, and a 360-degree swivel to easily move into any position. The breathable mesh cloth helps keep your legs and hips cool and sweat-free. This chair has great mobility, even on carpet.
Keep in mind: This has a suggested weight limit of 300 pounds and mentions a height comfort maximum of 6'3".
Good for: Those who spend a lot of time at their desk and need some support and breathability throughout the workday.
---
(New and improved)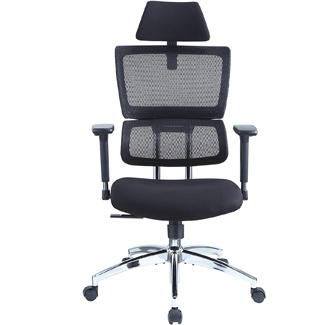 Why it's great: This high back, ergonomic chair was designed by Ticova with elastic lumbar support for maximum comfort and support. The seat is made of a thick and durable foam that feels dense, rather than thin. The frame is not plastic like many office chairs but made with steel and nylon for strength. Yes, this chair rocks and tilts all the way to 140 degrees. The reviewers loved the thicker, wider armrests, which are concave for a better fit for your body. Ticova has a high-quality standard and boasts about their customer service, which is great if any problems were to arise after purchase.
Keep in mind: This one has a high-back design, but the headrest is adjustable and removable.
Good for: Taller folks will love this high-back design, with support that reaches all the way up!
---
(Simplest design)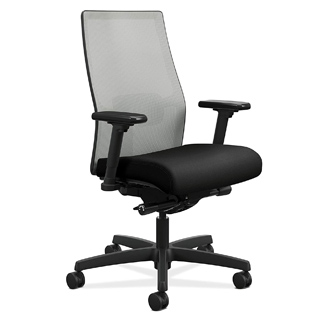 Why it's great: The breathable mesh on the back of this chair is made with a 4-way stretch technology to keep you supported and not lose its flexibility. The mesh serves to keep you supported, but cool, with no sweating throughout the workday. The base is made of a 5-star resin and makes swiveling and rolling easy. The seat itself glides backward and forward, depending on where you want the chair to end on your leg. It allows you to rock and tilt and the tilt tension helps to control the rate of these movements, to keep you from feeling unsupported.
Keep in mind: There is a warranty on this chair purchase, but only on users under 300 pounds.
Good for: Taller people who want a fully adjustable, lumbar-supporting chair for all day use.
This Chair is also available on Wayfair.com ➜

---
(Best quality)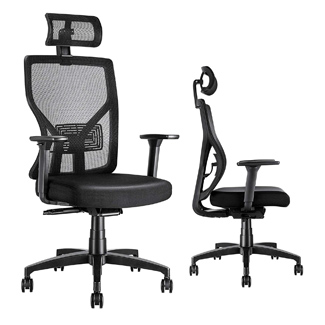 Why it's great: One of the best features of this chair is that it offers Seat Depth Adjustment, meaning that you can adjust the seat for a variety of sitting positions, leg lengths, and for overall leg support. This helps to disperse the pressure put on your hip and leg joints, helping you to work comfortably for longer periods of time. This chair is fully customizable for your fit and comfort with many other adjustments possible too: lumbar support, seat depth and height, headrest height, distance from seat, backrest tilt, and tilt tension. The use of this chair will help to improve circulation, concentration, and energy levels throughout the day.
Keep in mind: Make sure to follow instructions carefully when assembling as a few reviewers noted that they easily broke handles that weren't properly installed.
Good for: Those experiencing aches and pains from long sitting periods throughout the day.
---
(Most modern)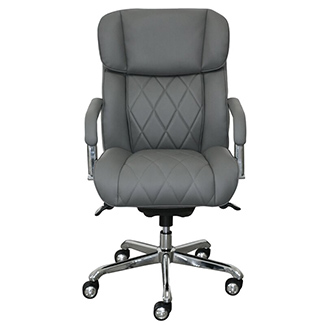 Why it's great: When you hear the name La-Z-Boy you automatically think comfort. This executive office chair is no exception. This chair features bonded leather or fabric upholstery with a quilted design, giving it a more modern look that'll fit in any office. It has extra cushioning to keep you comfortable throughout the day. Plus, it has built-in lumbar support and a padded headrest for an ergonomic and comfortable experience. It has levers that are easy to use and will adjust the height, tilt, and lift, so you can find the position that is most comfortable for your body.
Keep in mind: The weight limit on this chair only goes up to 275 pounds.
Good for: Those looking for a modern chair for their office.
This chair is also available on Amazon.com ➜
---
(Luxury)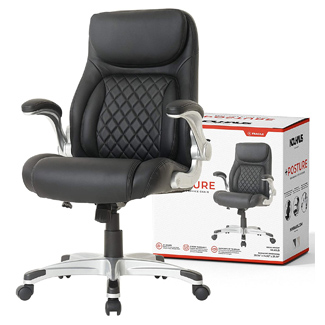 Why it's great: This ergonomic chair from Nouhaus is designed with executives in mind. This one, made with leather, is less utilitarian and more luxurious. It is available in black and taupe. The adjustable lumbar support comes in 5 clicks, allowing you to find your perfect level of support and comfort. The lifting action of this chair is made with a Class 4 Hydraulic Gaslift, steadying you every time you sit. You can choose to make this chair armed or armless and it is easy to assemble and adjust as needed. The wheelbase is heavy-duty and fully braced with nylon supports.
Keep in mind: Many reviewers noted the beauty of this chair but mentioned that it might not be the best for long periods of sitting because of the sweating that comes with leather.
Good for: Executives or those who deserve to feel like executives. If you're looking for a luxurious style, this one covers all the bases.
---
(Best value)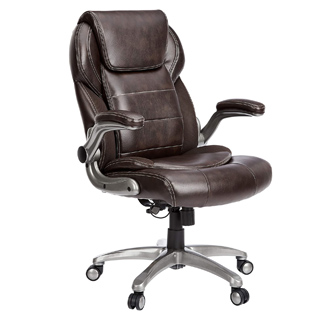 Why it's great: Available in black, brown, and white leather, this adjustable, high-back executive chair is ergonomically designed with segmented padding on the seat and back. The armrests can be moved up or down as you choose and the sturdy framework gives added durability and mobility, with the ability to swivel 360 degrees. It is made of bonded leather and an ergonomic design to provide comfort and support for anyone seated at a desk most of the day.
Keep in mind: This has a 275 pound weight limit.
Good for: Those looking for a sleek and luxurious design to compliment an executive office
---
(Largest capacity)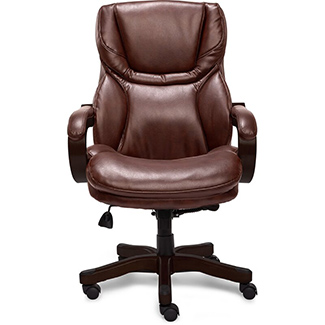 Why it's great: This chair is made of bonded leather and has authentic wood accents. It has extra cushioning and an adjustable lumbar panel for maximum comfort. Plus, you can adjust the height and tilt for the best ergonomic position for your body. Serta is well known for its quality and comfortable products, so you can feel confident that this chair will last as long as you need it. It's also made for those that are big and tall and has a weight limit of 350 pounds, which is the highest on this list. It comes in a few different color options too, so you should be able to find one that will fit in with your office decor.
Keep in mind: This chair is meant for taller people, so even the lowest height setting will be too high for anyone below 5'10".
Good for: Those that are taller and/or heavier set and want an executive style chair.
This chair is also available on Amazon.com ➜

---
(Most color options)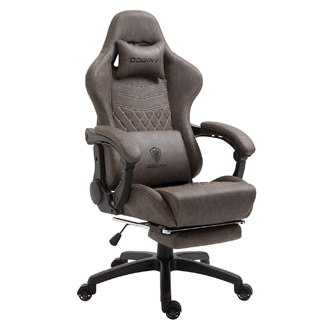 Why it's great: This chair comes in multiple colors to match any decor: black, brown, grey, and wine red. Not only is this baby made with lumbar support, but the lumbar actually massages. Unlike many others on our list, this chair has a retractable footrest, which, when coupled with the ergonomic high back, makes for a great lounging chair. This chair feels like luxury with its sportscar-class embroidery and stitching. The seat is made with thick, rubber foam and the entire chair has a strong, metal base. It is designed to promote a healthier sitting position.
Keep in mind: This chair's weight limit goes up to 350 pounds! Many reviewers love the chair, but wish the armrests were also adjustable.
Good for: Gamers and office-workers who spend many hours in their chairs, looking for comfort, style, and support.
This chair is also available on Wayfair.com ➜

---
(Most breathable)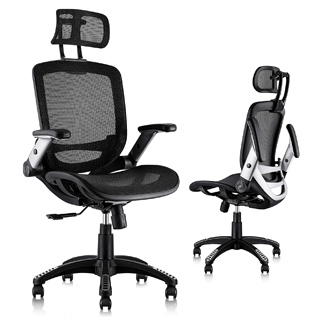 Why it's great: Mesh covers the seat, back, and headrest of this chair, making it the most breathable on the list. It has an ergonomic design with lumbar support and tilt capabilities. The armrests can be flipped up and out of the way if you prefer not to use them too. The height, armrests, headrest, and backrest are all adjustable, allowing you to find the most comfortable position for you. The wheels roll smoothly and provide enough support and durability for a full day of use. It also comes with a one-year warranty, which is a nice perk.
Keep in mind: This chair is best for those under 6'2" and 280 pounds.
Good for: Those that sweat a lot and need a chair that will help keep them cool while they work.
---
(Best budget option)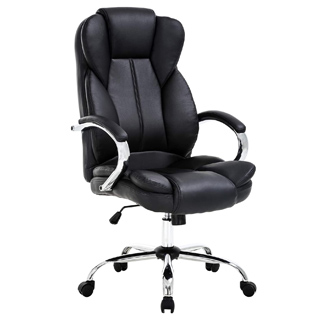 Why it's great: This ergonomic chair has all the features and the look of an executive chair at an affordable price. It's made of PU leather and is oil and water-resistant. It has lots of padding, lumbar support, and a high back with a headrest. The base is stable and supportive and it can swivel 360 degrees. The height is adjustable and it has an adjustable tilt, so you can find the position that feels the most comfortable to you. It's also quick and easy to put together and has a satisfaction guarantee.
Keep in mind: This one has a maximum of 250 pounds.
Good for: Anyone looking for an affordable executive looking office chair.
---
FAQs about Office Chairs
---
1. What should I look for in an office chair?
When looking for a chair that you plan to be sitting in for many hours at a time, try to think about what matters most to you: breathability, adjustment capability, heighth, depth, high backs, etc. The features are all based on your own personal preference.
---
2. Why are office chairs so expensive?
Office chairs are often built to a high standard, causing the market price on them to be a bit high. However, the above list includes some of the more affordable ones on the market.
---
3. Do office chairs recline?
Office chairs are often made with tilt suspension and tilt capabilities to certain degrees. They do not usually recline and stay reclined. Remember to check each listing specifically to find out just how far back you can lean with each of the options.
---
4. Are the headrests removable?
Many of the above have removable headrests. As always, make sure to check the listing if this is a specific concern for you.
---
5. Are these chairs okay for tall people or people with long legs?
Most office chairs have weight limits to keep in mind. However, many of the chairs above do seem designed with customizable support options for people of all sorts of heights and body sizes. It's a good idea to read through the reviews and see what others around your size are saying if you're worried that a chair may or may not work for you.
Conclusion
---
If you work in an office or behind a computer for much of the day, then you know the importance of a chair that is supportive, comfortable, breathable, and, perhaps, a bit stylish. You may need more lumbar support or armrests that may be removed- either way, it's important to do a little research and decide the best fit. The above list should help to serve you on your journey to finding the right fit for you in your daily life and routine, all for under $300.
You may also like our other product reviews…
2 in 1 Laptops Under $300 | 3D Printers Under $300 | Acoustic-Electric Guitars Under $500 | AV Receivers Under $500 | Binoculars under $100 | Binoculars Under $200 | Binoculars Under $300 | Bookshelf Speakers Under $200 | Bookshelf Speakers Under $500 | Bookshelf Speakers Under $1000 | Bluetooth Speakers Under $200 | Beginner Record Players | Cameras Under $200 | Projectors Under $500 | Record Players Under $100 | Routers Under $100 | Shower Speakers | Soundbars Under $300 | Speakers for Vinyl | Turntables Under $200 | Turntables Under $300 | Turntables Under $500 | Turntables Under $1000 | TVs Under $300 | Vlogging Cameras Under $300 | Wireless Headphones Under $200 |