Updated on by Lyric Fergusson
Being a parent is challenging work. There are so many things to do that it can get overwhelming when something isn't going correctly. No parent wants to end a doctor's visit by being told to stay cautious about fixing anything. We want to feel like our kids are doing great.
If you're reading this, you've inevitably been told that your baby's head and shape aren't where it needs to be during a wellness visit. Or maybe you're here to get ahead of a common issue – flat head syndrome. We understand and accordingly created a list of the 11 best pillows to prevent and/or correct your baby's flat head.
Best Pillows For Baby Flat Head
---
(Best budget option — $)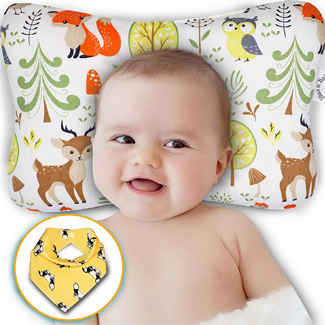 Why it's great: If you have a newborn or infant, consider this head shaping pillow. Its pediatrician designed to distribute the pressure of your baby's head evenly to prevent flat head syndrome. This pillow assists with reducing reflux with its raised design. It's anti-rollover design is excellent for preventing SIDS (but please always supervise).
It's made with 100% cotton and polyester material, with Oeko-Tex Certification, which means a hypoallergenic experience for your little one. The 3D mesh provides a cooling effect by pulling in moisture and heat. You'll know your baby will be comfortable with such premium breathability. It's easy to either hand wash and hang to dry or machine wash and tumble dry when messes or build-up occurs. Its durable design means no worries over time as it keeps its shape intact. It also includes a bib as an added bonus!
Keep in mind: Pillow comes in one design of woodland animals, but it's unisex friendly.
Good for: Newborns up to 14 months who need head shape correction.
---
(Most comfortable — $$)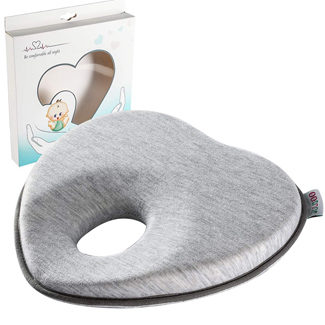 Why it's great: The unique ergonomic design of the JOLGOO provides excellent head shaping for your baby. The cotton material means breathability no matter what your baby uses it for. This pillow is made with memory foam to help mold your baby's head accordingly. It helps to relieve pressure at the critical points needed for shape correction.
Because of SIDS, pillows can be scary to use. Though you should always supervise pillow use, this pillow's cocoon design is made to keep your baby's head and spine in alignment with its stable core, all while encouraging proper shaping. It's perfect for any setting.
Keep in mind: It comes only in gray, but the neutral color fits in with most decor.
Good for: Newborns up to 12 months and smaller babies.
(Best breathability — $$)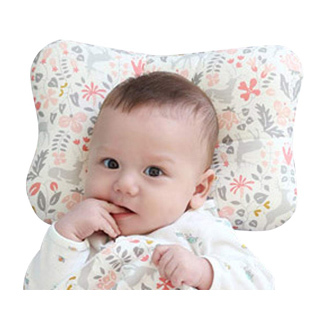 Why it's great: Fixing a flat head means your baby will need to stay comfortable on whatever pillow they use. A 3D mesh pillow made of cotton such as W WelLifes' provides the necessary ventilation to allow airflow to your baby's head to keep them at ease.
Its overall design also supports evening out the pressure of your baby's head to correct or prevent flat head syndrome. You can also easily adjust the pillow's height to perfectly contour the shape of your baby's head. Its durable design means you'll get all the necessary uses from this pillow to assist your child through this stage. It comes in six colors, such as Bambi blue and pink.
Keep in mind: This one is not quite as soft as some others and can cause tangles in your baby's hair if they move around a lot.
Good for: Babies prone to overheating.
---
(Most adorable — $$$)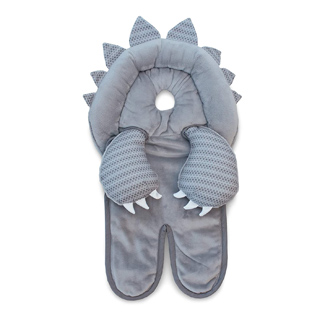 Why it's great: This pillow gives full body support, as well as head support, and looks like a cute little monster is hugging your baby. The adorable design puts the 'fun' in functional. The cutout in the pillow gives your baby's head and neck the proper support while relieving the pressure that can cause flat heads. It's soft and minky and the design allows you to fit a 5 point harness around it, which means you can add it into a swing or stroller.
Boppy is well known for their nursing pillows and this support pillow is a great addition to their brand. It's also machine washable, which is always a bonus when you're dealing with baby gear.
Keep in mind: The monster design works for both genders, but if you want something a little more girlish they also offer a pink, princess design.
Good for: Parents that want an adorable head shaping pillow.
---
(Easiest to clean — $$$)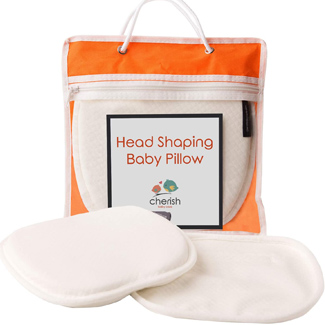 Why it's great: This head shaping pillow was created with safety in mind. Your infant will find comfort and neck support here because of the memory foam and center contour. The preventive ergonomic design means you can use this right after birth as well.
On top of the protective inner cover, you get two machine washable cotton covers. This puts your mind at ease when one gets messy. With no zippers or snaps, you know your little one is safe and comfortable. You can use it anywhere and for any child thanks to its size and neutral tone.
Keep in mind: This pillow seems to be better at preventing flat head, rather than repairing it.
Good for: Newborns up to 12 months.
---
(Best design — $$)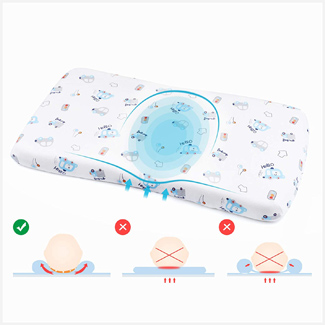 Why it's great: Typical pillows aren't supportive enough for flat head syndrome. A pillow such as Mokeydou is made with favorable, slow rebound memory foam with an arc design that supports your baby's cervical vertebra. It's designed to distribute pressure in a suitable way for your baby. The lining is made with anti-mite and antibacterial lining, too, and no zipper to increase safety.
You also get the benefits of hypoallergenic cotton, a washable cotton cover, and a three-month warranty guarantee. Select from car or giraffe designs.
Keep in mind: This one is bigger than most, so make sure you have enough room in the crib or wherever you plan to have your baby use it.
Good for: Newborns to 24 months, meaning you can use it for longer than traditional flat head pillows.
---
(Best full shape lounger — $$$)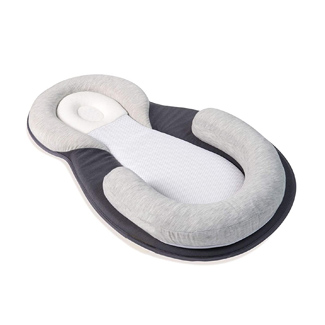 Why it's great: This versatile organic made pillow is great for many uses. It supports your baby's head and neck, prevents flat head syndrome, and can be used as a lounger pillow or a baby nest. It's thick but soft with a womb u-shape cushion and leg support, too. Talk about full-on inclusions for your baby!
Its rollover prevention design reduces parental stress while its head support averts your baby from spitting up. It's an incredible baby shower gift any parent and baby will appreciate.
Keep in mind: Comes only in gray, meaning it's neutral for any baby and fits easily into any decor.
Good for: 0-12 months who need full coverage support.
---
(Best organic — $)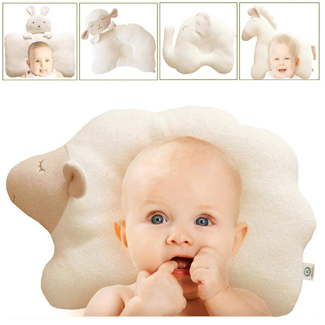 Why it's great: When you want an organic, bleach, dye, and print free, head shape correction pillow, this is the one for you. This globally certified pillow ensures the highest quality, so you don't have to worry about that on top of reshaping or preventing flat head syndrome. It comes in an adorable lamb shape too!
You can also use it during diaper changes, playtime, or while nursing. Plus, it's double-sided, which means twice the use before wash. You also get a satisfaction guarantee on top of everything else, which means you'll most likely be satisfied. It's a favorite for many parents, and it may be just your baby's too.
Keep in mind: It is recommended that you hand wash, but it can be machine washed on a gentle cycle.
Good for: Organic and safety-minded parents.
---
(Most options — $)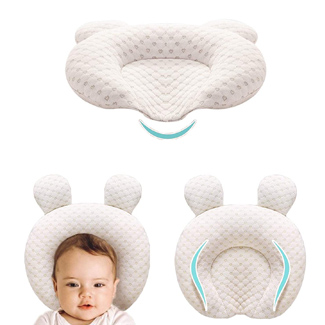 Why it's great: Unlike most other support pillows, this one actually comes in different color options, so you can choose the one you like best. It also has cute little ears on top, which make your baby look adorable when they're using it. This pillow is perfectly designed with proper support for your baby's head and neck and allows your child to have the proper cervical alignment while resting. It's made with latex particles and soft, breathable cotton, so it's comfortable and will keep your child cool throughout the night. The best part is that it is machine washable for easy cleaning.
Keep in mind: This does come with a cover, which is the part that can be washed in the machine. The pillow itself should be hand washed if necessary.
Good for: Parents that want a support pillow that will match the rest of the nursery.
---
(Best value — $)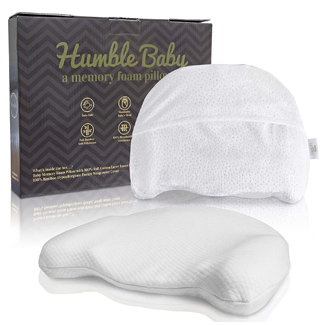 Why it's great: This pillow offers everything you need in a support pillow at an affordable price. It is made of premium memory foam that reduces the pressure on your baby's head that leads to flat head problems. The memory foam is covered with 100% organic cotton, which is soft, breathable, and hypoallergenic. Plus, it comes with a bamboo pillowcase that's super soft and silky. It's also easy to remove and can be machine washed, making it super easy and convenient to clean. Humble Baby offers a 60-day warranty to guarantee your satisfaction, so you know the quality must be good.
Keep in mind: This one only comes in white, which can sometimes be a pain to keep looking fresh and clean. However, the cover can be removed and washed as often as necessary.
Good for: Parents that want a good pillow at an affordable price.
---
(Best quality — $$$)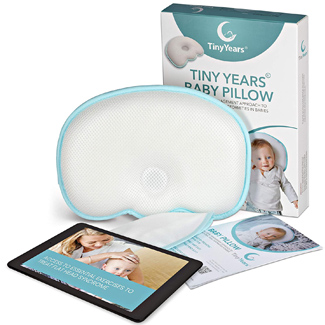 Why it's great: This pillow is made with high quality, 3D air mesh, which is soft and comfortable, completely breathable, and is machine washable. It is perfectly designed to support your baby's head and neck and prevent flat head syndrome. This pillow can both prevent and treat flat heads, unlike other pillows that only work as prevention. It also comes in 3 different sizes, so you can make sure you're getting the right one for your child. On top of that, this pillow also comes with access to online exercises that help with your baby's development!
Keep in mind: Measure your child's head and make sure that you get the correct size for maximum comfort and success.
Good for: Parents that want a high quality pillow and exercises that will help their child's development.
---
FAQs about pillows for baby flat head
---
1. What is flat head (plagiocephaly)?
If your baby develops a flat spot on the back or side of their head, this is called flat head syndrome or plagiocephaly (medically). It will cause your baby's head to look uneven.
---
2. What causes flat head syndrome?
Baby's heads are very soft and malleable for passage through the birth canal and for brain growth in the first few months. Thus it's easy for their head's shape to flatten from laying on one side too much. They won't develop the ability to use their necks for a few months.
Flat head syndrome occurs when a baby spends too much time on one side of their head, be it the back or sides. Some infants naturally tend to find comfort laying in the same spot. It can also occur if your baby spends a great deal of time using things like a car seat or rocker.
---
3. How do I know if my baby has plagiocephaly?
You'll first notice it because of the odd shape (flat, pointy, or like a parallelogram), or it may be brought up when you go for a wellness visit. It's best to consult your doctor so they can confirm if the shape and size of your baby's head need adjustments.
---
4. What can I do to prevent flat head syndrome?
You may be tempted to prevent plagiocephaly because your baby sleeps on their back by putting them on their belly. However, it isn't recommended that younger babies sleep on their bellies due to SIDS (they may be unable to turn their heads fully). Still, your baby could develop flat head syndrome from sleeping on their sides, too.
True prevention of plagiocephaly comes from assisting your baby in sleeping or lounging on all sides as evenly as possible. Give your baby a minimum of 30 minutes of supervised tummy time each day to alleviate head pressure. You can also assist your baby at night by turning their head or laying them in the desired position to give even coverage.
---
5. Do flat head pillows really work?
Many parents have had success with flat head pillows. You don't have to do in-depth research to find positive results.
If a pillow doesn't work, in very rare cases, your doctor will try a helmet or surgery.
---
6. Can babies use pillows?
Babies can use a pillow, but because of SIDS, it's highly recommended you always supervise the use of pillows, especially for children 2 and under.
---
Conclusion
---
While it is challenging work being a parent, not every part of it has to be too complicated. It's good to be proactive, but sometimes we end up steering on the course-correcting path. We hope you found this article helpful in deciding what kind of flat head pillow to purchase no matter where on the spectrum you are. We're all just trying to do our best and yes, your best is pretty good or you wouldn't be here!
You may also like our other product reviews…
Baby Onesies | Baby Probiotics | Baby Rattles | Baby Socks That Stay On | Baby Utensils | Baby Walkers | Baby Washcloths | Bath Towels | Bathtubs | Bibs | Blankets | Blenders to Make Baby Food | Booties | Bottle Brushes | Bottle Drying Racks | Bubble Bath Soap | Carriers for Petite Moms | Coconut Oils for Babies | Cribs for Twins | Floor Seats | Foam Play Mats | Glass Baby Bottles | Hair Brushes | Hampers | Hats | Headbands | Hooded Towels | Interactive Baby Dolls | Long-range Baby Monitors | Loungers |