Updated on by Lyric Fergusson
Boing! Boing! What could be more fun than bouncing! A pogo stick has always held a special appeal to children. After all, a toy that promises hours and hours of bouncing can't be anything but a great time! Kids have a natural ability to stay upright on these toys. This makes them the perfect match for kids eager to get up and get moving!
Here are my picks for the 7 best pogo sticks!
Best Pogo Sticks
---
(Best for older kids with a sense of style — $$)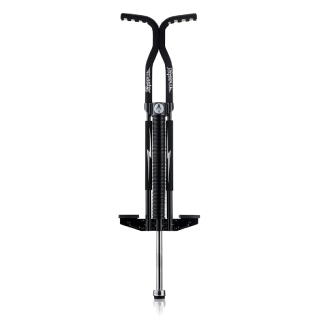 Why it's great: With Flybar, you get a company that has been in business since 1918. They tout that they are 'the standard by which all pogos are measured.' This stylish pogo comes in many colors, which is sure to please many tastes. The cushioned grip and wider stance bounce tip make this stick comfortable and stable as well as fun. It also comes equipped with non-slip foot pegs to help riders do tricks with ease. The Flybar Foam Master is meant for kids 9 and up and can handle weights from 80-160 lbs.
Keep in mind: It's best to wear pants went bouncing as knees can sometimes get a little roughed up.
Good for: Older kids who may want to try and trick or two!
---
(Best for Teens who love to bounce — $$$)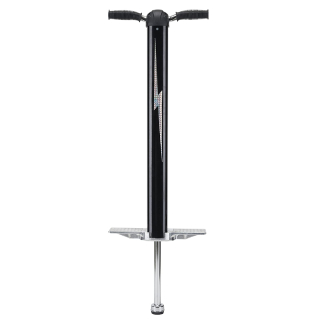 Why it's great: The Flybar Super Pogo 2 is excellent for teens 14 and up whose taste leans toward the extreme. This pogo is durable enough to handle any trick your teen could throw at it and then some. With 'aircraft grade' 6160 aluminum and a heavy-duty metal frame, vertical reinforcing chambers, and large footpegs, this pogo stick is the perfect match for an active teenager. Not to say you can't casually pogo on this stick as well. It's built for both! With a weight limit of 200lbs, just about anyone in the family can give this toy a try.
Keep in mind: The pogo stick can be stiff when you first try it. It does loosen up.
Good for: Teens ready to BOUNCE!
---
(Best for kids who like to bounce on the go — $$$)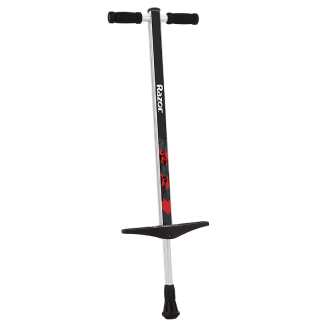 Why it's great: This lightweight pogo stick is perfect for the kids who like to travel with their pogo stick. The lightweight aluminum frame construction of this stick is sure to please the kid who doesn't want to be weighed down. Plus, with folding handlebars and footrests, this toy is not only fun but practical. The maximum rider weight is 140lbs. Recommended for 6 years and up.
Keep in mind: The stick portion does NOT fold up.
Good for: A kid on the go!
---
(Best for little ones — $)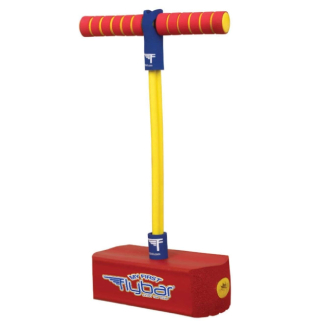 Why it's great: The toy is crafted from durable foam, making it ideal for a child's first pogo stick. It's also designed for outdoor and indoor use, which is excellent for little ones just learning balance and coordination. Super durable and made for action, your child will have hours of fun bouncing about improving hand-eye coordination and gross motor skills at the same time. Oddly enough, this toy has a weight limit of 250lbs! So WOW! Just about anyone could give this a go! Great for boys and girls 3 years old and up.
Keep in mind: This toy squeaks each time it bounces.
Good for: Little ones trying a pogo stick for the first time.
---
(Best for kids who have a good sense of balance — $)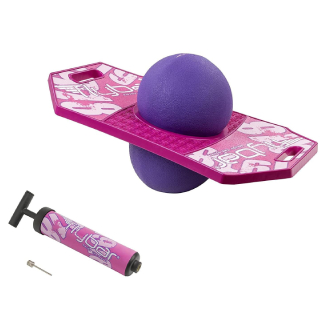 Why it's great: This trick bounce board comes in 5 exciting colors and extra heavy-duty grip tape designed for maximum traction. This toy also comes with its own pump when the ball needs a little lift. With a weight limit of 160lbs, this bounce board is made to last. It's also an excellent way for your kids to build back and core strength. Recommended for kids 6 years old and up. BONUS: Should anything happen, Flybar will ship replacement balls free of charge.
Keep in mind: A good sense of balance is required to use a bounce board.
Good for: Kids who want to work on core strength with an adult close by.
---
(Best for Kids who want a colorful bounce — $$)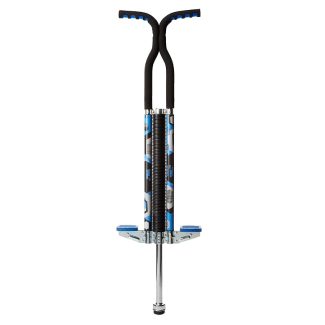 Why it's great: This is the latest design from Gizmos. You can tell by the performance and beautiful appearance that they were going for something unique. Not just for looks, this model comes with non-slip pedals and a safety foam handle. It's also covered in durable foam and is built to withstand even the most active bouncer. This pogo stick is recommended for kids 9 years old and older and comes with a weight limit between 80-160lbs.
Keep in mind: if you are hoping to make this a surprise, the packaging leaves nothing to the imagination. Be warned.
Good for: A family looking for design and safety.
---
(Best for younger kids looking for a first 'grown-up' pogo stick — $$)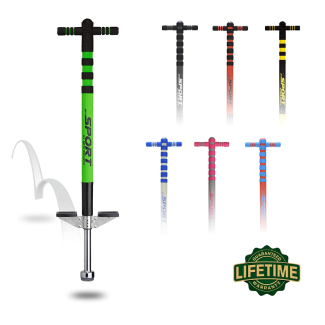 Why it's great: This pogo stick is made for the younger set with its cushioned, foam grip handles and wider stance for increased safety and comfort. Available in a variety of colors, this stick is sure to please the younger set. Not to mention that it can withstand up to 80lbs easily. However, if at any time you are not satisfied, New Bounce promises to resolve any issues.
Keep in mind: The SPORT EDITION has a minimum weight of 40 lbs.
Good for: Smaller kids ready to bounce!
---
FAQs about pogo sticks
---
1. What about safety? Are pogo sticks safe?
The short answer is yes. Don't misunderstand, a child should take their time and build up to bouncing high, only once they have become comfortable jumping lower. Pogo Sticks are high-powered flight vehicles. That is a fancy way of saying they bounce high with some speed. However, most kids will only use them to jump a few feet high, which is relatively safe. However, they should ALWAYS wear a helmet when bouncing because they're kids, and accidents can happen.
---
2. How high do pogo sticks bounce?
Unless your child is attempting extreme tricks, they should only be getting a few feet off the ground.
---
3. How much weight can a pogo stick handle?
This is entirely dependent on the make and model of the pogo stick. Some pogo sticks are made for younger kids, whereas some models are designed for teens and even adults in mind. Make sure you carefully read the manufacturers recommendations before you make a purchase.
---
4. Is it a good form of exercise?
Absolutely! It's an intense, low impact cardio exercise. The higher you jump, the more calories you burn! It's also a tremendous anaerobic exercise for the legs and arms.
The bulk of the work gets piled on the core though that is responsible for keeping the balance on one little stick. It's truly a great way to get your kids away from their screens and outside moving.
---
5. Should my kid wear anything special when they use their pogo stick?
Besides a helmet (of course), you kids should wear sturdy, closed-toed shoes. For beginners, wrist guards and elbow pads can also help safeguard against any unexpected falls. If your child is on cement, longer pants might not be a bad idea, although this might not work in the heat of summer.
---
6. Where should my child use their pogo stick?
Great question! The best place to use your pogo stick is on a flat surface like cement, concrete, asphalt, or a sidewalk. You should never use your pogo stick on grass, sand, dirt, gravel, or steps or stairs.
---
7. Can adults use pogo sticks? (asking for a friend)
Of course! Many pogo stick models have high weight limits. On the list above, there is a 250lb limit on a child's pogo stick! Check the manufacturer's recommendations on weight limits before you bounce. If you're within the weight limits, there is nothing to say you shouldn't be able to bounce with abandon just like your kid.
---
Conclusion
---
Pogo sticks are not only tons of fun, but also a terrific way to get off the couch and get some exercise. Kids sometimes need an extra push to get off the couch and away from their screens. Pogo stick s are the perfect enticement to get them moving, bouncing, and working those core muscles! And they're not just for kids! Kids (of all ages) can grab a pogo stick and remember what it was like to spend time just simply bouncing up and down. There really is something so freeing about letting go on a pogo stick. Kids have got it right! Next time your child (or spouse) feels stressed, why not suggest a half-hour on the pogo stick? You just may be on to something big.
Bounce on.
You may also like our other product reviews…
Croquet Sets | Gas Grills Under $200 | Gas Grills Under $300 | Trail Cameras Under $100 | Zero Gravity Chairs |