Updated on by Asher Fergusson
If you're a music lover, you know how epic it is to sit back and listen to vinyl on a record player. It's one of the most genuine ways to listen to recorded music. Back in the day, record players were pretty bulky and meant to be kept in one place. Today, portable record turntables are readily available, letting you play your favorite vinyl wherever you please.
Crazy for good music, we decided to share exactly what the best portable record players are. Here are our top 7 picks to date.

Best Portable Record Players
---
(Best budget option — $)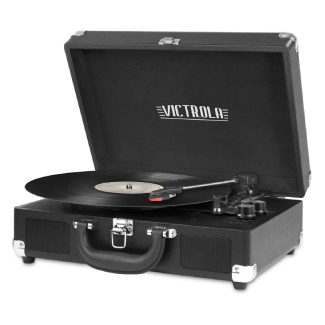 Why it's great: This portable record player mixes old school and new school. It includes a 3-speed turntable to support all sizes of vinyl. But, it also has Bluetooth stereo speakers that let you easily connect to your mobile device. There are inputs for even CD players too. This lets you play all sorts of music. Also, this record player comes in tons of color styles. You will definitely find at least one that suits your needs. Once you do, you can simply use this record player's easy briefcase-style handle to carry it wherever you go.
Keep in mind: The price will vary depending on the color style you want. Nevertheless, each offers the same features, including a bluetooth stereo.
Good for: Those who want to play both their vinyl and their digital music.
---
(Most compact — $$)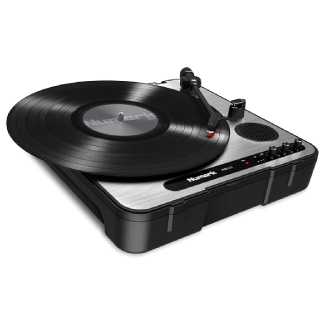 Why it's great: This record player has all the essential components you need to play your favorite records. It can play all sizes of vinyl records, from 33.5 to 78 RPM. Also, it is conveniently battery powered so that you can play it anywhere. The coolest part about this record player, though, is that it comes with converter software to transfer any vinyl to digital. The software will work no matter your computer type, saving you the time and money buying any digitizing accessories.
Keep in mind: This record player does not come with a stereo system. Rather, it has a built-in speak that will aptly play any sized vinyl record. You can also connect it to an external speaker as well.
Good for: Someone wants a simple record player to play all their favorite records anywhere they go.
---
(Best speaker — $)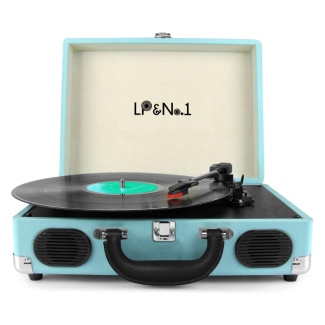 Why it's great: The leather design of this record player is an elegant accessory to any room. It features a first-rate belt drive system that plays all sized records. Most impressively, it has not one but two stereo speakers. This amplifies your favorite records, making this record player a perfect addition to any party. Plus, you can use the speakers to play digital music too. When the party is over, you can simply cover your turntable with its case and lock it closed. With its smooth leather exterior, it will still look fabulous off-duty. The leather, by the way, is faux and vegan-friendly!
Keep in mind: If you are looking to play digital music with the speaker, you can. Although it does not come with wireless Bluetooth, you can easily connect your phone with the aux jack.
Good for: Those who like to really turn up the music and have a party.
---
(Most style — $)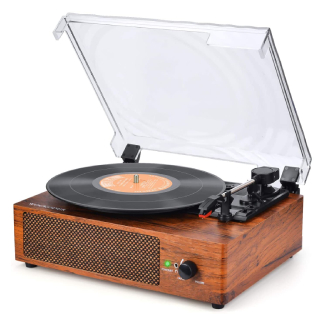 Why it's great: This record player combines simplicity with style. Its chic wooden base adds charm to any room. Then, its quality turntable and speaker set the entire tone. You can play a variety of records on this player, no matter if it's 7 inches or 12 inches. Its straightforward and manual turntable has a sturdy cartridge to help keep sound nice and clear. This is great for those hoping to learn how to use a turntable. We cannot forget to mention that this record player doubles as a Bluetooth speaker, just in case you decide to switch to your favorite playlist.
Keep in mind: Although this record player is portable, it does not come with a handle or carry case. However, it is pretty lightweight and has a durable clear cover to protect the turntable. This makes it safe and easy to move this record player around.
Good for: If you want a record player that is stylish and accessible.
---
(Best vintage gift — $$)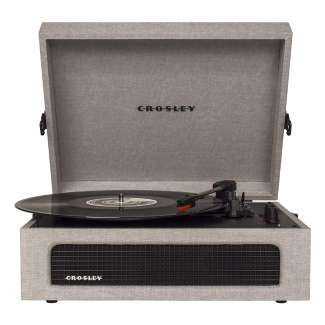 Why it's great: There is so much charm in this record player. It comes in 8 fabulous colors, all with vintage appeal. Its stereo speaker is modern but looks totally vintage. The same goes for its turntable – all the pieces are updated. But, it is entirely manual, allowing you to adjust the needle old-school style. This record player would make an incredible gift as it looks great and plays great music too.
Keep in mind: If you are hoping to convert or digitize your vinyl records, this record player may not be the choice for you.
Good for: If you want to surprise someone who loves vintage style and vinyl records.
---
(Most versatile — $$)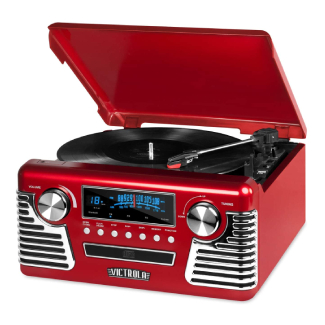 Why it's great: This is more than just a record player. It offers numerous ways to play music. It has a turntable equipped to play any size vinyl record. It even has an AM/FM radio and CD player. It does not stop there – everything plays loudly on built-in Bluetooth stereo speakers. That's right – you can even connect your mobile device to this record player. Did we mention how funky this record player is too? It looks like a fabulous antique from the 1950s. It includes giant volume and tuning knobs to enhance any tunes. This record player will surely add a ton of flair anywhere it goes.
Keep in mind: This record player is corded and does require any outlet. Besides that, it can be taken anywhere once its turntable is closed and covered.
Good for: For someone who loves retro design and playing all kinds of music.
---
(Best automatic — $$$)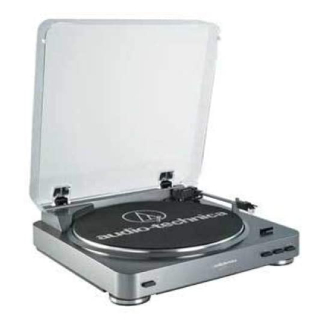 Why it's great: Don't be fooled by the basic design of this record player – it knows how to play your vinyl records. Its turntable system is completely automatic, giving you fewer worries about properly placing the stylus. This makes this record player very approachable for beginners, who are still learning how record players work. Also, it includes software to convert your records to your computer. This is an excellent option if you'd like to store your records digitally.
Keep in mind: This record player only plays 33 1/2 and 45 RPM records. That means it cannot support larger records, that are around 10 or 12 inches.
Good for: Those who would like to transfer their vinyl records to their computer and/or are looking for an automatic record player.
---
FAQs about portable record players
---
1. What is the difference between a manual and an automatic record player?
What differentiates a manual from an automatic record player is the tonearm function. With a manual record player, you need to move the tonearm yourself to accurately place and remove the cartridge from the vinyl record. On the other hand, an automatic does this for you. If you are a record player newbie, an automatic might be the best choice for you. There is an in-between option, though. Semi-automatic record players do exist, where you get to place the tonearm manually, but it will remove itself when the record finishes playing.
---
2. What do the RPM record speeds represent?
This refers to the speed at which the record player turns. A record will come in one of three speeds: 33 1/2, 45, and 78. These records vary in size. Typically, the slower the speed, the smaller the record. If a smaller record was played at too fast a speed, it could be damaged.
---
3. What is a stylus on a record player?
If you ever heard about the needle on a record player, then you have heard of a stylus before. This is the little piece that sits and moves along the record player. In fact, it is the only piece that actually touches the vinyl record. The stylus is found within the cartridge piece.
---
4. What is a cartridge on a record player?
This is the chunky piece at the end of the record player's tonearm. It is vital in producing the best sound from your turntable. Within the cartridge is where all the record's vibration is channeled and converted into sound. There are few types of cartridges out there, each with a different shape.
---
5. What is the tonearm?
This is the extension that allows you to orient the cartridge accurately on the record. It needs to be maintained, as it is pivotal in bringing the sound to the record player's speakers. Some tonearms function manually, while newer record players offer semi-automatic or automatic options as well.
---
6. Are portable record players battery operated?
This varies. Some portable record players are battery-operated, even with a rechargeable battery. There are also record players that are corded and require an outlet.
---
7. Can you connect record players to external speakers?
Yes. Portable record players will most likely offer an RCA output to connect external speakers. Some portable record players do come with the RCA adapter cables, simplifying the entire process.
---
Conclusion
---
Music is an experience. A record player allows you to directly engage in playing your favorite tunes. The latest portable record players are super approachable and affordable. Their efficient designs let you bring music wherever you go. Today's record players come in such a variety of styles and options. Some are more modern looking, while others are totally vintage. There are even automatic and manual options. Plus, the record players are fit with excellent speaker systems, which can often play digital music too. Whatever you choose, you will get to listen to and explore the world of vinyl anywhere you go.
You may also like our other product reviews…
2 in 1 Laptops Under $300 | 3D Printers Under $300 | Acoustic-Electric Guitars Under $500 | AV Receivers Under $500 | Binoculars under $100 | Binoculars Under $200 | Binoculars Under $300 | Bookshelf Speakers Under $200 | Bookshelf Speakers Under $500 | Bookshelf Speakers Under $1000 | Bluetooth Speakers Under $200 | Beginner Record Players | Cameras Under $200 | Projectors Under $500 | Record Players Under $100 | Routers Under $100 | Shower Speakers | Soundbars Under $300 | Speakers for Vinyl | Turntables Under $200 | Turntables Under $300 | Turntables Under $500 | Turntables Under $1000 | TVs Under $300 | Vlogging Cameras Under $300 | Wireless Headphones Under $200 |