Updated on by Lyric Fergusson
There's no way around it: childbirth is hard. Even if you are one of those rare people who has a pain-free delivery, it's still hard work. It's no wonder the postpartum period is also challenging.
If you've given birth before, you know how important it is to be prepared with the right postpartum pads. Not only do pads help you feel more comfortable, but they also aid the healing process after childbirth, making them an essential product for your postpartum care kit. Here are our top 11 picks for the best postpartum pads of 2020:

The Best Postpartum Pads
---
(Most natural — $)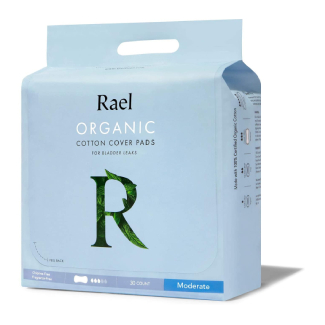 Why it's great: Rael Organic pads are a great hypoallergenic choice for women with skin sensitivities. Not only are they made of all-natural materials and free of chlorine, pesticides, fragrance, and toxins, but they also feature a 4-layer, super absorbent core, making them a great natural option for heavy flow. The contoured sides allow for free movement, while the wide front and back provide excellent coverage.
Keep in mind: The contoured sides do a great job of keeping these pads in place, but if you like wings, these pads do not have them.
Good for: Eco-friendly moms who need a little extra absorbency.
---
(Most healing — $)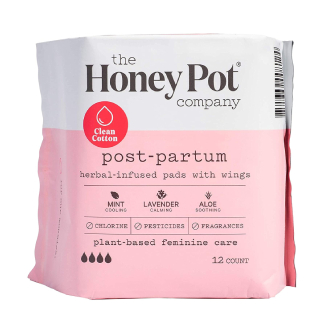 Why it's great: These all-natural, organic pads are free of perfumes, chlorine, dyes, or other synthetic materials, making them an eco-friendly, natural option. The pads are infused with lavender and mint, which bring soothing relief and help the healing process. If you've used herbal infusions for perineal care after childbirth, you know how powerful these plants can be! The pads also contain rose and aloe, two more plants that bring pain relief and speed recovery. The pads have wings to keep them in place and are wide on the sides, front, and back for added coverage.
Keep in mind: If you have sensitivity to lavender, mint, aloe, or rose, these probably aren't the pads for you. However, these herbs are known to be extremely helpful for skincare and postpartum pain relief, so don't be afraid to give them a try if you haven't had issues in the past! You'll probably find them a godsend.
Good for: Eco-friendly mamas who need a healing boost.
---
(Best for extra cushioning — $)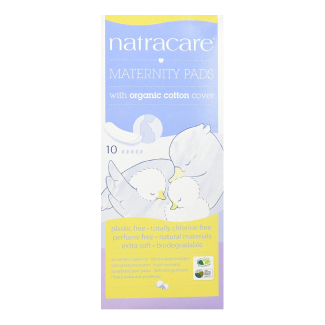 Why it's great: These organic cotton pads provide extra cushioning, making them ideal for moms who want a little extra support. They have a long, narrow design, with wings to keep them in place. The pads are free of plastic, chlorine, and perfumes, and are made of all-natural materials. Natracare Maternity Pads are also a cost-effective option, at just over $8 for two packs of ten.
Keep in mind: These pads are quite bulky, so they are best for the immediate postpartum period, when lochia is heavier, or during night-time use.
Good for: Moms who need a little bit of extra absorbency and cushioning.
---
(Most eco friendly — $$)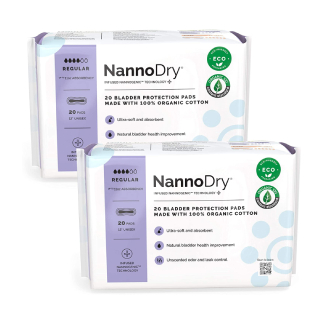 Why it's great: Not only are these pads made of organic cotton and other all natural materials, the packaging is also eco-friendly and biodegradable. They are chemical, dye, toxins, and bleach free. These come in light, regular, or super absorbency, so you can decide which is the best for your needs. They have a thin and absorbent core, are fragrance free, and odor reducing. Plus, they have a leak-proof back sheet.
Keep in mind: These are pretty pricey if you only buy one pack at a time; however, if you purchase two or more packs, the price decreases per pad.
Good for: Anyone that wants an environmentally friendly pad that's also comfortable and absorbent.

---
(Most comfortable — $)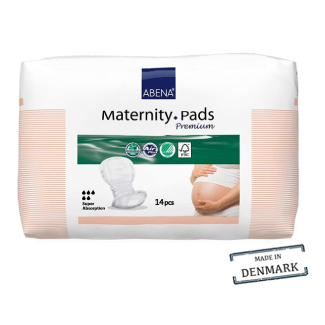 Why it's great: Abena Premium Maternity Pads are designed to accommodate all postpartum needs, from light flow to heavy bleeding. Their special, contoured design makes them a great option for women who want a comfortable, but absorbent pad. These pads also utilize a Top Dry system that increases breathability and air flow, decreasing that soggy feeling that some pads have.
Keep in mind: Wings or no wings? The answer is totally personal, but if you don't like wings, these are a great option for you. They do have self-adhesive strips to keep them in place.
Good for: Moms who are looking for a balance of comfort and absorbency.
---
(Gives back — $)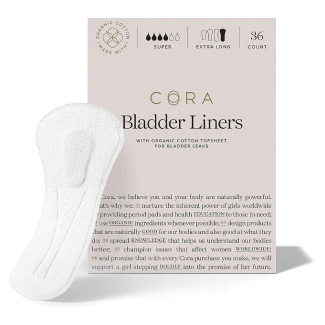 Why it's great: These pads are made of hypoallergenic, organic cotton and don't have any chemicals, toxins, dyes, or perfumes. They are light and breathable, making them comfortable to wear as long as you need them. They have an ultra-absorbent pod near the front, where most leaks happen, to reduce wetness and odors. The adhesive strip is strong enough to keep these in place, no matter what you're doing. Plus, every purchase helps provide pads and health education to girls in need.
Keep in mind: These are better for lighter days and may not be best the first couple days after giving birth.
Good for: Women that want a light, comfortable pad from a company that gives back.
---
(Best for pain relief — $$)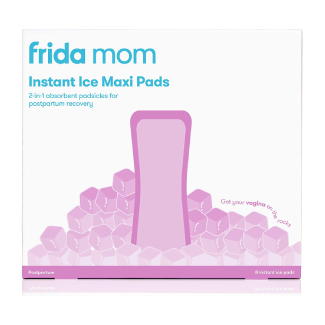 Why it's great: Frida's baby products are amazing and their postpartum line is too. These 2-in-1 ice packs provide cold therapy to help your body heal after giving birth, giving them the appropriate nickname "padsicles." Even better, you don't need to freeze them for hours to get the cooling effect. Just crack the pads before use, and the cold will immediately be activated, for about 20-30 minutes of cooling relief.
Keep in mind: $20 for a pack of eight might seem expensive, but hopefully you will only need these for the first week or two after giving birth. Two boxes would be a good start. When you feel the relief, you'll know the price is right.
Good for: Pain relief and healing in the first weeks after giving birth.
---
(Best budget option — $)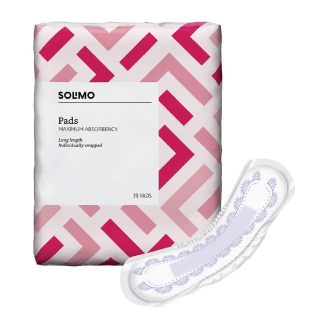 Why it's great: These come in light, maximum, ultimate, or overnight absorbency, so you can be sure you'll have the coverage you need. They even have a chart, so you'll easily be able to decide which is right for you. They have a super absorbent core to lock in wetness and keep you feeling dry. They also have an odor guard that neutralizes and stops odor. They're made of hypoallergenic cotton, which is soft and moisture-wicking, to keep you feeling comfortable. Depending on the absorbency, they offer 12 hours of leak protection!
Keep in mind: These are a little bulky, but they're also super absorbent and are the most affordably priced.
Good for: Those that need a budget friendly option that works well.
---
(Best for complete postpartum care — $$$)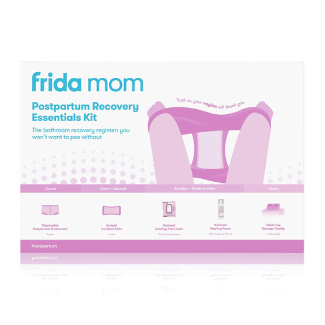 Why it's great: This kit is a dream come true for new moms and would be a great gift for the mom-to-be in your life. The FridaBaby Mom Postpartum Recovery Essentials Kit includes 4 pairs of disposable underwear, 4 "padsicle" maxi pads, perineal cooling pad liners, perineal healing foam, and a convenient caddy for easy transport and organization. Combine this with a pack of 30+ postpartum pads and you have a complete postpartum care regimen.
Keep in mind: Although the price point is a bit higher for this product, keep in mind it's an amazing value since you receive so many essentials to get you through the postpartum period. If you're planning on having a home birth, I would recommend investing in this kit. Also, remember that the regular postpartum pads don't come in this kit, so you'll have to purchase those separately.
Good for: Moms who are looking for a complete postpartum care option.
---
(Best value — $)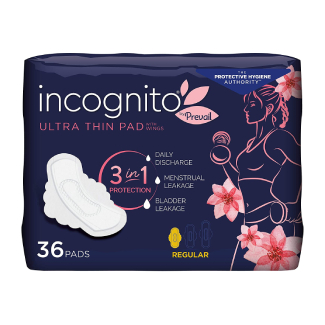 Why it's great: These pads were designed specifically for pregnant women and new moms, with hypoallergenic material that won't irritate your skin. They have a dual-action odor guard to stop odor before it starts. They're light and breathable, with an AirMax layer that keeps you feeling dry. They also have the MaxSorb Gel Technology, which absorbs leaks quickly and wicks them away from your skin. Depending on the absorbency you choose – regular, super, or overnight – you'll get up to 9 hours of protection. They also have wings to help keep them in place.
Keep in mind: Make sure you order their maternity pads for the best postpartum coverage, not their regular pads.
Good for: Those looking for highly absorbent pads at a great price.
---
(Best for cesarean recovery — $)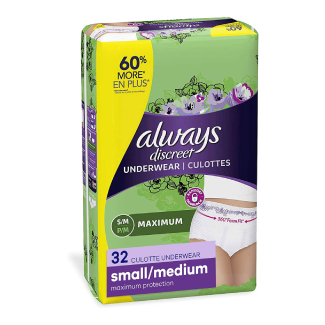 Why it's great: If you have given birth in a hospital, you're probably familiar with the giant disposable underwear you receive after delivery. Always Discreet Underwear is a similar product, but much more comfortable and practical. For one thing, you don't need to go through the somewhat annoying process of adding a pad to the underwear, because each pair of underwear has a built-in pad. The underwear provides more abdominal coverage, making it a great option for cesarean recovery. At $17.98 for a pack of 32, they're also an affordable option.
Keep in mind: The underwear is lightly scented due to the company's OdorLock technology, which is intended to neutralize odors. The scent is very light, but if you're sensitive to scented products, this probably isn't the right option for you.
Good for: Moms who want extra coverage or who are recovering from cesarean delivery.
FAQs about Postpartum Pads
---
1. Do I really need postpartum pads?
Yes! If you're a first-time mom, you might not understand how important postpartum pads are. If you end up giving birth vaginally, your feminine areas are bound to be sore for a few weeks, if not longer. What's more, if you have any tearing during delivery and need to have stitches, the extra support and cushioning that pads provide are indispensable.
Of course, regardless of the way you give birth, you will experience postpartum loss of blood and mucus or lochia. Needless to say, with all the demands of newborn care and postpartum healing, having a comfortable, absorbent postpartum pad option is essential.
---
2. What if I gave birth by cesarean section?
Recovery from a cesarean birth is different from a vaginal delivery in a few ways, but there are also some similarities. For example, you will still have to deal with lochia, although it might not last quite as long as it would with a vaginal delivery. So you'll definitely still need postpartum pads! And if you went through a long labor followed by an emergency cesarean – first of all, bravo, super mama! That's a huge task. Second of all, you will probably also enjoy some of the pads on this list that offer absorption as well as healing properties, such as the ice packs or herbal infused pads.
---
3. How many pads do I need?
The answer to this really depends on your individual postpartum recovery, but generally speaking, the lochia period can be as short as 24 days and as long as six weeks (or even longer!). Bleeding can be quite heavy for the first week but usually becomes lighter after a few weeks, so you might be able to transition from a more absorbent pad to a normal maxi pad. For starters, I would recommend purchasing about 30 pads to try them out. Just don't forget to order more in advance if your favorite product can only be found online!
---
4. What ingredients are best for postpartum pads?
Again, this is largely personal preference. Moms with sensitive skin might prefer more breathable materials, like cotton, while some moms prioritize odor control and added fragrance. If you use maxi pads during your period, you should consider which ones you like best and choose similar pads for postpartum use.
---
5. Is it better to go with postpartum pads or postpartum underwear?
This really also depends on personal preference. If you've had a c-section, you may like the extra padding and support that the underwear offer. You may also prefer them if you have really heavy bleeding as you might experience in the first couple of days. However, most women prefer to use postpartum pads. They're thinner, breathable, and more comfortable. Plus, they're a lot cheaper, so you'll get more bang for your buck.
Conclusion
---
Women's bodies and personal preferences vary, especially when it comes to birth and postpartum, but these 11 postpartum pad options are all a good bet for absorbency, comfort, healing, and value. For added healing properties, products with herbal infusions, or cold therapy have been shown to accelerate recovery. Comfort is essential during the postpartum period. You'll be surprised at how much the right postpartum pads will help you to move freely and get the well-earned rest you need as you recover from childbirth.
You may also like our other product reviews…
Body Washes for Pregnancy | Breast Pump for Twins | Compression Socks for Pregnancy | Maternity Bras | Maternity Jeans | Maternity Leggings | Maternity Pajamas | Maternity Pants | Maternity Support Belts | Maternity Tights | Maternity Work Pants | Maternity Workout Clothes | Nipple Shields and Balm | Pregnancy Journals | Pregnancy Underwear | Probiotics for Pregnancy | Shampoo for Pregnancy | Shoes for Pregnancy |