Updated on by Lyric Fergusson
An unfathomable amount of firsts and memories transpire within the months of pregnancy, especially for first-time moms. Capturing it all can be tedious without some much needed assistance.
Pregnancy Journals provide guidelines anyone can follow along. From prompt filled journals to freestyle notetaking, and plenty of other options in between, we have you covered with the 11 best to choose from this year.

The Best Pregnancy Journals
---
(Best quality — $$$)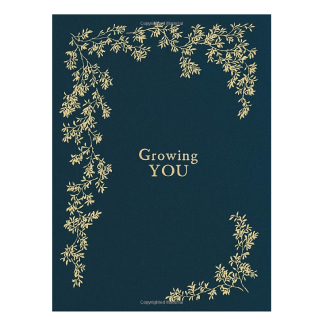 Why it's great: This journal creates a classic keepsake for your child. It's designed with a high-quality, linen hardcover, bound by a golden spiral, and made with acid-free, archival paper. Artists and art lovers will appreciate the beauty of this book. You'll be able to freestyle journal your experiences and how you feel about them, but there are prompts for key moments too, such as the shower and ideas for what to write about on days when you can't remember what to take note of. Document your appointments, your baby's growth, and use the pockets for pictures, letters, or other keepsakes.
Keep in mind: The price may be high for expecting parents, but it makes an excellent gift to outsource on a baby registry.
Good for: Parents who desire a gender-neutral book.
---
(Most detailed — $$)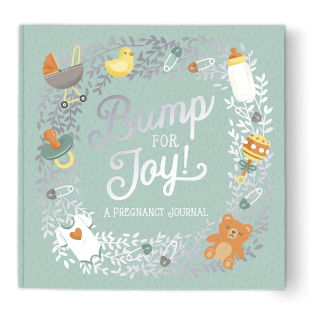 Why it's great: Imagine a journal with 144 quality made pages! Studio Oh has created a masterpiece with playful artwork for capturing the joy that you'll feel having a baby bump.You'll have 32 pages for pictures, five pockets for photos, documents, and tokens, and still have plenty of room for journaling. This book is sectioned by trimesters, each filled with facts, tips, prompts, checklists, and fill-in-the-blanks.
Keep in mind: This journal is geared more for those who want to capture as much as possible of pregnancy, which is typically first time parents. It is also aimed at couples.
Good for: Those who want to thoroughly capture the pregnancy experience.
---
(Most modern — $)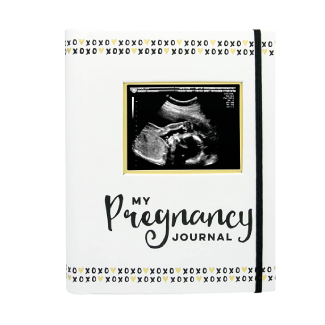 Why it's great: Pearhead created a modern, elegant, guided journal for the pregnancy journey. This one is sure to last as it's made from PU material, spiral-bound, and you can easily secure added materials with its elastic strap. The journal has a faux leather feel and is a beautiful white with back lettering and gold xoxo embellishments. The cover features a 4×5″ placement for a sonogram photo.
In this journal, you will find multiple sections encompassing each trimester, finding out the big news, and baby's birthday. You'll have 74 pages to capture everything, including pregnancy photos. It comes with unique pockets for storing mementos and documents you want to hold on to.
Keep in mind: This journal is styled for a baby girl, but it's excellent for parents who don't adhere to gender guidelines. It's geared more to first-time moms who want to cover all the details of first-time pregnancy.
Good for: Parents who want prompts more than journaling space.
---
(Best seller — $$)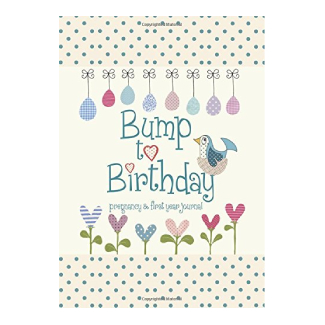 Why it's great: If you're looking for a best seller with umpteenth awards to track your pregnancy and baby's first year, Bump to Birthday is the journal you're seeking. Any of us who've had children can tell you so much happens and it's a challenge to juggle it all and remember to write down the critical junctures. This journal makes the process of noting those moments hassle-free.
In these pages, you'll find information on your developing baby and prompts to guide you to catching those firsts. It's excellent for recording feelings, thoughts, baby's family tree, pictures, and post-pregnancy tidbits such as showers and various celebrations. Its hardbound cover means longevity for years to come when your little one is old enough to look at their book of keepsakes.
Keep in mind: Journaling begins at week 9, but you can fill in other information before then. It's not ideal for extensive journaling, which is good news for those who prefer assistance recalling significant moments.
Good for: Heavily guided capturing of pregnancy.
---
(Most organized — $$$)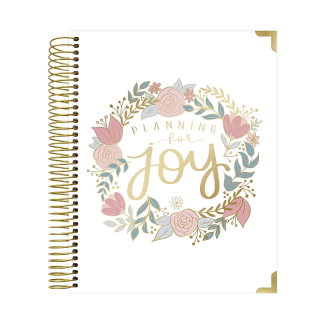 Why it's great: This journal has it all! It has a hardcover and a metal spiral binding, so it's extra durable and built to last: exactly what you need in such a keepsake. It has 8 divider tabs to keep everything organized, including a we're pregnant section, medical log, first, second, and third trimester, baby's first year, monthly views, and weekly views. You'll be able to capture every moment of both pregnancy and your child's first year with this journal.
The medical log and the monthly and weekly views also double as a planner, so you can keep track of everything on a day-to-day basis. With a pocket at the back and two full pages of stickers, this journal has everything you need to document this special time.
Keep in mind: Some of the writing on the inside is a pale pink or blue and can be a little harder to read.
Good for: Parents that want a detailed journal that helps them to remember everything and keep it all organized.
---
(Most portable — $)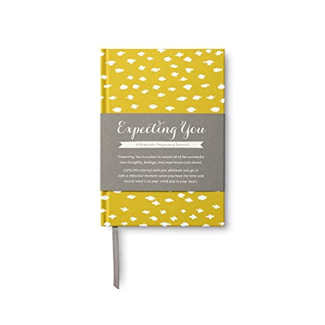 Why it's great: Expecting You is the journal you take with you wherever you go during your pregnancy, thanks to its compact size. Its cloud-themed, simplistic design was created to capture those moments of pregnancy that seemingly drift in and out before you can write them down. Its prompts are unobtrusive and there's plenty of room to journal whatever comes to mind. You'll feel inspired by its focused and personable questions, quotes, and even pregnancy facts.
Keep in mind: This is more of a guided pregnancy journal than one with detailed, structured prompts. It's sectioned into months rather than weeks. It doesn't have designated pages for pictures, but many parents simply use one of the many blank pages to attach pictures.
Good for: Those who want ample journaling space and mothers who don't want to feel the pressure of a father being mentioned throughout.
---
(Most comprehensive — $$$)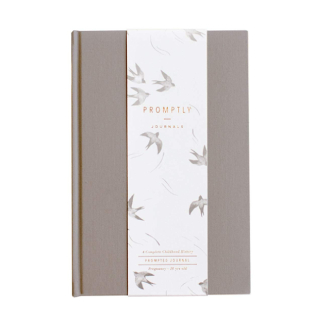 Why it's great: This journal is the most unique because, unlike most other pregnancy journals, it doesn't stop when your baby is born or when they reach a year old, it covers your baby's entire childhood up until 18 years old. It is filled with prompts that will help you fill in all the important milestones and moments in your child's life. It has places for physical stats, photos, and blank pages for footprints or handprints. It has a linen-wrapped hardcover that's a neutral gray, making it perfect for either gender. It also has a silk bookmark, so you'll be able to open it to the right spot every time.
Keep in mind: Because this covers such an extended time period, you won't have a ton of room to write or get very detailed in each section.
Good for: Parents that want to record the bigger milestones and important memories and don't care too much about all the details.
---
(Best value — $)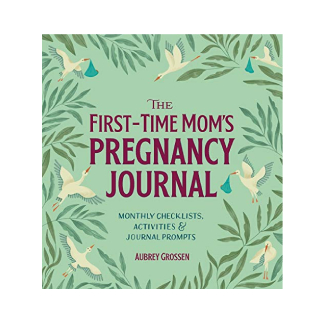 Why it's great: This journal is all about firsts. Any parent can tell you how incredible those first moments are and how exciting it is to capture those initial milestones. This book provides writing prompts and space to note whatever you're experiencing flexibly. You can use its guide or checklist to remember appointments and make to-do lists. There's also a self-care checklist! It'll help you brainstorm names, nursery themes, and still have room for scrapbooking.
This journal ties it all together with incredible art that brings to life relatable quotes, weekly prompts, and facts and advice about the growing newborn.
Keep in mind: It's tailored towards first-time moms who want to capture their baby's firsts, but there are still useful activities for a parent of any amount of children. You can pick paperback or spiral bound for a slight price difference. This journal only goes up to 36 weeks.
Good for: Those who want to focus on recording a baby's firsts.
---
(Most classic — $$)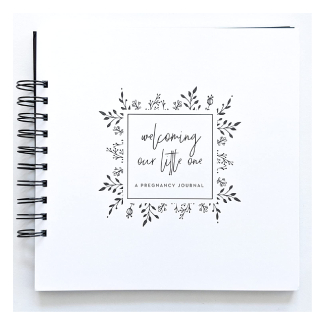 Why it's great: This simple, minimalistic journal is designed in all black and white for a classic look. It has guided prompts that will allow you to easily capture all the details and milestones of your pregnancy. With spots for pictures, envelopes for mementos, and pages for every occasion, this journal is a lovely keepsake for such a special time. It's spiral bound and has a chipboard backing to keep it sturdy and durable.
Another nice feature about this journal is that it doesn't mention "mom" or "dad" at all, so it's perfect for any family structure.
Keep in mind: This journal only covers the nine months of pregnancy, not the baby's first year. It does have a spot for your baby's first picture though.
Good for: Minimalists who want something simple that'll capture the important moments of pregnancy.
---
(Most adorable — $)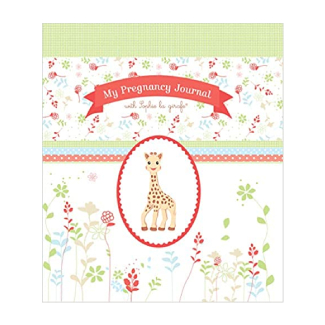 Why it's great: Remembering everything about pregnancy can be a lot of work. This hardcover, spiral-bound journal has everything you'll need to be able to accurately recount your pregnancy experience. Within its adorable Sophie the Giraffe themed pages, you will find space for photographs, pockets for souvenirs, and horoscope wheels and charts. Get organized with its to-do lists, checklists, and improve the experience with how-to tips.
Keep in mind: It doesn't have a lot of space for open journaling, but it has lots of prompts and guides to capture the important moments.
Good for: Parents that want an adorable journal that will help them document the whole pregnancy.
---
(Most fun — $$)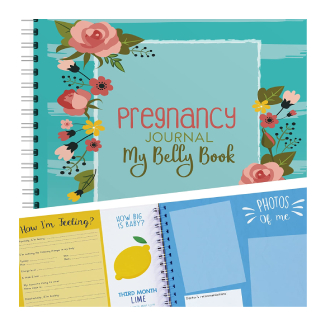 Why it's great: This journal makes documenting your pregnancy easy and fun. With its colorful design and 3 pages of stickers, you'll enjoy filling out and decorating this book. It has guided prompts and places for plenty of pictures along the way. The designs and colors are gender neutral and it doesn't talk about "mom" or "dad", so it's perfect for any family. Each month you'll have a whole page dedicated to writing a letter to your baby. Plus, this journal compares the size of your baby to a fruit, so you can get an idea of how big they are each month until they're born.
Keep in mind: This one is very cutesy and highly decorated, so it may not be for those that like a little more minimalist style.
Good for: Parents that want something super cute and fun to fill out.
FAQ about Pregnancy Journals
---
1. Should I get a pregnancy journal?
Yes! Pregnancy is a stressful time and writing your feelings and thoughts down can make the transition and journey more comfortable to deal with.
You probably won't find a parent who said using a pregnancy journal was a terrible idea. So much happens, and it's a lot to keep up with. A journal helps with recalling, writing, and organizing these moments.
Many parents begin reflecting on their childhood days when they start having kids and wish they had a journal to see what it was like when they were growing in the womb. It's excellent for finding similarities then and now and connecting with the experience of life on a deeper level.
---
2. What kind of journal should I get?
It depends on what you're looking to capture. Some parents want to capture everything, while others like to keep it minimalistic. Some journals start and end at certain weeks, are organized by weeks or months, and a few leave space for the first year. Choosing can depend on your budget, too, and our list above should give plenty of options for any budget based on any need.
---
3. Why should I get a journal with lots of prompts?
Many parents, especially first-timers, find an in-depth, prompt-focused journal the best kind to get. Having a first child isn't something you can experience again. It's a challenge to remember it all without some guided prompts and questions. These kinds of journals typically have plenty of space for pictures, lists, and pregnancy facts.
---
4. Why should I get a journal with little to no prompts?
If you have a lot to do and not a lot of time to capture everything, or you're a mom of multiples who wants an effortless approach, a freehand, hands-off approach journal is best. You'll get some prompts and space for mementos, but most of it is for journaling. These make excellent scrapbooks, too. They're great for parents that already love to journal because they'll allow you to write whatever you want about the pregnancy and how you're feeling.
---
5. How do I pick a journal that'll last?
.
If you want a keepsake that will last, consider one with a durable hardcover, a sturdy binding, and acid-free paper (these are made to preserve whatever is written on them).
Conclusion
---
The birth of a child is one of the most incredible, but trying experiences one can have in life. Thankfully there are many ways to support mothers going through this transformative time. Journals are one such asset to parents. They provide a very personable space of expression for capturing milestones children will find special and unique when they can look back.
If you're thinking of getting a journal, use our FAQ and list to help you decide. If you're thinking of gifting one, you're giving something that will mean a lot to the parents and child. These keepsakes are like novels telling the tales of ups and downs that lead to birth, the beginning of life.
You may also like our other product reviews…
Body Washes for Pregnancy | Breast Pump for Twins | Compression Socks for Pregnancy | Maternity Bras | Maternity Jeans | Maternity Leggings | Maternity Pajamas | Maternity Pants | Maternity Support Belts | Maternity Tights | Maternity Work Pants | Maternity Workout Clothes | Nipple Shields and Balm | Postpartum Pads | Pregnancy Underwear | Probiotics for Pregnancy | Shampoo for Pregnancy | Shoes for Pregnancy |