Updated on by Lyric Fergusson
Let's face it. Many of us love our television and movies, especially with all the great opportunities out there for binging all of our old and new favorites. Many of us have also probably thought about how great it would be to have our own home theater. Who doesn't want the movie theater experience without the noise of other patrons, the lights and sounds from cell phones, and the numerous smells of popcorn, nachos, hotdogs, and who knows what else?
If you've ever wished for this, the idea of buying a projector may have crossed your mind. If you've done your research, you might have discovered that some of the prices are a little on the startling side. Below, we have compiled a list of the Best rated projectors available on Amazon for under $200.
The Best Projectors Under $200
---
(Great value)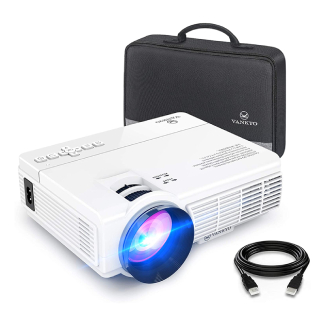 Why it's great: This portable projector comes with its own customizable bag, an adjustable projection size, and a built-in speaker with a home theater sound processor. Many projectors have an audible fan within it that may distract from the viewing experience, but this one has a fan suppression system with a cooling device that keeps the projector from dispersing heat and halves the fan sound. Vankyo includes an HDMI cable to connect with iPhones without the need for any app downloading. This product offers superior viewing experiences because it supports 1920×1080 resolution and provides a large screen size from 32" to 170".
Keep in mind: Optimal viewing happens when you pay attention to the recommended viewing distance.
Good for: Families who want a larger TV/movie viewing experience, photo browsing, and even connections to game systems.
---
(On the go)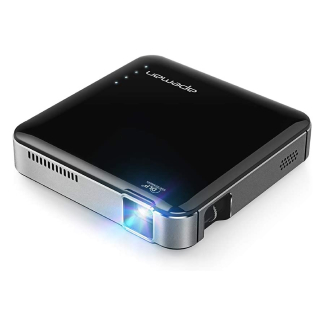 Why it's great: This mini portable projector from Apeman is so compact, it's pocket-sized and lightweight for super portability. It even includes a small tripod! It has the ability to connect with multiple devices: Windows laptops, Macbooks, DVD players, tablets, PS3/4 consoles, Androids, iPhones, iPads, and TV Boxes. This product is perfect for a big screen, HD movie experience because of its upgraded DLP technology which gives you a 70% more vivid image and a 50% sharper image. This product has a low noise fan and a built-in battery and long lamp life.
Keep in mind: This listing does clarify that it is not ideal for business or teaching presentations.
Good for: On the go folks who enjoy home movie watching, parties, or even outdoor camping.
---
(For play)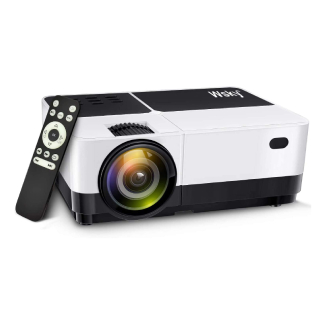 Why it's great: This portable projector from Wsky offers 50% better brightness than its competitors as well as a built-in fan for cooling and minimal sound disruption. They claim up to 30 years of life! With dual speakers, there will be no need for external speakers to better the sound quality. This projector has a wide range of accessibility, hooking up to TV boxes, TV sticks, laptops, tablets, DVD players, USB flash drives, smartphones, Blu-ray players, and game consoles. Reviewers say it works best in the dark but also does pretty well in a little bit of light. Customers claimed to have used it to project menu boards in their restaurants, watch movies, play games, and many other things.
Keep in mind: This product is not recommended with PowerPoint or Office presentations.
Good for: Folks who want a projector for play, not business- i.e. an optimal, indoor movie-viewing experience. (Or art projections, game playing, etc.)
---
(Highest rated)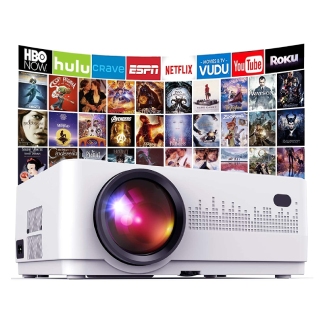 Why it's great: Though this one isn't compact, it is portable and comes with an easy to use remote control. This projector from DBPower offers better brightness and clarity in images ranging from 40-200 inches (with a distance of 1-5 m.). It offers keystone and focus adjustments and recommends playing with this setting once you have set up the projector for usage. This product has a lamp life of 50,000 hours, a six-layer LCD lens display, and a dual-fan cooling system for prolonged usage! This is the highest rated on our list for many reasons, but one of those might be the fact that it connects to almost every piece of technology in your home.
Keep in mind: When connecting with a smartphone, a Wi-Fi display dongle or HDMI adapter is required (and not included with purchase).
Good for: Families who want to take their viewing habits with them on-the-go. This product has all the perks of many on our list, with the added bonus of being lighter and more portable.
---
(Most portable)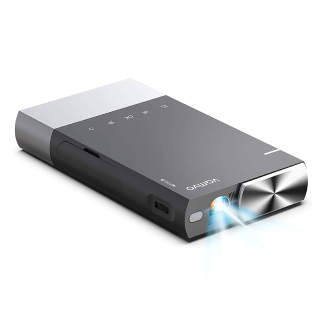 Why it's great: This mini, portable projector has a tiny size of 5.7×3.2×0.9 inches and it weighs under a pound! This one fits right in your pocket for easy, on-the-go use in small meetings/gatherings, classrooms, or even business environments. This Vamvo projector has multi-screen sharing and projects from various multimedia sources. Reviewers were surprised by the quality of such a small projector and loved that it's so versatile, you can even watch movies on your ceiling while lying in bed.
Keep in mind: This doesn't have quite the battery life of some of the others on our list, but it does continue to project while charging, so problem solved!
Good for: Anyone who needs to take their projector with them anywhere; This product fits right in a pocket and is perfect for business and pleasure.
---
(New and improved)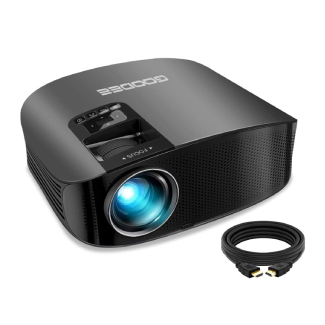 Why it's great: This 5-pound projector from GooDee has improved brightness and a better contrast ratio for both a brighter image and a wider viewing, even when you aren't in total darkness. GooDee has also updated the Hi-Fi Stereo to provide a more powerful listening experience, even if you don't use external speakers. This product easily connects to almost any device and is great for movie- and television-watching, outdoor viewing, gaming, etc.
Keep in mind: This product will connect to most devices, but make sure to read through the listing to find out if you need a certain adapter, as it does not come with the unit.
Good for: Families who have enjoyed projected play and movie-watching in the past, but are looking for a nice, lightweight upgrade.
---
(Best package)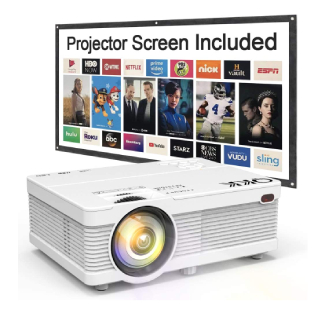 Why it's great: This is the only listing we have found that COMES WITH a screen! The screen included is 100 inches and is portable, which is perfect for outdoor trips and planned movie nights on-the-go. The lamp light has a life of 50,000 hours and this product boasts a 2000:1 contrast ratio for clearer viewing on a large scale. Another added bonus with this listing: QKK now offers a 3-year money back guarantee and professional tech support in a timely manner for any questions or concerns you may have.
Keep in mind: This listing does include several cords and adapters, but always check to make sure you won't need to purchase whatever meets your specific needs.
Good for: Families who want the package deal: projector AND screen.
---
FAQs about projectors (under $200)
---
1. For what would I use a mini or portable projector?
Portable projectors can be used for a variety of reasons including presentations, gaming, outdoor film watching, overall home entertainment.
---
2. Can I play Netflix and other streaming apps through a projector?
Most smartphones, tablets, and certainly laptops can be connected to a projector through an HDMI adapter.
---
3. Why would I use a projector instead of a television?
Many families like to use projectors to change up their gaming and movie-watching. You can take the adventure outdoors or even have a movie theater-like experience from home by making the screen projection larger and more exciting.
---
4. How do I make sure we have a clear picture with a projector?
A few tips for optimal viewing: Make sure the surface you're projecting onto is smooth and bright. Also, each product recommends a certain distance for clear projection, as well as straightforward angles.
---
5. Can the projectors be mounted to the wall or ceiling?
Many of the above listings can be mounted to the ceiling. (You'll find places for screws on the bottom.) Remember to always check the specifics of each listing. Some of the listings above are for portable projectors and many of those come with small tripods or stands.
---
Conclusion
---
Depending on why you're searching- whether for business meetings, movie nights, camping fun, etc.- the above list should help you on your journey to optimal viewing and gaming fun. Having a projector makes movie night a bit more exciting and definitely more of an experience. The listings above all have wonderful qualities. So, decide what your projection needs are: Indoor? Outdoor? On-the-go? Business meetings? Art displays? Once you've figured out what you're searching for, read the list above and narrow down your choices.
Remember to always check the specifics of each listing to make sure you won't need an added adapter or cord that might not be included in the package. The listings above are compatible with all sorts of technology, but you'll want to be sure that you can easily connect!
You may also like our other product reviews…
2 in 1 Laptops Under $300 | 3D Printers Under $300 | Acoustic-Electric Guitars Under $500 | AV Receivers Under $500 | Binoculars under $100 | Binoculars Under $200 | Binoculars Under $300 | Bookshelf Speakers Under $200 | Bookshelf Speakers Under $500 | Bookshelf Speakers Under $1000 | Bluetooth Speakers Under $200 | Beginner Record Players | Cameras Under $200 | Projectors Under $500 | Record Players Under $100 | Routers Under $100 | Shower Speakers | Soundbars Under $300 | Speakers for Vinyl | Turntables Under $200 | Turntables Under $300 | Turntables Under $500 | Turntables Under $1000 | TVs Under $300 | Vlogging Cameras Under $300 | Wireless Headphones Under $200 |