Updated on by Lyric Fergusson
There are many reasons to have a projector in your house–you may want to skip on the TV, or maybe you want to entertain friends and family in your backyard. No matter what the reason, there are a lot of features to keep in mind when choosing the right projector for you. From lumens to built-in speakers to resolution, the projectors on the market vary widely.
While you can get a reliable projector for under $200, if you're serious about the quality of the picture, the right projector for you will likely sit more in the $500 range. Rather than scour the internet for hours, I've put together the seven best projectors that give you the most for your money.
Best Projectors Under $500
---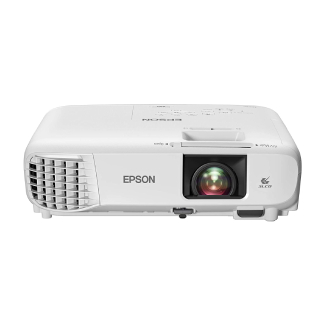 Why it's great: The Epson Home Cinema 880 is arguably one of the most affordable HD projectors on the market. With its 3LCD design, the picture is colorful, vibrant, and extremely sharp. Inside the projector sits a processor so fast that you will rarely experience lagging or juddering. Not to mention it has a high frame rate for smooth on-screen action. This means no matter what, the image on your screen is going to be crystal clear at all times.
It's incredibly lightweight, which makes it great for both indoor and outdoor use should you get the desire to move it around. Its setup features are also very easy and straightforward so setting the equipment up is a piece of cake.
Keep in mind: Compared to some machines, the Epson has a lengthy throw distance, making it less than ideal for small spaces.
Good for: At-home movie theaters
---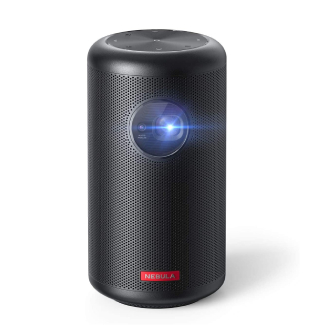 Why it's great: While the Anker Nebula Capsule Max is small in size, it packs a serious punch. At first glance, it looks like nothing more than a Bluetooth speaker, but the projector is capable of displaying images at a resolution of 1280 x 720. It has a smaller throw distance, meaning you can get a full-size picture with relatively small space.
In terms of the picture, it's known for its high contrast and smooth projection. It's not as bright as others on the market; however, this is not important if you plan on using it in the evenings. The pint-sized projector also offers surprisingly good sound for its size.
Keep in mind: Small size means short battery life. This is especially true if you use the projector on "normal mode" rather than "battery mode." This means that you will get a better picture, which in turn drains the battery faster.
Good for: Backyard movie nights
---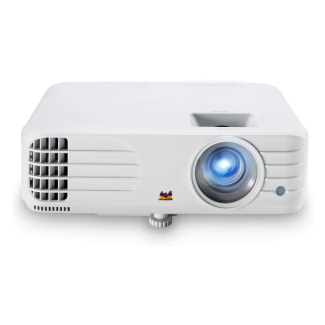 Why it's great: Marketed as ideal for both home entertainment and office use, this projector is exceptionally versatile. At 3,500 lumens, it's very bright, so you won't struggle to see the picture with daytime use. And with full HD resolution (1920×1080), the lines are as crisp as can be.
The projector can be set into an energy-saving SuperEco feature that reduces power consumption and extends the lamp life by up to 20,000 hours. That's 10+ years of viewing pleasure if used at 5 hours a day. All of that to say, this is a projector that will last you a good while.
Keep in mind: Because of its default settings, colors may need to be adjusted slightly with different videos and movies.
Good for: Gaming
---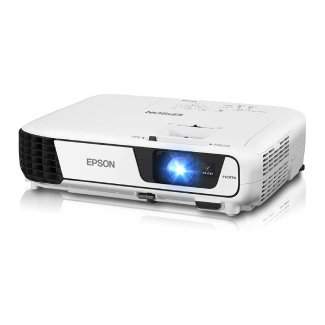 Why it's great: It's no surprise that Epson has two projectors on this list. They have made a name for themselves with their projectors. For being the least expensive projector on this list, it can be argued that it is one of the best for those looking for something a bit more simple and straightforward.
Much like the other Epson on this list, it has 3LCD technology, which allows it to achieve up to 3x more brightness than competitors. It creates a bright and colorful picture that can be seen even in well-lit rooms. And the best part is that it is small enough to be transported and even comes with a carrying case, so you can take your presentations with you everywhere you go.
Keep in mind: There is no audio output, meaning you cannot hook up speakers. However, this does not mean that you are out of luck. You can purchase a separate HDMI audio extractor.
Good for: Office use
---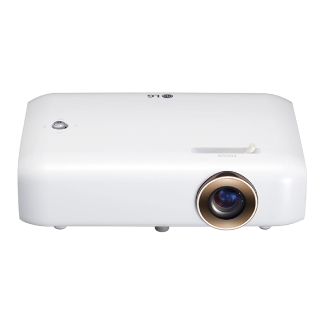 Why it's great: At first look, the PH550 is larger than other projectors that you may be used to. However, its bulkier size does make it any heavier. In fact, it's actually quite lightweight. Its LED light source, which is supposed to last 30,000 hours (the projector's lifespan), provides 720p resolution and 550 lumens.
From Bluetooth to cable, this projector can play it all. On the back of the machine, you'll find an HDMI port, a USB A port, an AV input, a headphone jack, a VGA input, a DC power port, and an antenna cable connector. Talk about versatility.
Keep in mind: The 720p resolution can make the image feel a bit blurry, but this is quite common in travel projectors. Using this in the dark will help maximize its potential.
Good for: Traveling
---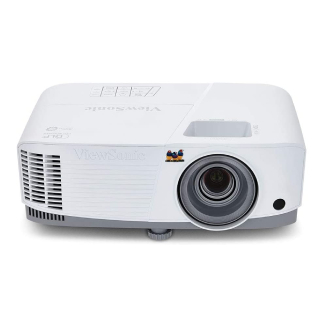 Why it's great: At just below the price for the Epson EX3240, the ViewSonic 3600 WXGA is the second most affordable option on this list. Although it runs a couple of hundred below some of the other options, it's a high-quality machine that's ideal for movie nights at home or educational purposes.
What sets it apart from the other projectors on this list is its 3D Blu-Ray ready HDMI input. So not only can it clearly (thanks to its 1280×800 resolution) play movies from your laptop, Firestick, or DVD player, but it can also display 3D images directly from a 3D Blu-Ray player. That's definitely one way to take your movie night up a notch.
Keep in mind: The speaker is known to be on the quieter side, but that's nothing a good pair of speakers can't fix.
Good for: Indoor use
---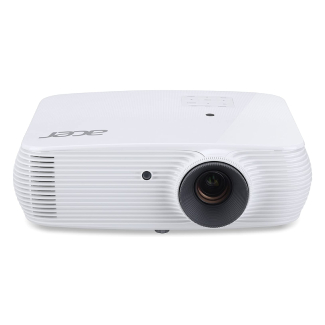 Why it's great: While a few other projectors on this list market themselves as being suitable for office use, the Acer H5382BD is designed with entertainment in mind. Acer may not be known very well in the projector world–they only have a few projectors available–but this one is a hidden gem.
Its lack of bells and whistles makes it perfect for those just starting in the projector world. Set up is as easy as can be, consisting only of plugging it in and turning it on. It supports full HD, has a 20000:1 contrast ratio, and makes very little noise while running. It also supports wireless projection with the right adapter.
Keep in mind: If the projector is not set to eco-mode, the lamp life is cut down to 5,000.
Good for: Beginners
---
FAQs about projectors
---
1. How much brightness do I need in an at-home projector?
When purchasing a projector, it's wise to think about the area and time of day in which you will be using it. If you plan on using it during the day where the light is bright, higher lumens are recommended. For rooms with dim lights, lumens are not restricted as much. Ideally, you'll want 1,000-2,000 lumens.
---
2. What's the difference between DLP, LCD, and LED?
DLP – DLP (or digital light processing) uses tiny mirrors to reflect light toward a screen using a spinning color wheel.
LCD – LCD (liquid crystal display) projectors have no moving parts. Instead, three liquid crystal planes are used to project colors on the screen at one time. These tend to be less expensive and come with a longer-lasting lamp compared to DLP.
LED – Much like LED light bulbs, LED projectors tend to be smaller and generate less heat. They are more energy-efficient, but they also tend to be the least bright out of the three.
---
3. Does high-resolution matter?
The higher the resolution, the better the image quality. If you're looking for crisp, clear images, you will want something that can display full HD. The downside to this is that they tend to be a bit pricier.
---
4. What is the throw distance?
A projector's distance from the lens to the screen is known as the throw distance. In simpler terms, this means that as you increase your screen and projector's distance, the image will also increase. The ratio determines if it's long (meaning you can play from farther away) or short (these projectors perform better closer up).
---
5. What should I look for when buying a projector?
First things first, think about what you are going to be using it for. If it's meant for occasional movie nights, you won't need much. If you plan on using it as your primary source of entertainment, you will want to look for high resolution, a large throw ratio, a higher number of lumens, and color brightness.
---
Conclusion
---
As with many other available products, choosing the right projector for you comes down to knowing what you need in terms of brightness, resolution, etc. There are hundreds, if not thousands, of projectors on the market, but these seven are my picks for home entertainment or work use. Gather friends and family in the backyard with snacks, or impress your boss with a well-thought-out presentation. Regardless of what you need the projector for, these seven are sure to impress you.
You may also like our other product reviews…
2 in 1 Laptops Under $300 | 3D Printers Under $300 | Acoustic-Electric Guitars Under $500 | AV Receivers Under $500 | Binoculars under $100 | Binoculars Under $200 | Binoculars Under $300 | Bookshelf Speakers Under $200 | Bookshelf Speakers Under $500 | Bookshelf Speakers Under $1000 | Bluetooth Speakers Under $200 | Beginner Record Players | Cameras Under $200 | Ceiling Speakers | Computer Speakers Under $50 | Computer Speakers Under $100 | Digital Cameras Under $1000 | Gaming Chairs Under $100 | Gaming Keyboards Under $50 | Gaming Keyboards Under $100 | Gaming Mouse Devices Under $50 | Graphics Cards Under $100 | Guitars Under $500 | Headphones Under $200 | Headphones under $300 | Headphones under $500 |