Updated on by Lyric Fergusson
Making your own baby food has never been easier. Not only are there a variety of kitchen tools to aid in preparation, but you can also find convenient storage items to help with on-the-go feeding. Baby food pouches are one easy way to transport purees and feed your baby while traveling. Instead of paying for premade food in pouches, you can save a good deal of money by making batches of baby food at home and storing it in reusable baby food pouches.
Here are our picks for the best reusable baby food pouches of 2020:

Best Reusable Baby Food Pouches
---
(Best for easy cleanup — $)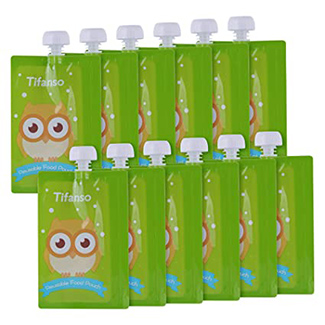 Why it's great: Kirecoo Owl Reusable Pouches are compact and easy to pack. They are also free of BPA, PVC, lead, and phthalate, making them an eco-friendly option at an affordable price. You receive 12 pouches, 12 caps, a reusable zipper storage bag, and a funnel to make the filling process easy and mess-free. Simply open the pouches with the side zipper, fill with the desired amount of food (up to 7 ounces), and seal closed tightly. Additionally, the pouches have a side panel where you can write the type of food and date packed and also a handy scale marker so you know how much food you have.
Keep in mind: Remember, seven ounces is a lot of food for small babies, so if you are looking for something with a smaller serving size, this might not be the best option.
Good for: Reviewers raved about the ease of washing these pouches, so if your priority is easy cleaning, this is a great option.
---
(Most leak-proof — $)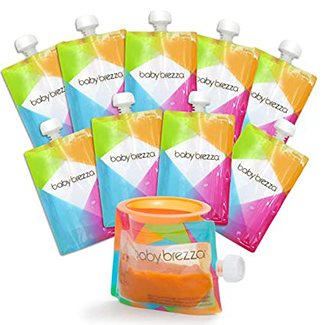 Why it's great: The Baby Brezza Reusable Pouches are made for quick, easy filling and cleaning. They feature an extra-wide opening to make the packing process easier and minimize corners and crevices that need to be cleaned and dried after use. The package includes 10 pouches, 10 caps, and a funnel. They are also free of BPA, lead, and phthalate.
Keep in mind: Reviewers noted the quality of the seal on these pouches is very high, so leakage should not be an issue if they are properly closed. Like the Kirecoo Owl Pouches, the Baby Brezza holds up to seven ounces of food, so if you have a younger baby you probably won't need to fill them all the way.
Good for: On-the-go feeding for older babies and toddlers.
---
(Best for younger babies — $)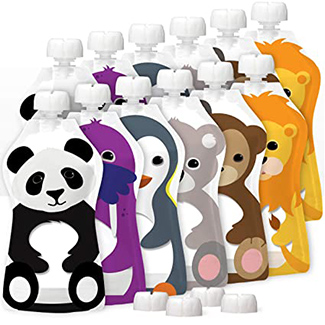 Why it's great: These adorable pouches feature six different animals, with two pouches for each animal. Not only are they super cute, but they're also free of BPA, phthalate, lead, and PVC. Unlike the Kirecoo and Baby Brezza pouches above, these open at the bottom and have a double zipper for careful sealing, so you don't need to use a funnel or other tool to fill them.
Keep in mind: These pouches are perfect for younger babies due to their slim size, cute designs, and smaller serving size at just 5 oz. You might think the bottom opening would be a risky way to fill these, but reviewers raved about how well they stay sealed. In fact, many reviewers said that they had a hard time opening them!
Good for: A cute design perfect for younger babies who eat smaller quantities of food.
---
(Best for travel — $)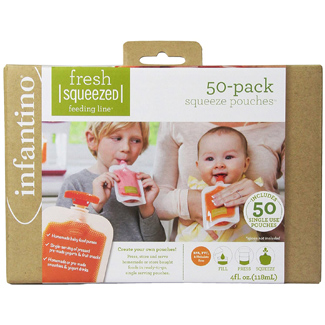 Why it's great: Reusable pouches are great, but sometimes it's nice to have a disposable option – for example, if you're on a trip and don't have an easy way to clean your pouches right away. The Infantino Disposable Squeeze Pouches are a great item for people who need a disposable pouch, but still want to make their own food. The pouches are free of BPA and PVC and hold up to 4 ounces of food. They have a clear window, so you can see the contents, as well as plenty of space for labeling.
Keep in mind: These pouches are actually designed for use with the Infantino Squeeze Station or Simple Squeeze kit, but you can also use a syringe to fill them. Just keep in mind the top opening is small, and it will take some trial and error. If you plan to make food regularly, it's probably worth the money (and energy) to also purchase the Squeeze Station or Simple Squeeze kit.
Good for: When combined with either of the two systems listed above, this is a perfect option for parents and caregivers who make and store a lot of purees.
---
(Best quality — $$$)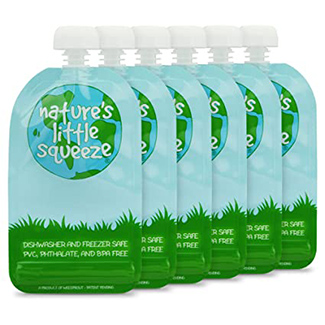 Why it's great: These eco-friendly food pouches are similar to the Kirecoo and Baby Brezza products, but with a bottom opening instead of a side opening. They are dishwasher and freezer safe, and hold 7 ounces of food. The pouches are also recyclable and free of PVC, phthalate, lead, and BPA. The bottom closes with a double-zipper closure to prevent leaks, and the pouches are easy to fill and easy to clean.
Keep in mind: The price point is a bit higher for these, but the price tag is justified by the awesome one-year guarantee. If something goes wrong, simply contact the company and they will send a free replacement during the first year after purchase!
Good for: High-quality, eco-friendly feeding solution that is easy to fill and clean.
---
(Best for buying local — $$)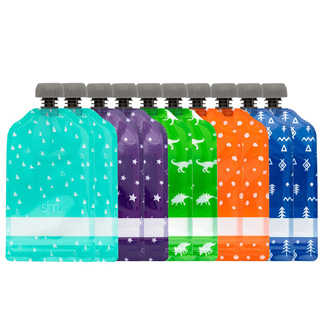 Why it's great: These pouches from Simply Modern feature easy filling and cute contemporary designs. The pouches are freezer and dishwasher safe, with an opening on the bottom that zips closed. The pouches do not come with a funnel, but you shouldn't need one due to the large opening. They are free of BPA, PVC, lead, and phthalate. A few reviewers mentioned that you should not fill these all the way to the fill line, so make sure to leave a bit of space for easy closure.
Keep in mind: Simple Modern is a 100% employee-owned company based in Oklahoma that donates at least 10 percent of profits to helping others. It's always nice to know you're buying from companies with good values!
Good for: Customers who want to support U.S.-based companies that make high-quality products.
---
(Best for food prep and storage — $)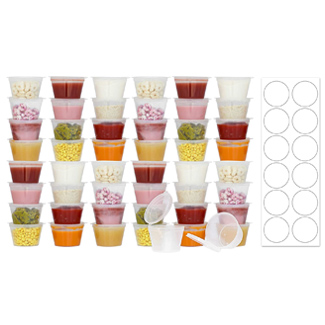 Why it's great: Technically these aren't pouches, but they are a wonderful option for on-the-go feeding. The containers have hinged lids, so you don't need to worry about losing the tops, and they are safe for use in the freezer and dishwasher. The snap-on lids are leak-proof, and the containers are a great choice for purees as well as other items like finger foods. When they are empty, they stack easily on top of each other for convenient storage.
Keep in mind: If you plan to use these in the freezer, remember to leave plenty of space for expansion. You don't want an explosion in the freezer!
Good for: Advance preparation and on-the-go feeding for finger foods.
---
FAQs about reusable baby food pouches
---
1. Do reusable baby food pouches actually save you money?
Absolutely! Store-bought baby food pouches can cost over $3 per item, and once they're gone, they're gone. Reusable pouches can cost less than $1 per pouch, and homemade purees are equally inexpensive, especially if you buy produce on sale. And the best part is, when you finish feeding your baby, you can use the pouch again and again. It's definitely a better bang for your buck!
---
2. Are reusable baby pouches hard to clean?
All the products on our top seven list feature easy cleanup. They are dishwasher safe and easy to rinse and clean. Sometimes the cracks and crevices can be hard to access, so we advise purchasing a bottle brush to clean any hard-to-reach areas. The pouches can also take some time to dry, so allow plenty of time between washing and reusing.
---
3. How do I fill the pouches?
Some of the pouches on our list come with a funnel for easy filling, but others – especially those with wider openings – can be filled with a small spoon or syringe. There are also baby food preparation systems that are designed for use with baby food pouches and make the filling process pretty effortless.
---
4. What kind of food can I put in reusable baby food pouches?
Purees are the most common food used in baby food pouches, but you can also fill them with yogurt, smoothies, and even rice cereal or oatmeal.
---
5. Is it hard to make your own baby food purees?
Making homemade baby food is as simple as peeling a sweet potato, boiling it in water until soft, and then mashing it up. In other words – it's pretty simple! Of course, you can also mix things up and use fancier recipes, but if you're worried the process will be difficult, don't be. Not only are purees easy to prepare, but you'll also know exactly what's in your little one's food pouch.
Conclusion
---
Reusable baby food pouches are a dream come true for busy, on-the-go parents who also want to help their children develop healthy eating habits. Seeing your child get excited about the healthy food you're feeding him or her is even more rewarding when you've prepared the food yourself. There's a lot of handy baby cooking gear that's come out in the last decade or so, and some of them are gimmicks – but reusable baby food pouches are definitely a game-changer.
You may also like our other product reviews…
Baby Onesies | Baby Probiotics | Baby Rattles | Baby Socks That Stay On | Baby Utensils | Baby Walkers | Baby Washcloths | Bath Towels | Bathtubs | Bibs | Blankets | Blenders to Make Baby Food | Booties | Bottle Brushes | Bottle Drying Racks | Bubble Bath Soap | Carriers for Petite Moms | Coconut Oils for Babies | Cribs for Twins | Floor Seats | Foam Play Mats | Glass Baby Bottles | Hair Brushes | Hampers | Hats | Headbands | Hooded Towels | Interactive Baby Dolls | Long-range Baby Monitors | Loungers |